CHARCUTERIE BOARD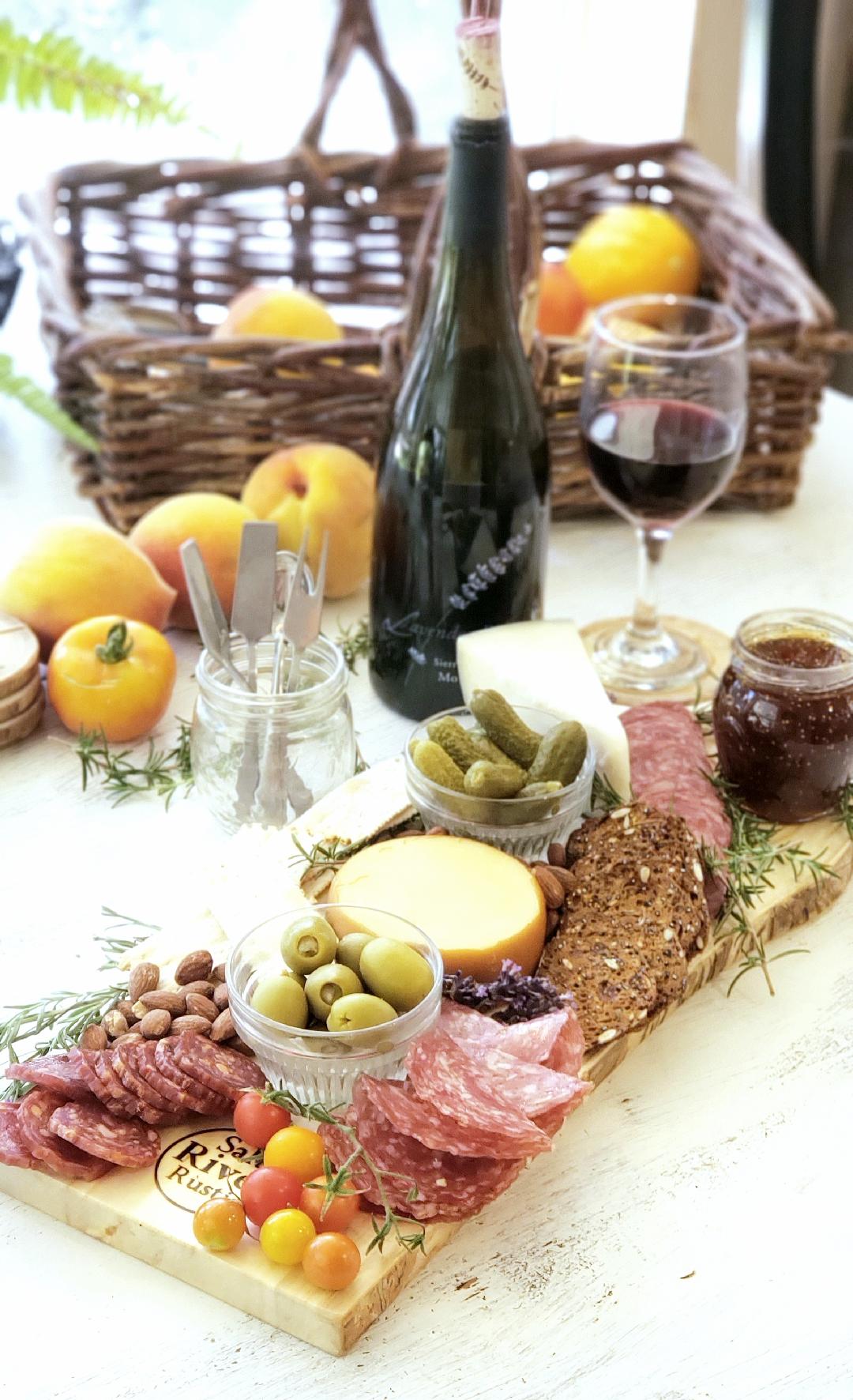 I just love to entertain and eat good food too!  So I am all about this wonderful way of sharing delicious treats with friends and family!
But first of all what in the world is a Charcuterie Board?  It's French my friend and is basically a meat and cheese board that displays a variety of cured meats and delicious cheeses along with fruit, nuts and even pickled veggies.  In fact, a delicatessen in France could also be called a Charcuterie.
PUTTING THE BEAUTY INTO THE PRESENTATION
So now you know what it is, let's talk about presentation.  Well, to create a beautiful board isn't really that difficult and after I show you how, you'll be set to do it your self right away.  But there's a few simple steps for a beautiful presentation that adds so much to the experience.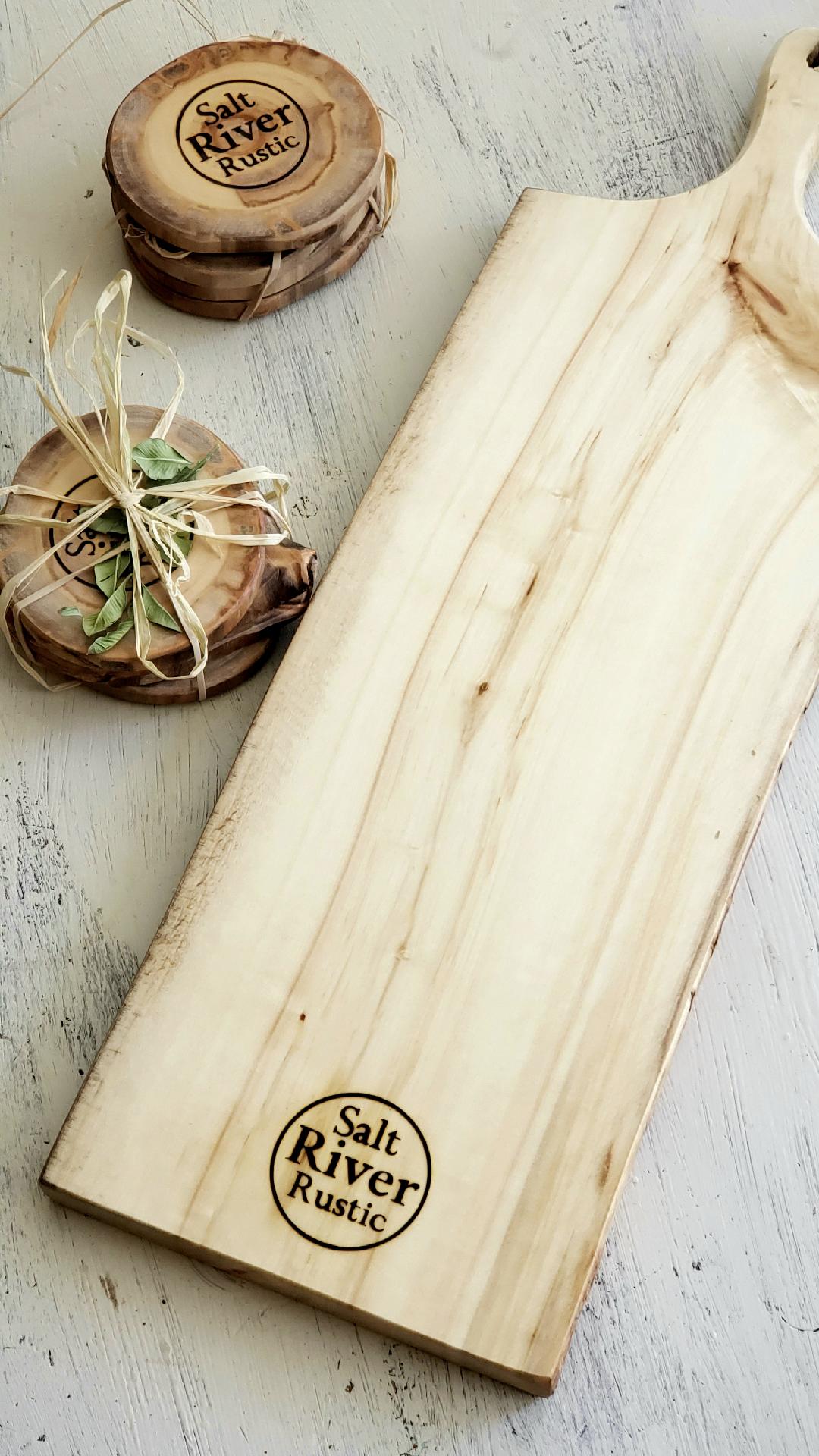 TIP 1
Get your self a beautiful board !  The one I used here is from Salt River Rustic . They are a company that has been manufacturing wood furniture for Bass Pro and Way Fair for the past 30 years!  They have a wonderful line of many wood products including these beautiful custom wood charcuterie boards , chargers and coasters too!  Shown here is their wood branded side so you're assured of the handmade authenticity but you can flip it over for the plain wood side view as well.  This particular serving board was hand-cut from Aspen wood and has two live edges.  It also shows the wood grain so beautifully that I think it really adds to the whole eating experience.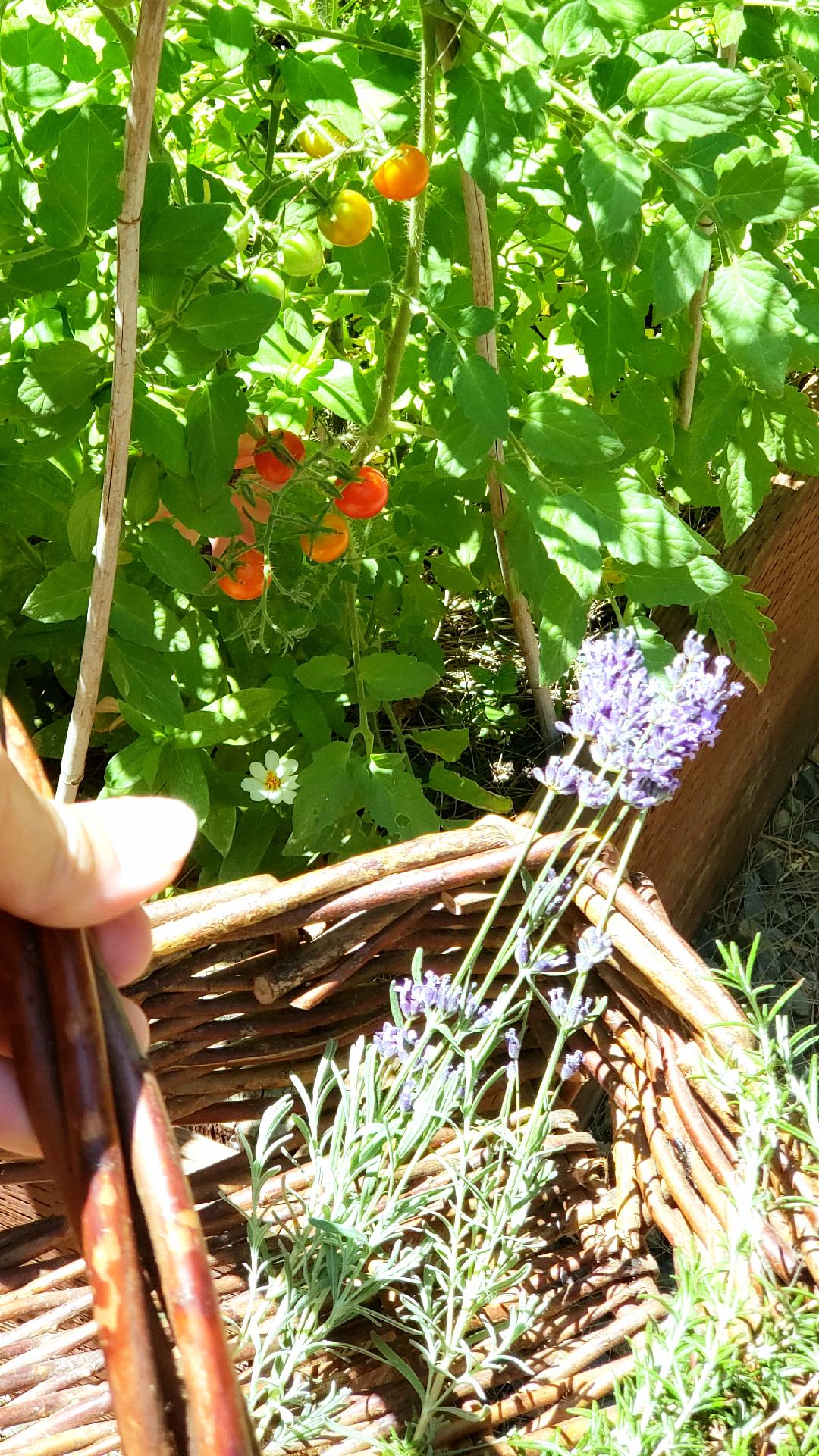 TIP 2
Go out to your garden and harvest things you already have before you go shopping.  As I took a venture outside, I noticed that I had some delicious baby cherry tomatoes ripe and ready to eat, so I clipped them off still on the vine.  I also included fresh herbs like Rosemary and Lavender.  While these herbs are beautiful with their pretty purple blooms and variegated green leaves, they also add some visual texture that adds so much.  But the smell, oh my, that's a whole other thing.  They are so fragrant and it creates more opportunities to appeal to all of our senses.  So we've got sight covered, now smell, let's move on to the main event!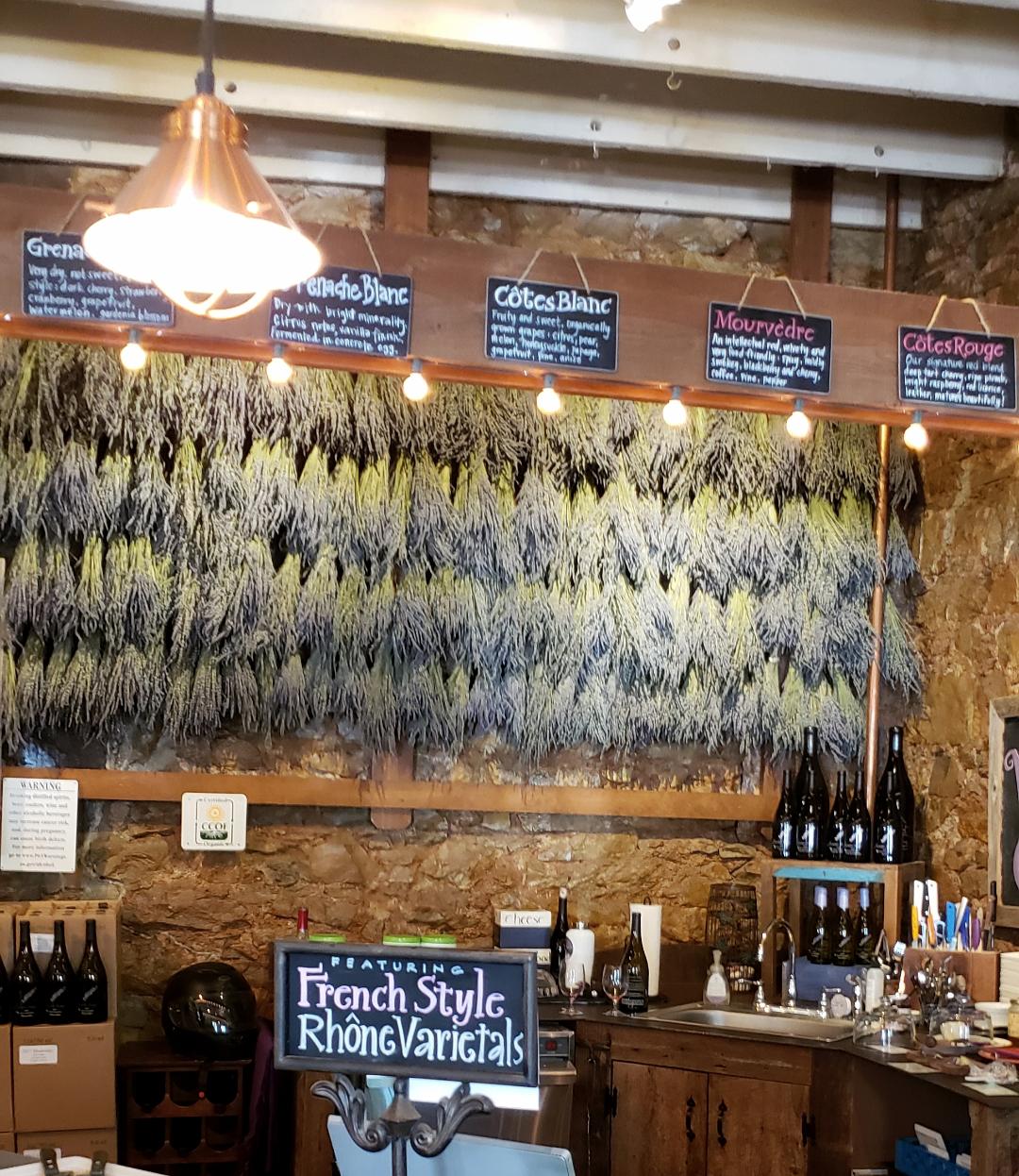 TIP 3
CHEESE
Ok, let's go shopping and get some delicious cheeses and crackers! I usually like at least two cheeses, one soft and one harder.  I also love to include a goat cheese.  There's just so many choices that sometimes you could get carried away, but it's so fun when you go to a place where you can sample the cheeses and recently we went wine tasting up in Murphy's California to Lavender Ridge Winery.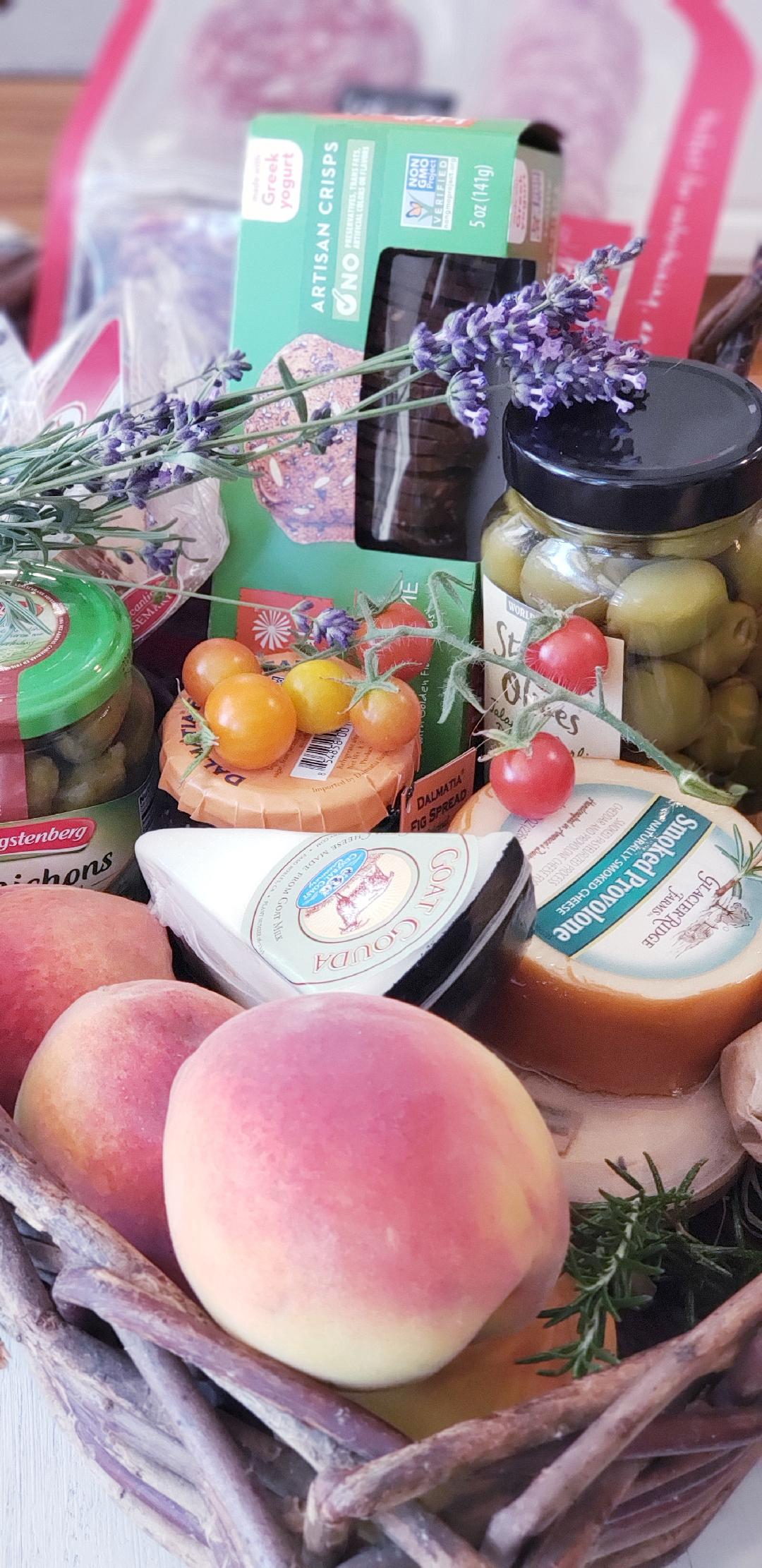 What was fun about this time was that they paired the wine tastings with different cheeses.  I really enjoyed a Goat Gouda so I purchased one to take home.  Since the Gouda is a firmer cheese I didn't use a softer Chevre goat cheese which I normally do.  This time I used a creamy smoked provolone round.  Another soft cheese that is so delicious is a Triple Cream Brie and you certainly can't go wrong with an extra sharp cheddar either.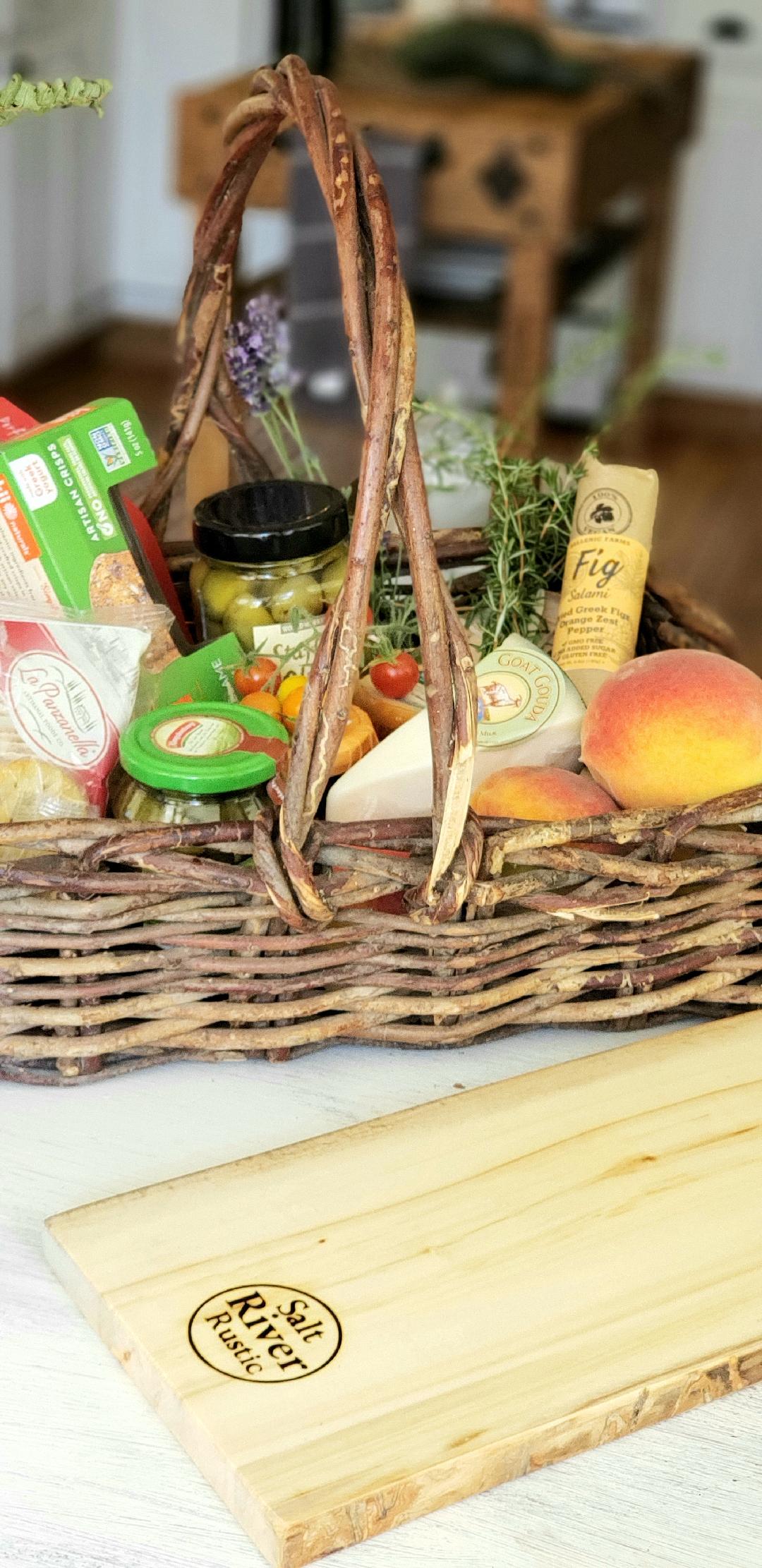 CRACKERS
I like to get different shaped crackers that are both light and dark because it's more interesting visually that way and they have different flavors.  This darker cracker has tiny nuts baked into it and has a sweet caramelized flavor.  Then this light colored but very firm cracker is so great for actually scooping the cheese without a cheese knife.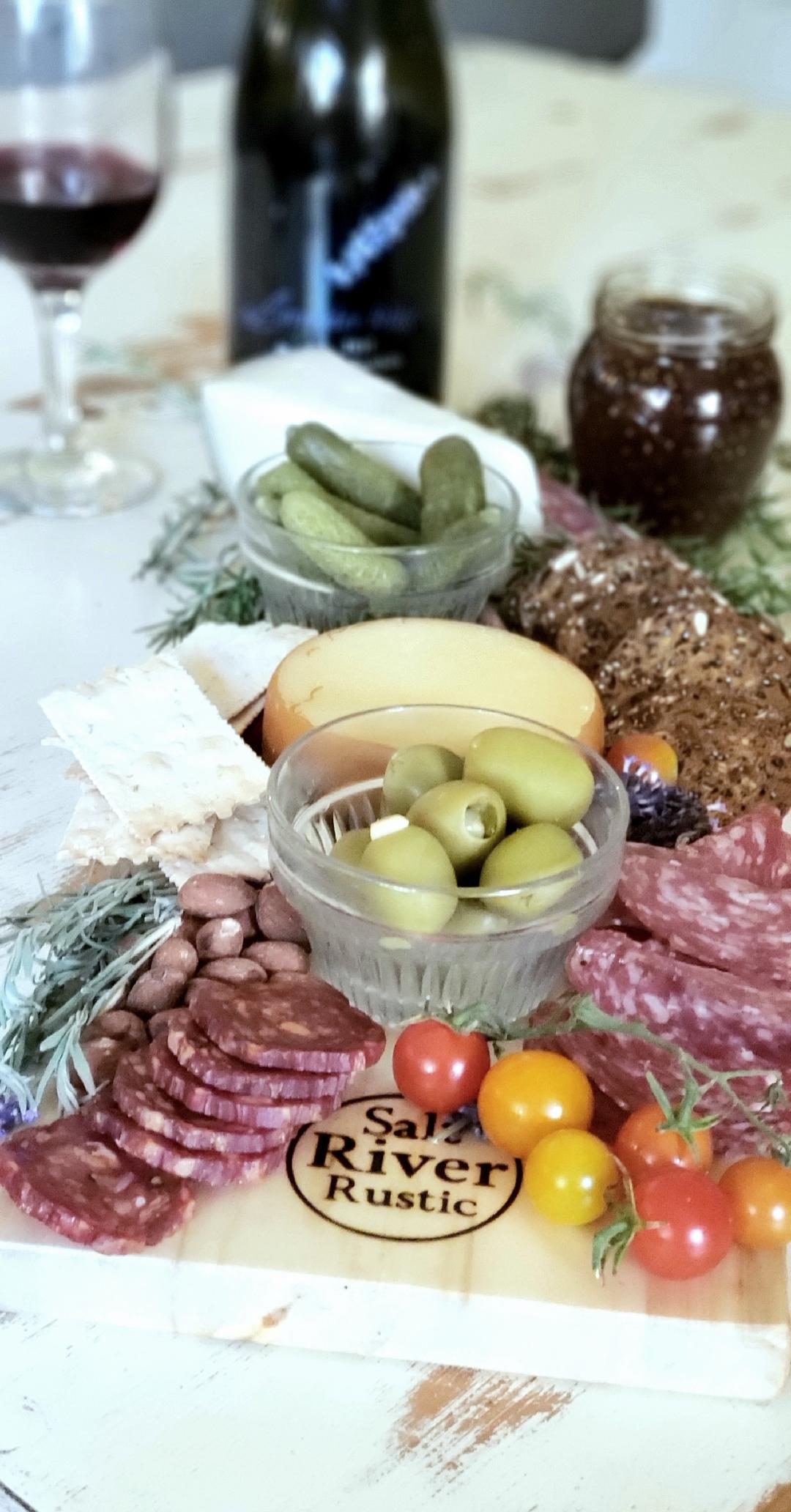 MEATS
Again there are so many choices, but I like to use a variety of cured meats and on this board I have four different salamis.  There's a mild Genoa Salami, an apple wood smoked Napoli Salami, a fennel flavored Toscano Salami, and a spicy Calabrese Salami.  But you could also include Prosciutto or Capocollo which are some of my favorites too!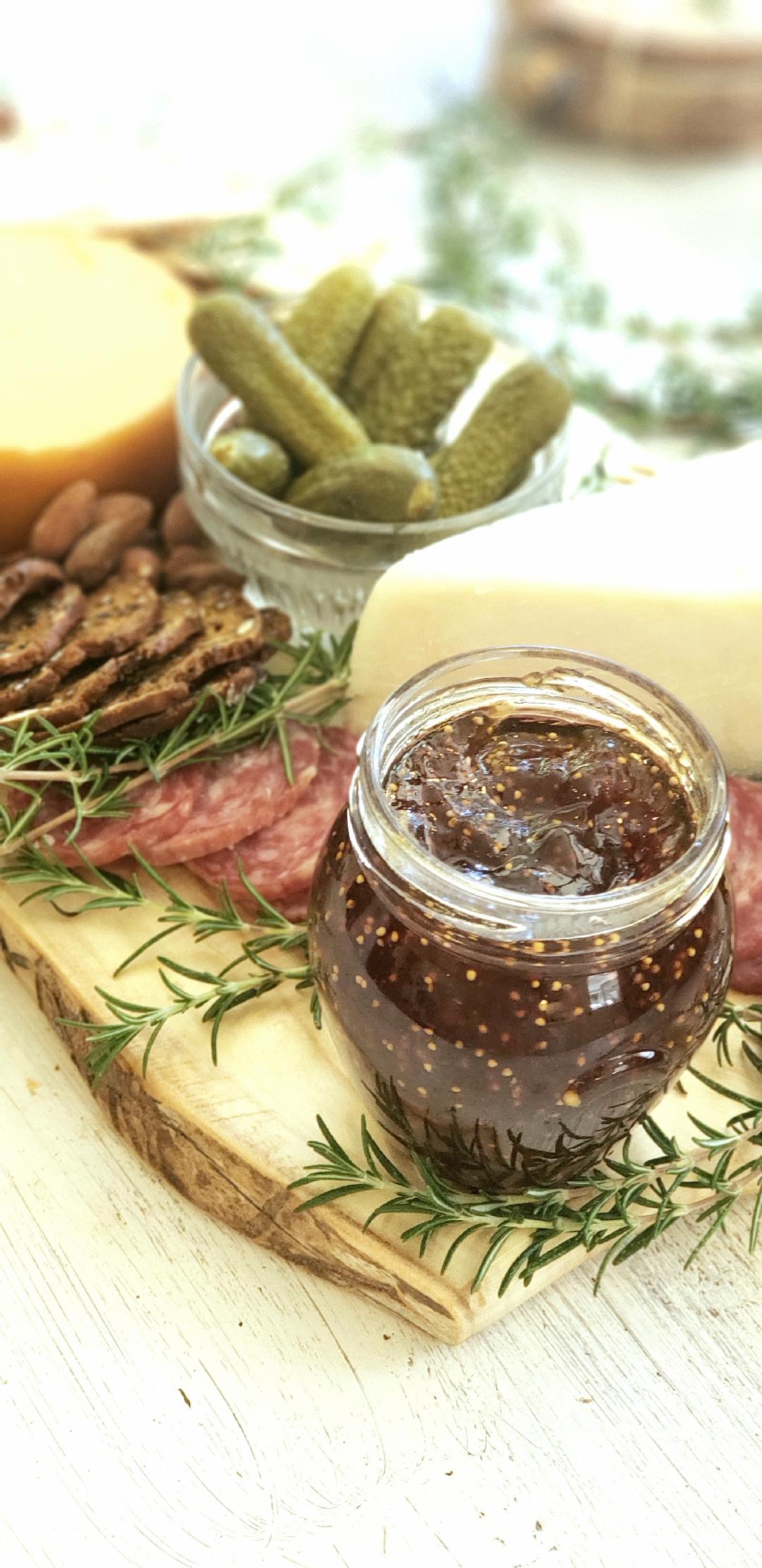 EXTRAS
Mmmm, I love green olives and there are so many to choose from but these are jalapeno flavored and garlic stuffed.  They are only mildly spicy and very delicious then the pickles are just small little Cornichons. I always include some kind of nuts like almonds and then some kind of jam and I have to say fig jam is my favorite in any season.  The only thing left is some kind of dried or fresh fruit or even tomatoes.  Since I had some fresh on the vine cherry tomatoes, I added those.
ASSEMBLY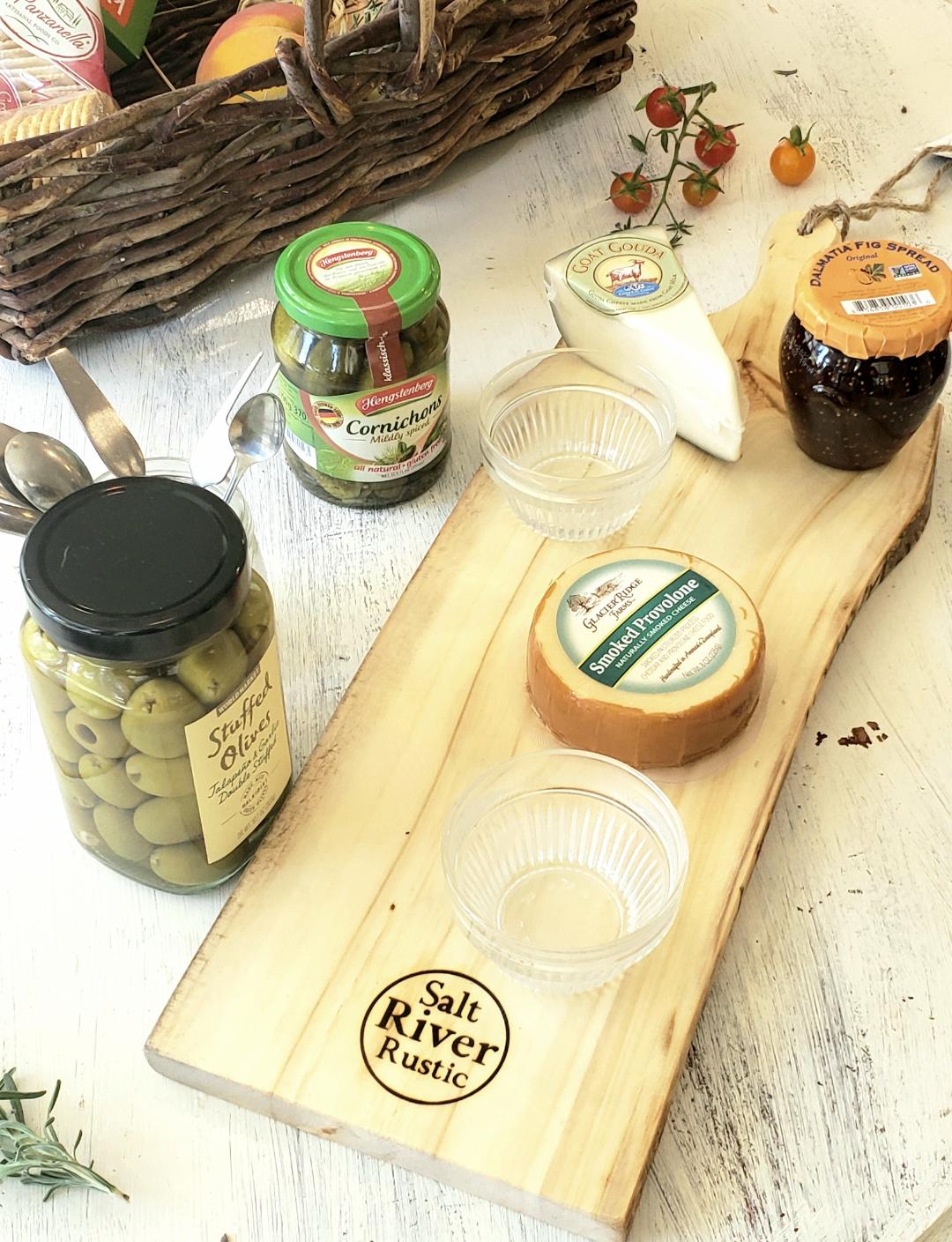 First I position the little glass bowls that will hold the pickles, olives, and jam.  I want to spread it out and arrange it so the other items will fit in between them.  Next I put my two cheeses down.  I like the triangular shaped one off to the side while the circular one looks nice in the middle really centering everything in a sun and the solar system way I guess.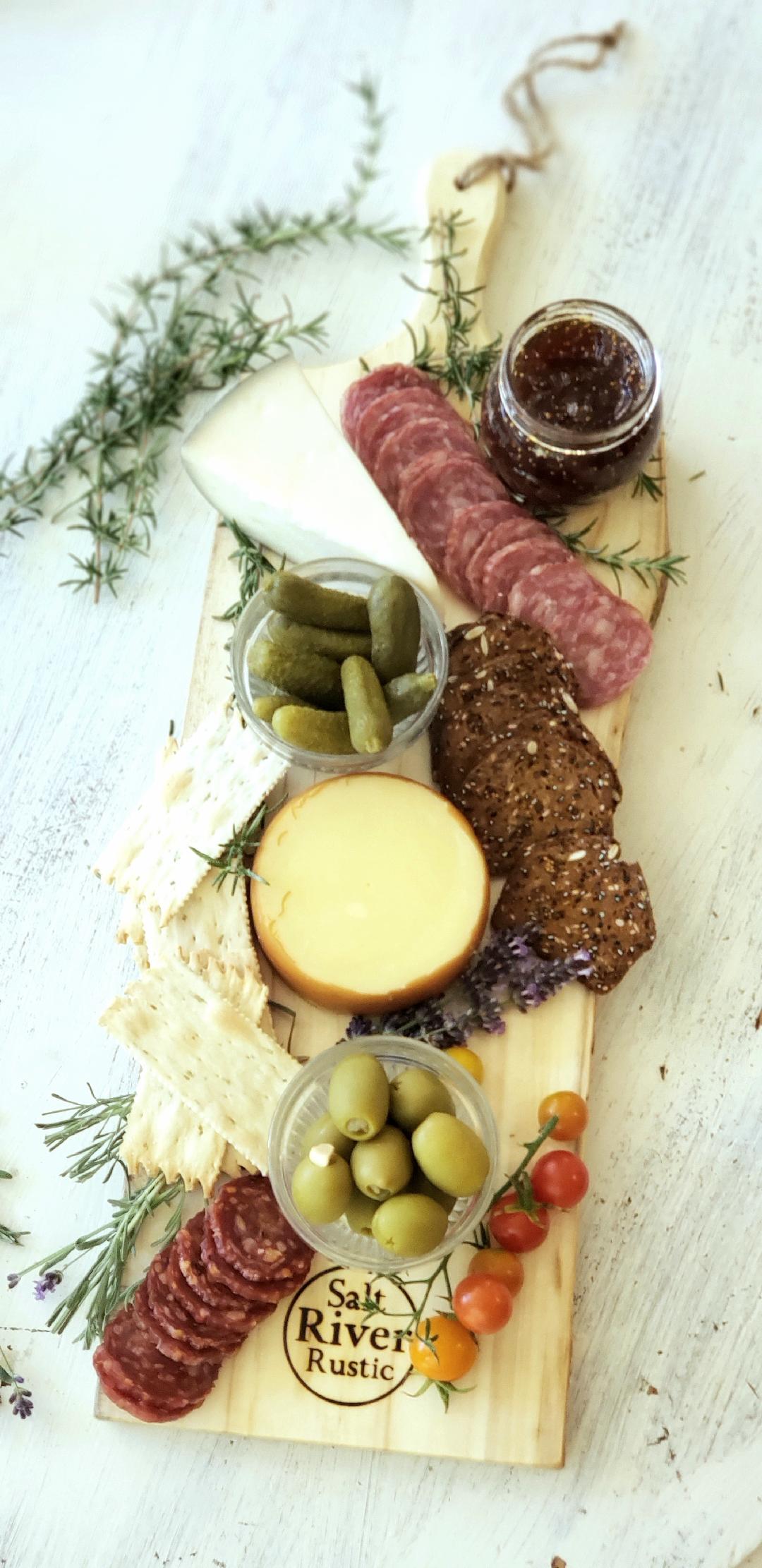 Now, I want to add the meat and crackers, filling in lots of the spaces up so everything looks full and bountiful.  Then the tomatoes can go off here at the end and then I'll fill the blank spots with the almonds.  To finish it off, I'll just add the sprigs of Rosemary and Lavender here and there to add fragrance and beauty to this already beautiful board.
There you go!  So yummy looking of course but so beautiful too with the colors and textures and the added herbs of Lavender and Rosemary!  It all just acts like ornaments on the perfectly exquisite board with its grains of wood showing, the live edges that add so much interest and detail and the neat handle that makes it easy to hang on the wall when not in use but adds to my decor!  It really would make a lovely gift too.  Love this board!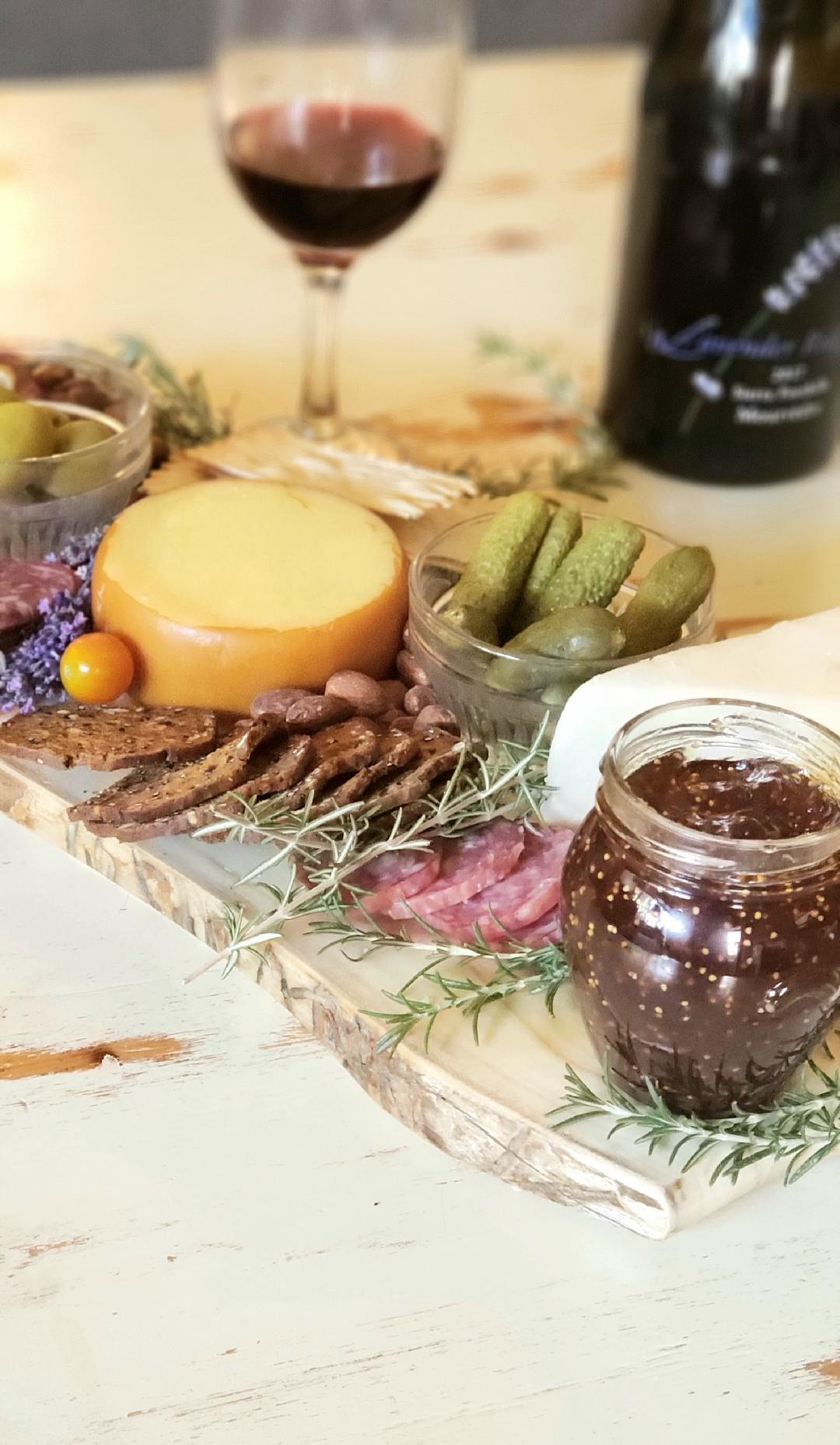 Hope you enjoyed this tutorial and found it helpful, if so you can save this post and even share with your friends!
Happy Eating!
XO Jerri
P.S. :  To purchase this board or to just peruse Salt River Rustic's product line, just click on the link below.  Hey and use my code:  FARMHOUSE  to get a 25% discount!