Happy Blog Hop Day!
I'm so glad you are here.  If you are new to Farmhouse Fun let me fill you in on some fun facts about us:
I teach kindergarten, my husband and I are newly empty-nesters, and we live in a 100 year old farmhouse!!!  Can you believe it?!?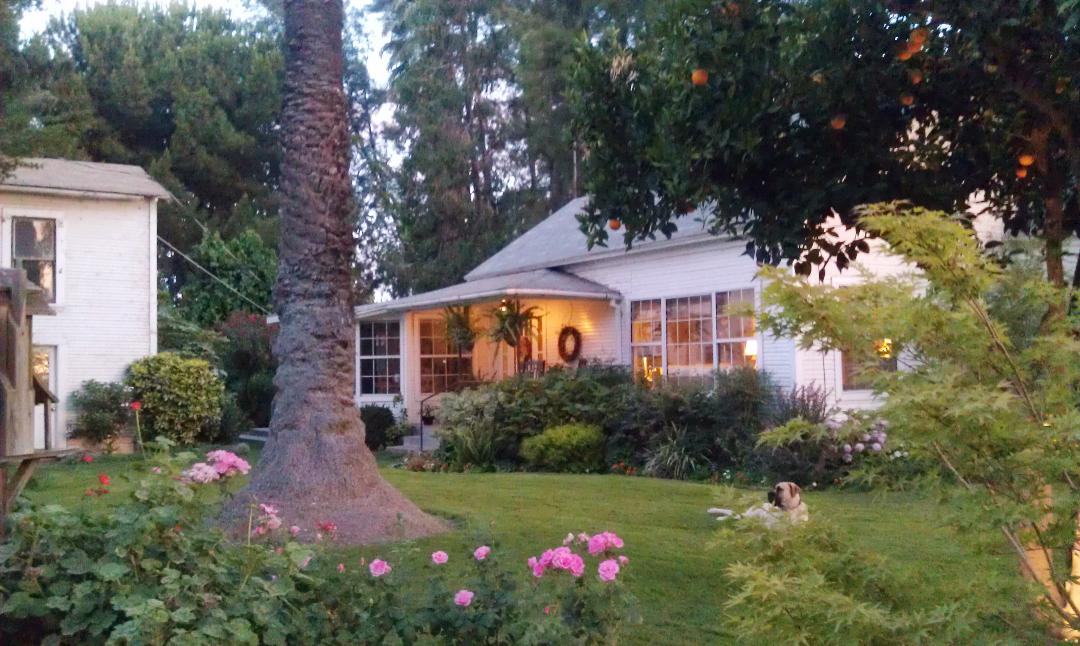 So now that you know that, I have to tell you that I'm so excited to be blog hopping with some super fun friends!
Please stop by and see all of their wonderful fall inspired projects on their blogs.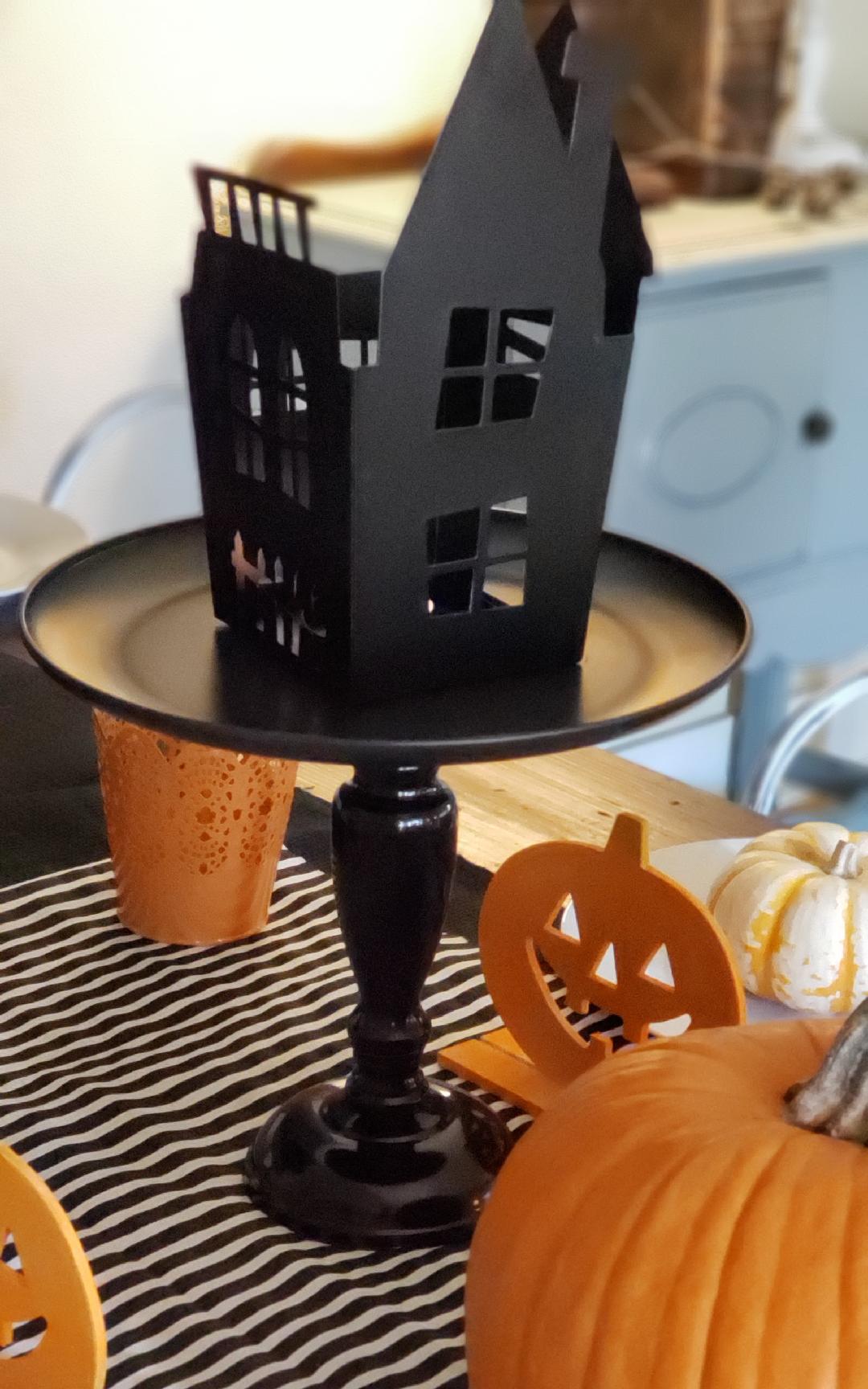 Have you ever seen something on clearance and said to yourself, "Wow, what a deal, I bet I could do something amazing with that!"
Yeah me too, like all the time.
Well, guess what?
I joined some friends and excepted a challenge to find a clearance item and use it to style something for fall.
I did.
Of course I did.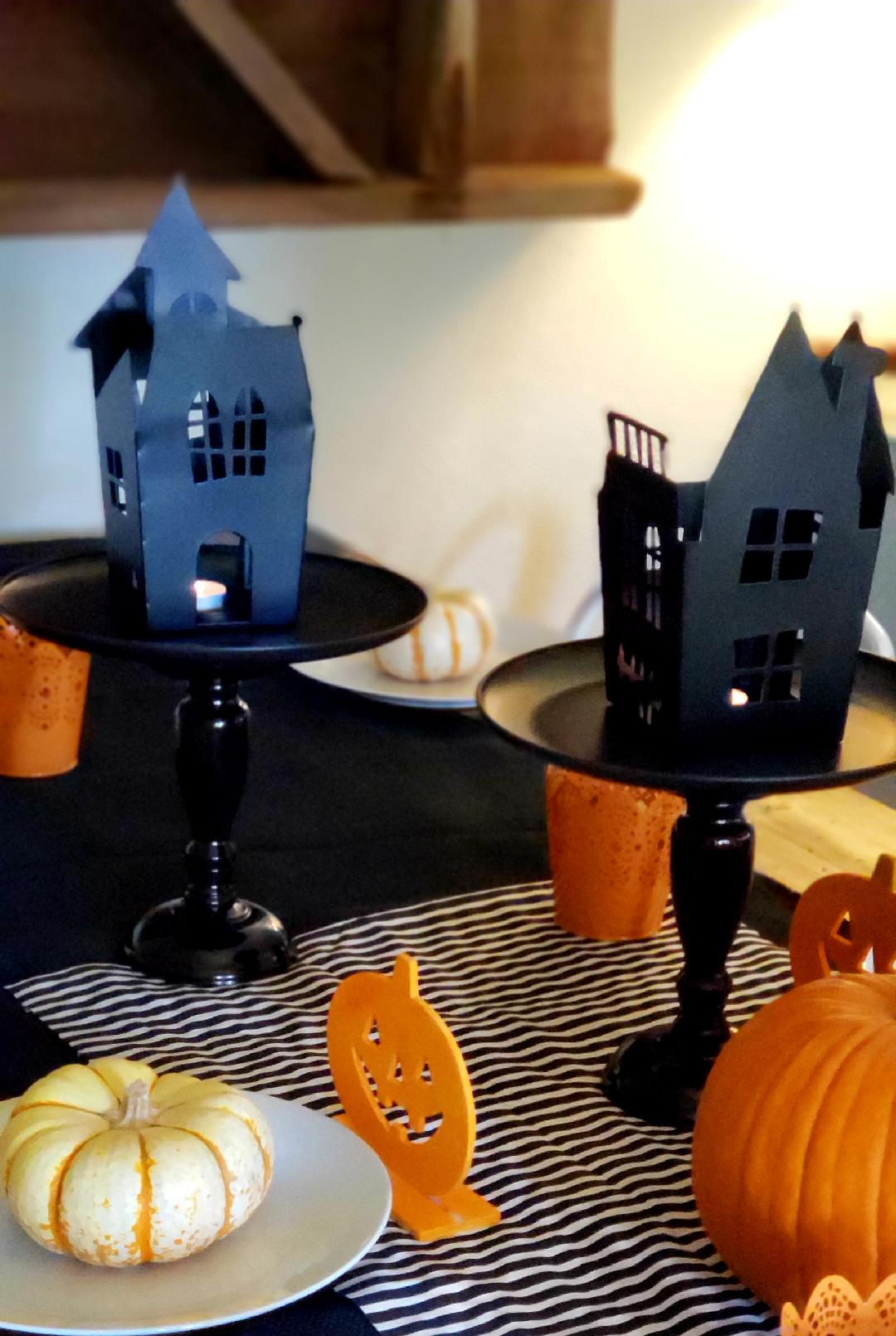 It's called the Blogger's Top Shelf Clearance Challenge!
It sounded like more fun than a challenge that's for sure and I only had to keep it under $15.
Do you know that I'm the cheapest person alive?  Well I like to say frugal, because it sounds much classier, I suppose.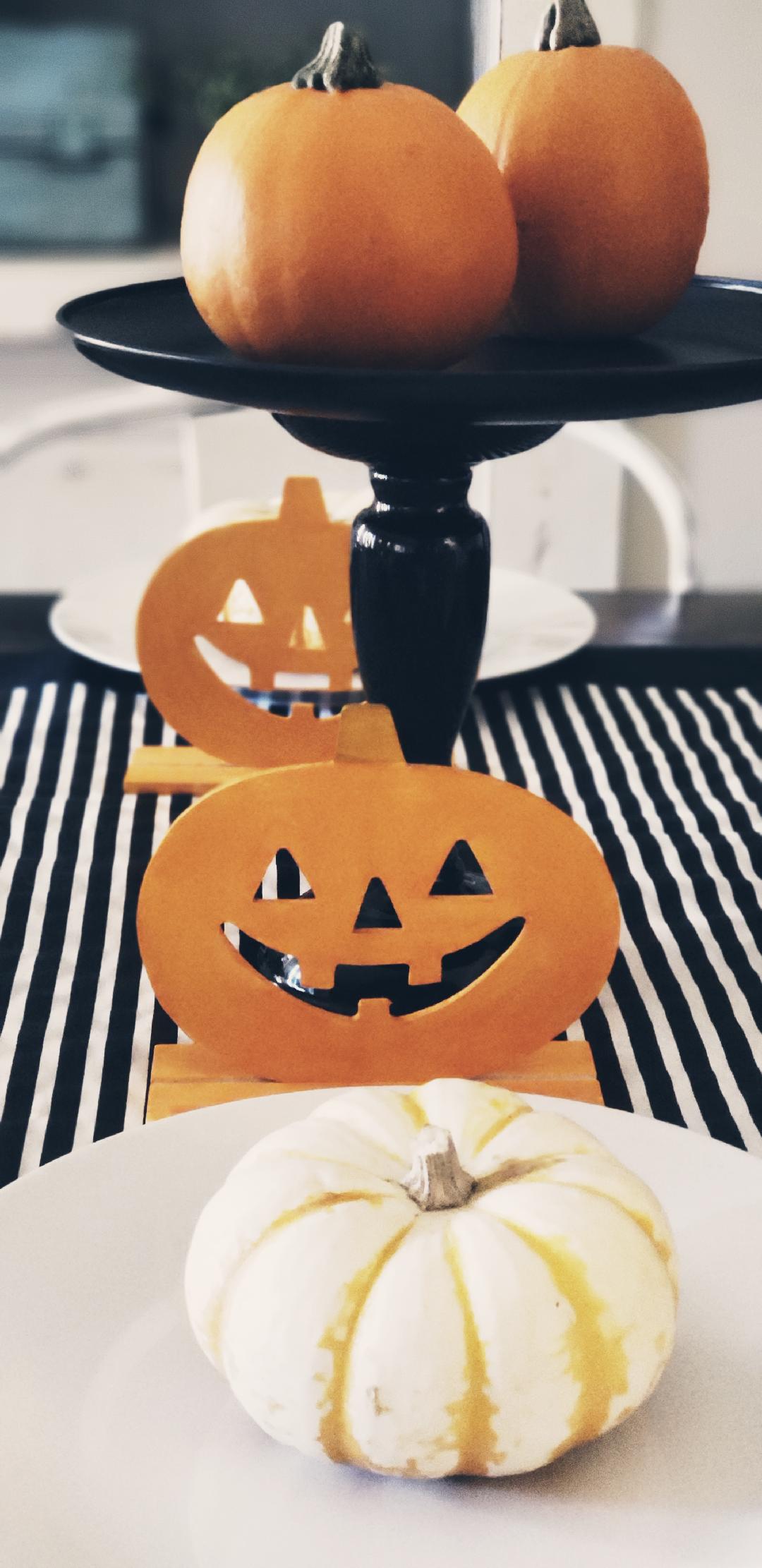 But here's the really fun part… I could change the item also, if I wanted.
Hmmm… It didn't take long for me to pick my harvest table as my muse.  Yep, I've been thinkin' that this table of mine needed a little "Halloween" update.
It's almost here and I just love the childlike joy and fun of this particular night.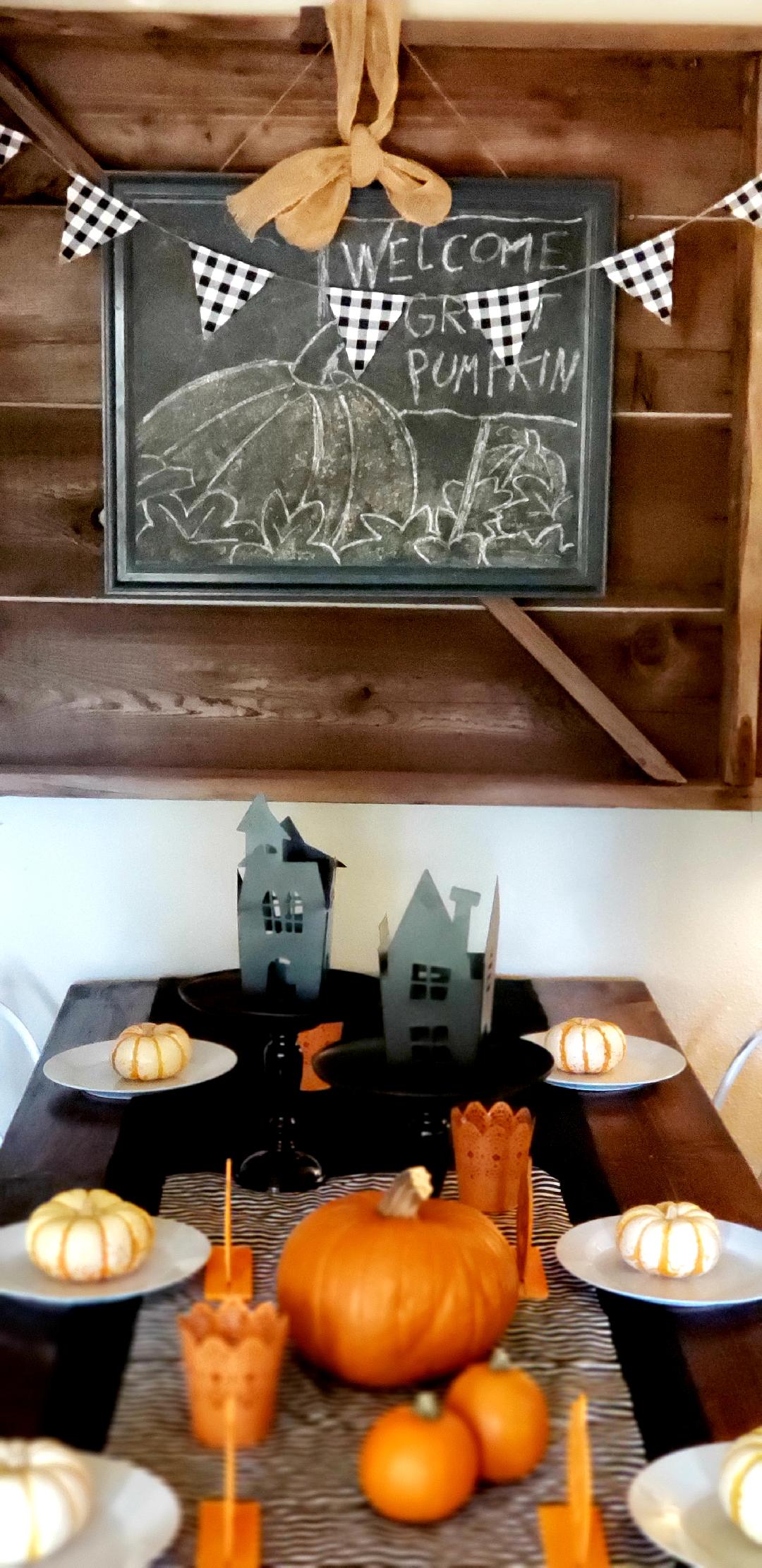 It happens to be our son's birthday so we always have a family dinner to celebrate him, so I'm thinkin', let's get this table ready!
When picking out my clearance item, I knew I wanted it to be something purposeful, useful, pretty and something I could re-use for another season possibly.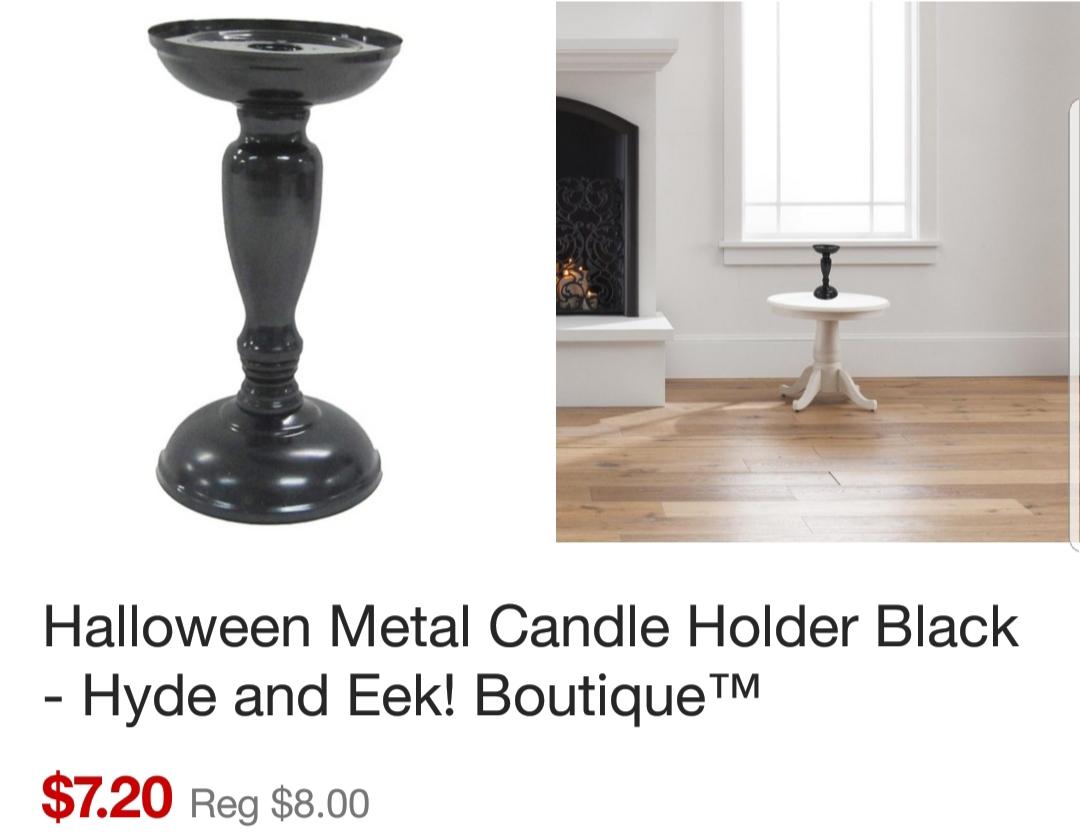 So, I checked Target because they seem to always have something I want, need, or could use and sure enough, I found these Halloween candlesticks on clearance!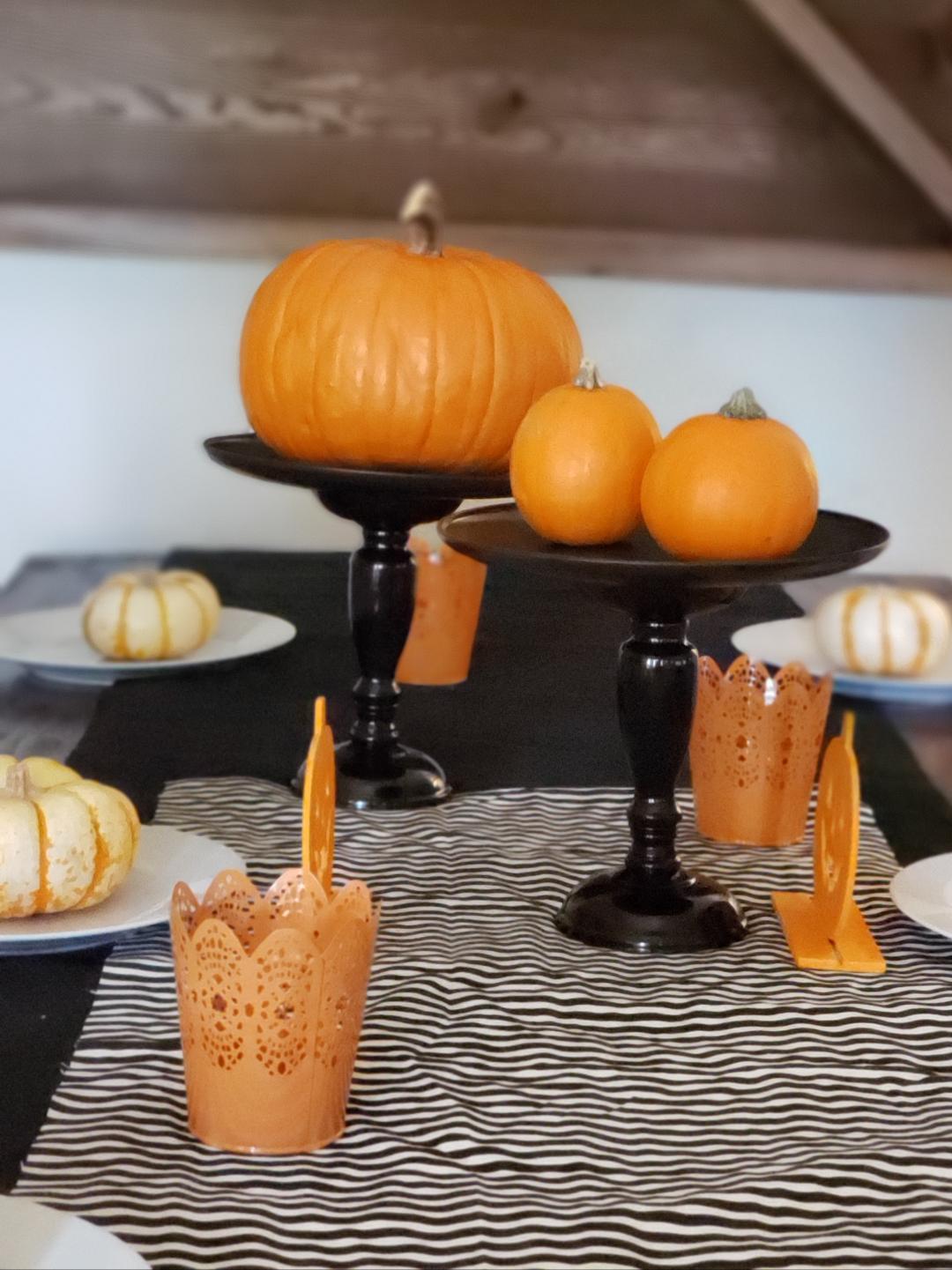 Score!  Then I thought how great would it be to simply put plates on them and use it as the pedestals for my homemade yummy fall treats or emphasize how much I adore pumpkins in October!
Perfect!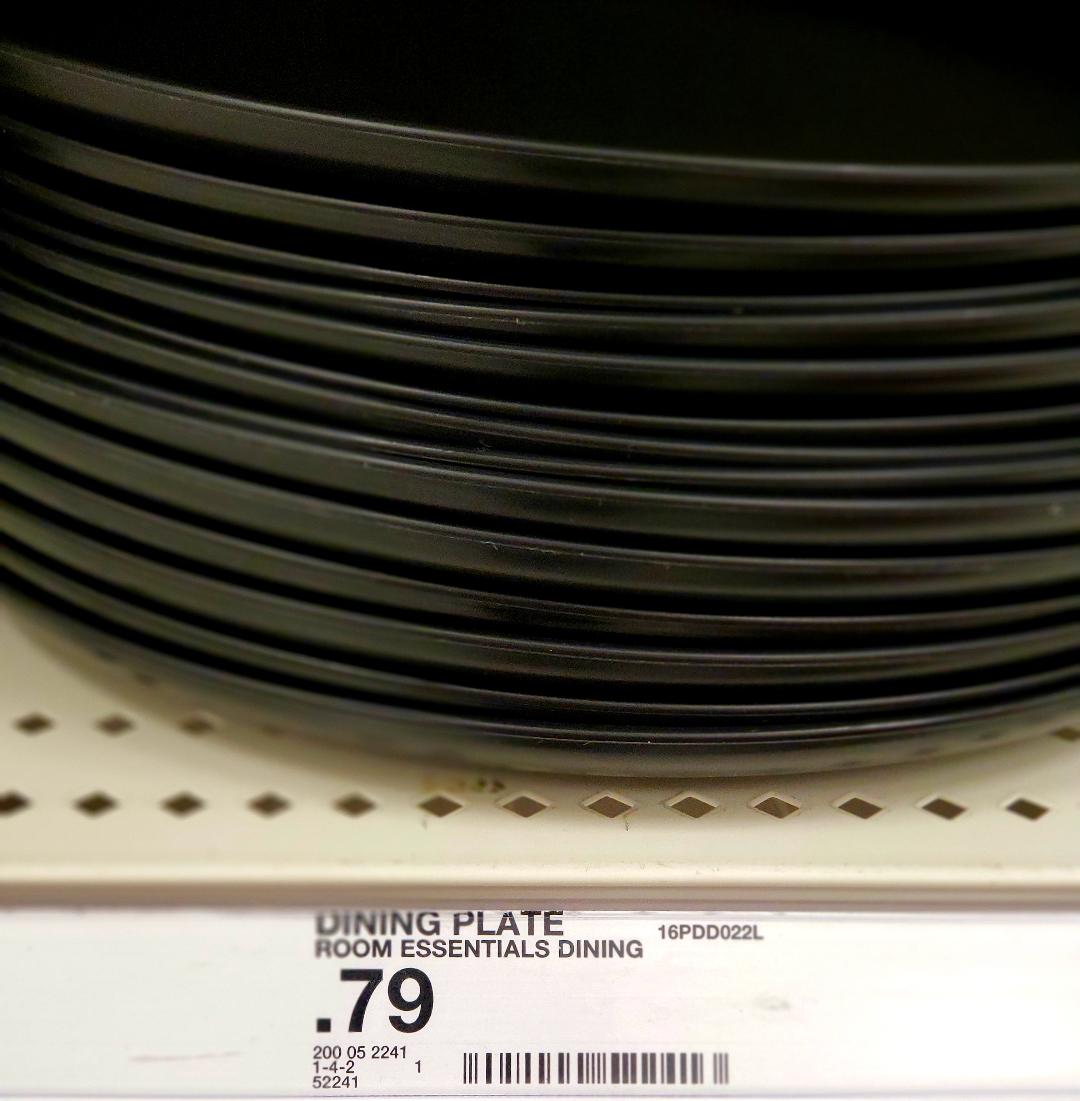 So I looked around Target and found these black plastic plates for .79 cents each (regular priced and not part of the $15. challenge, I just loved it cuz it was cheap, cheap, cheap too)!
Yay for me, half my challenge was accomplished.
Now to take it home and use it on my table-scape for a little fall inspiration.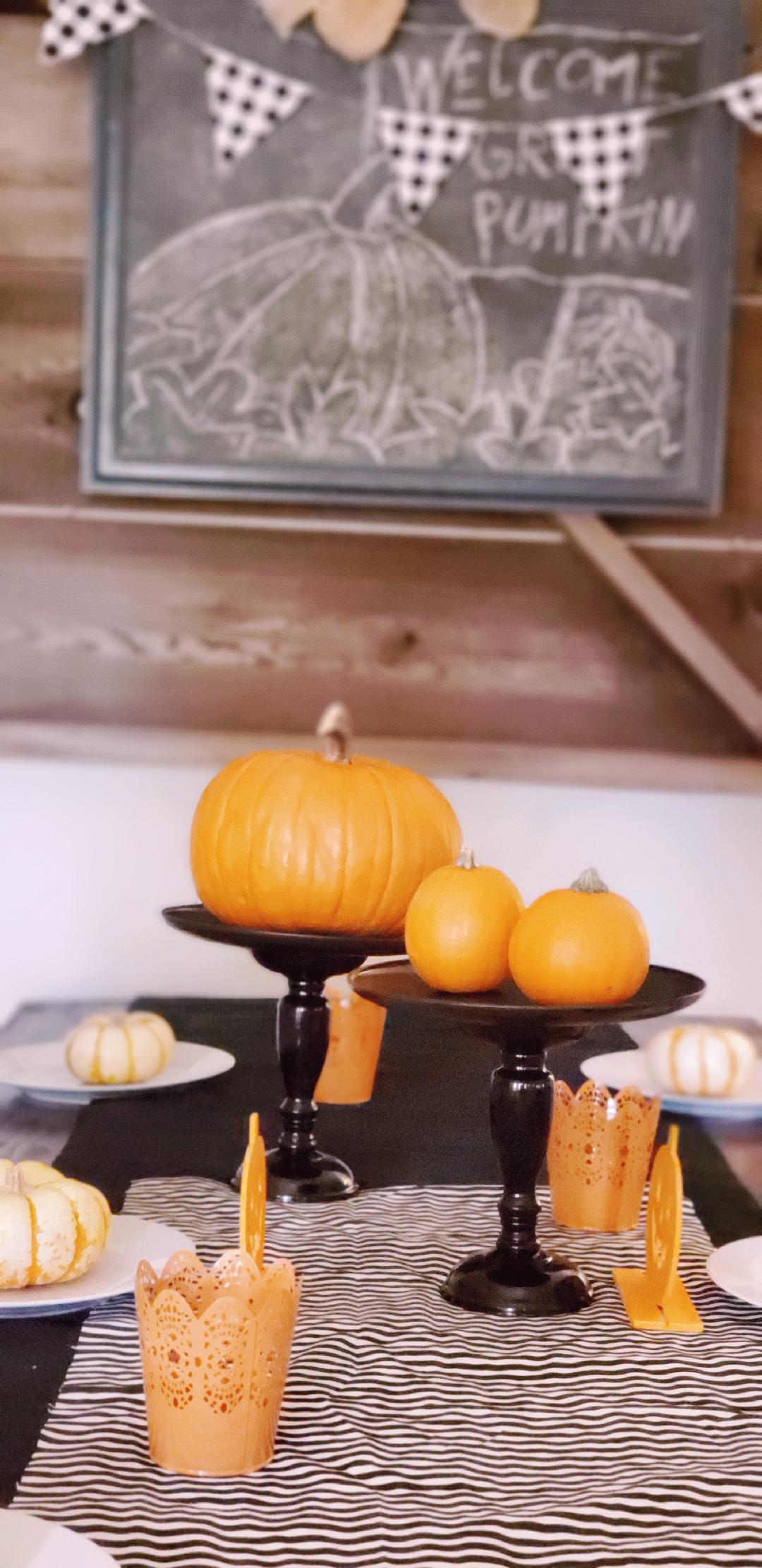 I think it's a great example of how creative we can get when we have a small budget which is usually the case when your hosting a gathering.
Most of your budget goes towards the food and drink, so you have to make do with your regular decor.
But if you shop clearance items, you can really re-invent something into a wonder of things.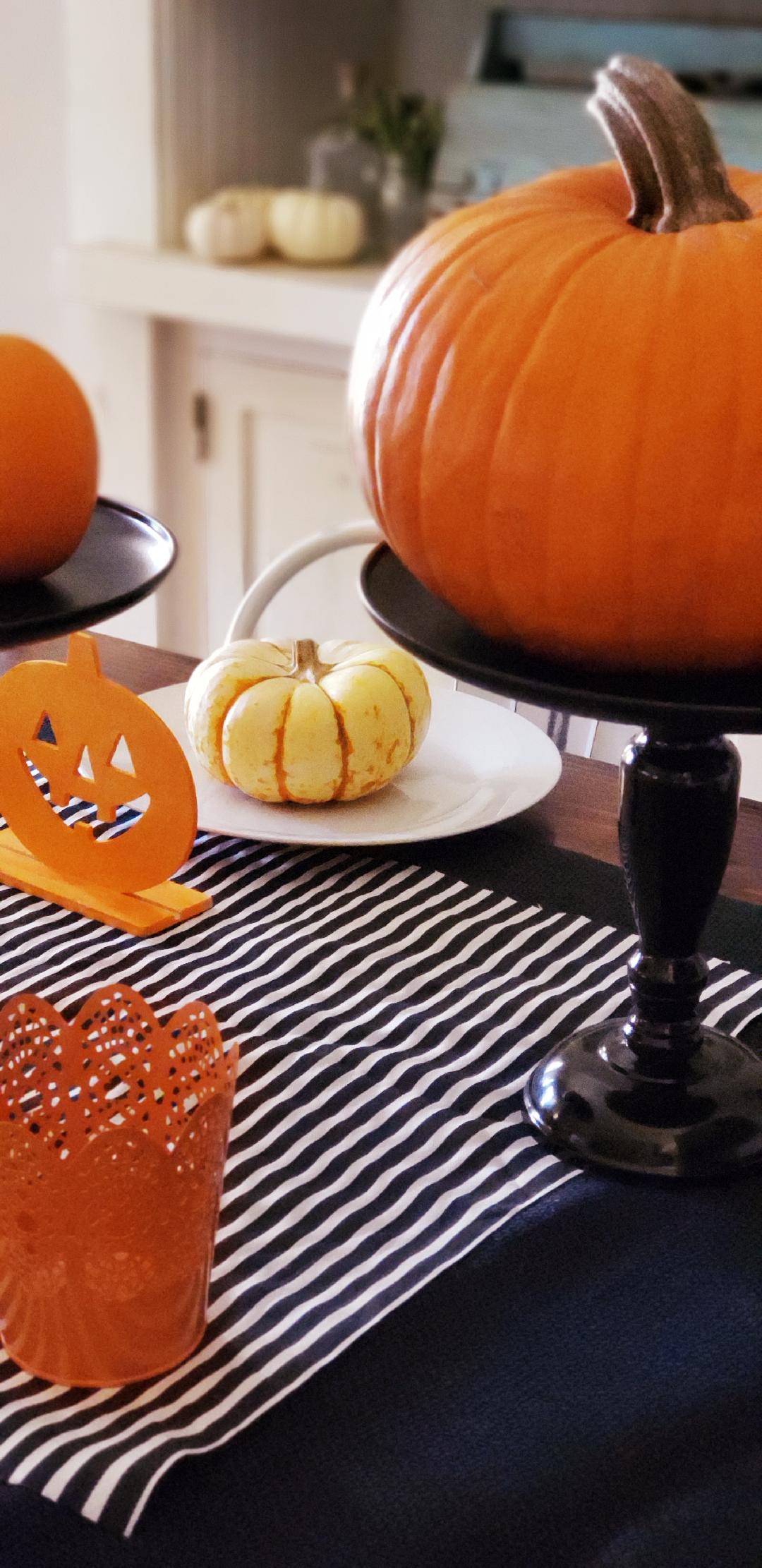 As you can see, I put those plates atop these candle sticks and they are like regular cake platters, or cheese plates, or even just a place to display yet another pumpkin that I just can't get enough of.
And with the black color, it seems so much more elegant to me and still has that fun fall, even more of an "October" look as well.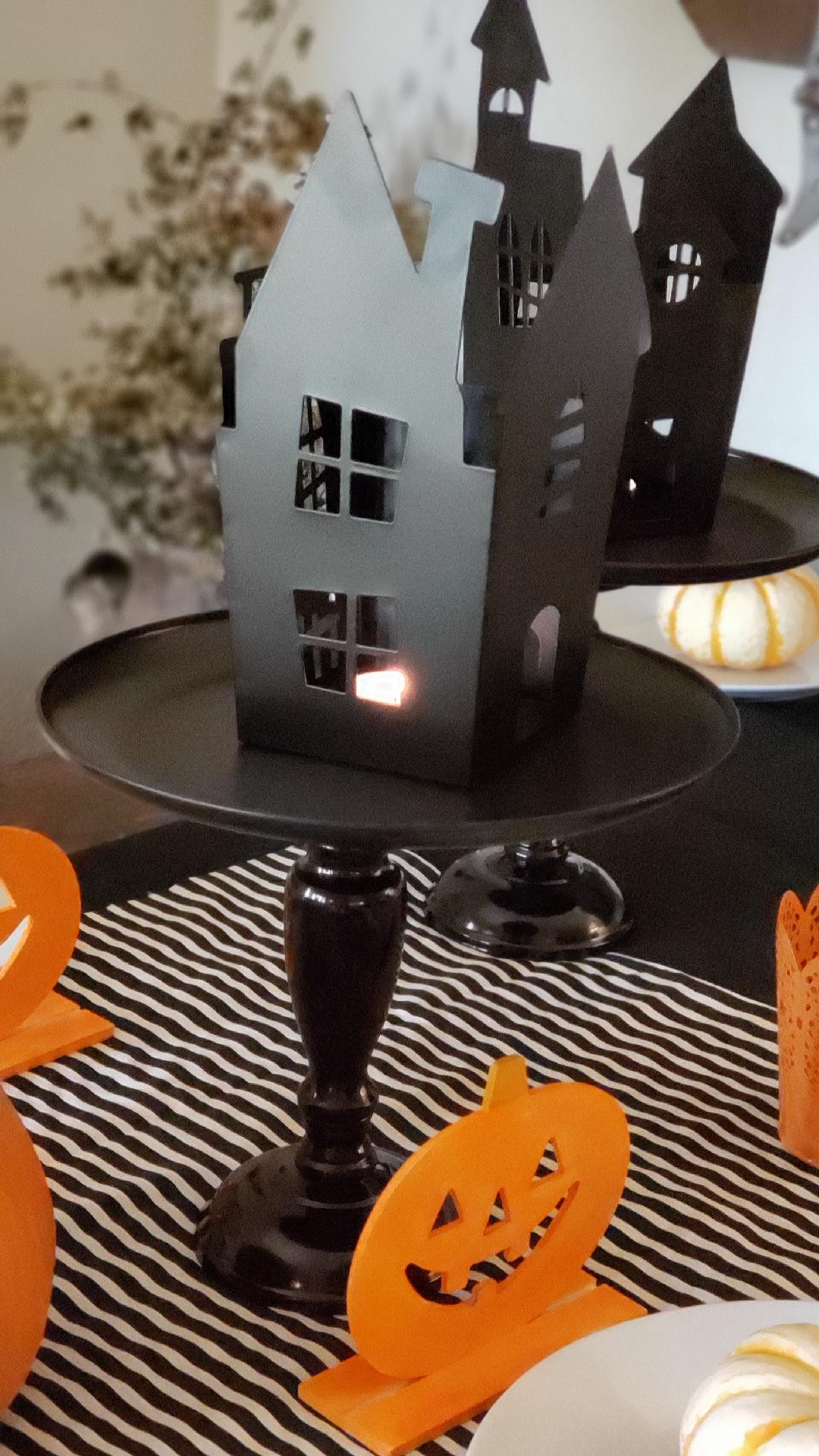 I added a few more Target finds from the Dollar Spot like these really cute haunted house candle lanterns to set atop of my clearance pedestals and these cute orange lacy looking votive holders.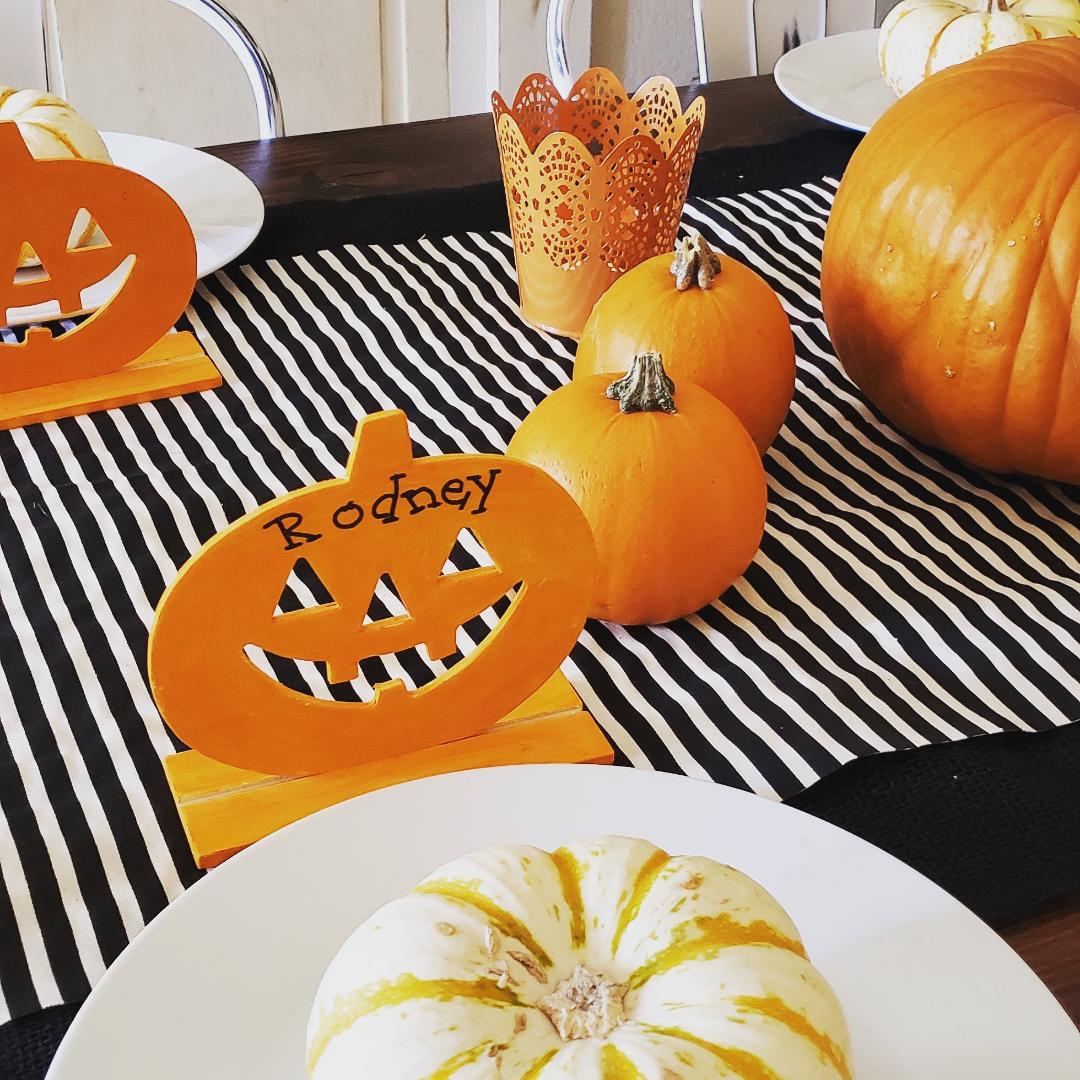 And just look at these pumpkins!  My sweet daughters in law painted them for the place cards.
Then with some tiger striped pumpkins on the plates and some material that I already had like this black burlap that I turned into a runner, along with this black and white striped material I added for some whimsy, I was almost there.
I already made this fall bunting so I just needed to change the chalkboard sign to a more fun Halloween look.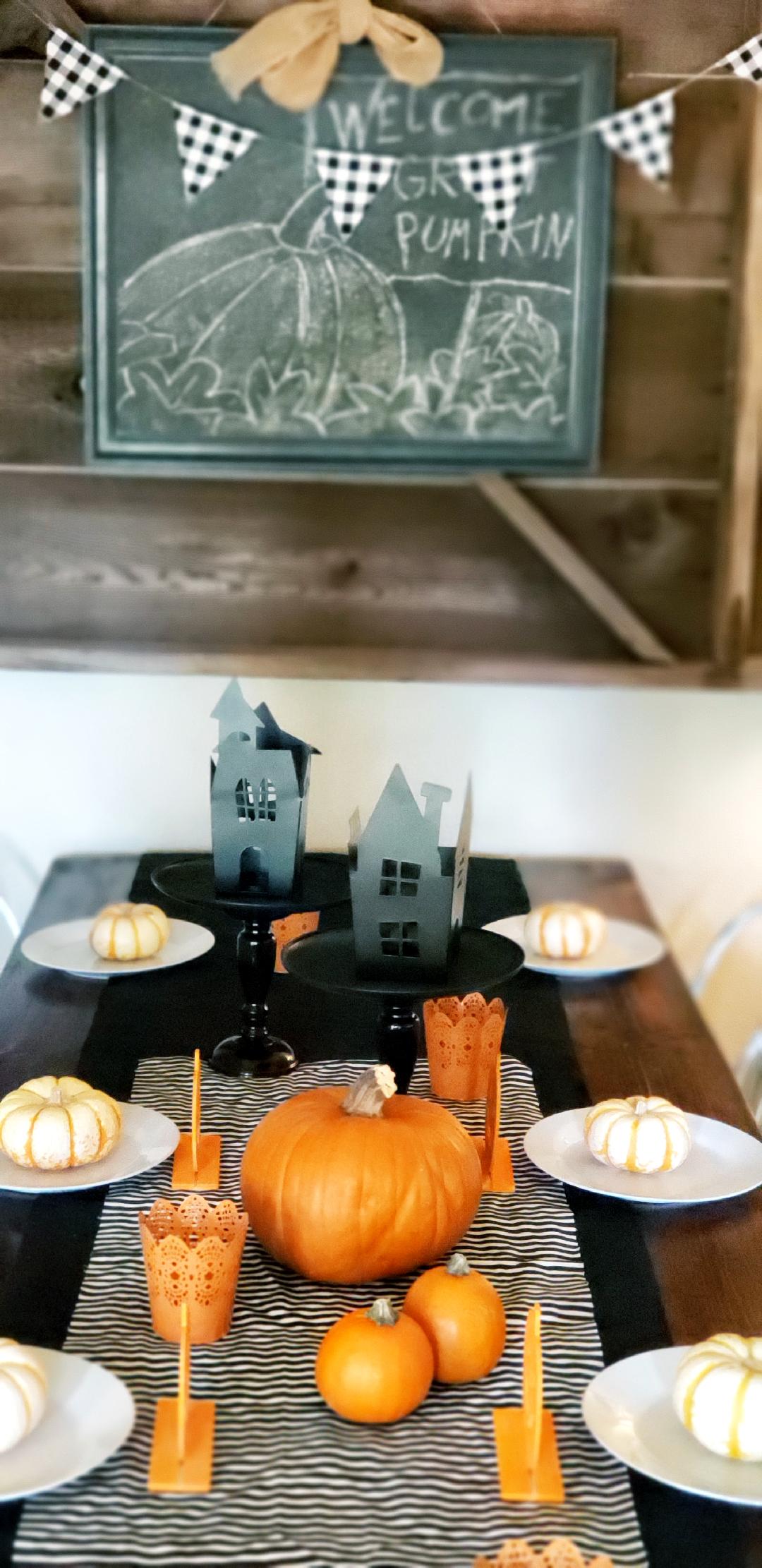 There, how cute is that?!?
I think I can still re-use these pedestals for Christmas decor especially if I put it with a wonderful red, white, and black plaid table runner of some kind.  We'll just have to wait and see.  Until then…
Thank you for stopping by and I hope you'll come back again soon!
Happy Fall!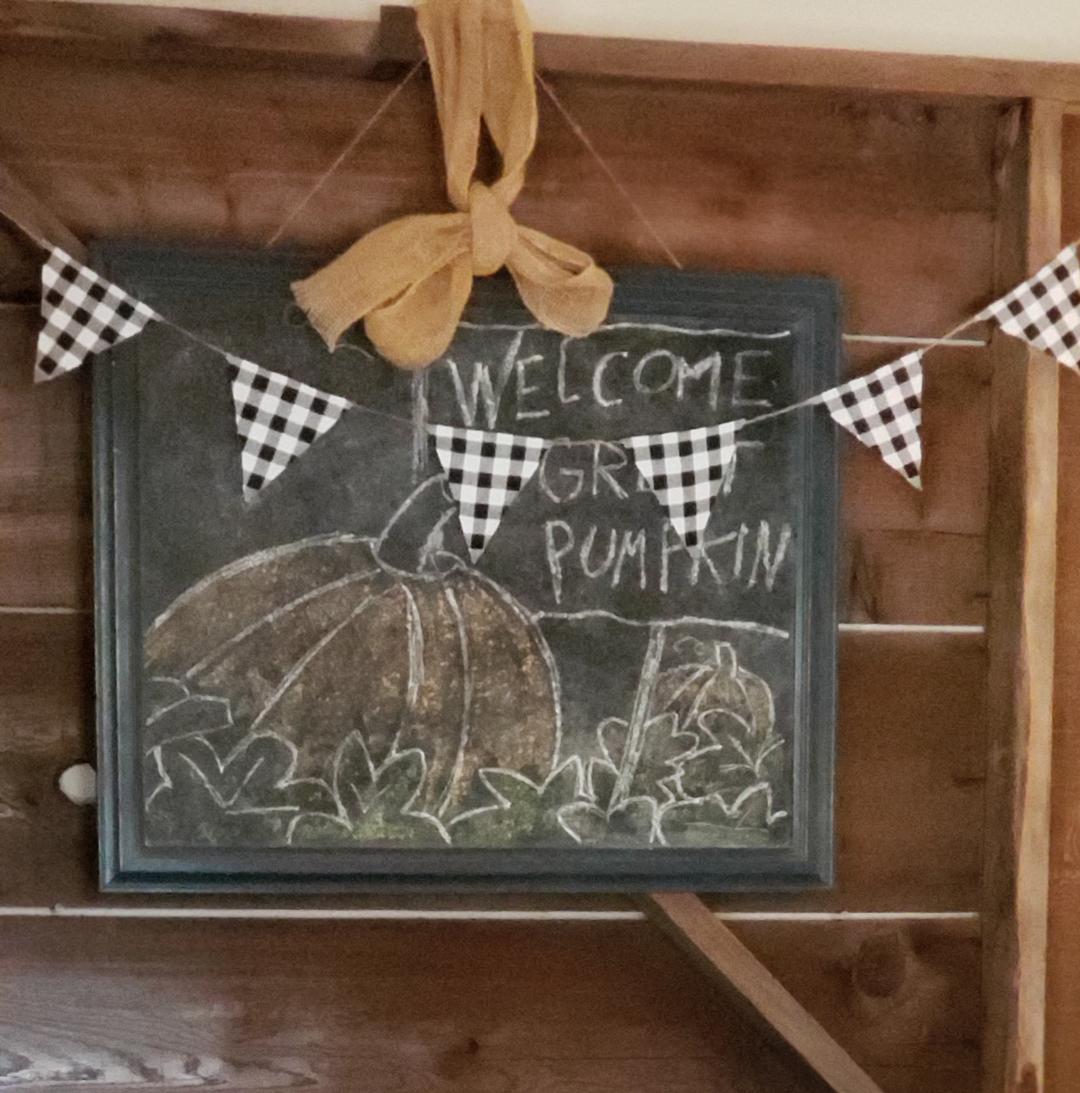 Now, please stop on by my sweet friend's lovely blogs to check out their
"Clearance Challenge Items!"
XO Jerri