NATURE INSPIRED FALL TABLE SETTING
So our Farmhouse Porch is decked out for fall!  Now I'm moving inside through the front door and for me it's all about bringing nature in.  That's the inspiration for this nature inspired fall table setting.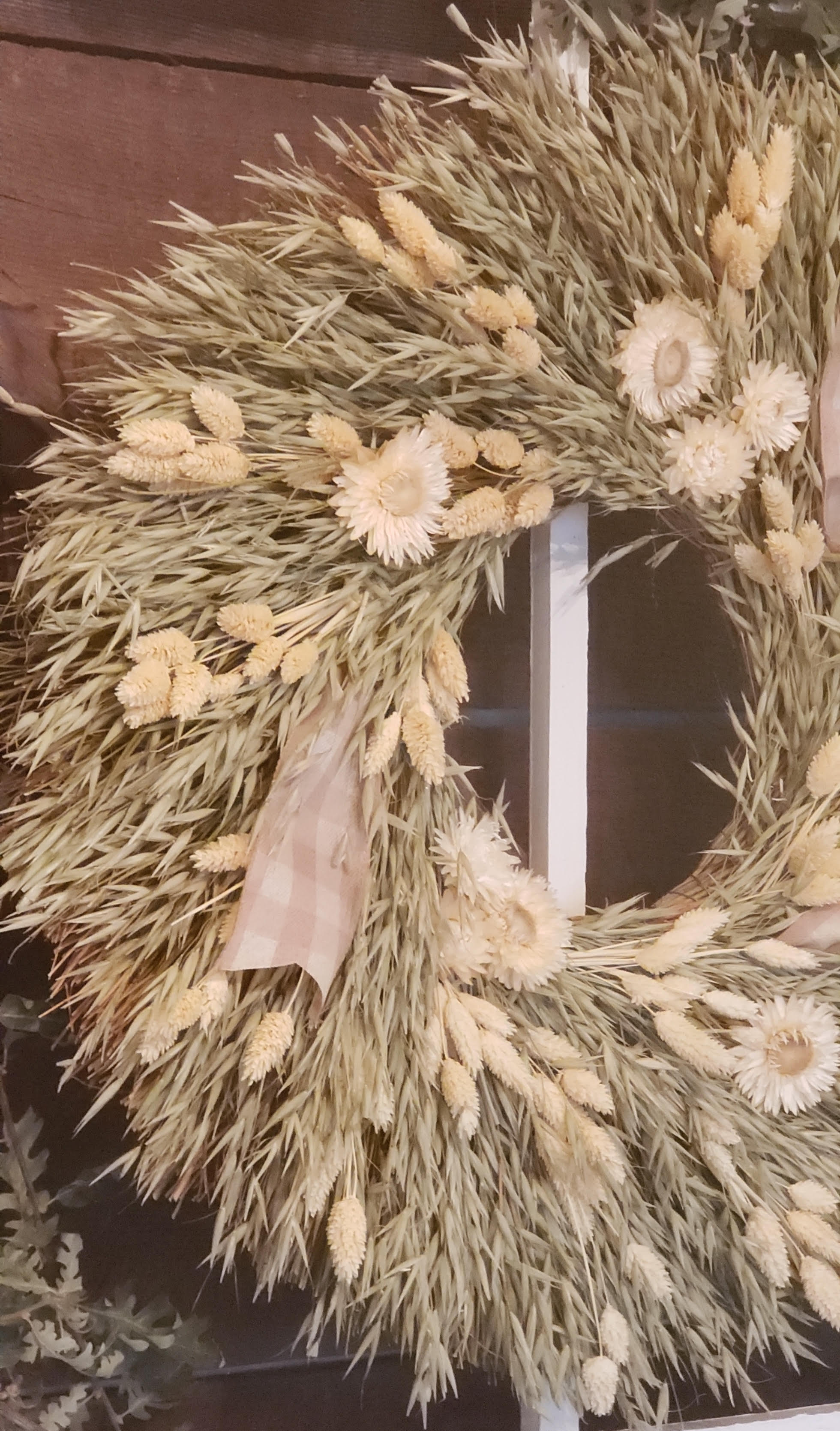 I love fall and all of it's rust and earth tone colors that comes with it.  But so often in California these rich tones don't start to appear until the end of November and sometimes mid December!
Even though the official day of fall is now here what is going on outside is more of a faded sun kissed landscape full of neutrals and that's what I decided to bring in.
NATURE INSPIRED FALL FOCAL POINT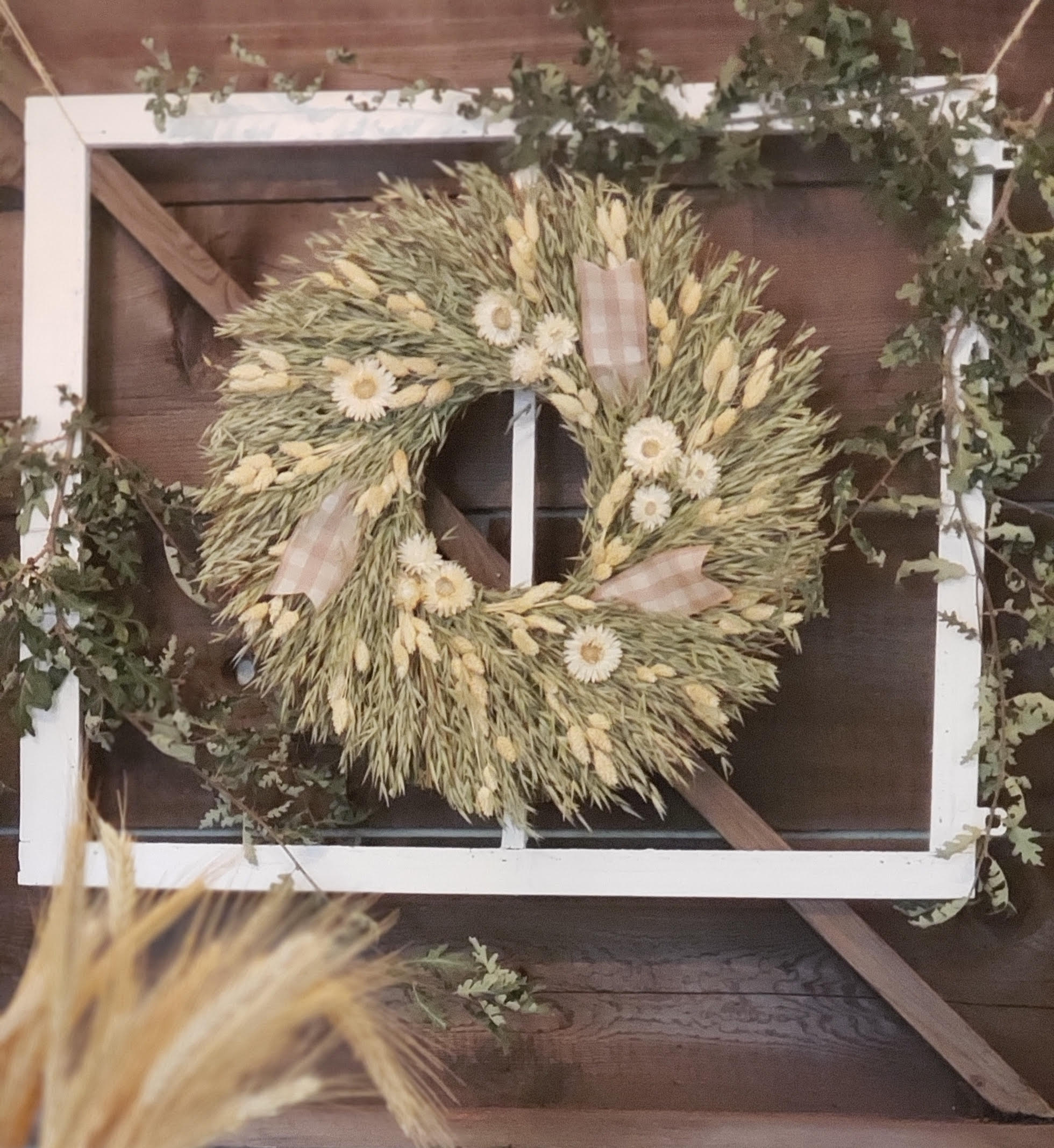 I started off with this beautiful wreath hung above as if it's shining down like the fading golden sun.  I really liked how it's creamy, light, and so natural look contrasts up against the dark wood of this old garden gate.
When we were painting the back of our farmhouse this last summer, we took down this really old wooden screen from one of the windows.  I just knew I wanted that piece for something fun like this to layer and that's just what I did.
Then I gathered some oak leaf branches and wired them to the frame.  I just love how it turned out as a back drop and almost even the focal point to represent the theme of nature inspired fall table setting.
WOOD PLANKS AS THE CENTERPIECE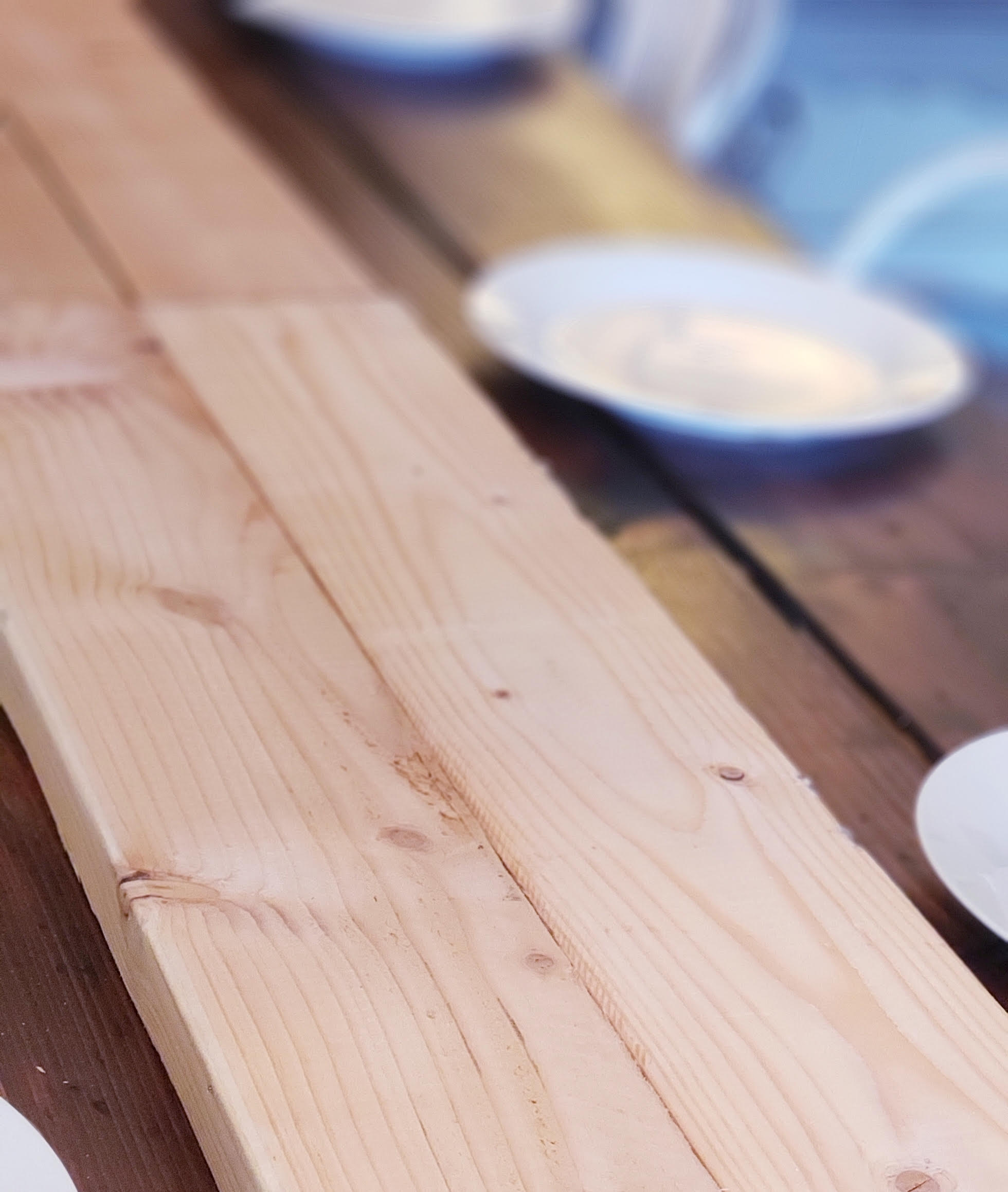 I love using natural things on my tablescape but along with the dishes I feel it has to be raised up so it won't interfere with eating.  So I thought if I made my own natural garland layered loosely down the center, it would be so pretty but  I thought for practicality it would be nicer if I could just raise it up a bit with some boards.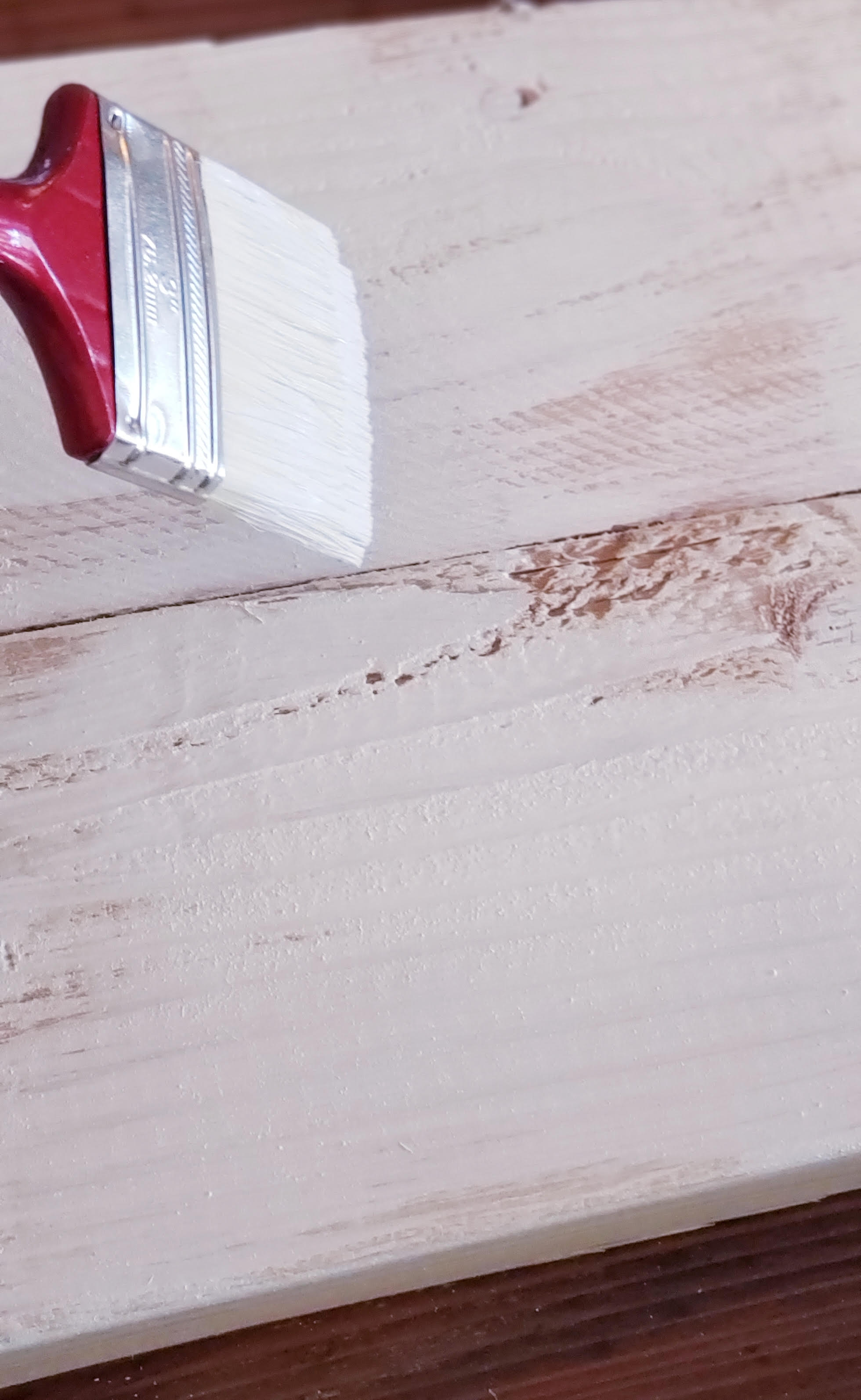 I always keep leftover wood from any projects we have in a wood pile at the bottom of our Tankhouse which will soon be a craftroom/she shed someday.  As I was searching, I found these planks and just laid them in the center.  Then I gave them a white wash of paint real rustic like.
I think it does a nice job of echoing the woods and white look from above where the wooden screen frame and wreath hangs.
FORAGING FOR THE NATURAL DETAILS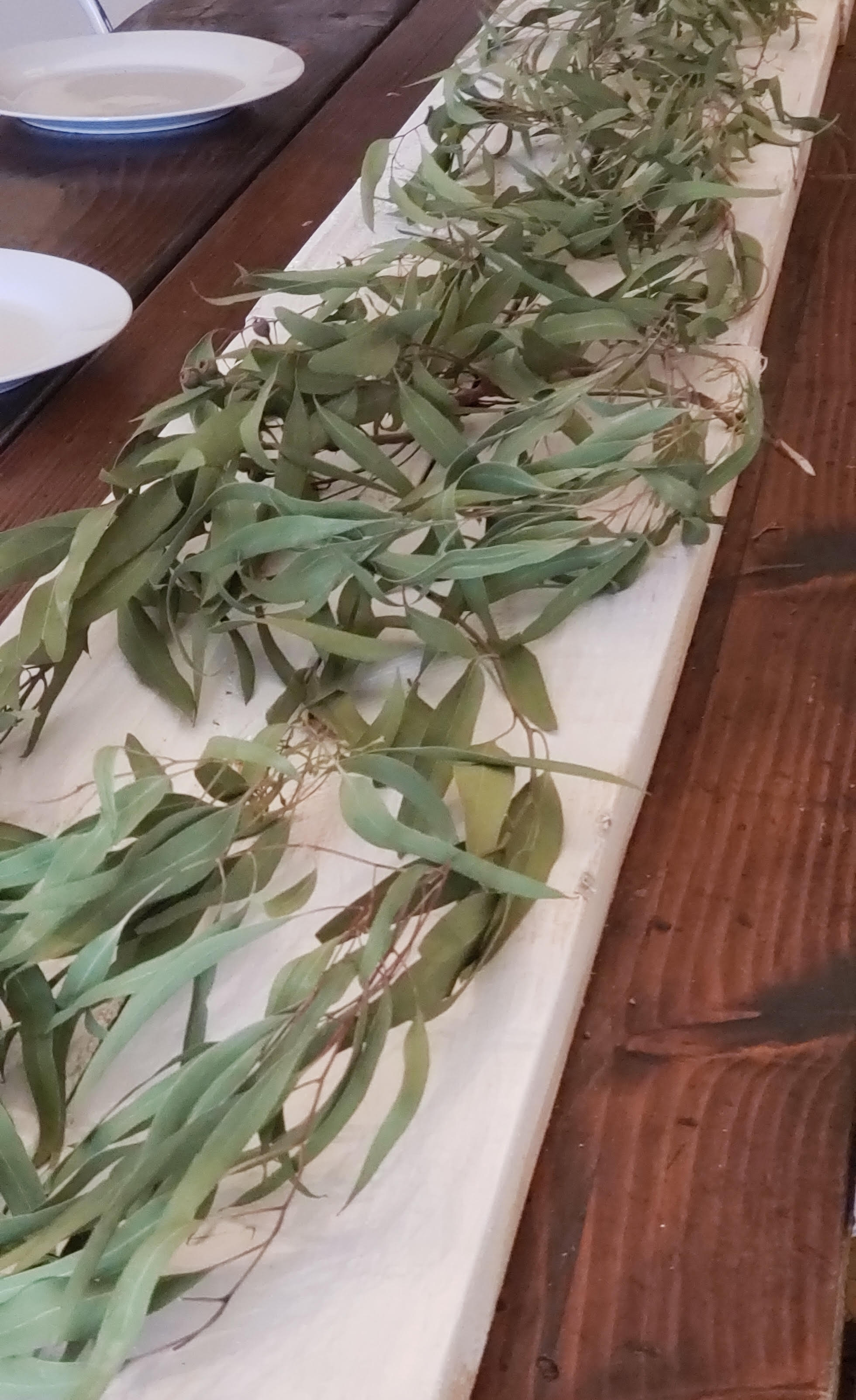 So often I'm all about using what you have.  Then you can always add just a few new or treasured heirlooms to finish off the rest.  That includes going outside and looking in the yard for nature inspired details.
I found this eucalyptus that is just so beautiful whether it's fresh or dried.  Both ways add beautiful texture and a muted color to the whole tablescape.  This I think represents what fall is truly like here in California.
A FEW EXTRA TOUCHES FOR A NATURE INSPIRED TABLE SETTING
I did purchase just a few things that I couldn't find in the yard, or actually I just had them on hand because when you DIY as much as I do, you've got stuff.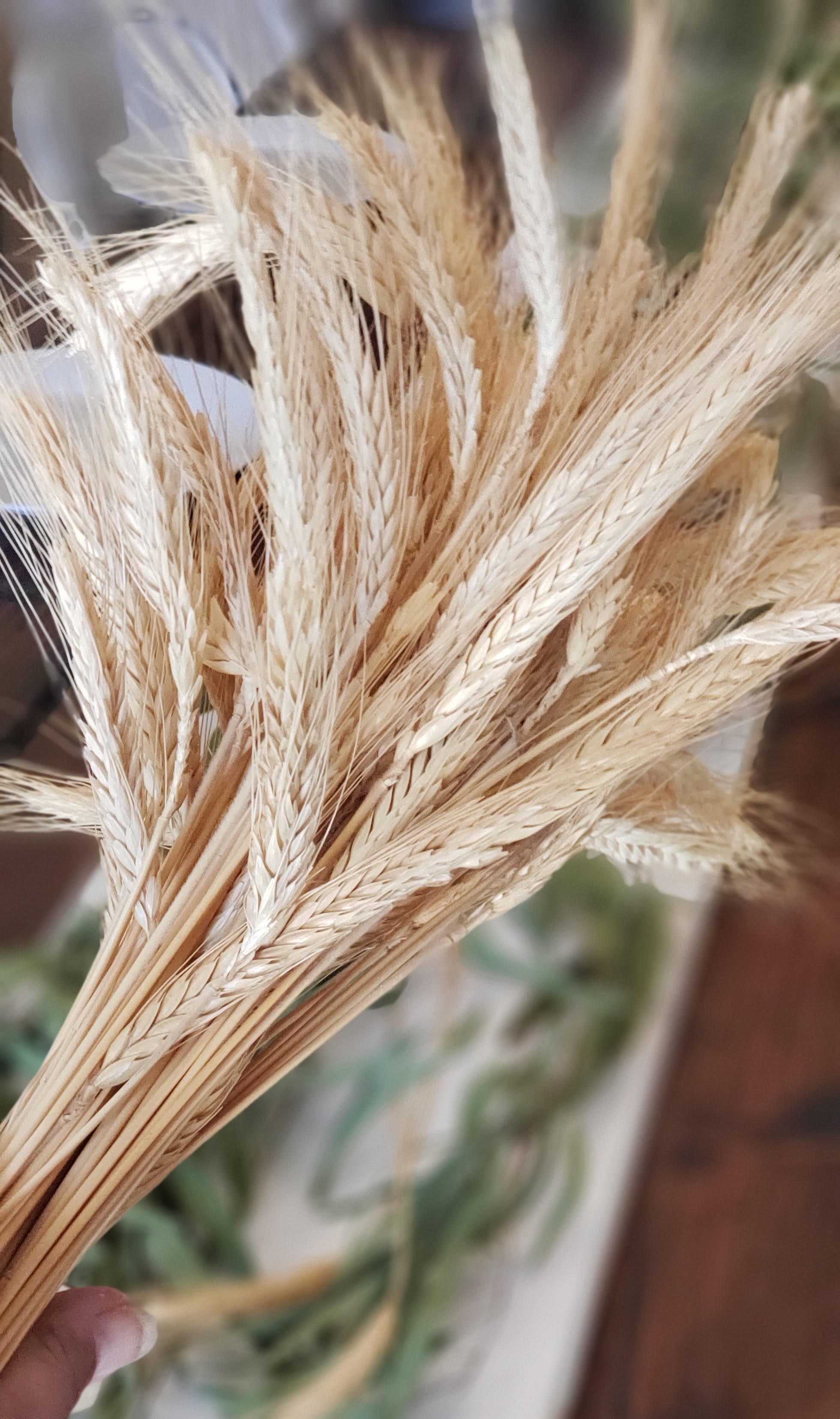 This wheat bundle made such a nice contrast to the pretty muted greens.  It mimics what I've been seeing along with the muted golden tans when I'm taking some early fall walks.  There aren't any vivid rust colors I see as of yet so I'm going with this.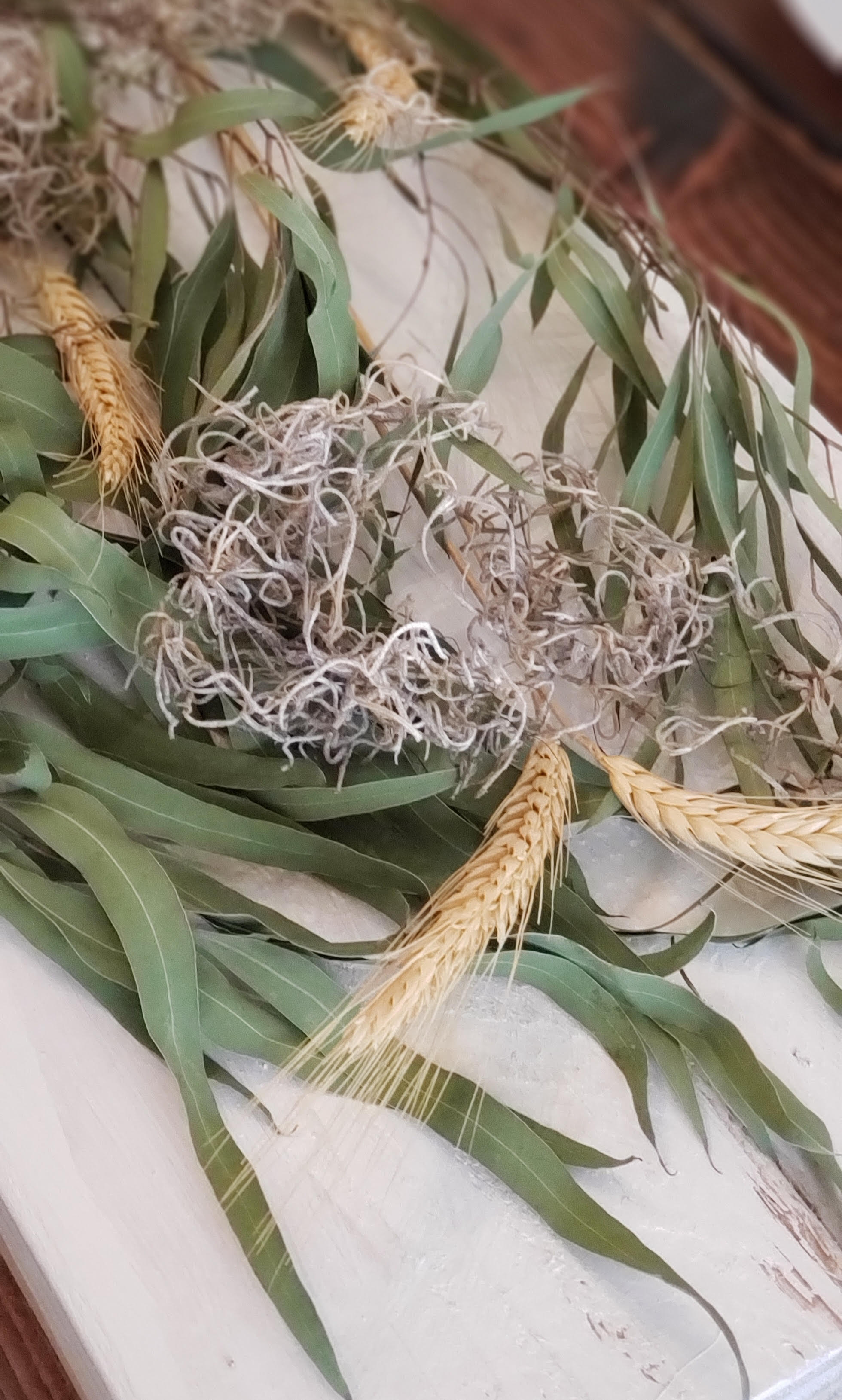 Then I used some spanish moss strewn about to add just one more texture and color to it all.  I'd call it all very neutral with it's white, green, tan, and grey.  Oh, and if you've never worked with Spanish moss, it's so fun!  It's all stuck together and you pull and stretch it apart.  A little goes a long way so you get a lot of bang for your buck.  I just love the way it adds a forestry touch in my opinion to anything you use it with.
AN AMBER VASE FOR THE FUN FALL WIN
So it wouldn't be fall without some amber color and this ribbed vase adds the perfect touch!  It even highlights the whole nature inspired fall theme!  Not only does it center it all but it gets to hold the rest of my wheat bundle.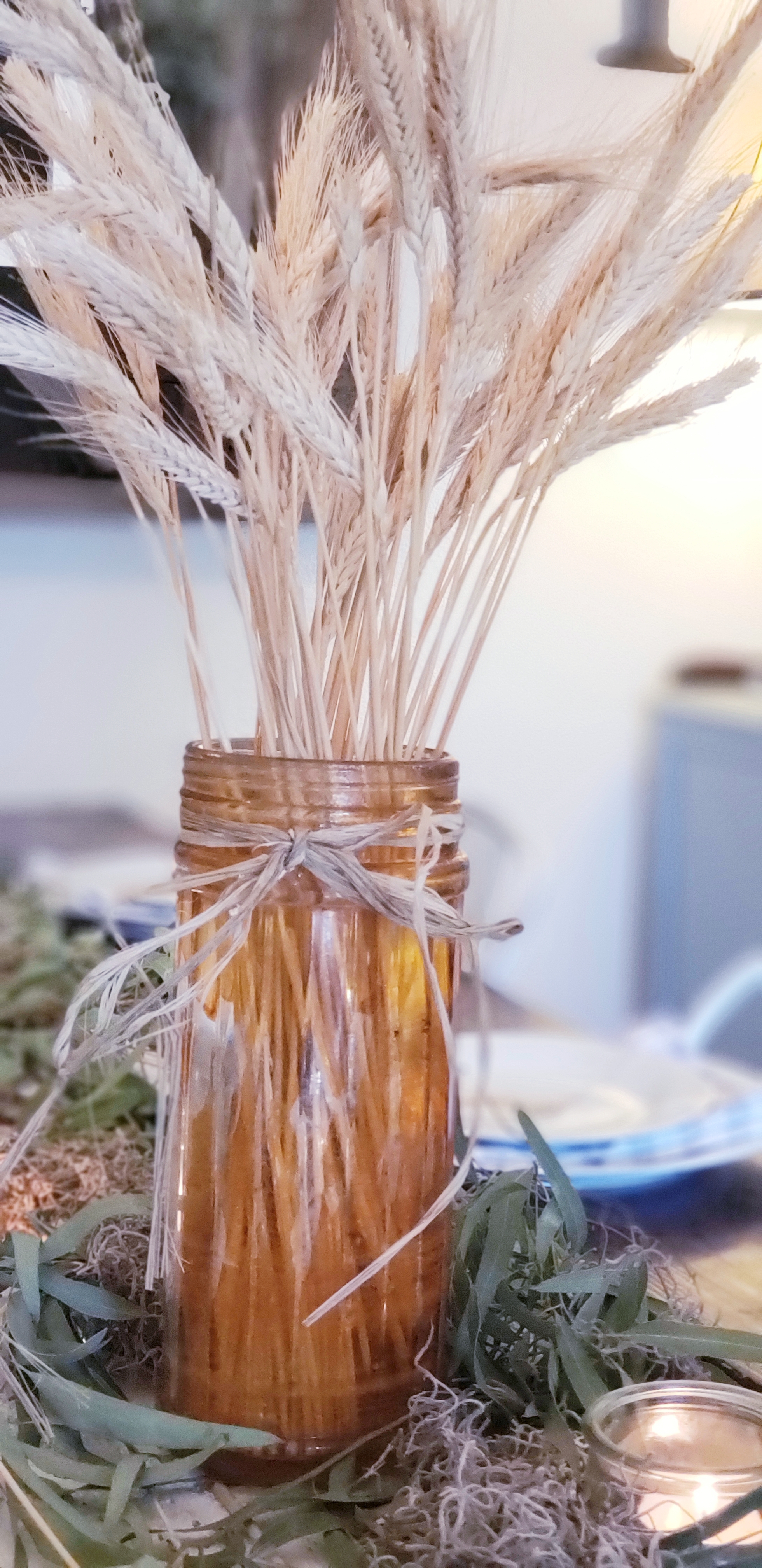 Almost like a light house against the sea of fading summer into this lightly neutral fall tablescape.  It's kind of like proclaiming hope that true autumn will soon be here!  Then we shall finally see the oranges and rusts that will surely come!
CAMERA, LIGHTS, FALLING INTO NATURE ACTION
I used my everyday white dishes from World Market for this tablescape.  Then my oh so pretty neutral grey and white cloth napkins that I make myself are so perfect here.  I added just a small touch of wheat ON top to really finish off the place setting so nicely.
Then I used these tiny little votive candles in these sweet little glass jars.  It brings out some sparkle and twinkle amidst the gardeny loose garland here.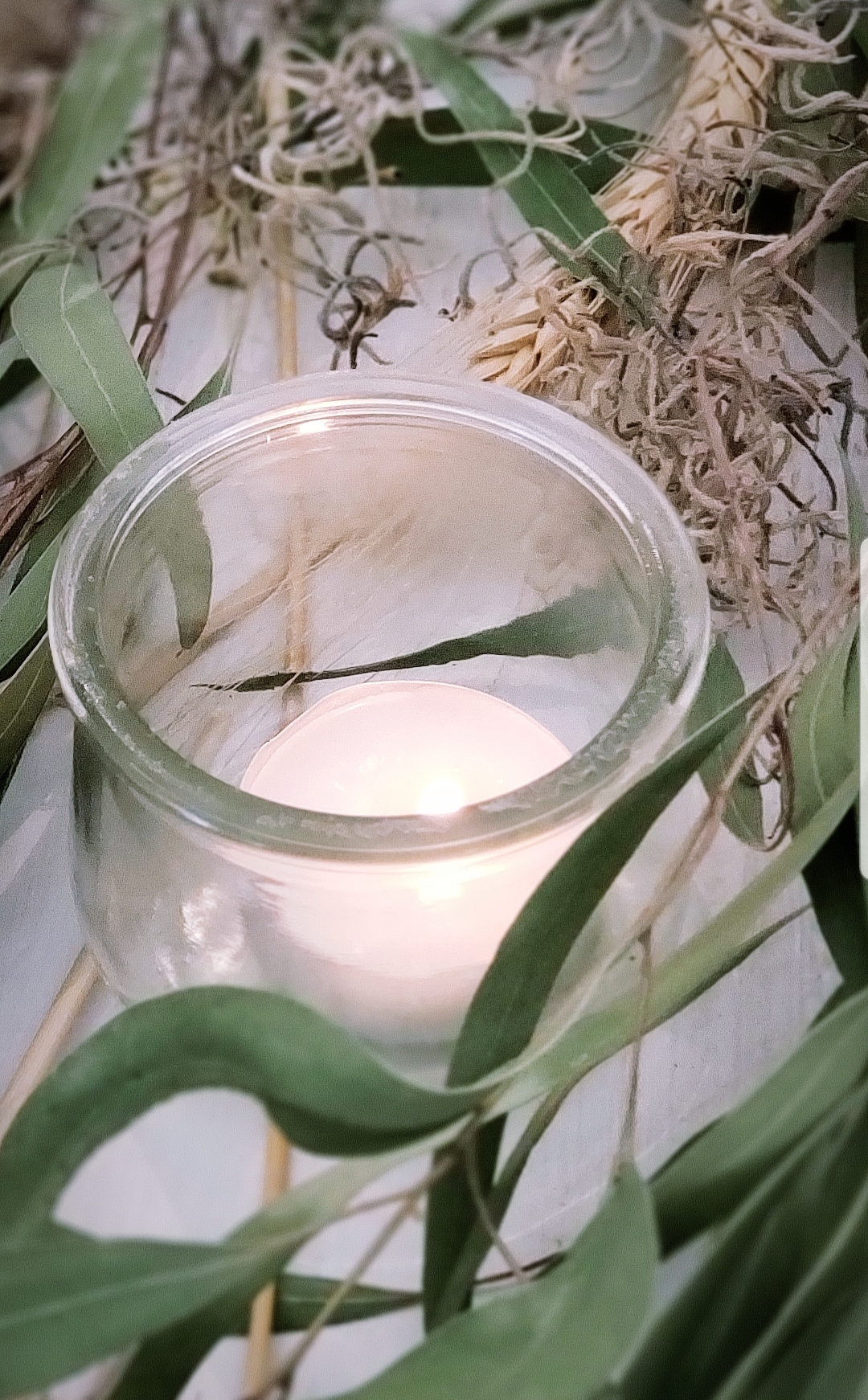 Can you guess what these glass jars are?  They're those little glass yogurt jars!
Have you seen them before?  I'm so thankful that my sweet friend Tam saved them for me.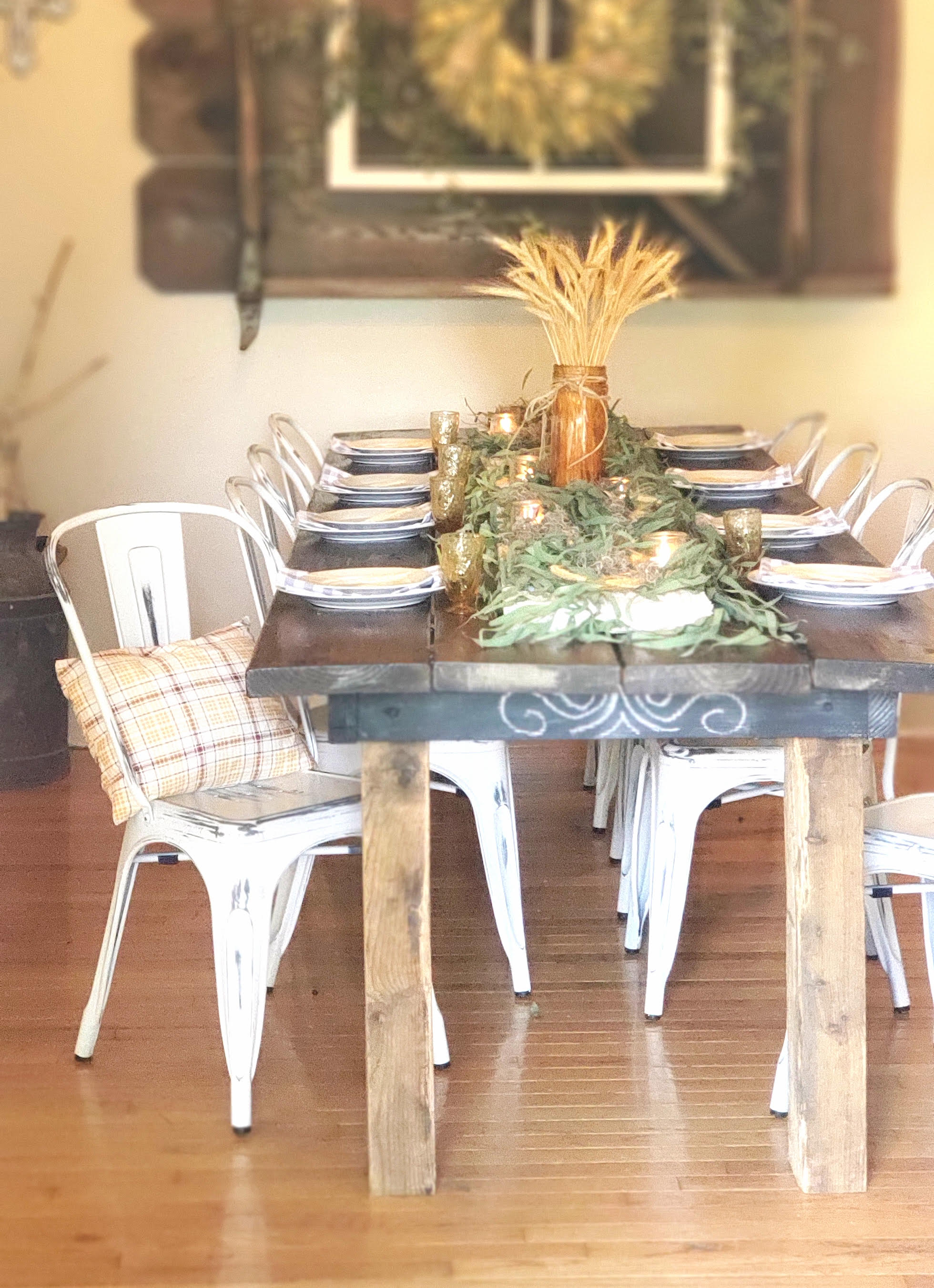 I hope you're enjoying the change of seasons my friend!  So as the sun fades into it's autumn sunset maybe we can embrace the cooler season ahead.  With all of it's wonder with the turning, changing, and falling their's just so much to explore and enjoy.
Happy Fall
XO Jerri
PIN FOR LATER