SUMMER HARVEST SALAD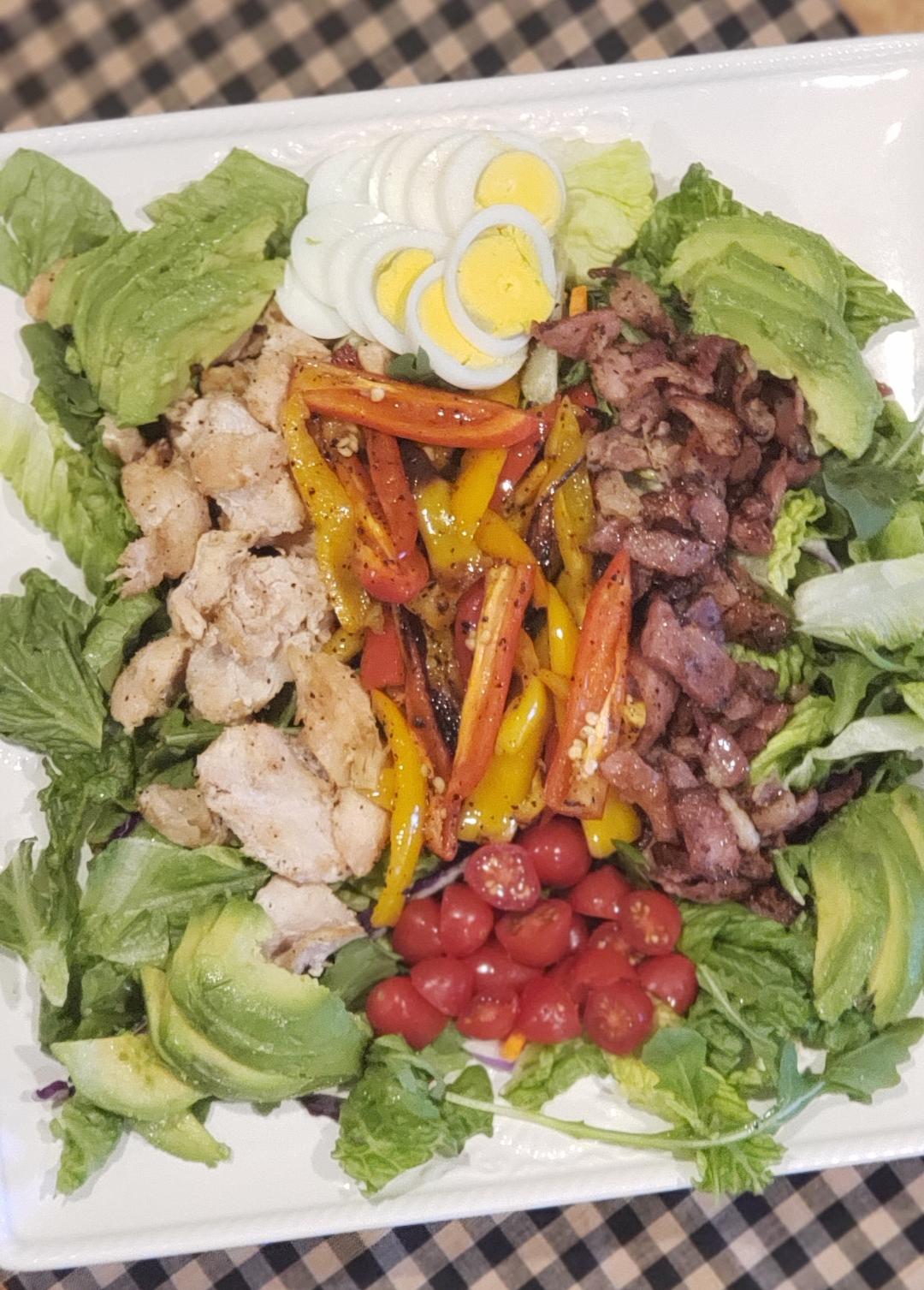 I need to tell you that a Summer Harvest Salad is what's for dinner most summer nights of the week over here on the farm.  How about in your neck of the woods?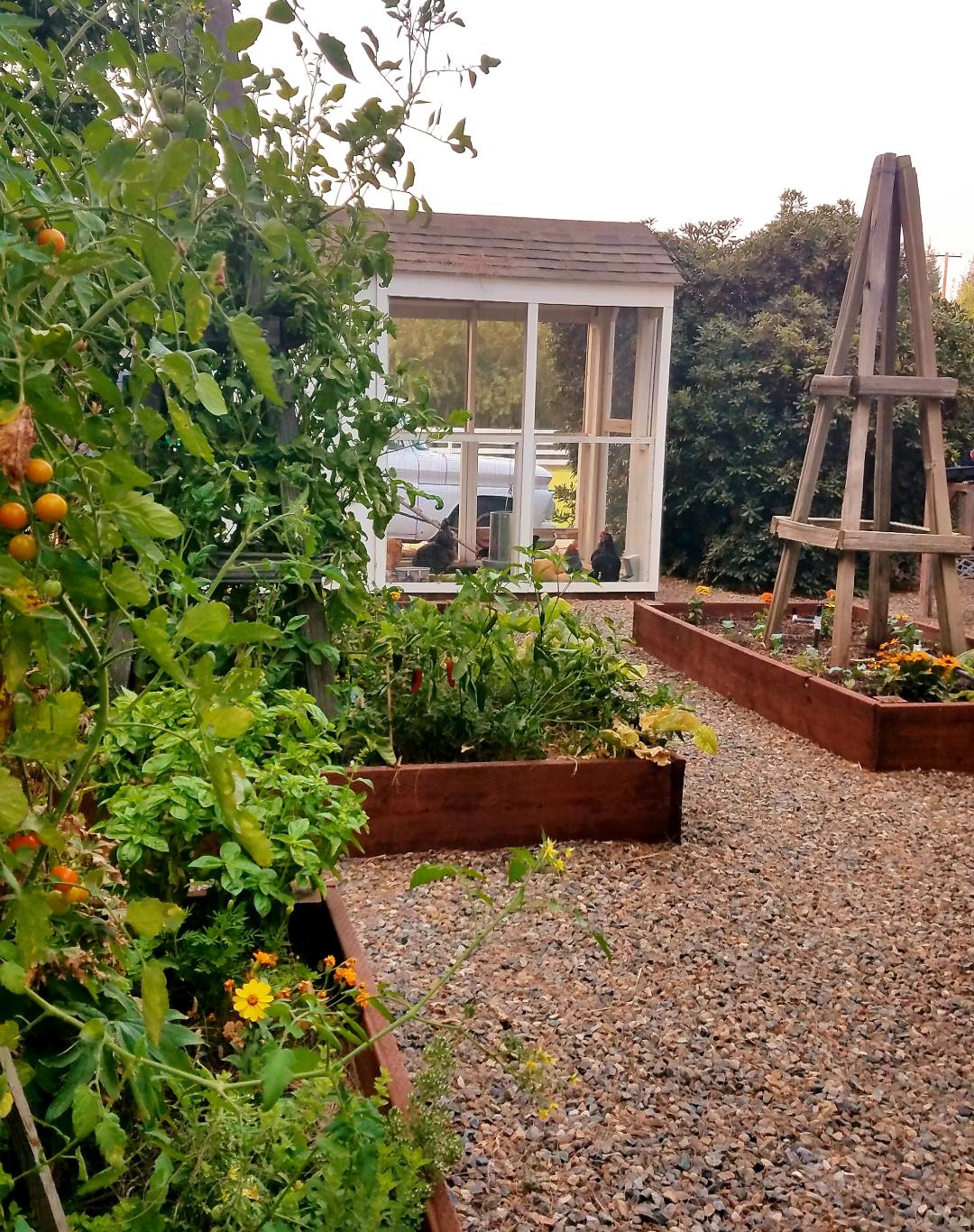 I mean, you can't go wrong with a fresh from the garden harvested basket filled with veggies that you have just picked.  This is a great way to start the base of any good summer meal.  And now as the summer is rolling into fall, this is the perfect time to start harvesting what you have ripe and ready.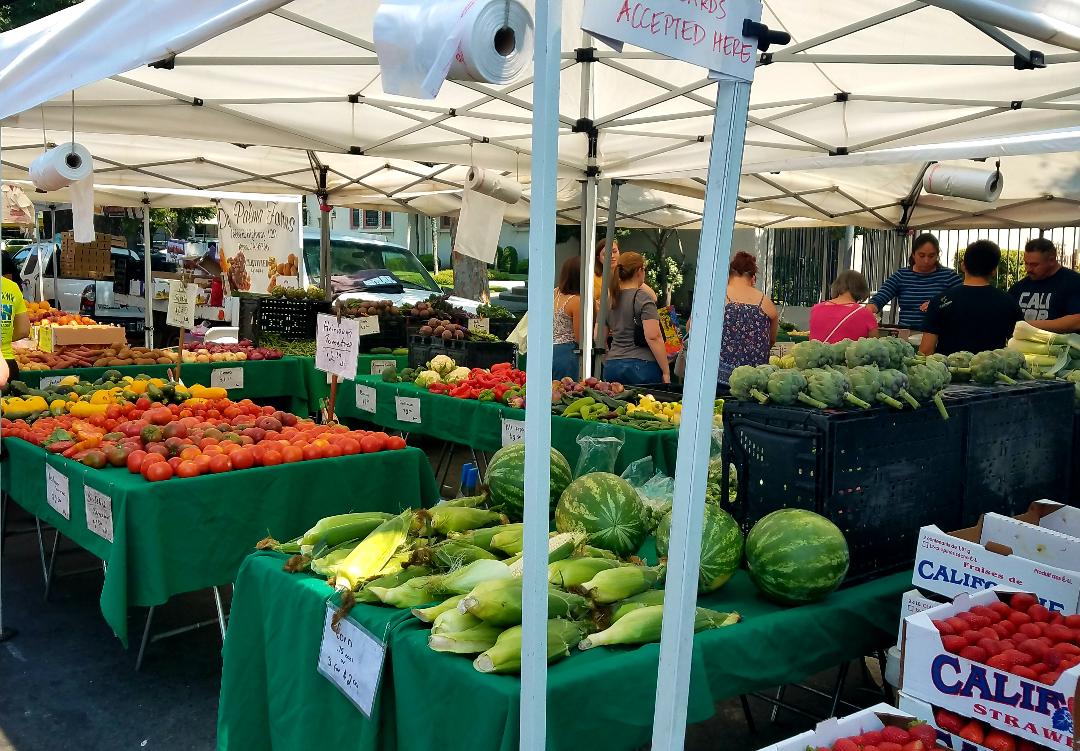 Don't have a garden?   Well I bet you have a farmer's market in your sweet little town, or even a big city.  So my advice is to go out and get you something fresh then get creative in the kitchen.
Picture it as your art studio, except instead of working on your masterpiece with paints and canvas, use the fresh veggies as your medium and your kitchen utensils as your tools.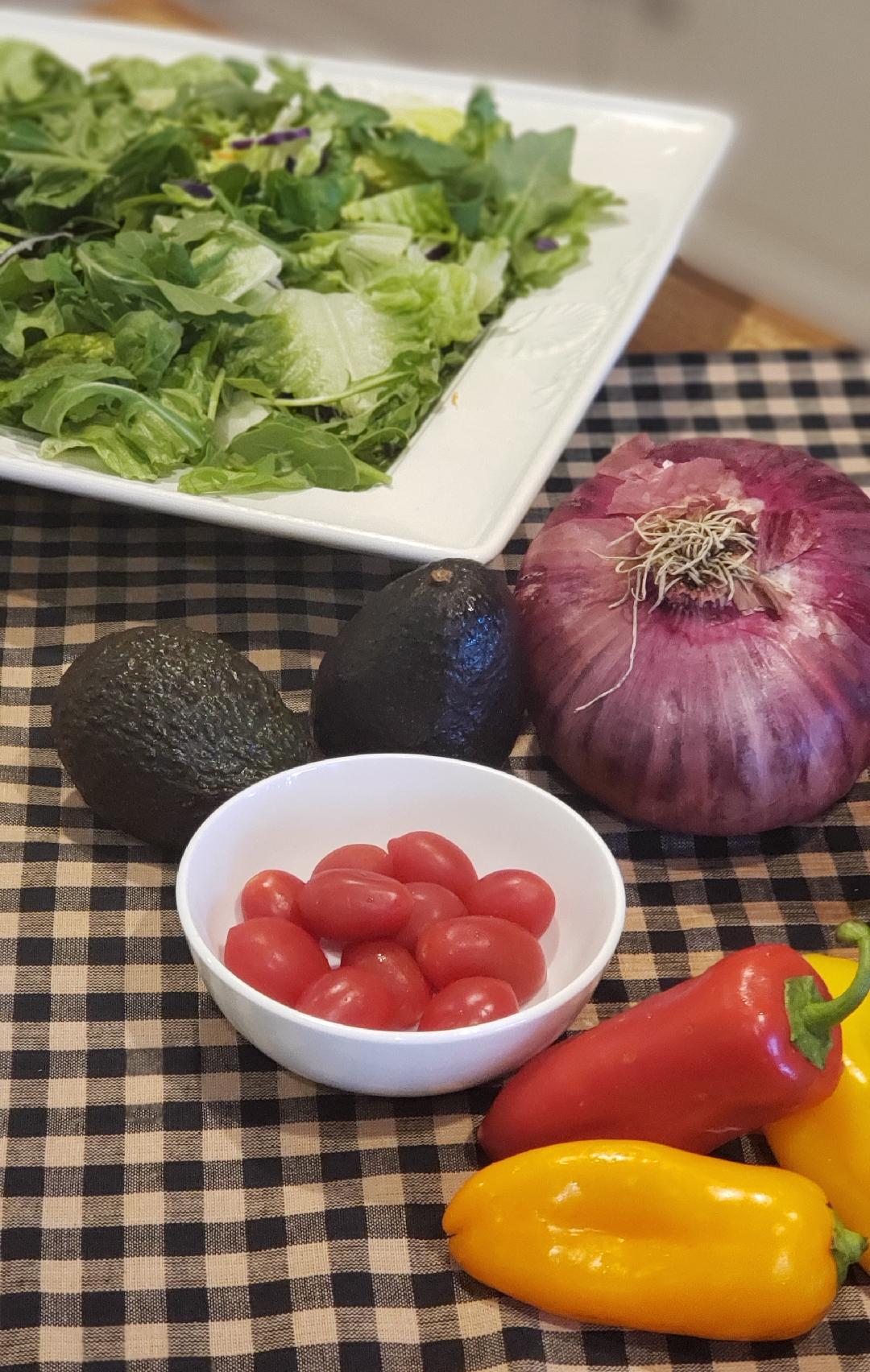 Heck, if you make anything a game, it's usually more fun and then you'll be able to enjoy your delicious meal instead of just staring at it on the wall. (you know the art analogy)  smile
So let me tell you where I begin.  Let's start with the greens.  I am loving a mixture of romaine, a bit of red cabbage and some baby arugula.  But you use whatever floats your boat.
Get them all fresh and ready and place into your tossing/serving bowl.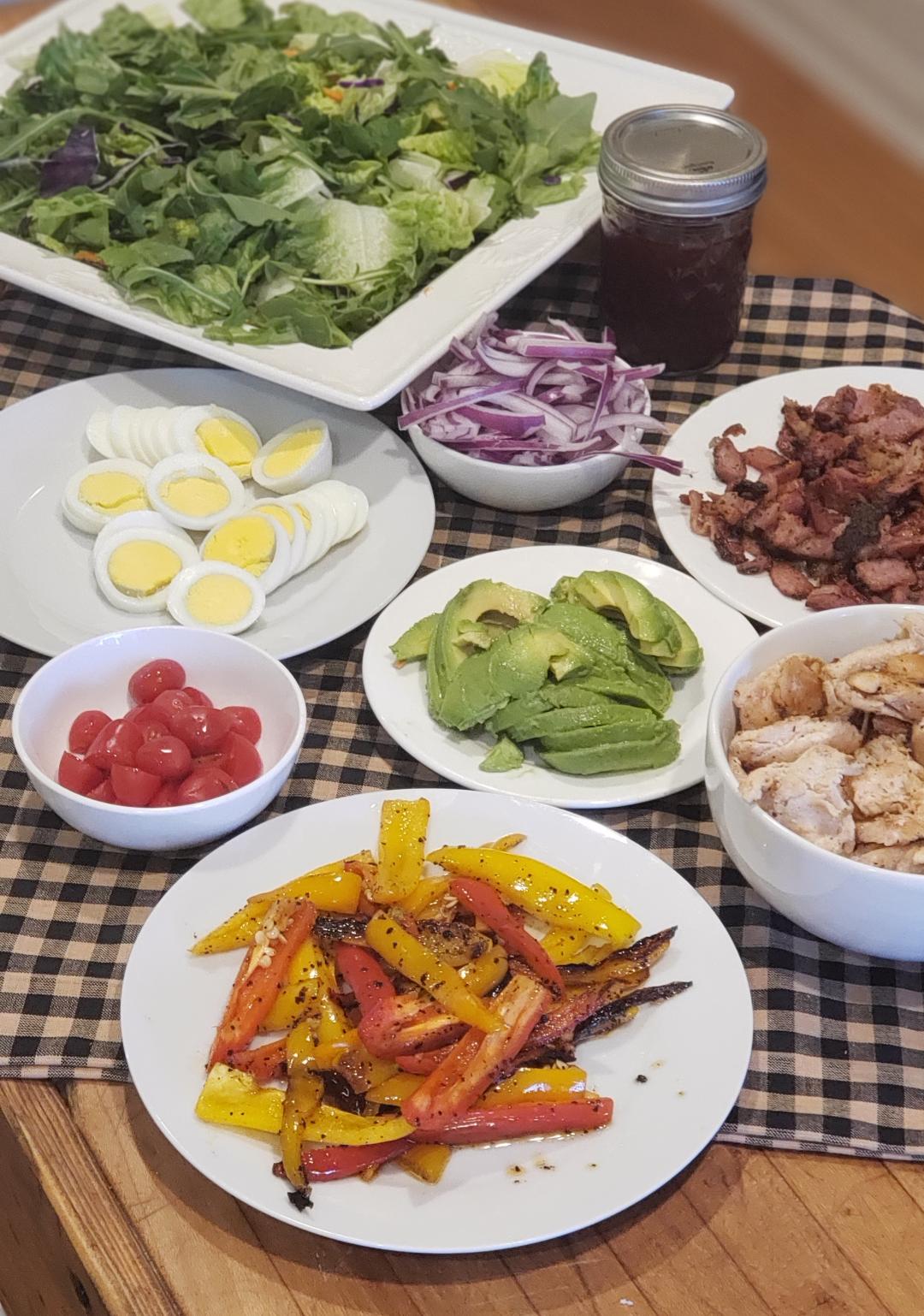 Now here's the fun part, let's talk about the fixings.  This is where I make it almost like a salad bar.  I think of the most delicious things I would like in my salad and I go from there.
For example, I am all about these colorful baby sweet peppers right now. Hmm, truth be told though, I did not get this from my garden.  I actually picked them up at the grocery store.  They are everywhere right now, so they are easy to find.
Then my hubby just loves red onions in a salad, well actually, he loves them on anything really, so in they go.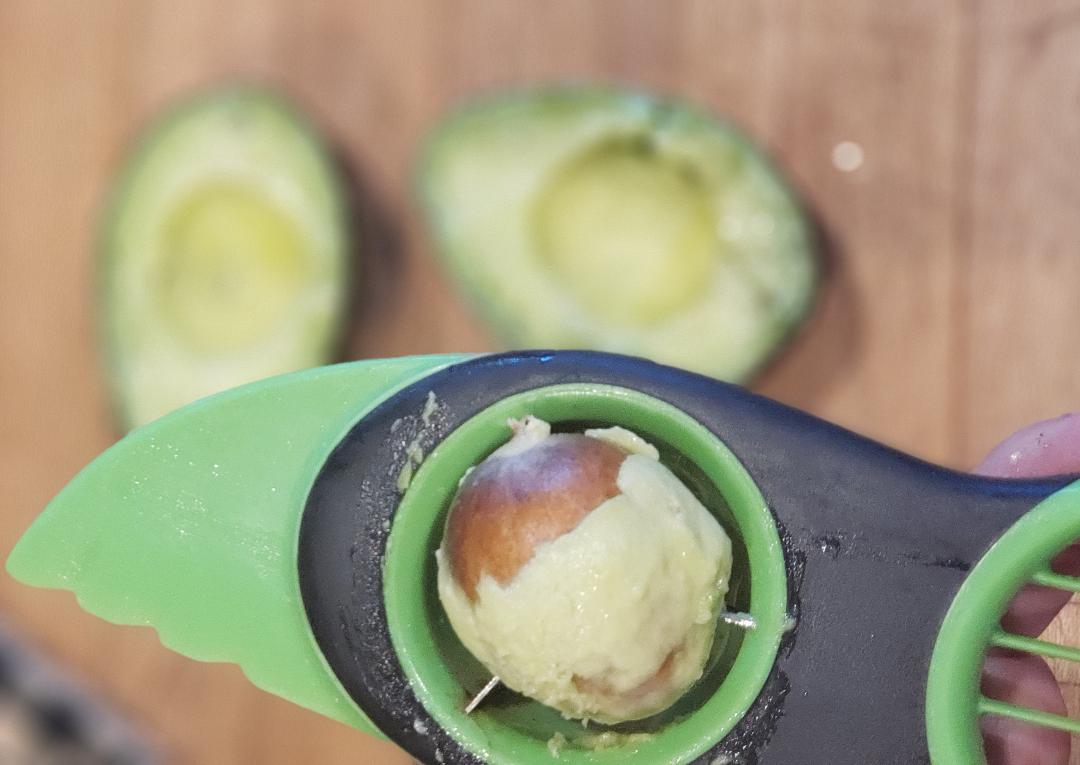 Next some yum, yum, yummy avocado that's peeled, pitted, and sliced.  Do you have this fun avocado slicer tool to use with avocados? Oh it's super cool, you should totally try it!  It cuts the avocado in half with one end, takes the pit out from the middle, then slices it all perfectly for the salad on the other end!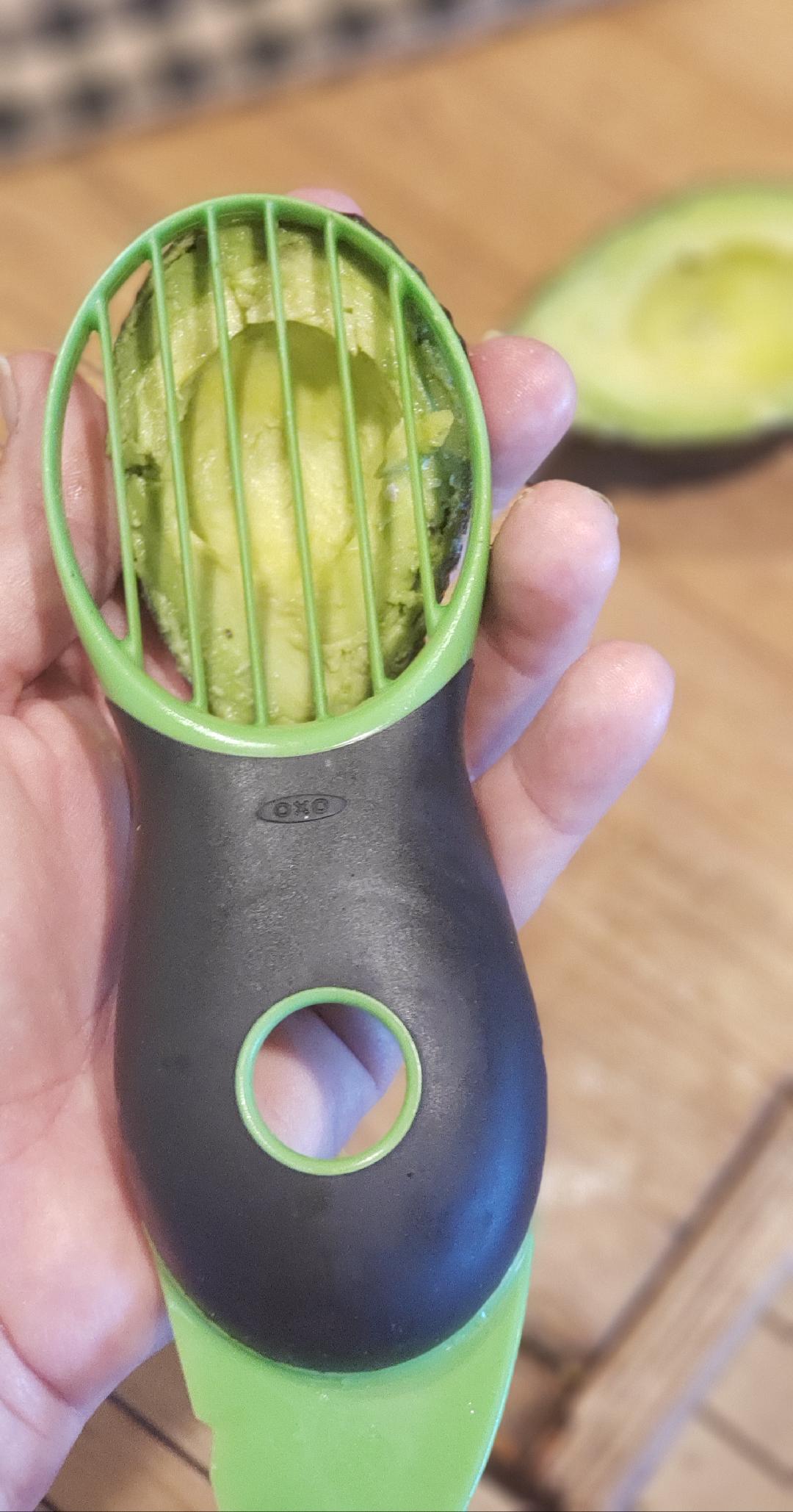 Now onto some more of my favs like hard boiled eggs from our hen house.  These girls have been laying well for me this summer and I don't want to disappoint them by letting their hard work go to waste so I'm always looking for more ways to add these delicious eggs to meals.  I got to use another oldie but goody fun kitchen tool.  My egg slicer is vintage and passed down.  But this egg slicer here is a bit updated and is similar!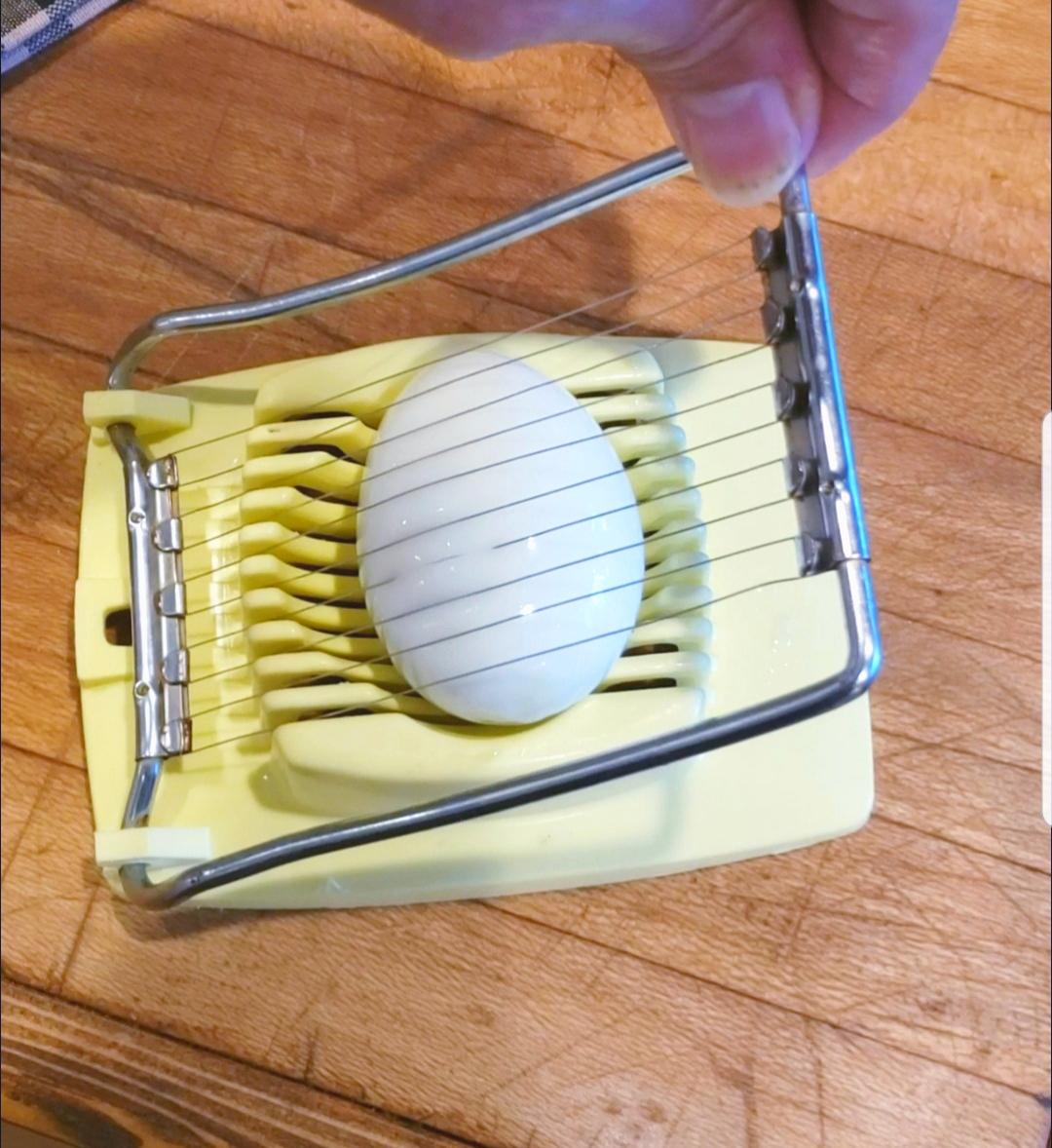 Some fresh very red and ripe cherry tomatoes give it just the right amount of sweetness that'll make your hungry heart sing!
Lastly I added some crispy bacon that I chopped and rendered in a skillet.  I used my trusty slotted spoon to scoop them all up so as to leave the drippings to cook the thinly sliced boneless, skinless chicken thighs.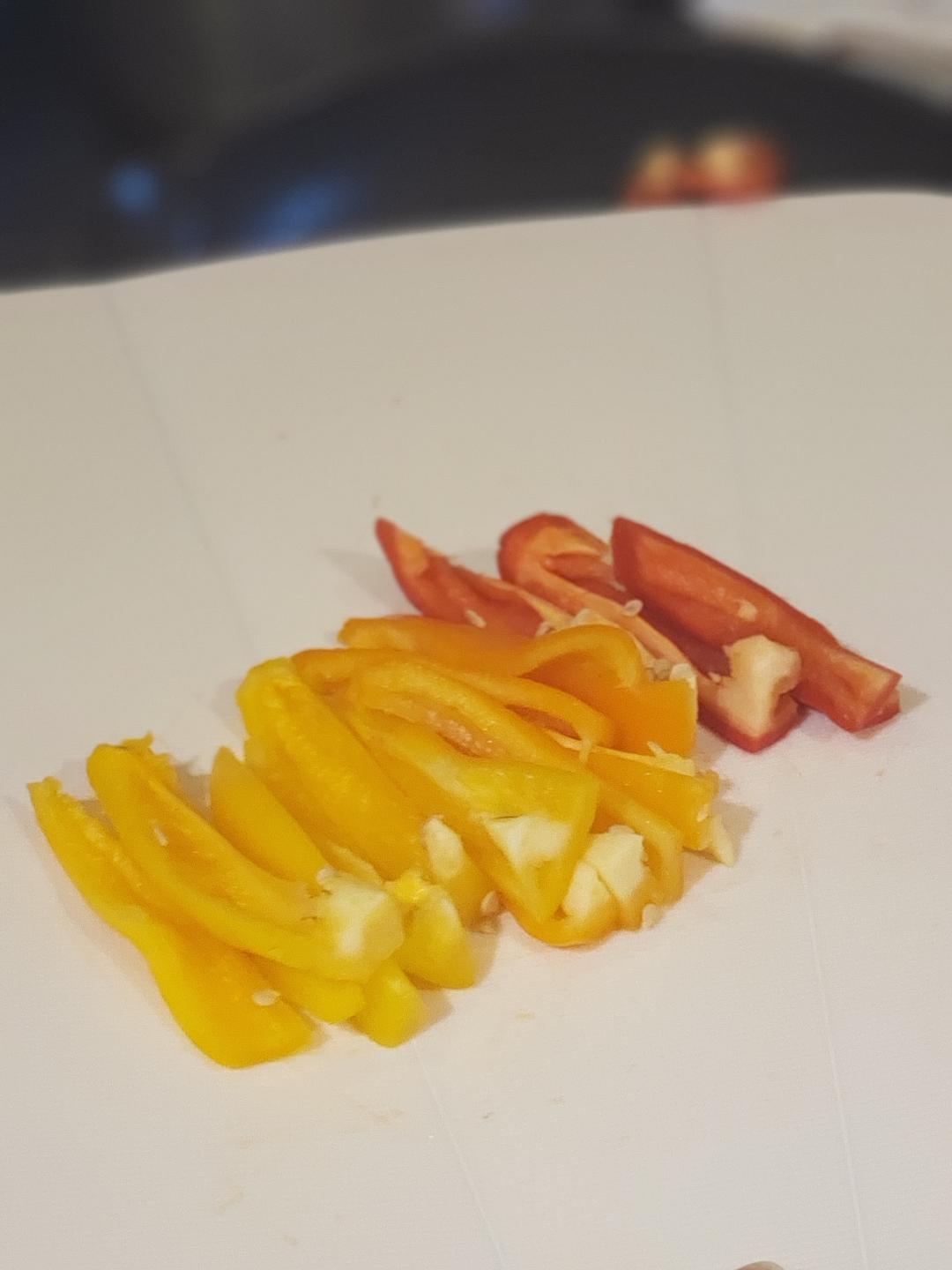 Once all the meat is removed, I saute the peppers in the hot grease to really carmelize them and make it all so delicious.
Now for the assembly, which is what makes this salad so lovely.  It's kind of like a beautiful masterpiece when it's all finished.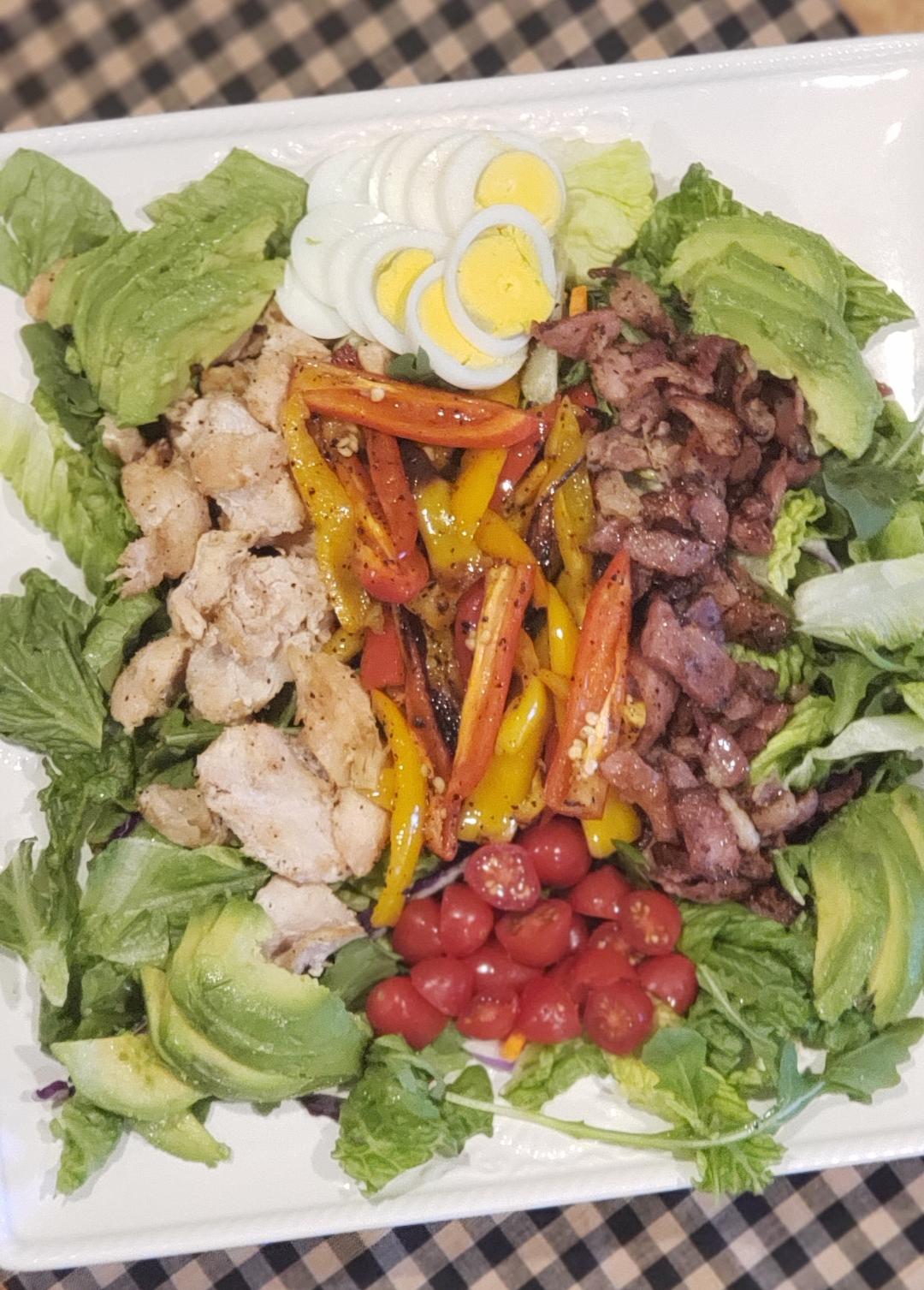 I begin to lay all of the ingredients right on top of the greens in sections.  You can do it however you like, but I prefer it in stripes like this.
Pretty huh?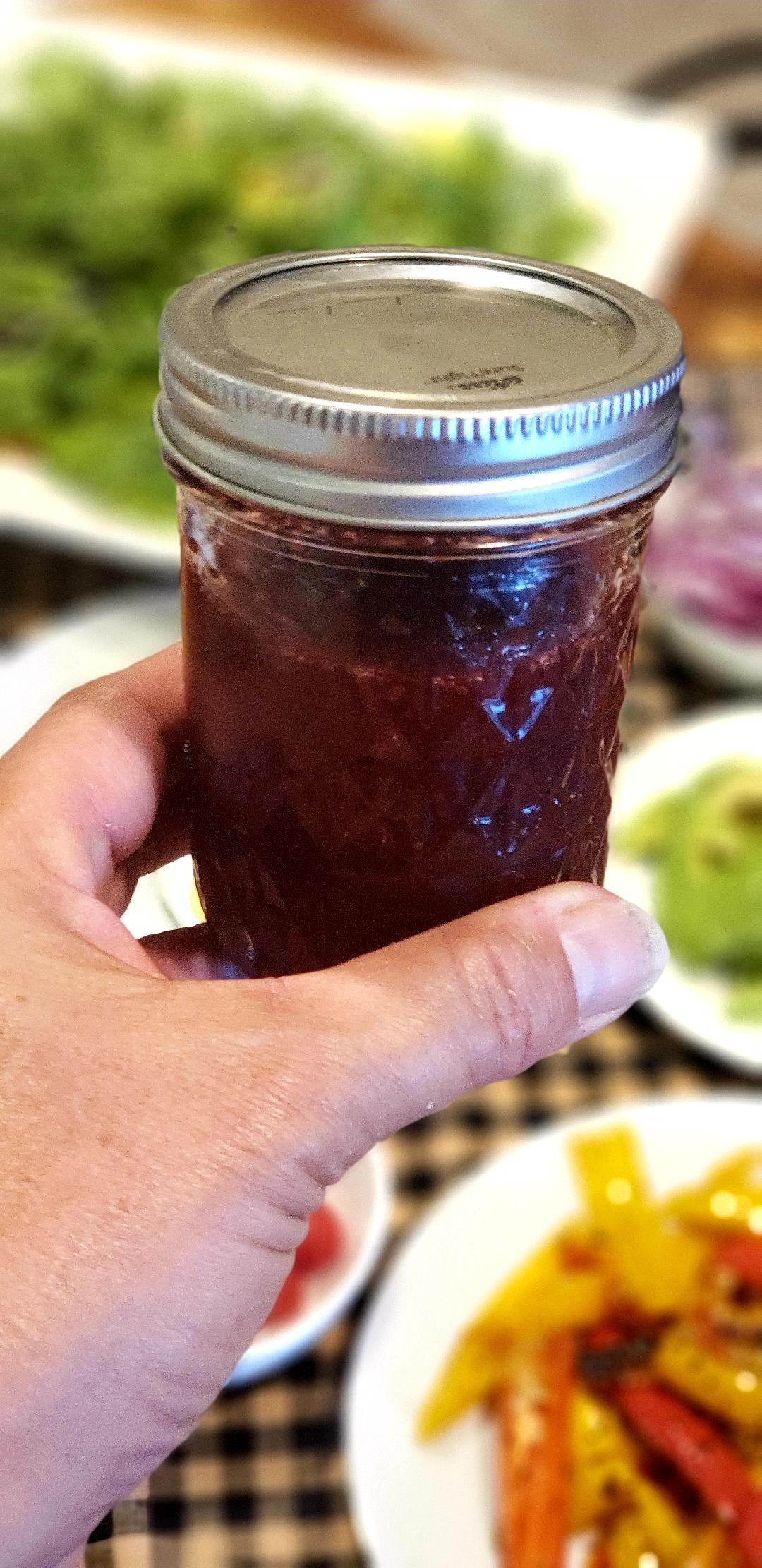 Now to drizzle the dressing over the top.  But what dressing should you use?  Well of course it's your choice.  You could go all creamy with blue cheese or ranch for that cobb salad style, or add a zestiness to it with a spicy Mexican style flair to make it more fajita style.  But I prefer a tangy and sweet vinaigrette which is just a bit of raspberry jam, balsamic vinegar, olive oil, salt and pepper.  Oh my, it's so good and just perfect for this salad with the smoky salty bacon and chicken.
Oh this is so good, you really have to try it!
Serve it on a hot summer evening when you just don't feel like turning the oven on.  And in just a quick little stove top minute, you'll have this finished lickety split and boy I'm telling you, your family will L O V E  it!
So give this simple Summer Harvest Salad a try and tell me what you think!
XO Jerri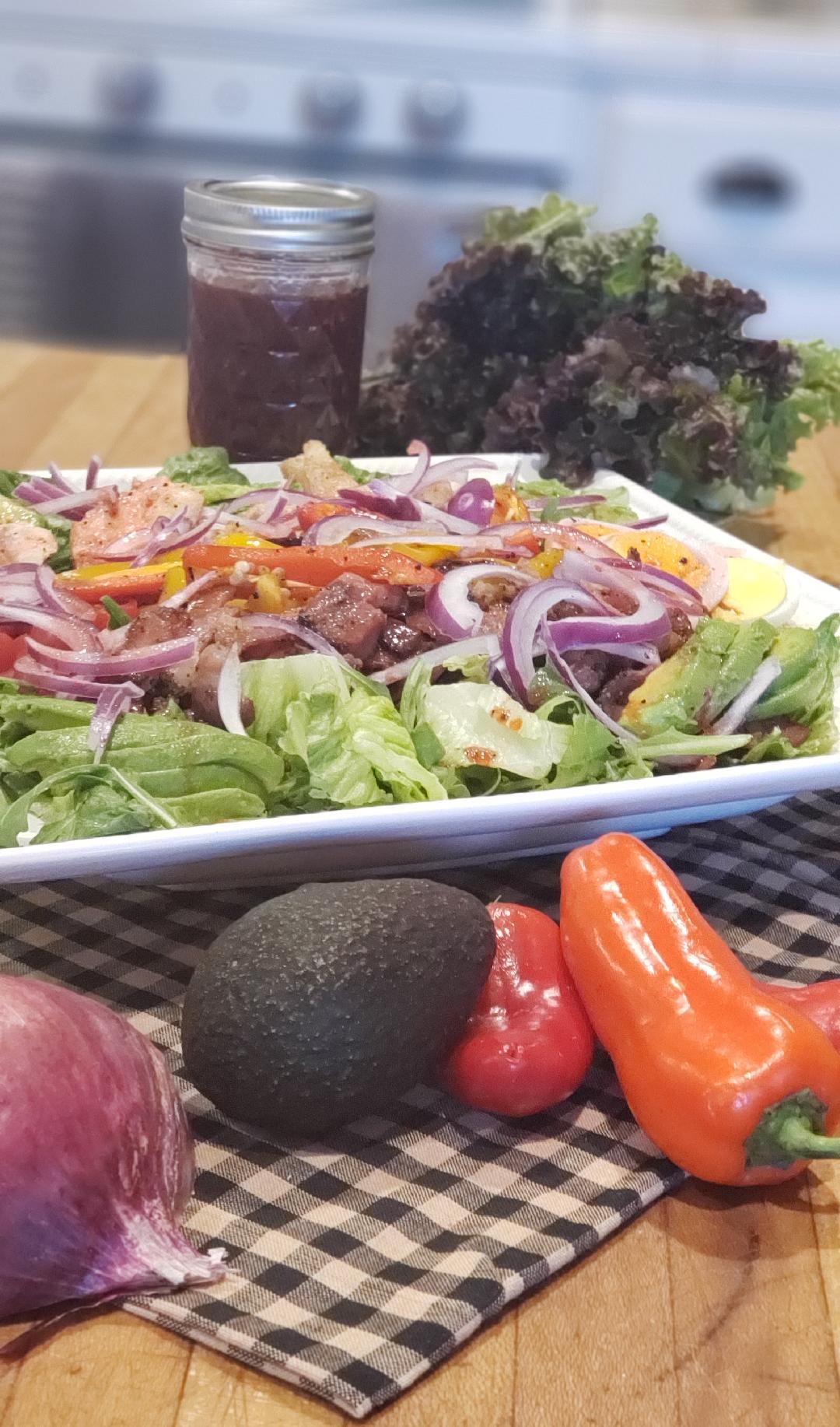 A SUMMER HARVEST SALAD
SALAD INGREDIENTS
2 chicken thighs or breasts boneless and skinless cut into bite sized pieces
4 slices of bacon minced
3 mini red, yellow, and orange peppers sliced
3 hard boiled eggs
10 cherry tomatoes washed and sliced
1/4 small red onion thinly sliced
2 avocados pitted, peeled, and sliced
bowl of your favorite greens like romaine mix with arugula
VINAIGRETTE  INGREDIENTS
3 tablespoons raspberry jam
2 tablespoons balsamic vinegar
2 tablespoons extra virgin olive oil
salt and pepper to taste
DIRECTIONS
1.  Place greens in bowl and set aside.
2.  Slice onion, peppers, tomatoes, bacon and chicken and set aside in separate containers.
3.  Bowl eggs 5 minutes then cool in bowl of ice water or prepare the day before and set in refrigerator.
4.  Mince bacon in skillet, when tender and starting to crisp, remove to paper towel.
5.  Saute chicken in skillet and remove when cooked through until no more pink remains.
6.  Saute peppers in skillet until tender and caramelized.
7.  Peel eggs and slice.
8.  Assemble salad by layering each item in a pretty display on top of the greens.
9.  Mix the dressing in a small mason jar and shake.
10.  Drizzle the dressing over the salad and serve.
PIN IT FOR LATER