DIY FALL DOOR DECOR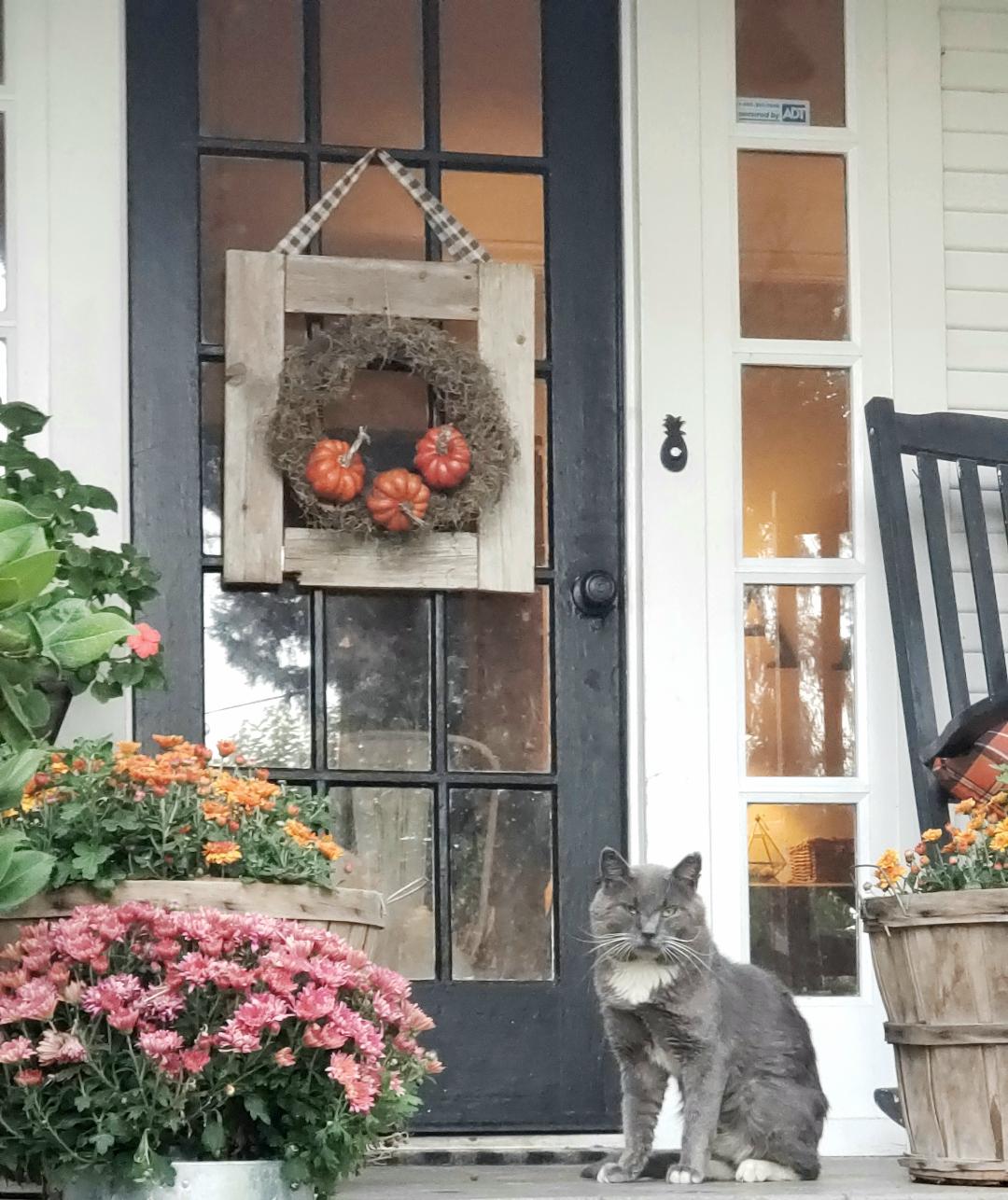 How cute is this DIY Fall Door Decor?  I know right, so darling!  But let me tell you, it was so easy to create!  So easy that I just had to share it with you!
I've fallen my friend.  Fallen into the autumn season.  I'm there.  I know it's not fall yet.  But I'm so ready so I just said what they heck, what am I waiting for?  Let' just do this, and so I did.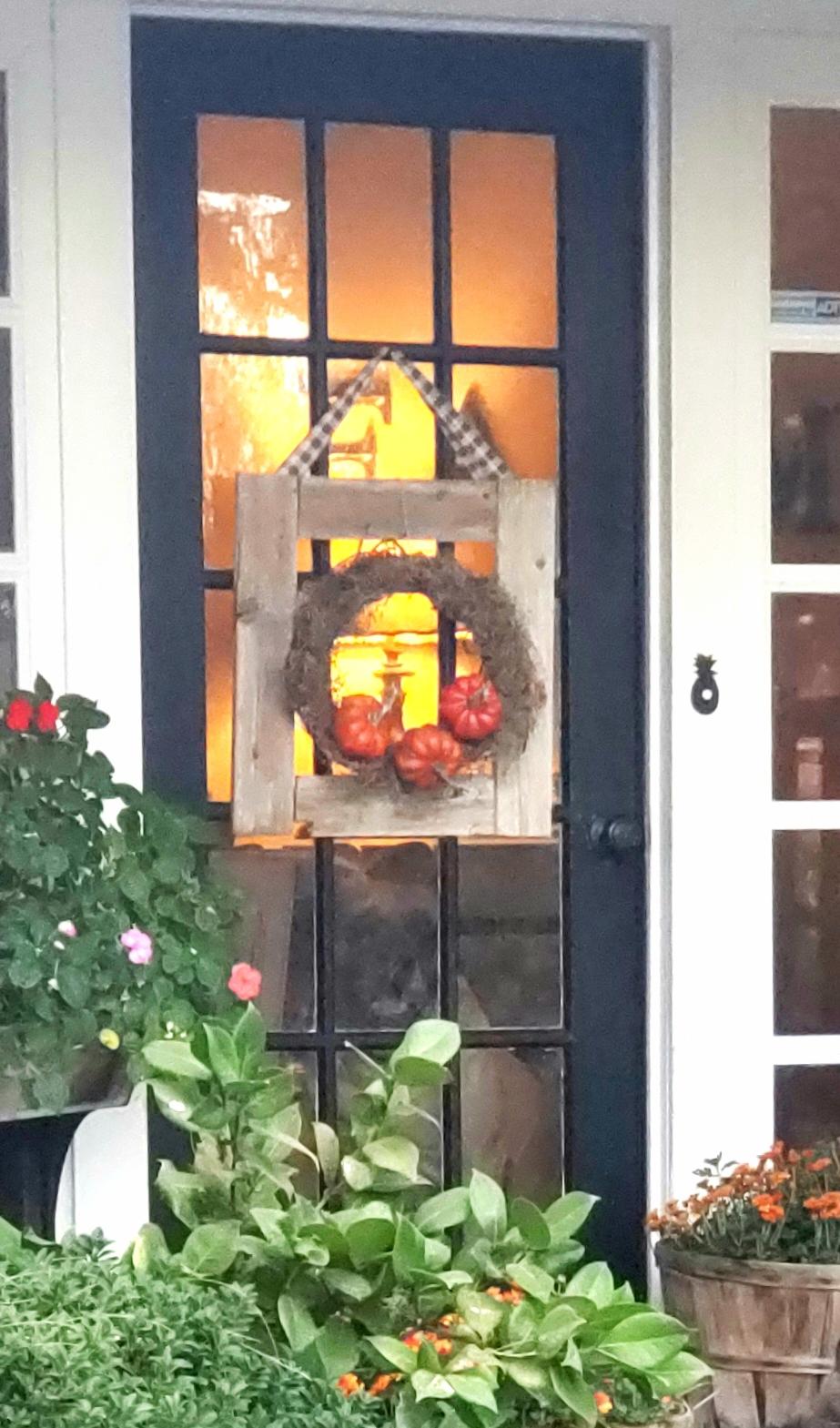 And as good ol' Mary Poppins would say, "Let's start at the very beginning, it's a very good place to start."  And by that I mean the front door and the entrance into your home.
I wanted something so fab, so dynamite, that all who entered into this humble abode would be greeted by something that would have them like, "Oh how cute is that?"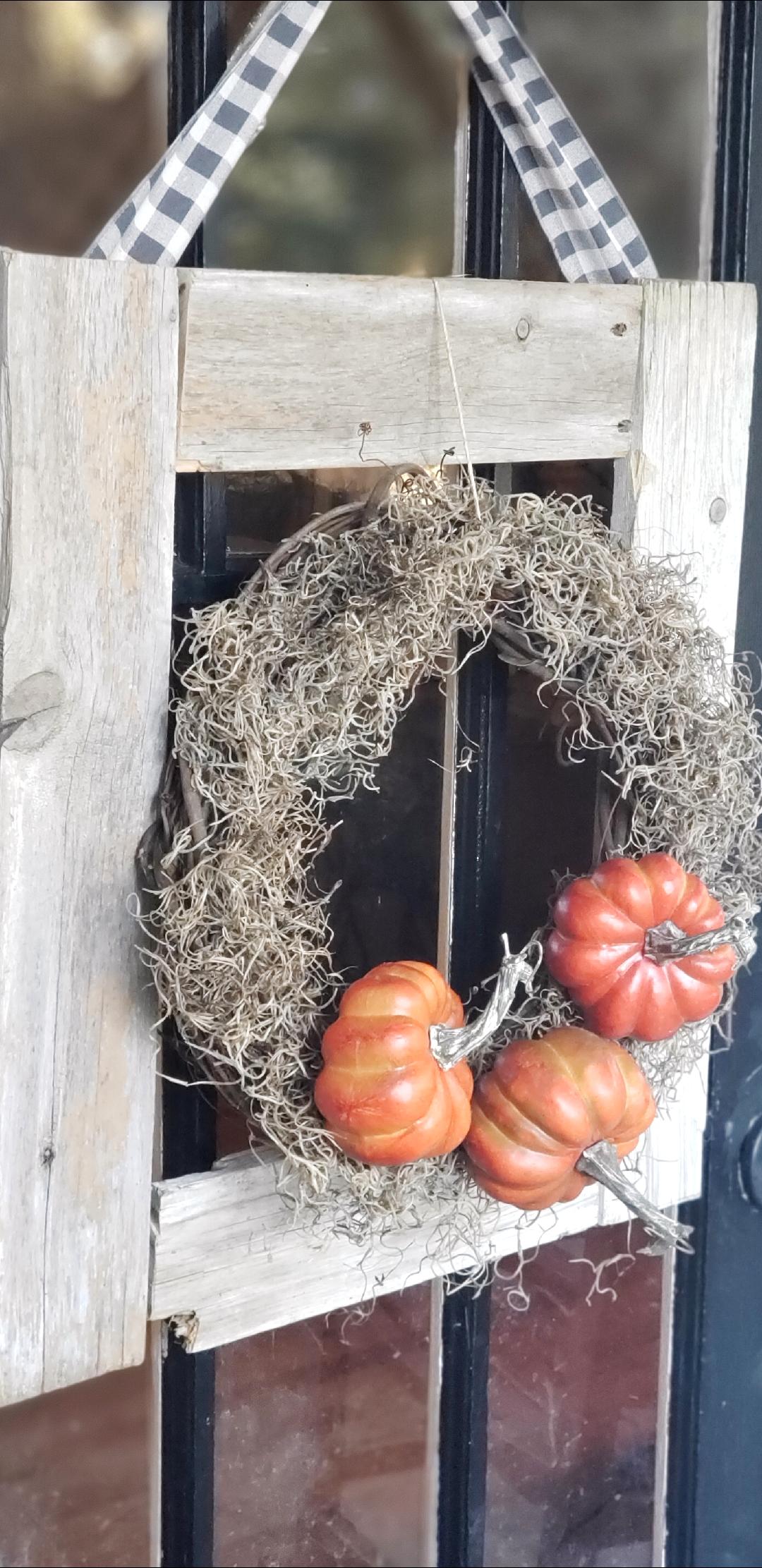 So that was my theme, and I think I accomplished it.  This simple DIY is rustic and charming and just kind of makes you smile.  And what could be wrong with that?  I say nothing.
SUCH AN EASY DIY FALL DOOR DECOR
First I found some wood from our wood pile.  We keep a pile of any scrap wood we use from any project we do.  If you don't have one, these boards came from an old pallet of wood.  Or you could just purchase some cheap boards at Home Depot.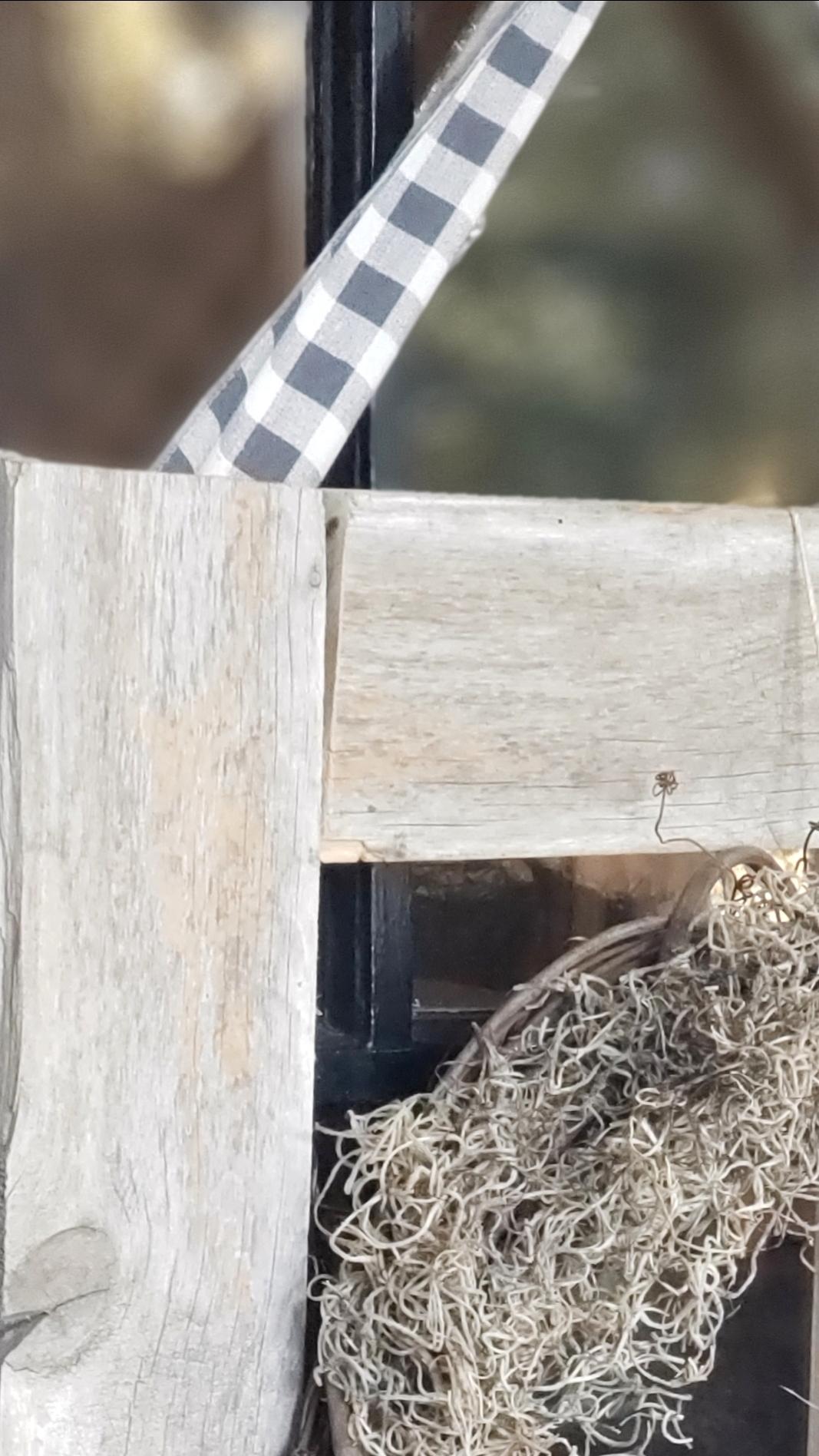 Next I measured them and cut them to go with my door which is a super old french door on our 112 year old farmhouse.  In fact the glass in it is so thin and wavy.  I cut the wood to have two long pieces at 19 inches and the other two top and bottom pieces to be only 4 1/2 inches.
It seems random I know, but it was so that if fit in the middle and center of our door.
Then I laid them out on the table with the two long pieces coming up to the edge of the top and bottom pieces like this.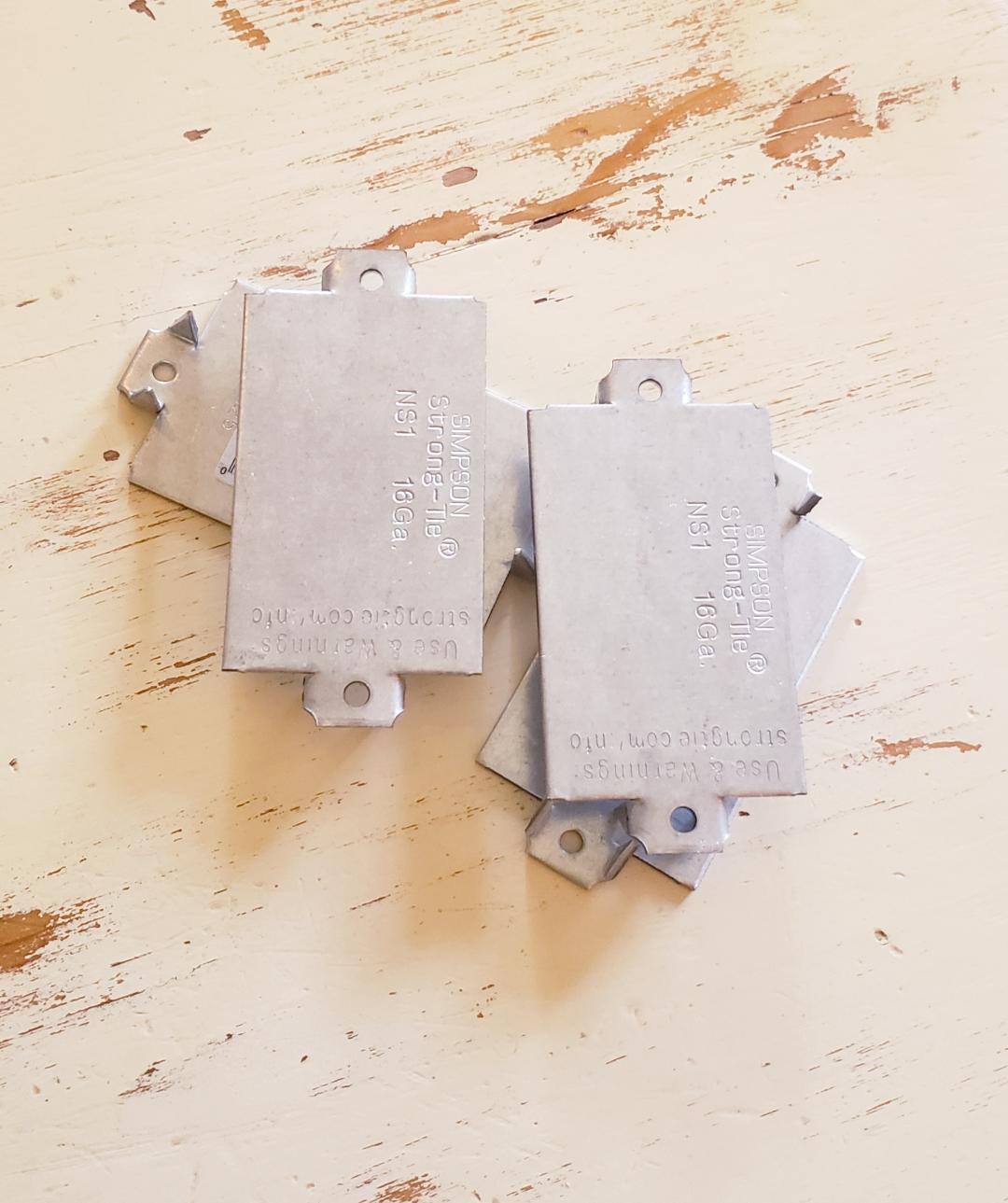 Then I got these pieces from our local hardware store and hammered them in and attached screws.  The little brackets were .75 cents each!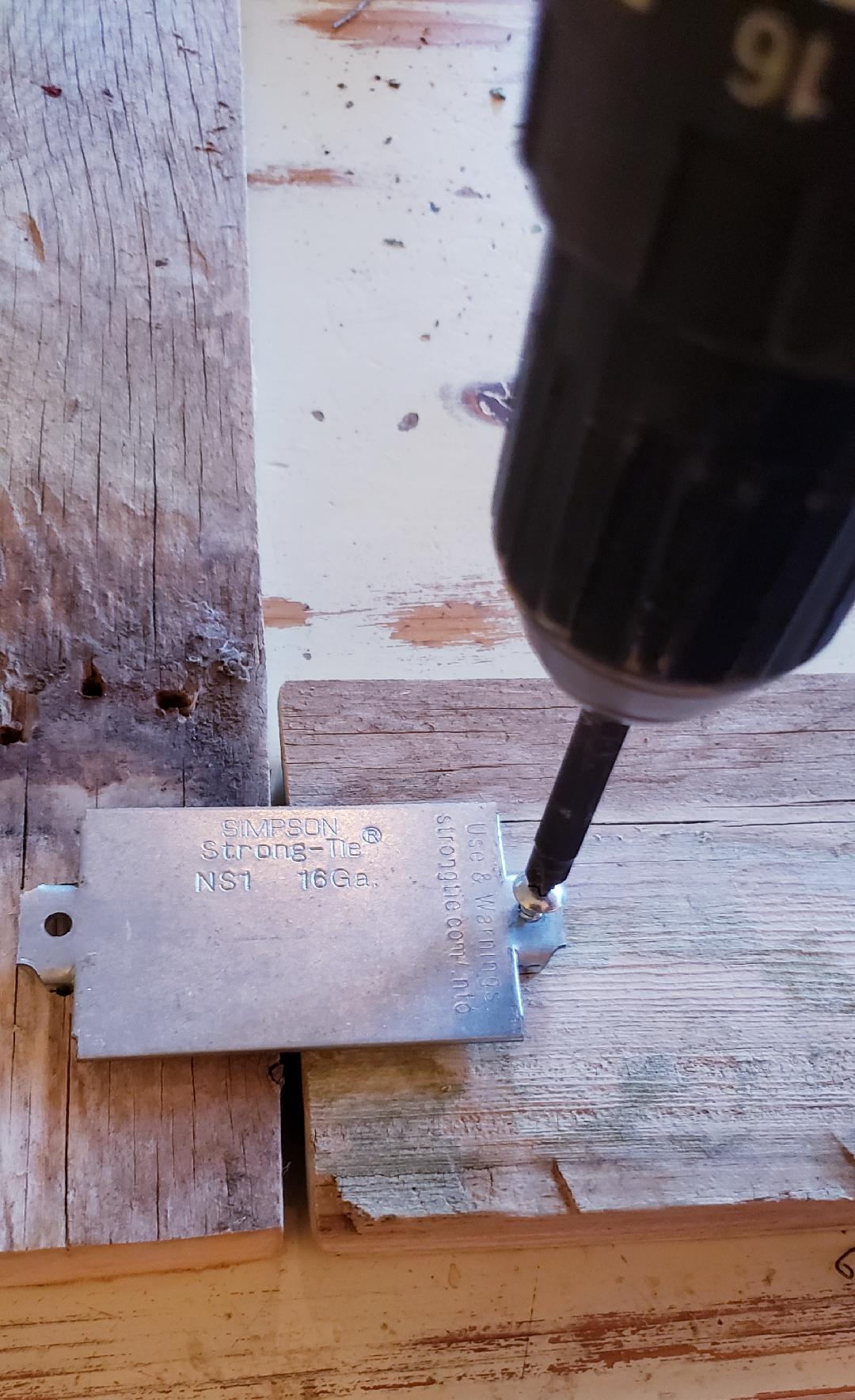 I just used a drill and secured them in place.
Then I had this oh so cute ribbon that's actually a darker slate grey instead of black and white buffalo check.  I found it at Hobby Lobby last fall.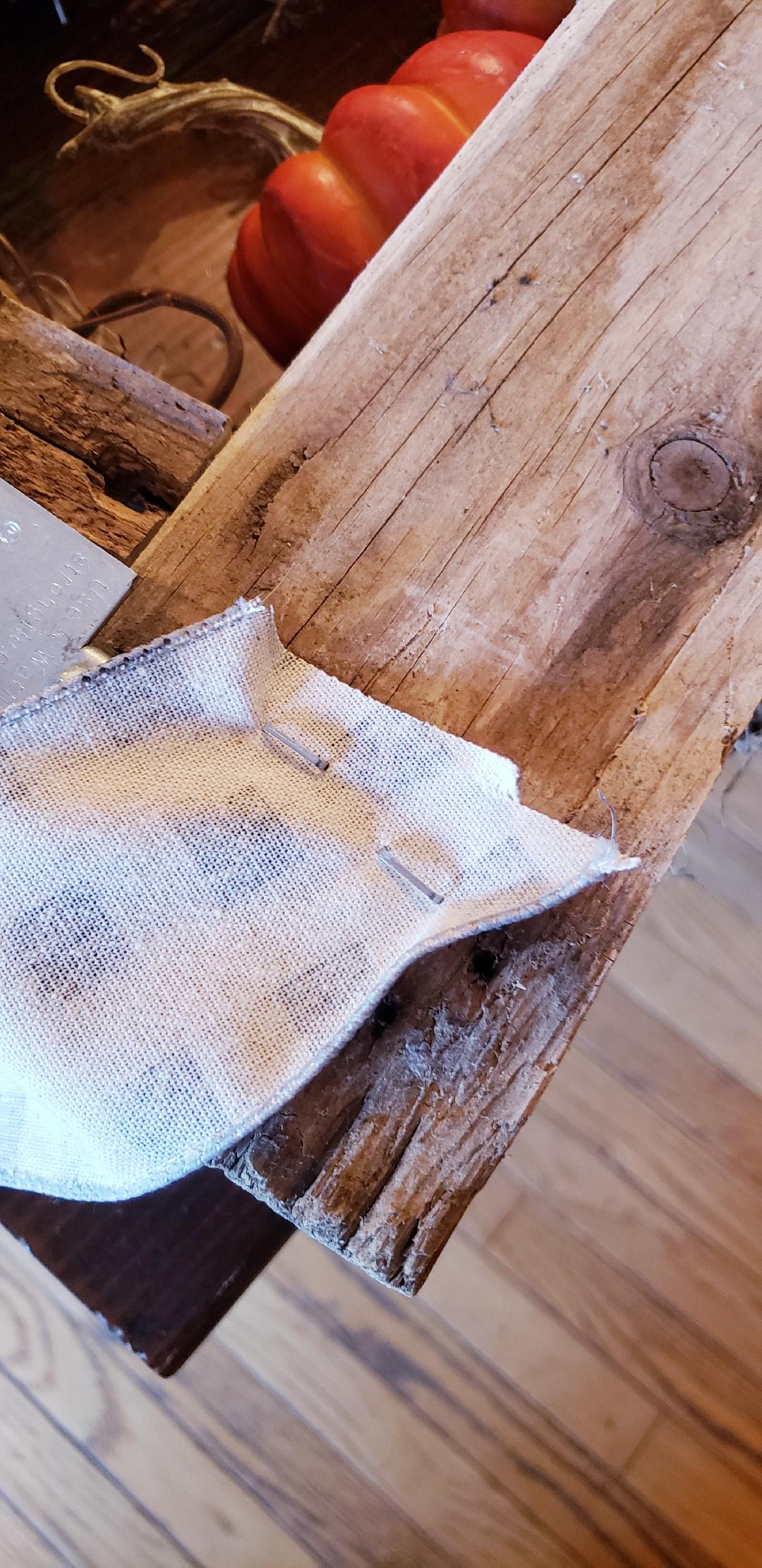 I just cut a piece off and staple gunned it to the back so it could be hanged easily on the door.
Well then I took a small grape vine wreath from Hobby Lobby.  They are regularly $4.99 but I waited until they were 50% off so, gulp, it was only $2.50.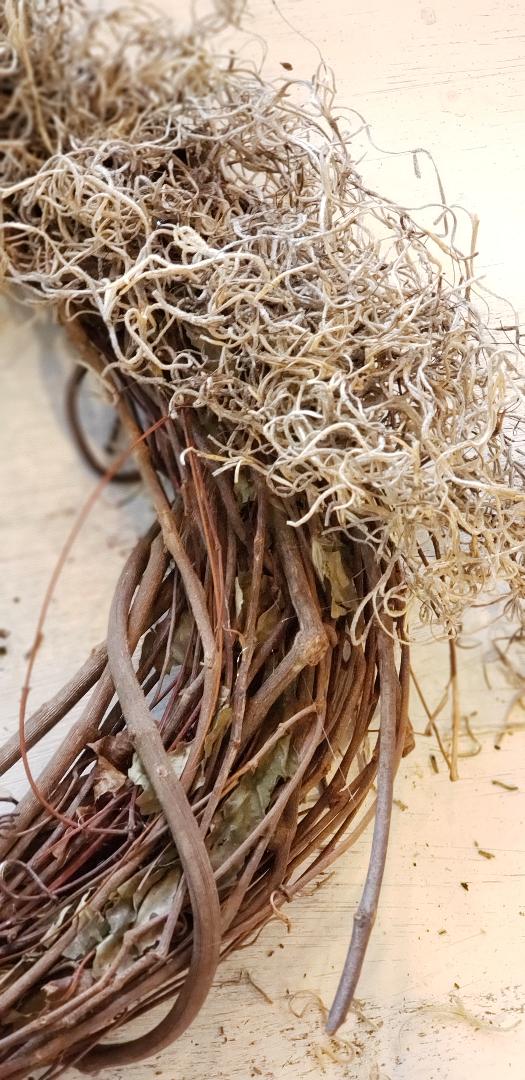 You know every thing like every other week goes on sale there for 50% off.  So wait if you can when you see something you like or, just use the 40% coupon on your phone.  That works wonderfully too!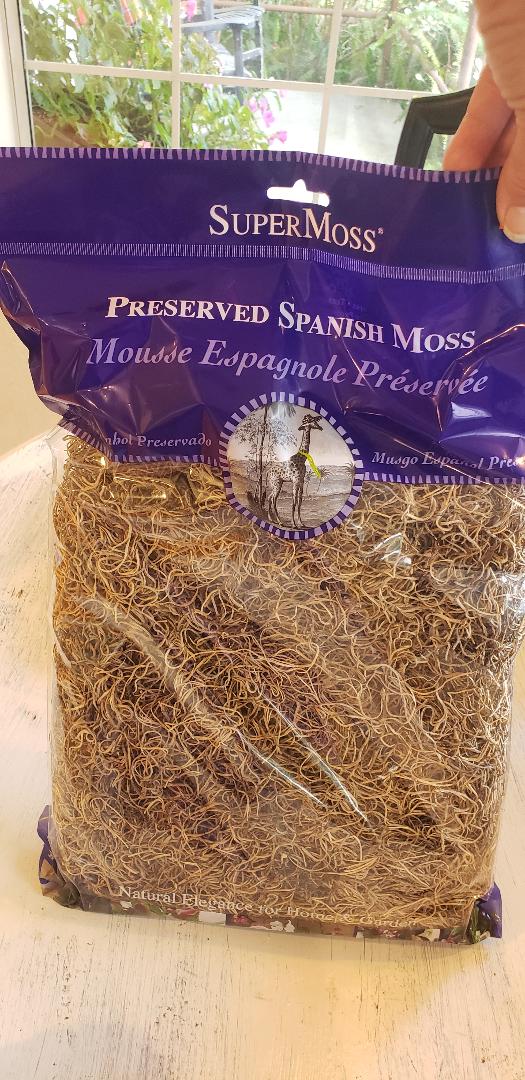 Then I used some Spanish moss I had from a garden nursery I already had, and hot glued it around the wreath for that garden dried up fall and harvest look.  But you can get some here .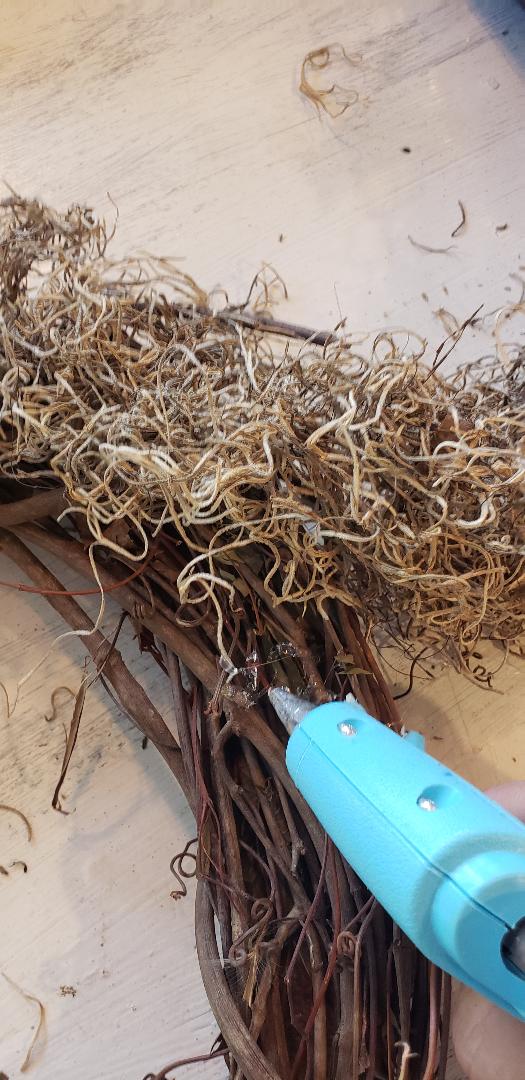 I only needed 3 faux pumpkins from Hobby Lobby to attach to pull this whole charming look off.  They were $1.50 each at Hobby Lobby with the 50% off sale.  They came with stick style pics attached so I easily wove them into the wreath so there was no need for hot glue here.
Next I used some jute twine and tied it around the rustic wood frame securing it with another couple of staples from my gun at the back.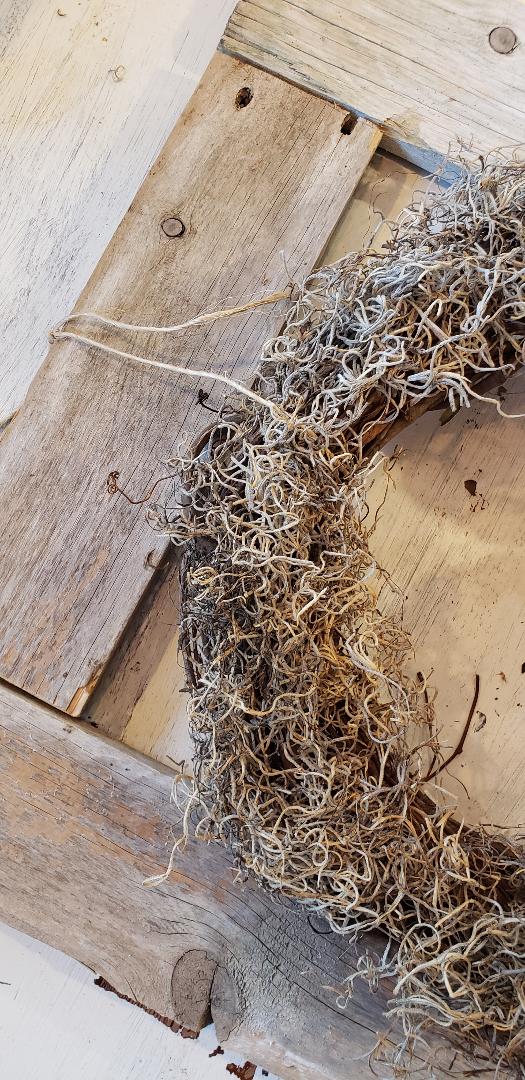 Yaay, that's it!
The whole project cost me $10.00 because I already had the moss and wood.  But really everyone needs a wood pile to peruse from whenever you just need to craft away.  It's actually a basic need for me.  And Spanish Moss comes in handy a lot around here.  I put it around my plants for kind of an inside mulch look and for regular crafts as well.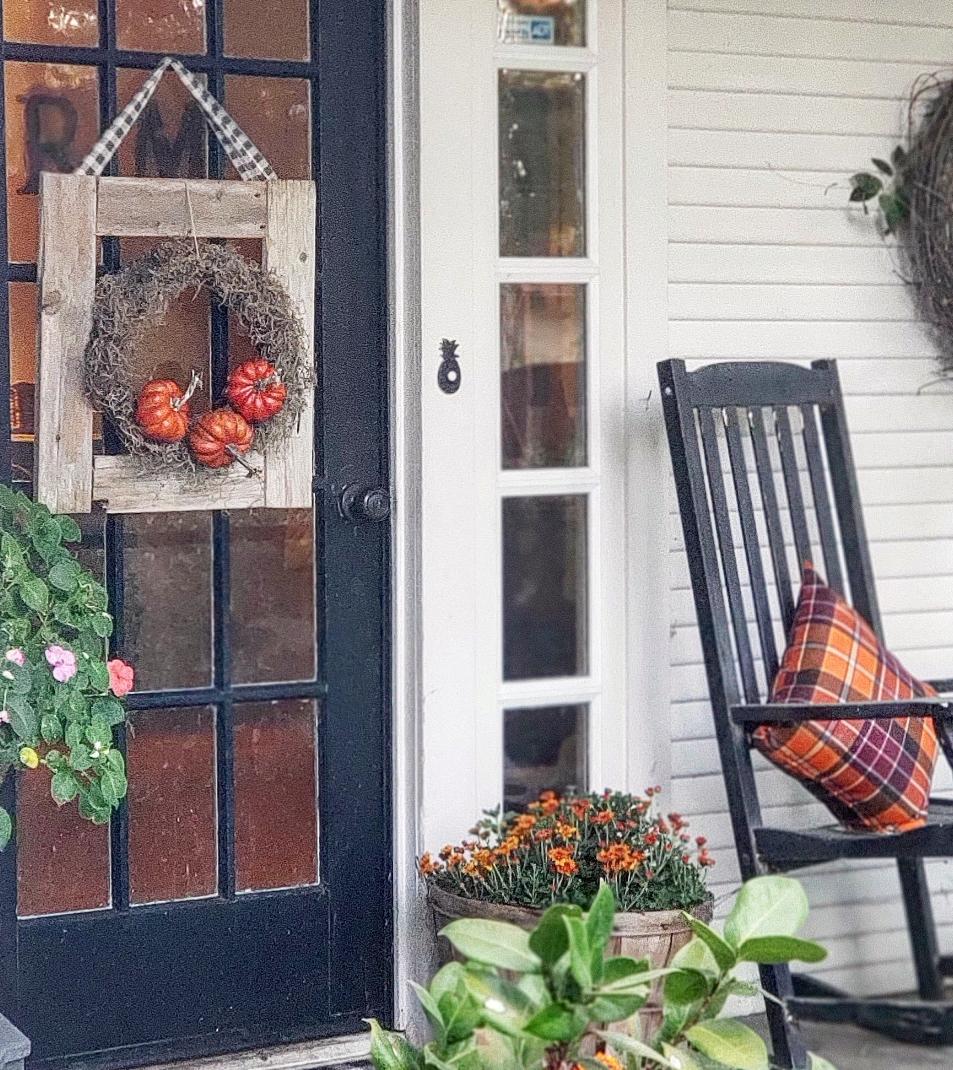 Now to finish up the rest of this fall porch with some mums, pillows, and such and you've got a great greeting for yourself and all of your guests this season!
HAPPY FALL Y'ALL
XO
Jerri
PIN FOR LATER