THANKSGIVING PIE
ROUND-UP
Woohoo!  It's that time of year again my friend!  Pie Time!  Yes it is and it's one of my favorite times of the year! (uh, I guess whatever season I'm in seems to be my favorite time of year)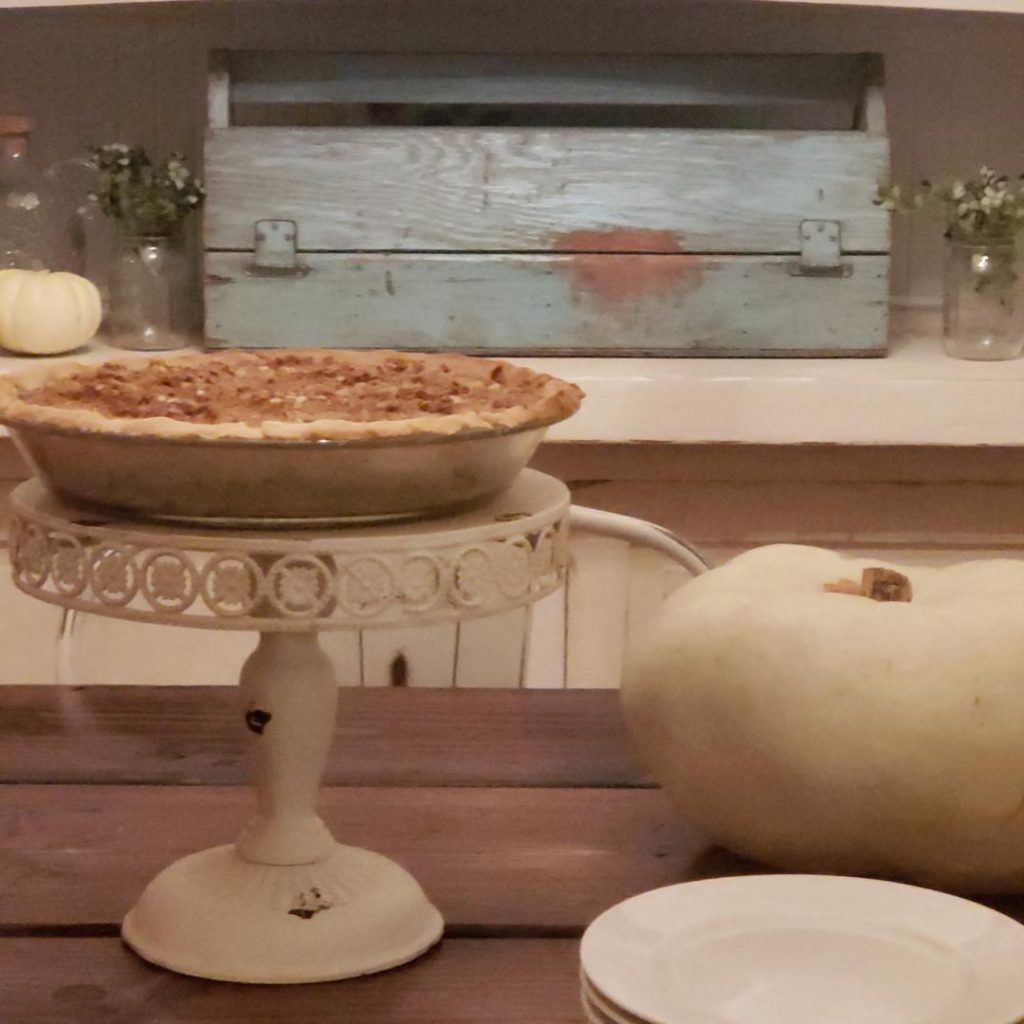 So while I'm being so thankful and all I have become fully immersed in none other than this season of…food.  Oh the warmth and yumminess of all the fall feels of comfort food.  It's superb!  It's tremendous!  It's perfectly pie-licious!
Well to celebrate this "particularly" "pretty" amazing season, I've teamed up with some fabulous bloggers and boy do we have a "plethora" of pies for you – seven to be exact!
Hope this gets you in the spirit of "Pie Season" yourself and gives you many options to try for your Thanksgiving Feast!
FARMHOUSE FUN'S
CRUMB TOP BERRY PIE
To start you off I've got my Crumb Top Berry Pie!  It has three different berries, an easy peasy homemade pie crust, and the most delicious, buttery and very crumbly struesel type topping that almost seems like a fall berry cobbler!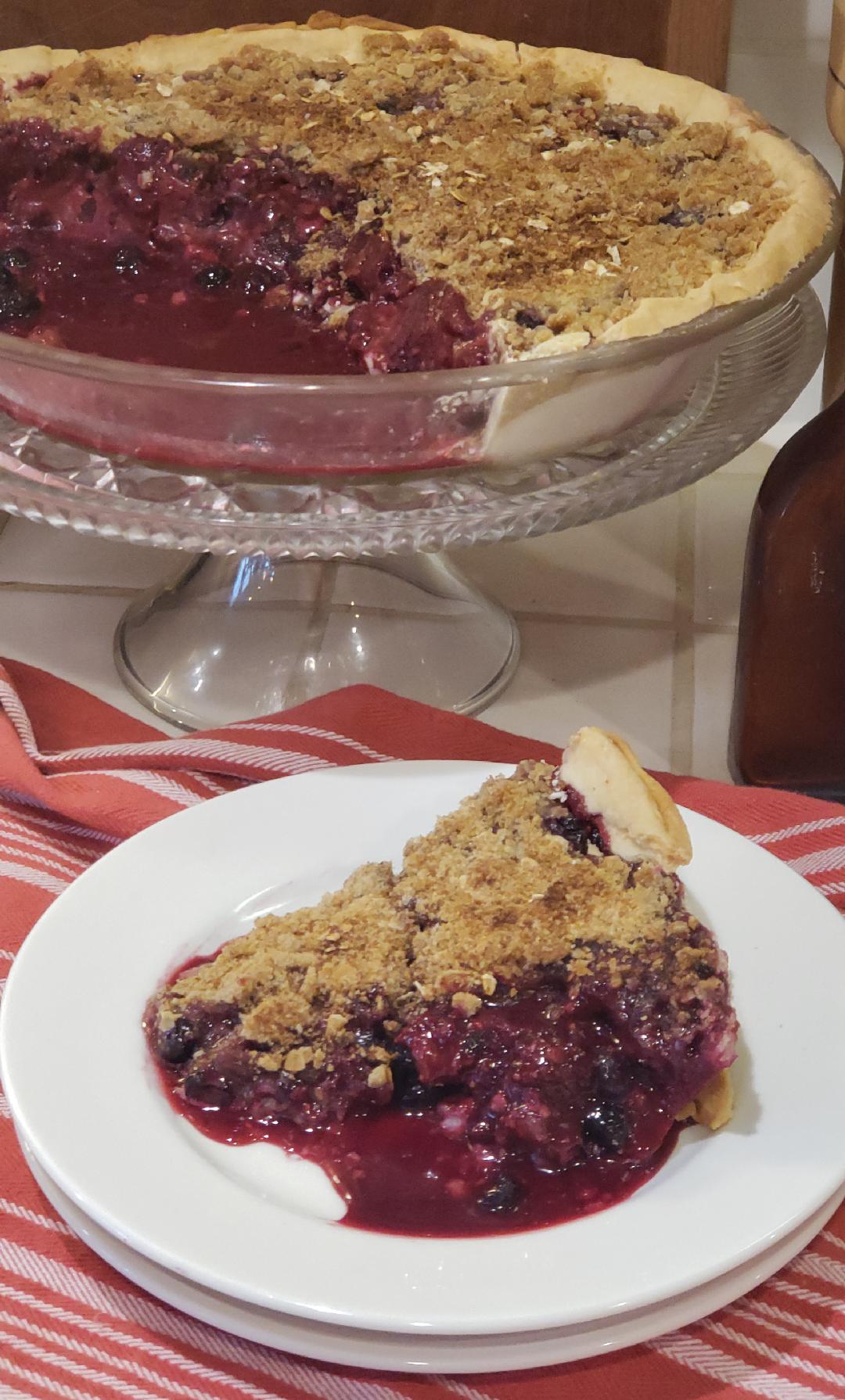 Down on the farm, I like to use the freshest ingredients I can, like these berries for instance.  We have several farms near by where you can pick your own berries in the late spring.  We love to head on over while nature's bounty is at it's freshest, grab some buckets, and head out to pick em all by hand.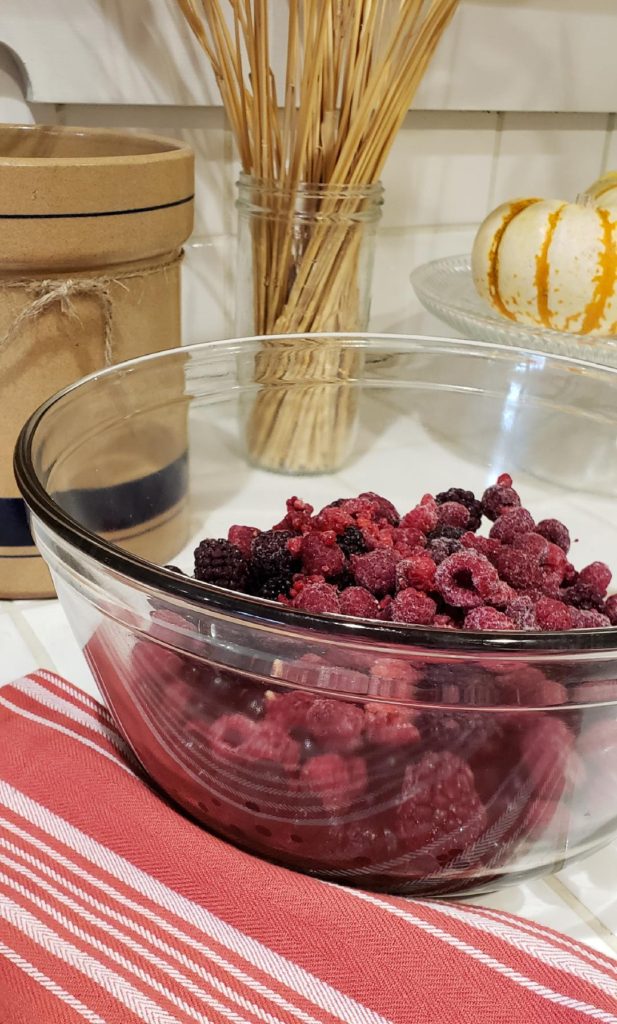 Talk about a fun family activity!  We take em home, eat some of course, but freeze the rest for times like these when there's a Thanksgiving Pie Round-Up!
Sometimes the thought of making everything from scratch can sound a little intimidating, but truly it really isn't that difficult.  Our great grandmothers were doing it all the time and when someone shows you how, it really is simple and easy.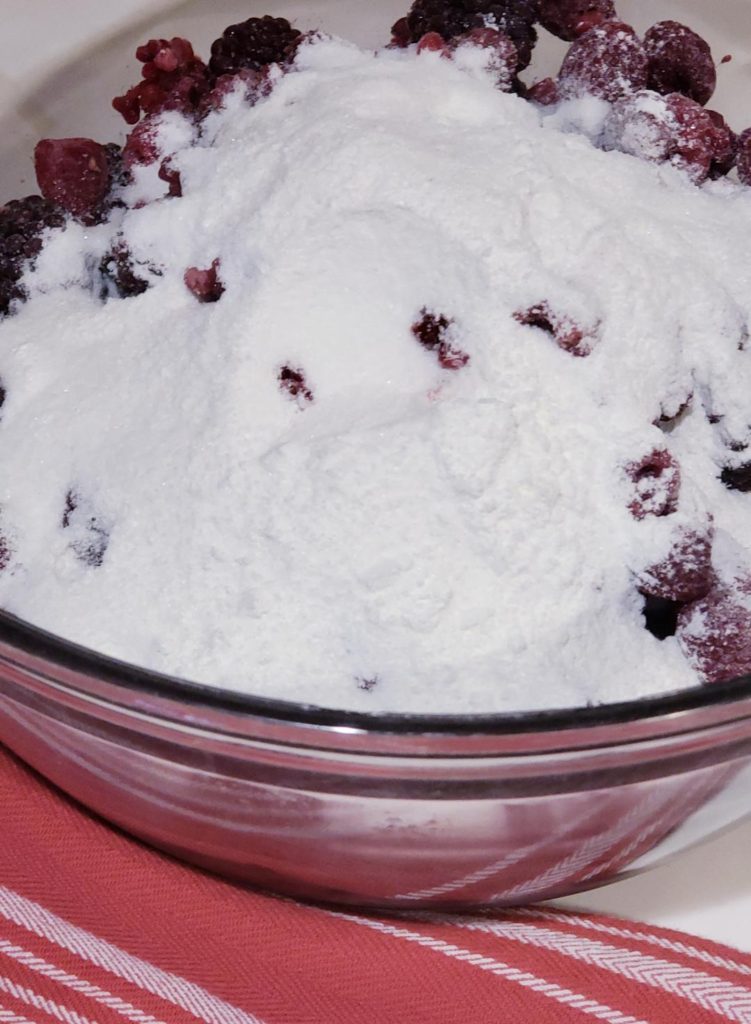 I take my frozen berries out first and put them in a large bowl and set a side.  Next I mix some corn starch and sugar in a small bowl.  I pour the corn starch/sugar on top of the berries and stir it all together until the berries are coated.  I also add a little extra something that not many people do that makes this pie stand out.  It just has this unique flavor that makes it extra special and taste oh so good.  It's not vanilla, it's almond flavoring.  But instead of almond extract, I like to use almond liqueur.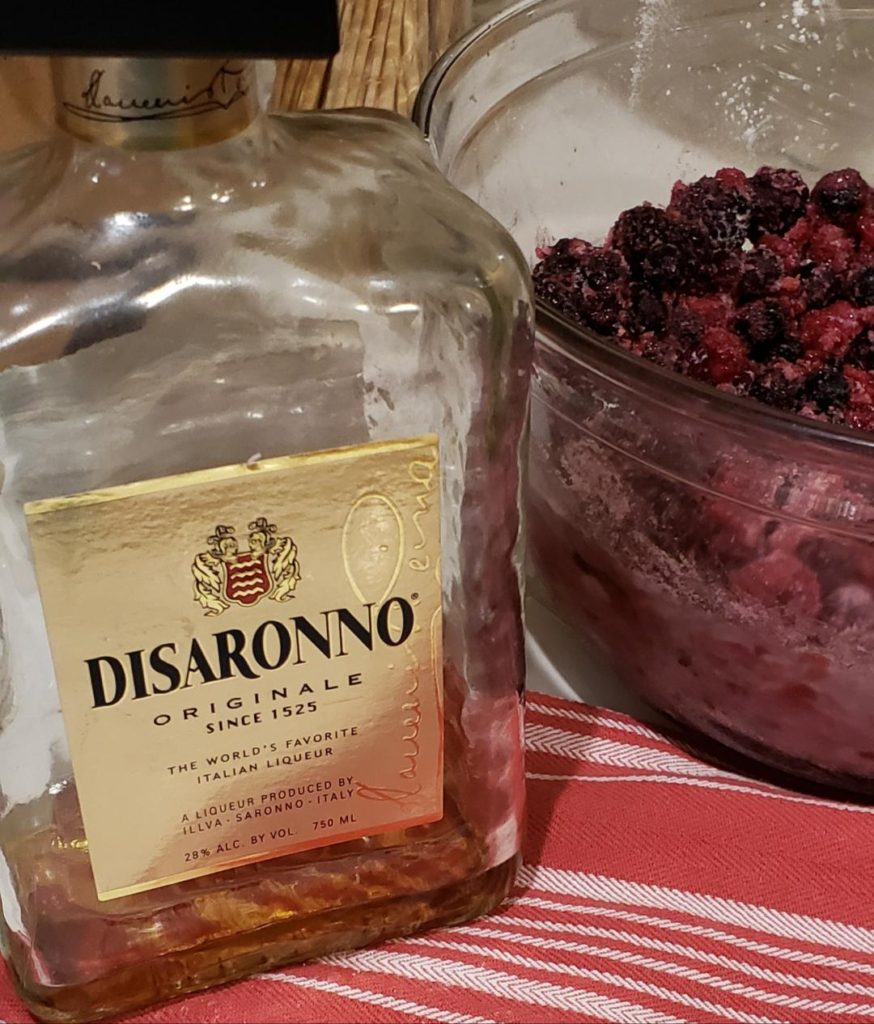 Oh my the taste of almond flavoring with berries, cherries, or plums is absolutely delicious!  It's like peas and carrots, peanut butter and jelly, Lucy and Ethyl, it just goes together.  Then I just leave that bowl of berries on the counter for about 15-30 minutes so they start to defrost while I make the pie crust.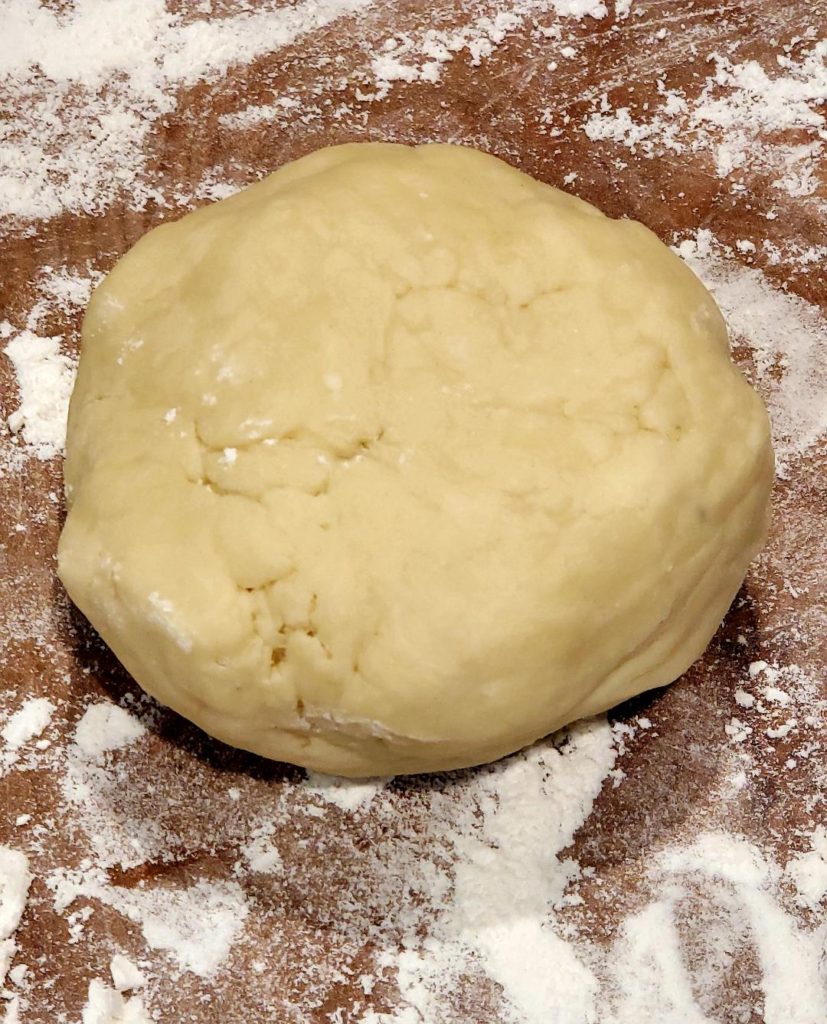 Homemade pie crust is so easy-peasy and tastes so much better than store bought, you just gotta try it.  I put some all purpose flour in the mixer, add a little kosher salt, and some cold butter then I mix away until it gets crumbly.  Next, I add about 3 tablespoons ice cold water and keep mixing until it becomes a ball.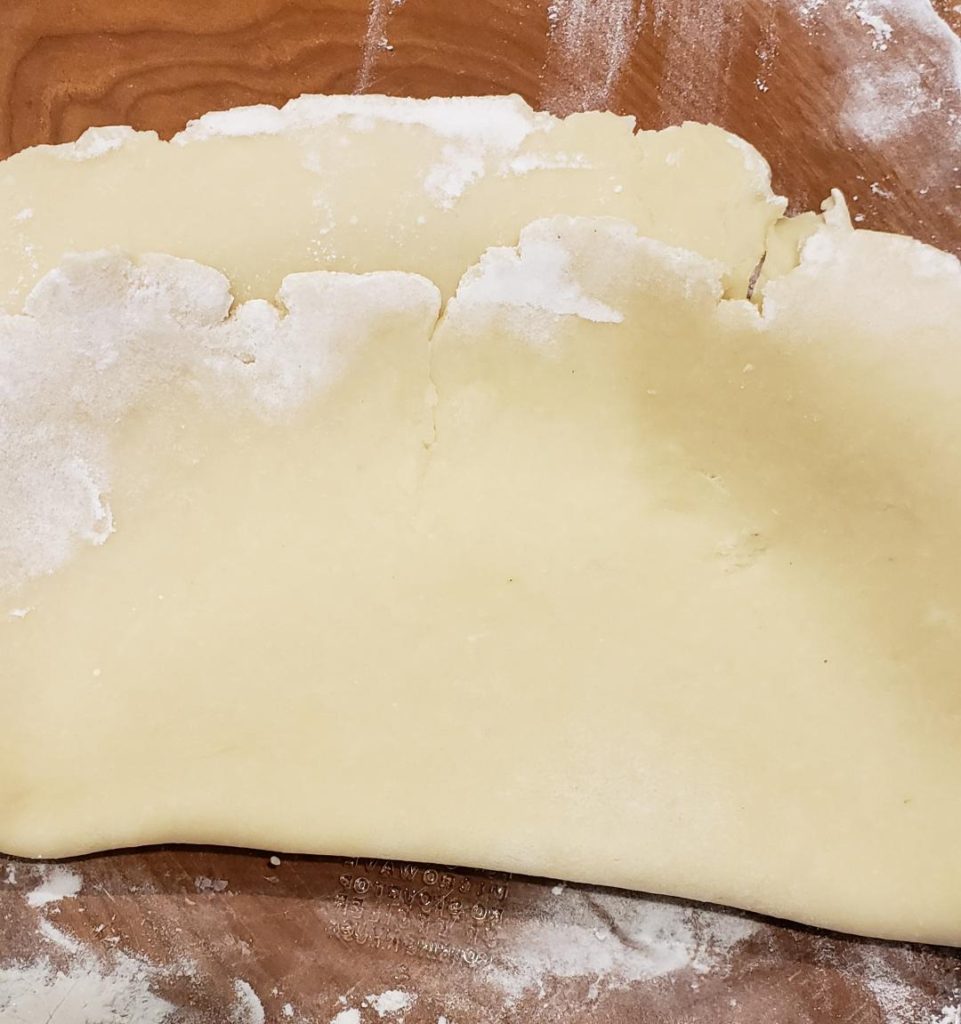 Then you just roll it out on a floured surface, fold it in half and set in a deep dish pie pan and unfold to fill the entire area.  I like to pinch the edges with my fingers and cut off the extra with a knife.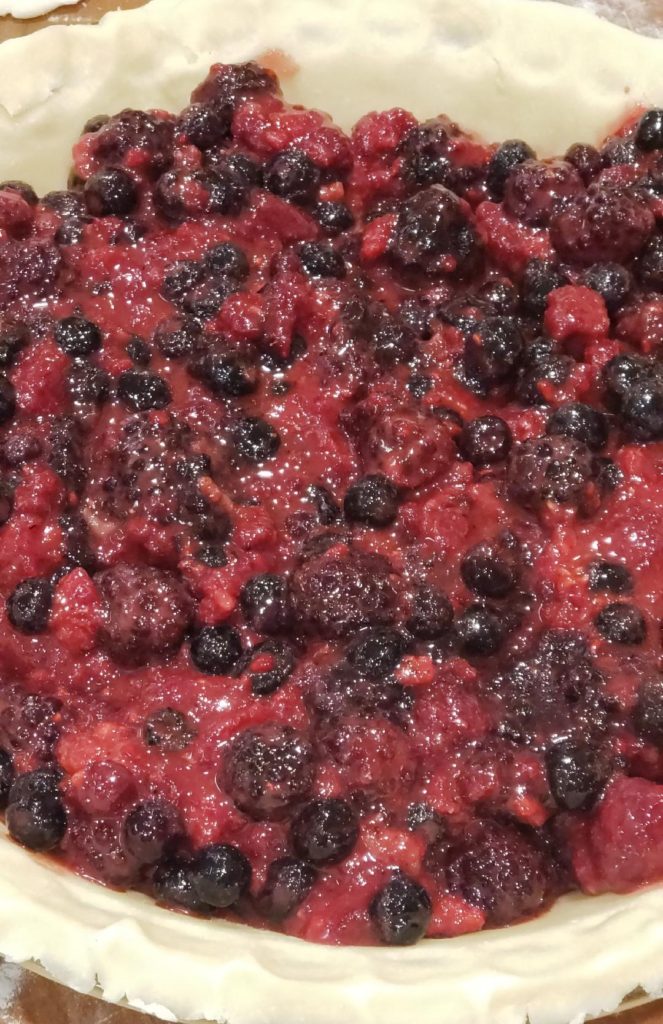 I pour the berry mixture in the pie crust and set my metal pie ring cover on top.  Gone are the days when you had to put foil all crumbled up over the edges to prevent it from burning.  Nope, just use this handy dandy pie ring cover and your pie will be protected.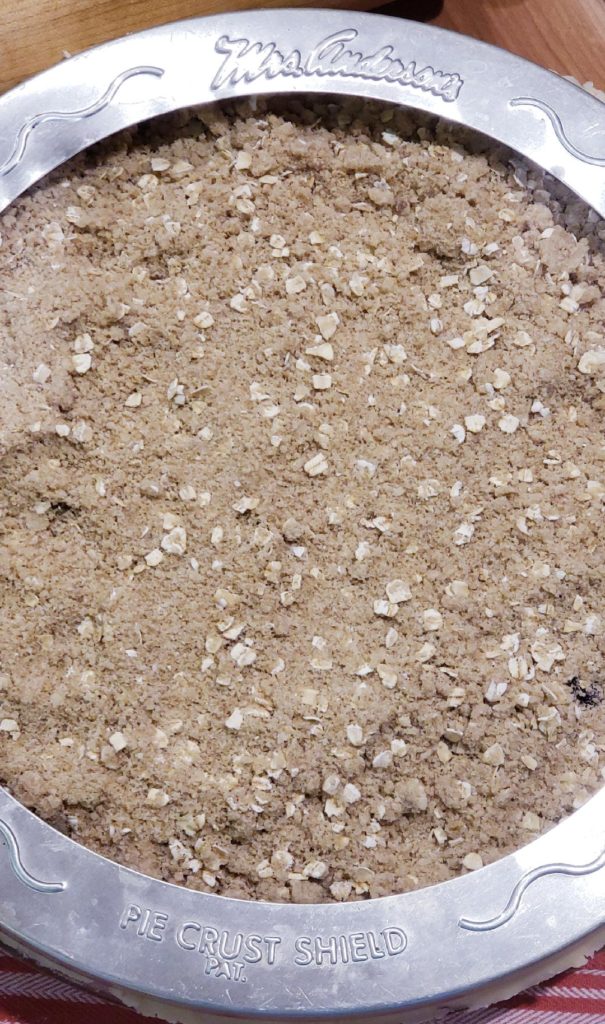 Now place that baby on a cookie sheet and place in a preheated 350 degree oven.  Set your timer, and bake for 25 minutes.  When that buzzer rings, check to make sure the edges are still okay, and bake again for another 20-25 minutes.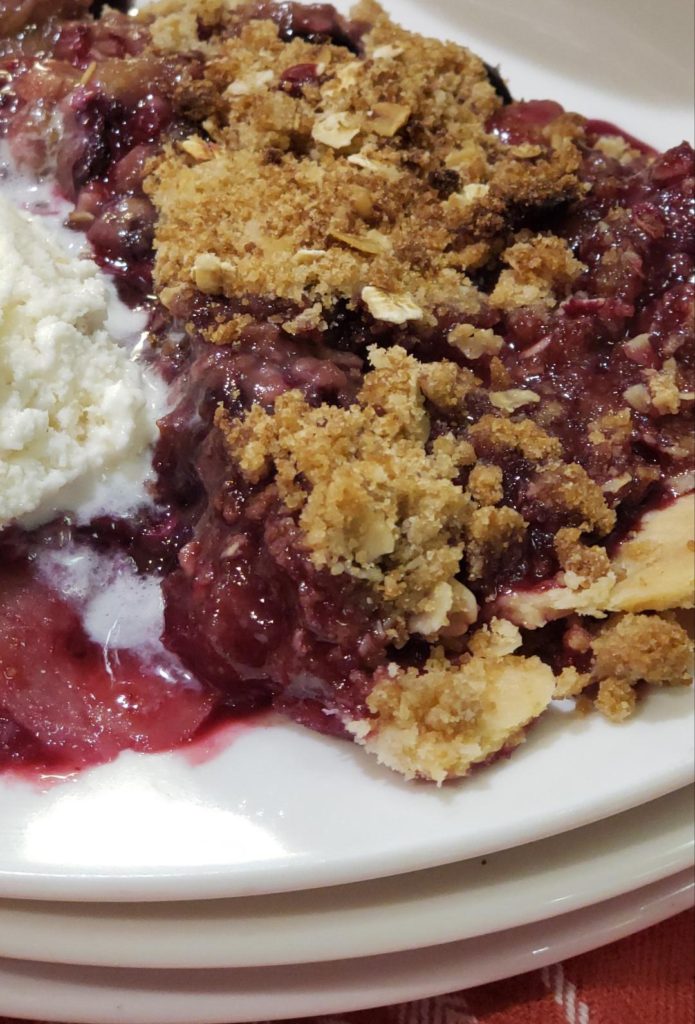 Take out and cool a bit, then serve warm with ice cream or whipped cream and enjoy!  Hey, if you're interested in making your own gelato  (Italian ice cream) check out another post I have for a delish recipe that is so good and yummy;  you might want to try it out.
CRUMB TOP BERRY PIE
INGREDIENTS
FOR THE CRUST
1 1/4 cups all-purpose flour
1/2 teaspoon salt
1/3 cup butter cut into cubes
3 tablespoons ice water
FOR THE FILLING
2 cups raspberries (frozen or fresh)
2 cups blackberries (frozen or fresh)
2 cups blueberries (frozen or fresh)
1 cup sugar
1/2 cup corn starch
2 tablespoons almond liqueur
CRUMB TOPPING
1 cup all purpose flour
1 cup packed brown sugar
4 tablespoons butter
1/2 teaspoon kosher salt
1/2 cup oats
DIRECTIONS
FOR FILLING
Mix corn starch and sugar together in a small bow.
Set frozen berries in a large bowl and pour corn starch/sugar mixture over berries.
Stir together along with almond liqueur and set bowl aside.
FOR PIE CRUST
Measure out flour and salt put into mixer.
Add cold cubed butter and mix together until it's crumbly.
While mixing, add the ice cold water and mix until it becomes a ball.
Take out and lay on floured surface and roll until a little larger than size of pie pan.
Fold in half and lay inside pan, then unfold setting pie crust in place.
Pinch with fingers the crust at the top and cut off excess.
FOR CRUMBLE TOP & PIE
Mix butter, flour, brown sugar, salt and oats in the mixer until it is crumbly.
Pour filling into pie crust and smooth out.
Sprinkle the crumb topping all over the top and place metal pie ring over edges (to prevent burning).
Place pie on a cookie sheet (to prevent hot juices from pie spilling over in oven).
Bake at 375 degrees for 25 minutes, check pie, and bake again for another 20 minutes.
Serve with ice cream or whipped cream and enjoy
THANKSGIVING PIE
ROUND-UP
Now let me introduce you to some pretty amazing ladies and their dee-licious pies!
NO BAKE PEANUT BUTTER PIE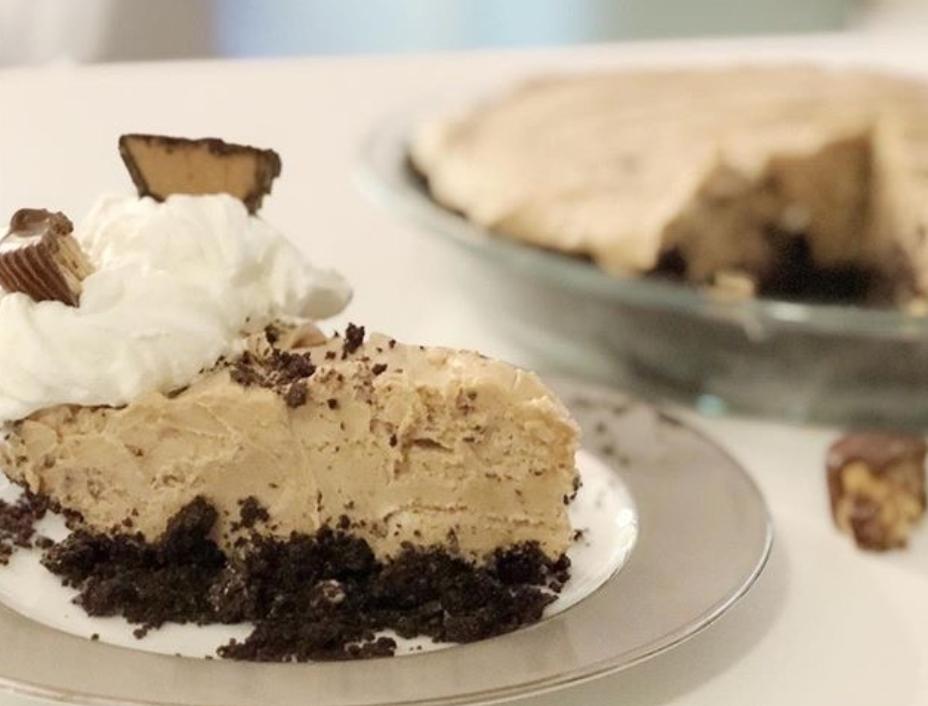 THIS FULL LIFE 5
So this here is Dori's No Bake Peanut Butter Pie from This Full Life 5.  I mean just look at this dessert my friends!  It just looks oh so good!  For her recipe click here  and check out her blog too thisfulllife5.com it's so darling!  She's also on Instagram as @thisfulllife5  and is such a doll!
SOUR CREAM PEAR PIE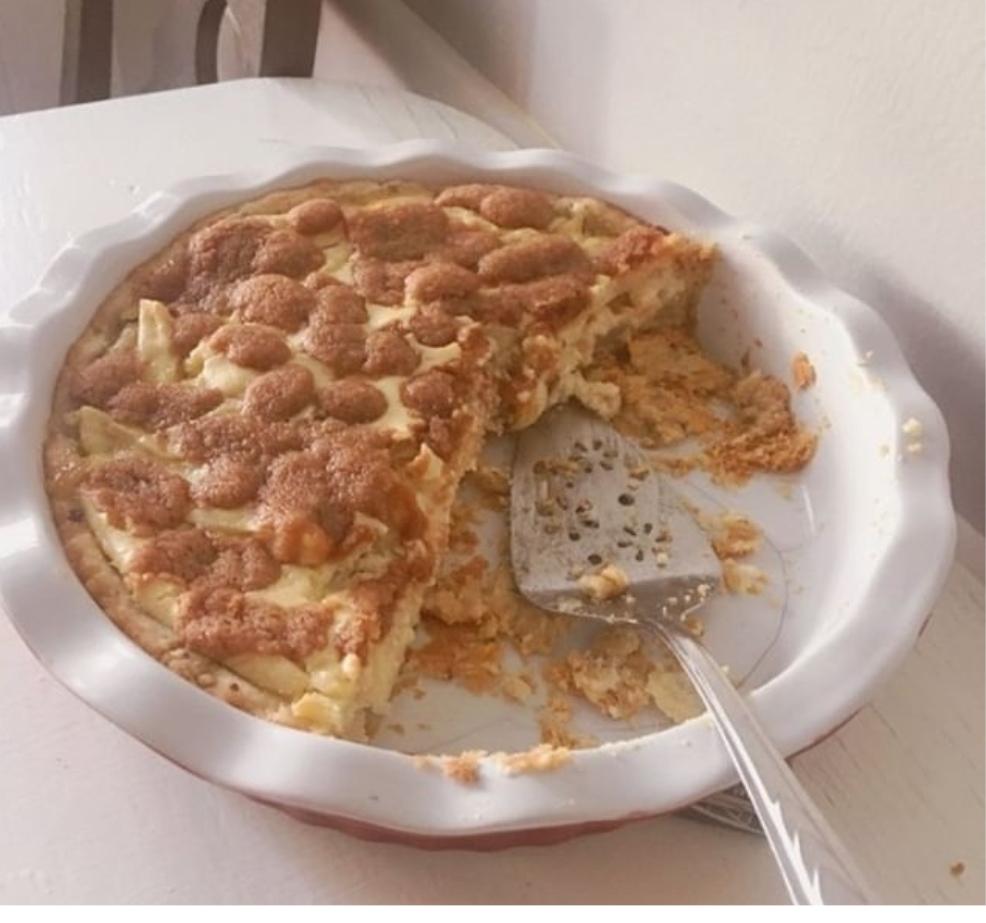 THE TABORHOOD
Well will you just take a peek at this Sour Cream Pear Pie from Dani at The Taborhood.  Can you even imagine how delicious this pie is?  I mean it is so unique, and scrumptious looking!  I'm can't wait to try this one too!  Click here  for the recipe and then head on over to her thetaborhood.com . She's also on Instagram at @thetaborhood .  She certainly is one to follow.
CARAMEL PECAN CREAM CHEESE PIE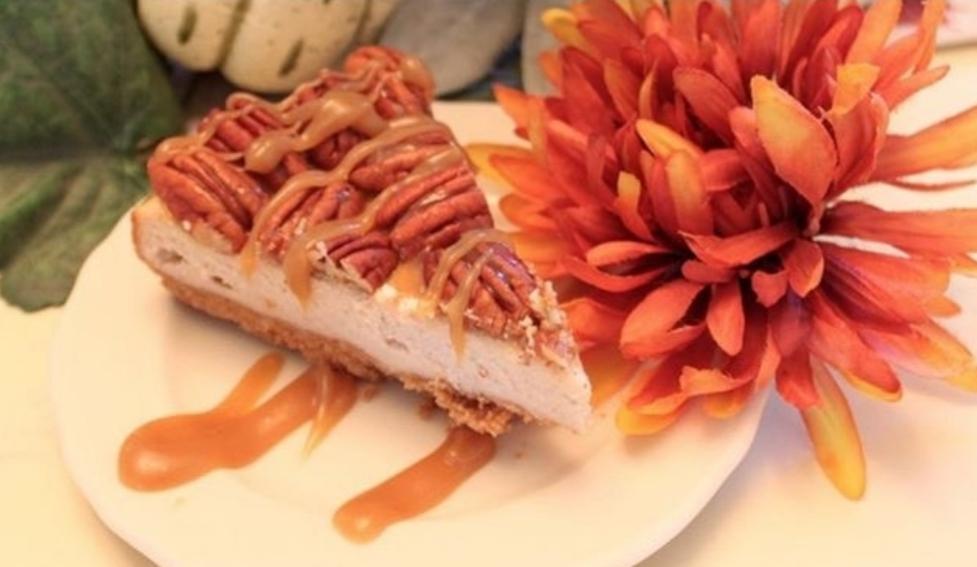 STILETTOS AND SHIPLAP
This here pie is from my sweet friend Tara of Stilettos and Shiplap.  Gosh, I can't get over all of the oooey gooey caramel and come on, pecans too, on a cream cheese pie!  I'm in heaven.  Click here for the recipe and her blog is wonderful check it out at stilettosandshiplap.com . Don't forget to check out her Instagram feed at @stilettosandshiplap .
CHOCOLATE PECAN PIE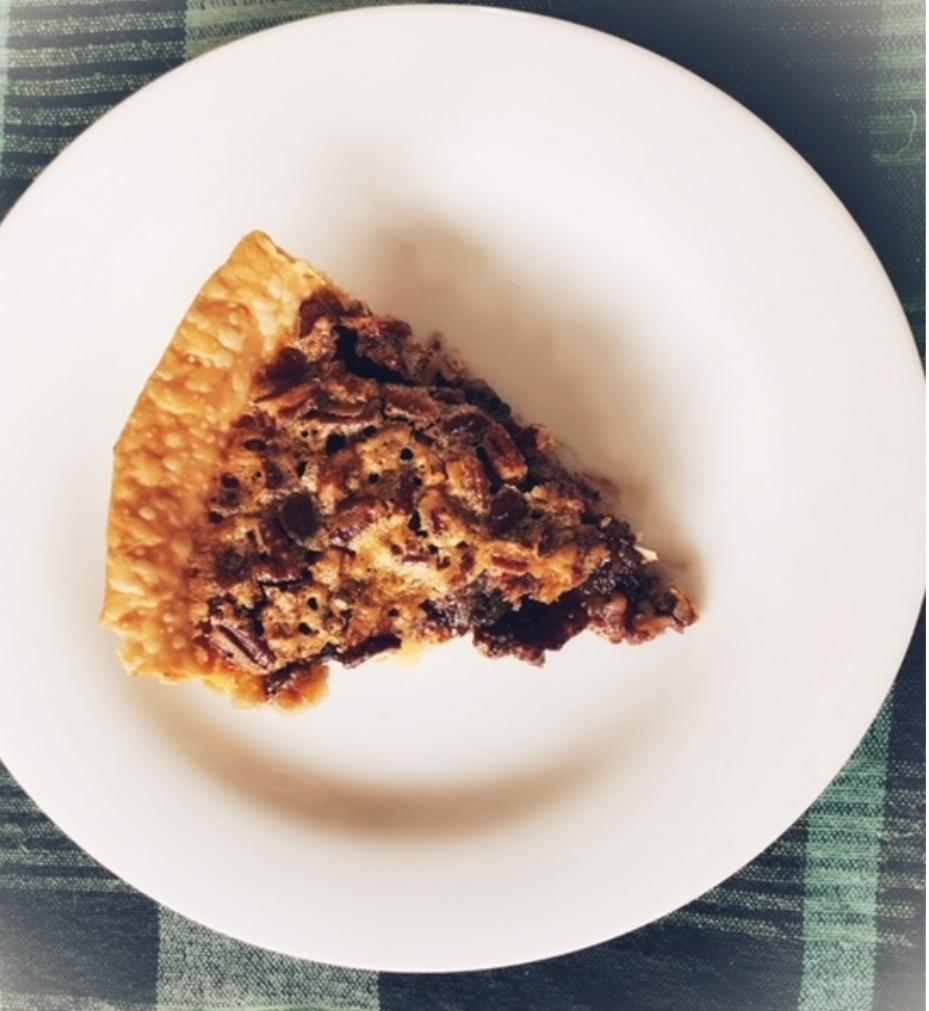 THE HOME ENVY
Now this pie is one I'm so looking forward to as well!  It's got chocolate friends and pecans too! Oh my, this is like two of my favorite things ever!  Just click here for the recipe then mosey on down to Victoria's blog thehomeenvy.com for so many fun and great ideas.  You can find her on Instagram @thehomeenvy.
BUTTER TART PIE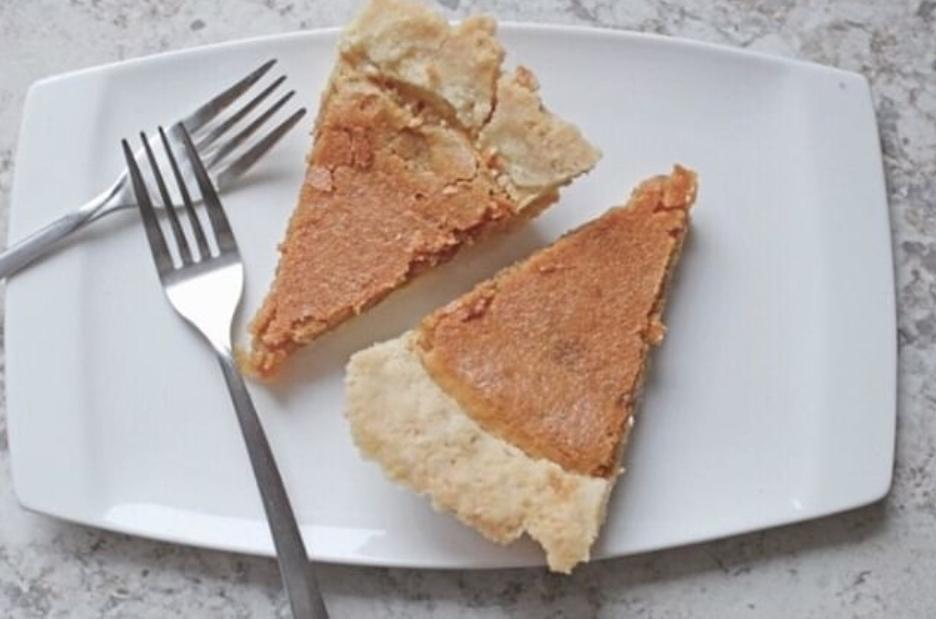 INSIDE THE YELLOW HOME
Oh goodness a Butter Tart Pie from Martha at Inside the Yellow Home has got me beggin for mercy!  Click here for her recipe and you just need to check out her website insidetheyellowhome.com  You can find on instagram as @insidetheyyellowhome
APPLE PIE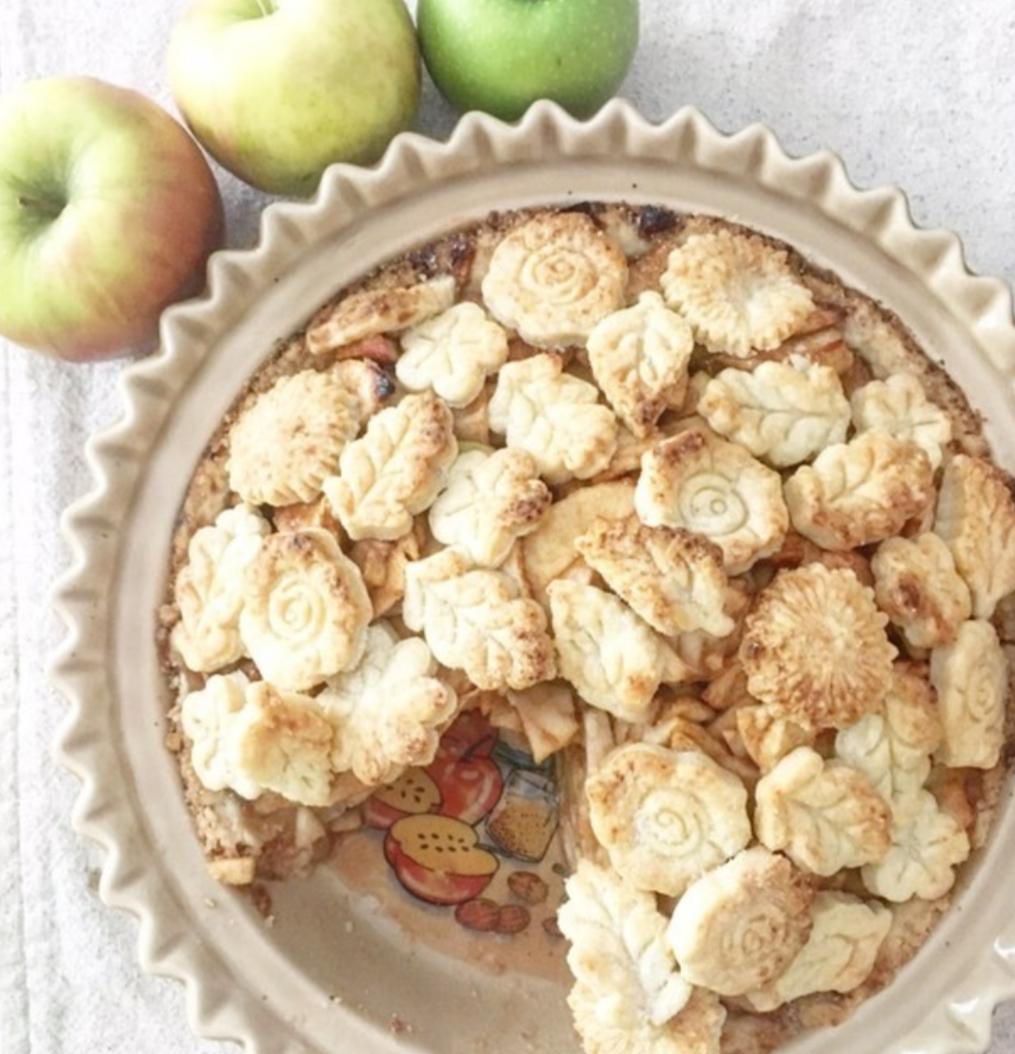 SWEET SOUTHERN GRACE
But wait there's more!  This is my friend Shae's Apple Pie from Sweet Southern Grace.  She doesn't have a blog but I'm so glad she joined us!  You can find her pie here on her Instagram account  @sweet_southern_grace .
Well thank you for joining us on our first THANKSGIVING PIE ROUND-UP!  I sure hope you got some good ideas and some more yummy recipes to try for sure!  From all of us to all of you we hope your Thanksgiving Holiday is not only delicious but very special too!
XO Jerri