This week is my daughter-in-law, Meredith's birthday!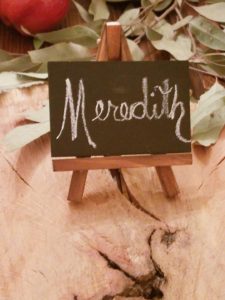 And last Sunday we celebrated her with a family dinner at our home.
What a wonderful excuse to come together for a meal to celebrate this precious woman!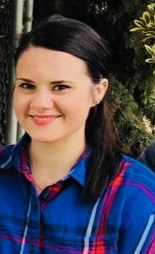 Whenever our family gathers to break bread, it's really always a reason to celebrate and I love to try to make it special by setting a pretty table.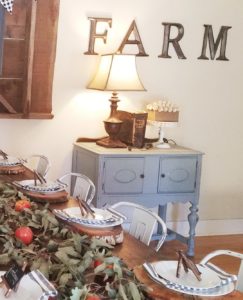 Since this sweet girl was born in September that meant a fall tablescape was appropriate.
So that's what I went with.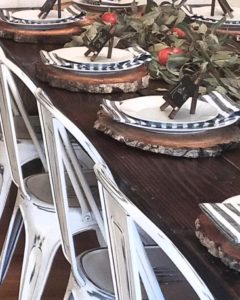 The first thing I wanted to do was bring the outside in which is kind of my theme this year so I went on a little country walk for inspiration and found some beautiful Eucalyptus trees.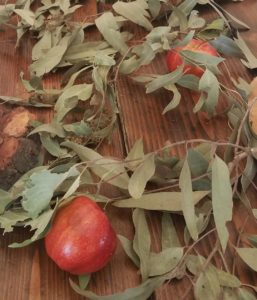 I trimmed a few branches to bring back, knowing that it would provide our home and my table with beautiful greenery as well as a fragrance that might warm our guests spirits in celebration of the fall season.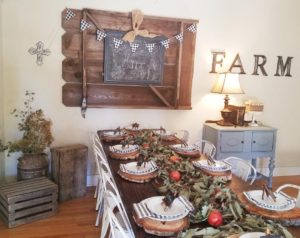 I knew I also wanted to use apples (since I'm all about that for sure in September) and I love the colors of Gala and Fuji because they have a beautiful golden yellow and red color that reminds me of autumn and the changing of the leaves.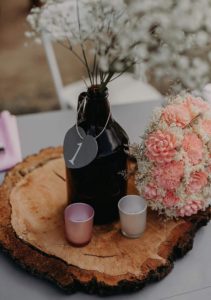 When thinking about chargers, I remembered that for Meredith's wedding to our Rodney, the centerpieces on all of their guest's tables had these wooden planks (which I still have) that our other son Rusty created.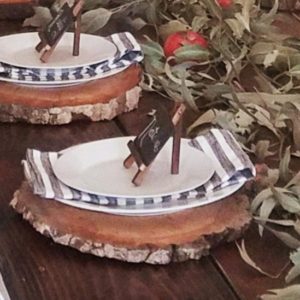 It took him some time, but he used an old tree stump and sliced each one off from it.
I love the texture of the bark trim and the colors of the flat wood plank in the center.  They are all very unique and gorgeous!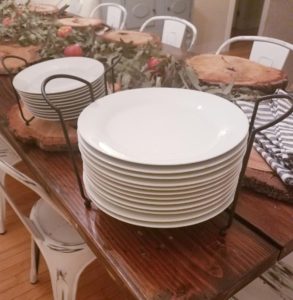 The plates are just white and from World Market.  We purchased them a couple of years ago and I use them all the time.
They seem to be the sweet and simple compliment I needed when trying to highlight a more elaborate garden style centerpiece.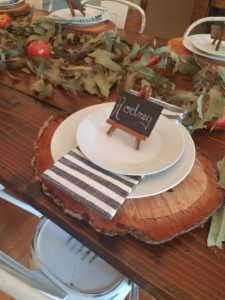 Then these cute place cards are my favorite and newest edition.  I got them at the dollar section at Target!  So reasonable and sooooo CUTE!!!
Last, but not least, the cloth napkins are by none other than Chip and Jo Jo's Hearth and Hand Collection at Target.  I chose this striped look because I think it coordinates with the checked bunting on the barn door hanging above and I am just loving the timeless look of black and white.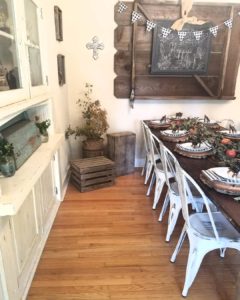 Now, the menu for this family affair was good ol' chili, cornbread, and salad.  You can't get a more perfect "let's ring in the fall season" with that, I'm tellin' ya!
All in all what a nice day it was getting together to celebrate our beloved Mer, and cherish our family gatherings!
Blessings to you sweet friends.
XO Jerri