Aw, the beautifully orchestrated sound of the Almond Harvest Season is going on here at the farm these days my friends!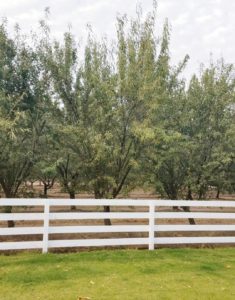 Yes, it's the percussion and rings of the machines in my ears that I hear following the applauding of the trees as they are shaken as if to say thank you as their heavy limbs must feel the release from carrying the weight of their heavy burden.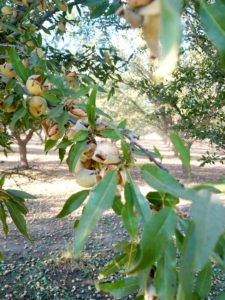 Almond Harvest is such a great time of  year!
Right when the weather starts to change, just before it gets too cool, the farmer goes through the orchards with his shaker machine,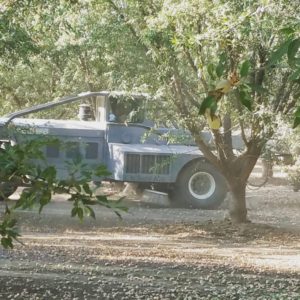 shaking each and every individual tree as the almonds fall like rain to the ground to lay there and dry out in what's left of the California sun before the next machine comes around in about another week.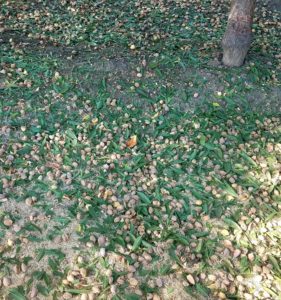 Next up, the sweepers.
The farmer uses this machine to sweep all of the almonds into these neat and tidy long piles down each row of the almonds trees.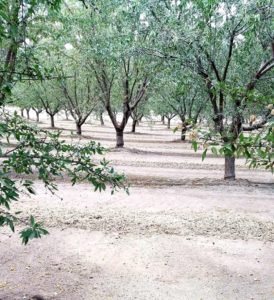 See all of the rows of stacked almonds!
He'll be back before you know it with another tractor type vehicle called a harvester or pick-up machine that drives over each row scooping them all up.
Then they are dumped into a cart and after that's full, it's taken to a conveyor belt that lifts it into a large semi trailer.
Then they take the whole kit and kaboodle to a place that removes the hull and shell.
That's it, done.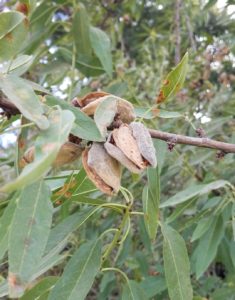 And another season has come and gone; the harvest is over and we wait until spring when the blossoms arrive and the bees come, then the whole process starts all over again.
But for now, I have almonds to crack open and shell.
I like to go out to a tree myself and harvest a basket by hand.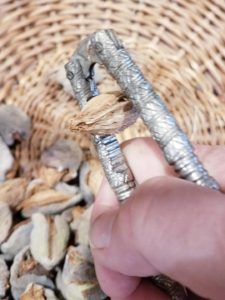 It's a fun time, picking right off the tree, removing the soft felt like hull, then sitting with my handy dandy nut cracker removing the shell to release this long awaited golden nugget of goodness!
There you are!
After I have a whole bunch done, I like to freeze them so whenever I need some delicious almonds for a recipe, they are so easy to grab.
And that's just what I've been up to this week because I needed some almonds for a delicious homemade pesto recipe.
You see, most people head out to the grocery store for some fresh ingredients to make something so yummy for their family.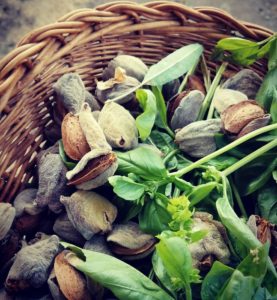 But I'm telling you, all I have to do is step out my back door, head to the garden to pick a bunch of basil, then head on over to the almond tree and literally pick a bunch off the tree, then head back to the kitchen.
And you can too!
It's not hard to do either.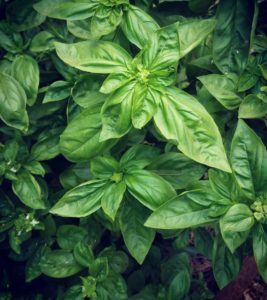 Just get yourself some fresh herb plants, put them in your kitchen window sill or out in your yard and you'll always have fresh herbs to cook with.
Well, this recipe is a like a traditional pesto with the usual ingredients except for two.
Most pestos include basil, garlic, and olive oil, but where they include Parmesan cheese and pine nuts, I use Romano cheese and almonds.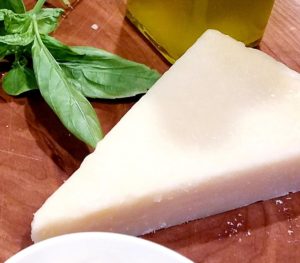 My Italian great Grandma Nina loved to use Romano cheese over Parmesan in a lot of her cooking and I guess that's why I prefer it.
I think it has a stronger more intense flavor compared to the milder yet still so yummy Parmesan cheese.
Now in the case of the almonds over pine nuts, well, the almonds are what I have ready and willing for me to use in my cooking (since I live on an almond orchard) and it's kind of fun to do some of the ol' time tasks, that the simple yet oh so hard working farmers' wives, probably did in the gone but not forgotten olden days.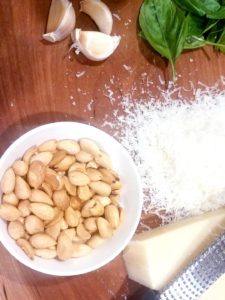 For example, harvesting the almonds myself, shelling, then blanching them and poppin' em' right out of their skins, then giving them a little roasting before adding them to my delicious pesto recipe.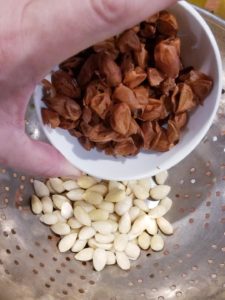 My friend Kim gave me a little tutorial of how when she was a little girl growing up here in this Almond Capital area of California, that helping her family in the kitchen blanching almonds was a seasonal task.
So I thought, how fun, I've gotta try this!
And just look, easy peasy and truly it was fun!  Not to time consuming at all either, and so neat that I could do this all by myself.
So I hulled and shelled the almonds.
After my pot of water was good and hot, I dropped a small bowl of almonds in and boiled for exactly 1 minute.
Next, they were drained in a colander then dumped out on a towel to drain.
Ok, now this is the really fun part…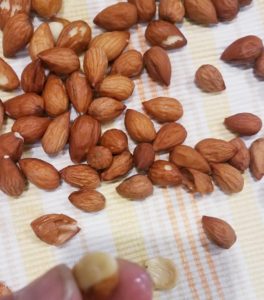 you just take your fingers and pinch the almonds right out of their skins!
But be careful you don't launch these slippery guys into the air and hit someone in the eye!
Yaay, blanched almonds!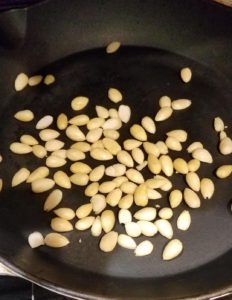 Then, I roasted them in a cast iron skillet in the oven at 400 degrees for about 10-15 minutes (while checking on them every few minutes and giving them a little shake to make sure they didn't burn).
The rest of my recipe, is simple and easy.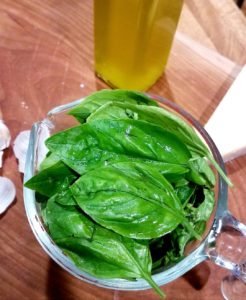 I just washed the basil, put it in a food processor along with the garlic, freshly grated Romano and the roasted almonds.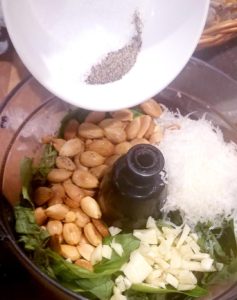 Then blended them all up while adding the olive oil.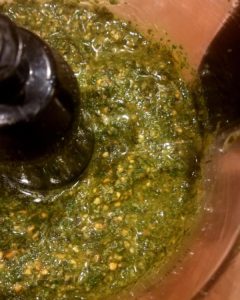 Next, I toss it in with my freshly cooked pasta and finito!
Finished!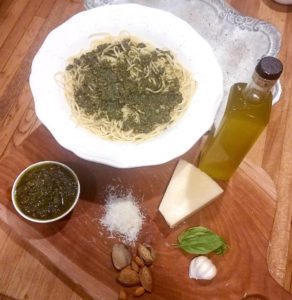 And believe me it's so fresh and bright tasting with all of the freshest ingredients, really, how could it not be?
Please try this recipe out and let me know what you think.
XO Jerri
ALMOND BASIL PESO
INGREDIENTS
2 cups packed basil leaves
3 cloves garlic
1/2 cups roasted blanched almonds
1 teaspoon kosher salt
1/4 teaspoon ground black pepper
1/4 cup grated Romano cheese
3/4 cup extra virgin olive oil
DIRECTIONS
Pulse the ingredients, except olive oil in food processor until it is all broken down.
Scrape down sides with a rubber spatula and pulse again until well combined.
Turn food processor on again and slowly add olive oil and blend until smooth.
Store in a mason jar and keep in your refrigerator or distribute it into an ice cube tray and freeze (like my great grandma used to do) then wrap in keep cubes in sealed plastic bag.  Then take one out and heat up in a pan with a little olive oil whenever you need a pesto sauce.
Toss fresh or the reheated frozen cube with your favorite pasta and serve.