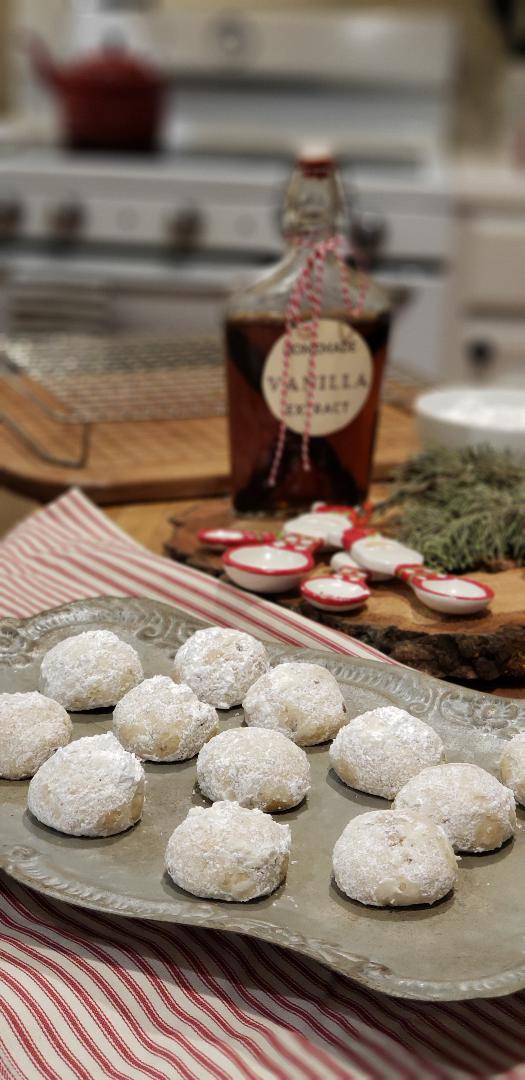 CHRISTMAS MEMORIES & THE SNOWBALL COOKIE
The other day I was thinking about how I probably enjoy Christmas Cookies more than any other cookie during the rest of the year.
Why I wonder?
I guess it's because of all of the childhood memories that go along with it.
I can remember my mama baking away, weeks before Christmas, and storing her creations in the freezer. (How funny my sweet friend Kelly does the same and reminded me of how my mother would do the same -such a great tip.)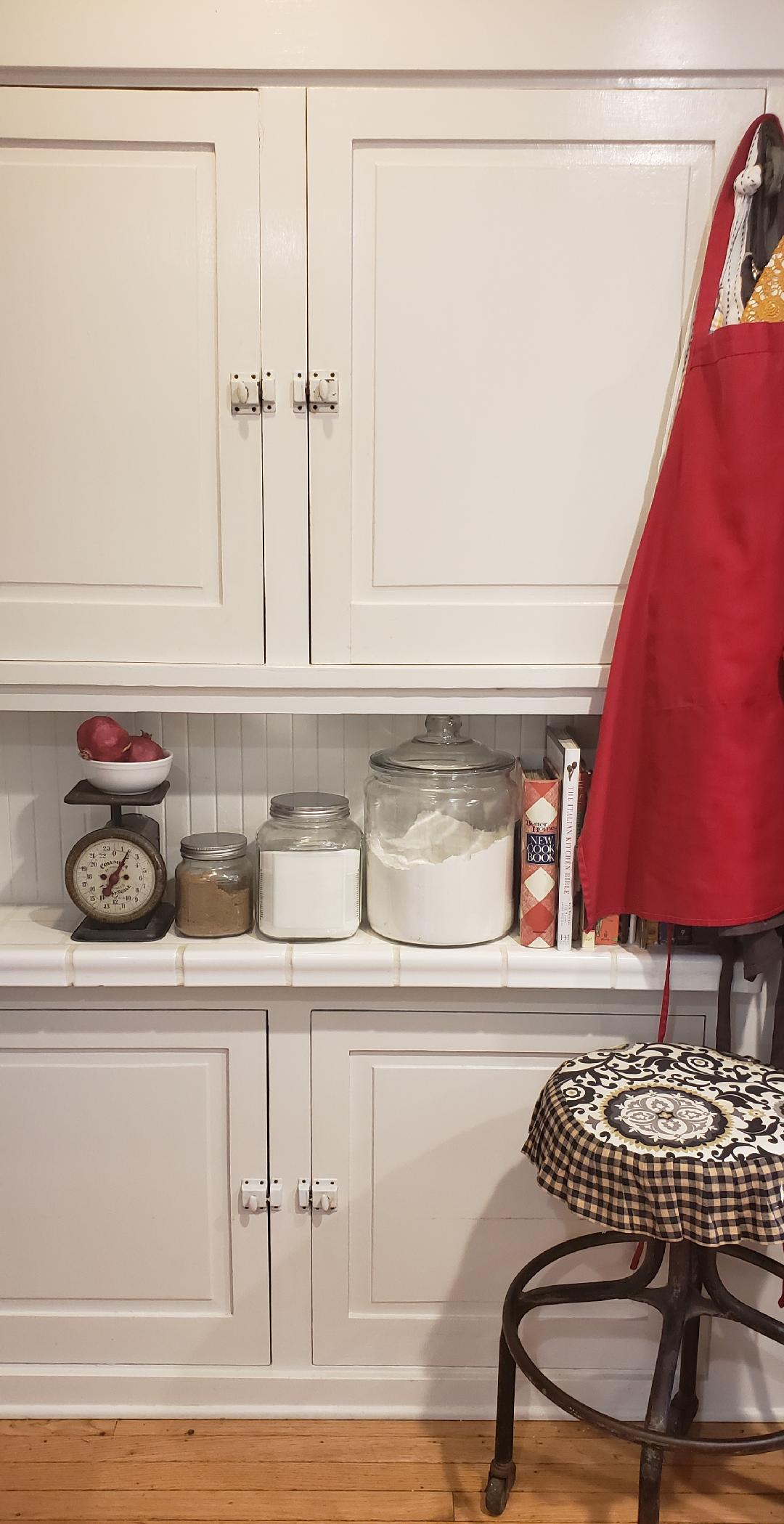 I was always a very observant child (especially when it came to food) and I would watch and wait, then hop on over to that freezer and when no one was looking, sample some of these delights.  The yummiest of them all to me were these little powdered sugar snowball looking cookies.  They so easily popped into my mouth and I could savor the sweet and buttery goodness that they had.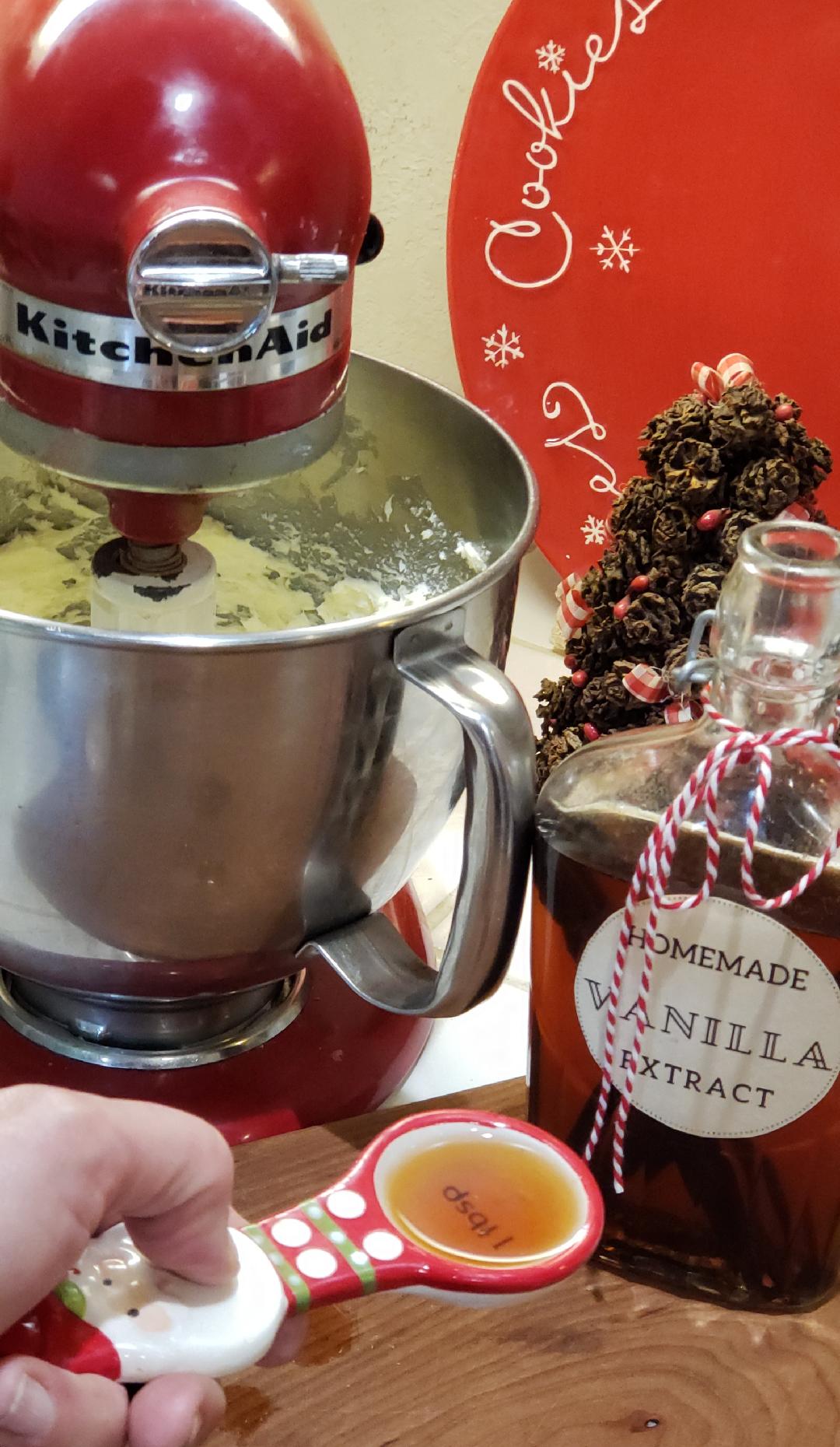 Then when Christmas Day arrived, she would make a lovely platter with other classic Christmas Cookies along with these, like Jam Thumbprints, Peanut butter Hershey Kiss Cookies and her homemade fudge.
Yum!
But by far my favorite ones were those delightful snow looking powdered cookie balls.  
TWEAKING A CLASSIC FAMILY RECIPE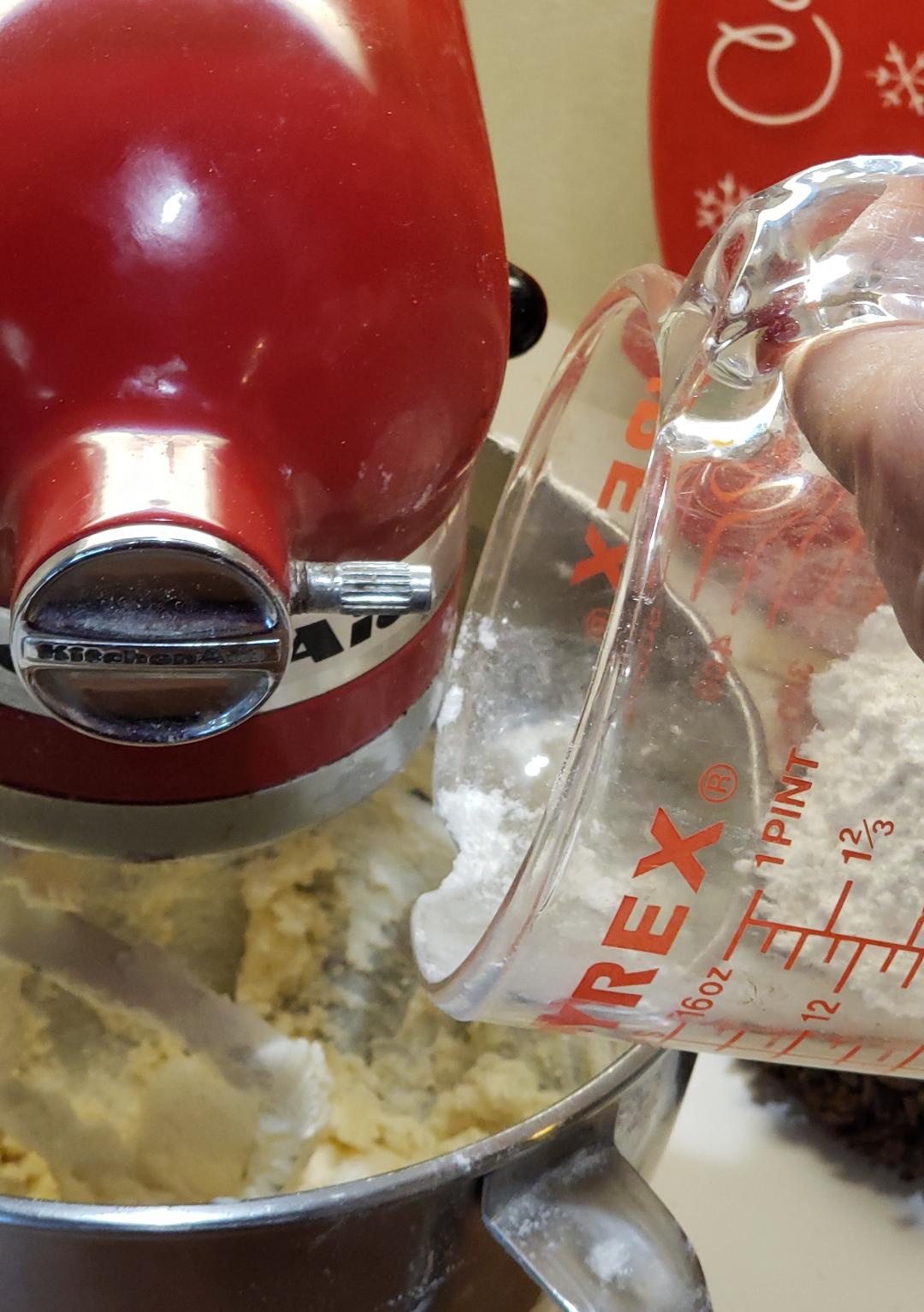 I remember when I got married that I wanted to share all of my childhood traditions with my husband and that totally included my family's treasured recipes.
But when I made these little snow cookies, it wasn't the same.
What happened, I used the same recipe, what went wrong?
Hmm, was it so much more about the memory and the childhood wonder of the magic of the season with all of its sights, smells, sounds and of course tastes, all wrapped up into that little cookie?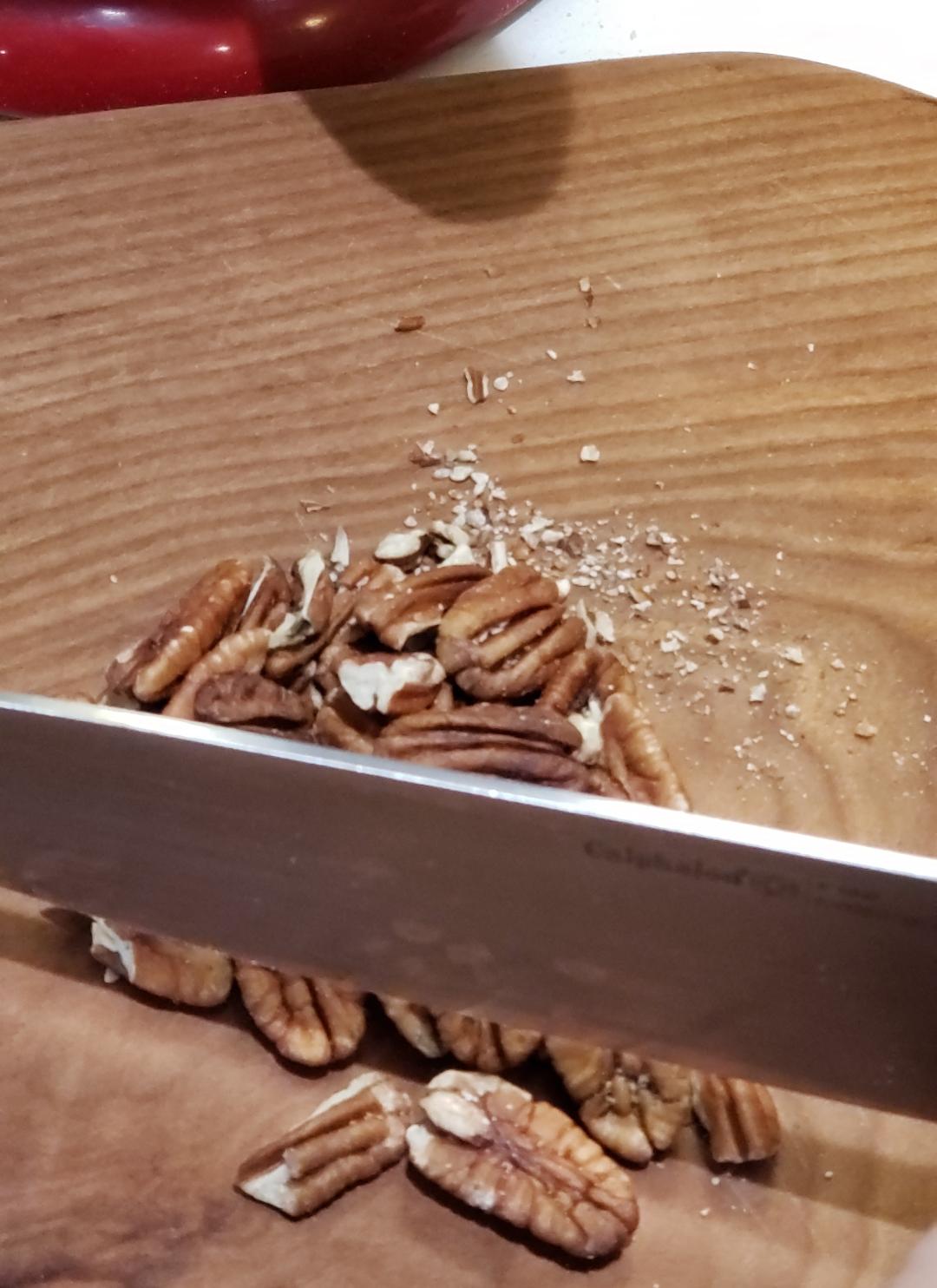 Maybe.
So what's a girl to do?  Tweak the recipe of course.
And that's just what I did.  
Now I'm all about holding on to family traditions and passing them down.  In fact it's more often what I'm all about.  
So I'm not going to go off and ruin a recipe by updating it so much it's got something weird in it like craziness that just doesn't belong in a traditional Christmas Cookie people!
No, no, no.
I just played around with the recipe a bit to try to recreate what I remember I loved about this winter wonderland of a cookie. 
I changed up the sugar ratio, added some vanilla, and them some more. (smile)
Then changed how long I cooked them and double dipped the snow powdery coating at the end.
YUM!
RECAPTURING NOSTALGIC MEMORIES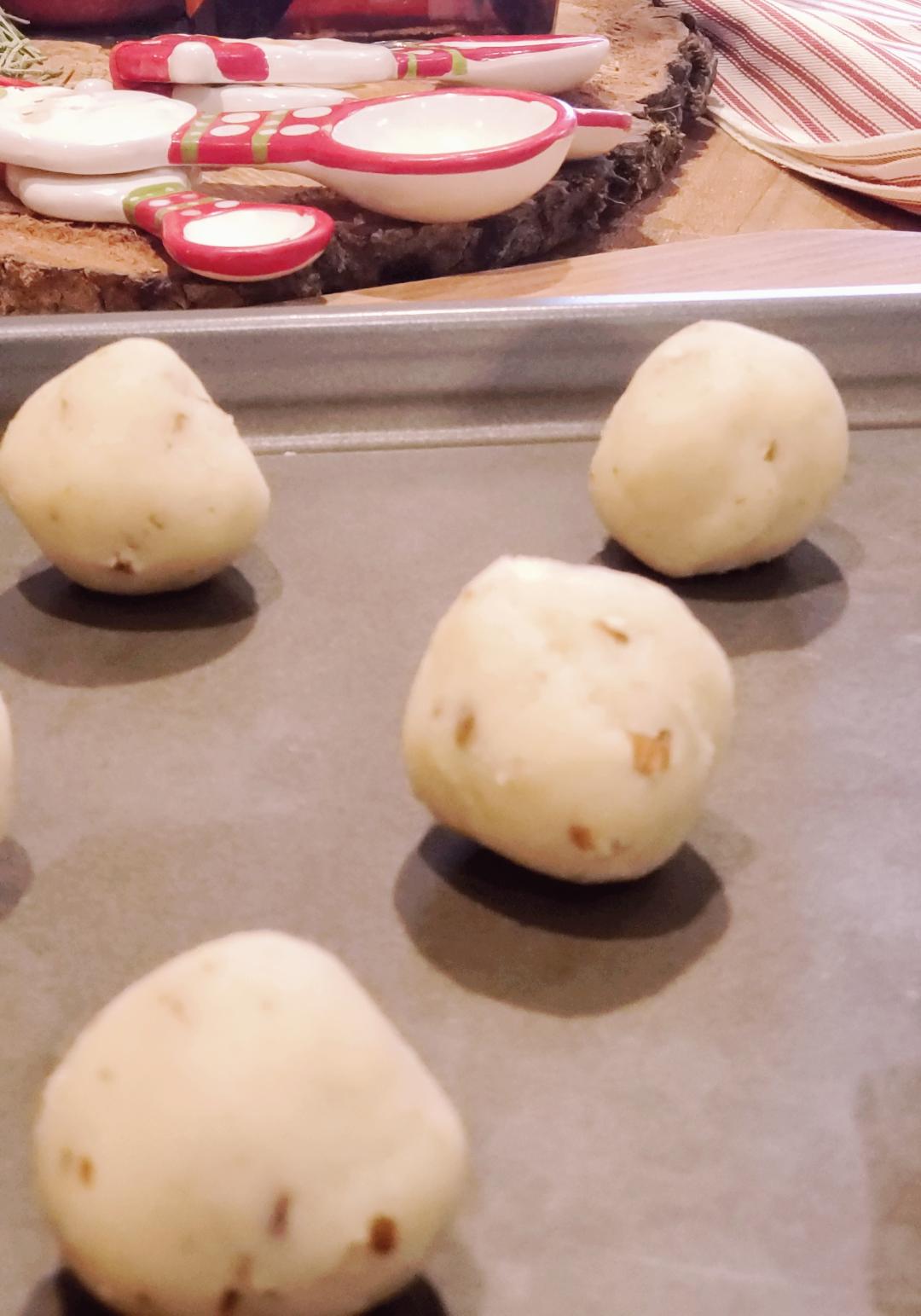 It worked!
It tasted like it did when I was a young girl and so enchanted with Christmas and all of it's wonder and the thrill of hope had never ever left me.
Can a cookie really do all that?
Sure, why not?  Doesn't a song bring back a faded memory of a special moment.
I know the taste of something does the same for me too.
Our memories and our sentiments are a funny thing.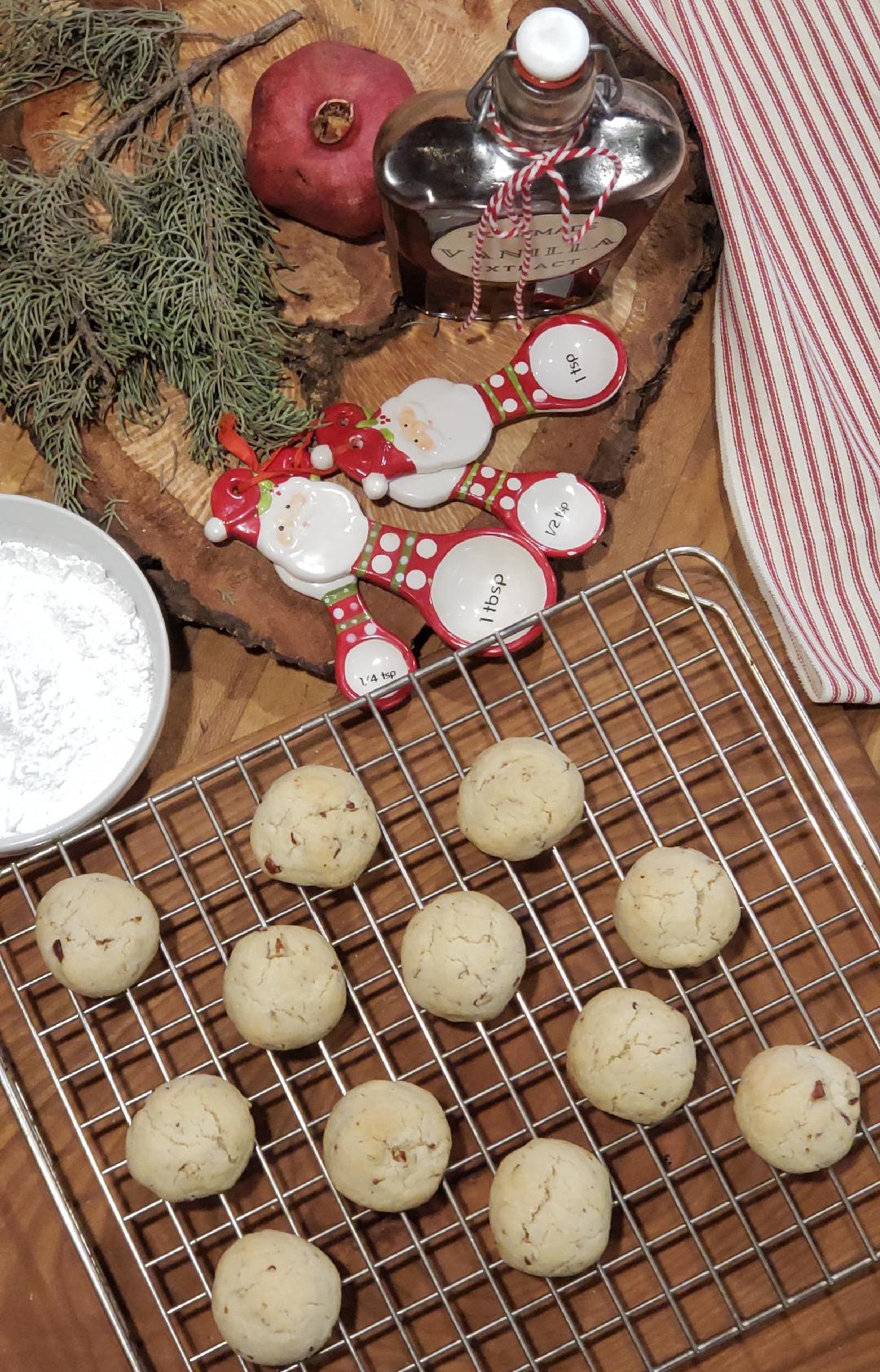 Sometimes we need a little tangible nostalgia to transport us back in time when life was simpler and our thoughts were so optimistic.  
To capture that moment in time and relive it for just a second can be such a refreshing and rewarding activity, I must say.
So here's to the joy of the magic of Christmas Memories in all the different ways we can recapture them!
And here's to the joy of all the wonderful ways we're making new memories today with the ones we love!
XO Jerri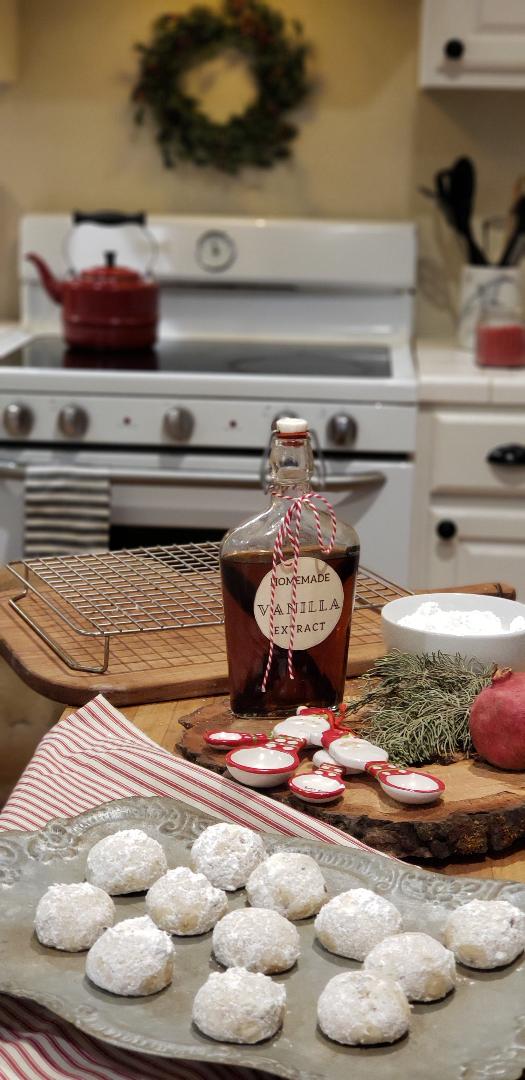 SNOWBALL CHRISTMAS COOKIES
You can place these cookies in a sealed plastic bag after they have completely cooled and store them in the freezer for weeks until ready to serve
INGREDIENTS
1 cup butter
2 1/ 2 cups all purpose flour
1/2 cup granulated sugar
a pinch of salt
1 tablespoon vanilla
3/4 cup finely chopped pecans
1 cup sifted powdered sugar
DIRECTIONS
  Preheat oven to 325 degrees.
 Beat butter and vanilla together with an electric mixer on high speed until creamy.
 Mix flour, pinch of salt and granulated sugar together in a separate bowl.
 Add half of the flour and sugar mixture at a time to the butter, mixing until well combined.
 Stir in pecans.
 Shape into round 1 inch balls and place onto an ungreased cookie sheet.
 Bake for about 20 minutes or until the bottoms are light brown.
 Cool cookies on a wire rack for 10 minutes.
 Gently drop into a bowl of powdered sugar and set back on rack to set.
 Drop again into powder sugar bowl for final coating.  Eat and enjoy!