CHAMPAGNE OR SPARKLING WINE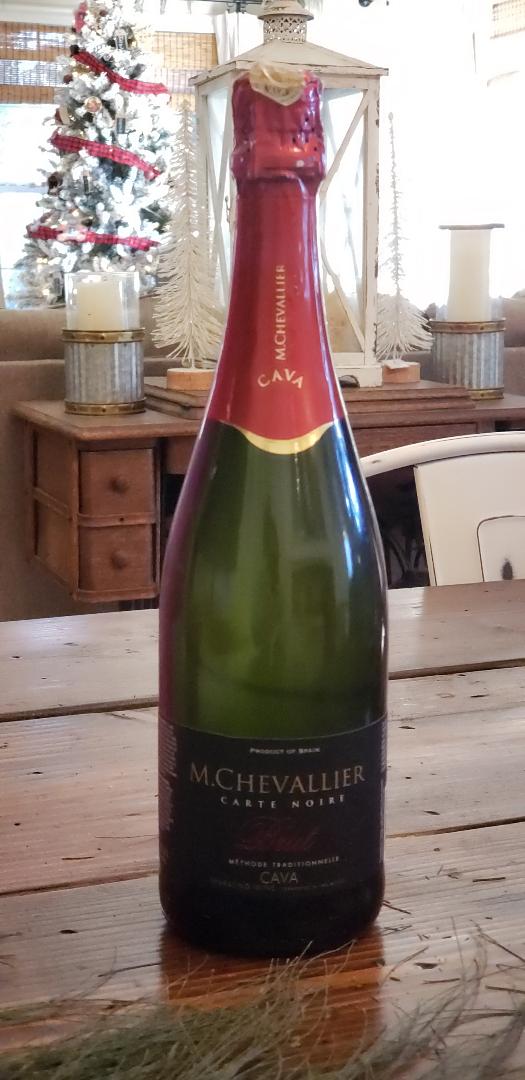 All is calm, all is bright.  I hope you had a lovely Christmas and are reveling in the wonder of it all.  Ours too was so wonderful filled with so much fun, food and visiting with family and friends.
Now begins this sweet Winter Christmas Season.  It's what we've all prepared for.  Time to slow down after the hustle and bustle and re-evaluate what life has to offer and what our place is in it for the New Year. Here on the farm it's a time for us to take a deep breath, enjoy, and think ahead for the new year of what our very fun plans of new projects will be.
But first things first,  New Years seems like a great sending off of all that is shiny and bright.  And I so enjoy planning sparkly food that fits right in with that theme.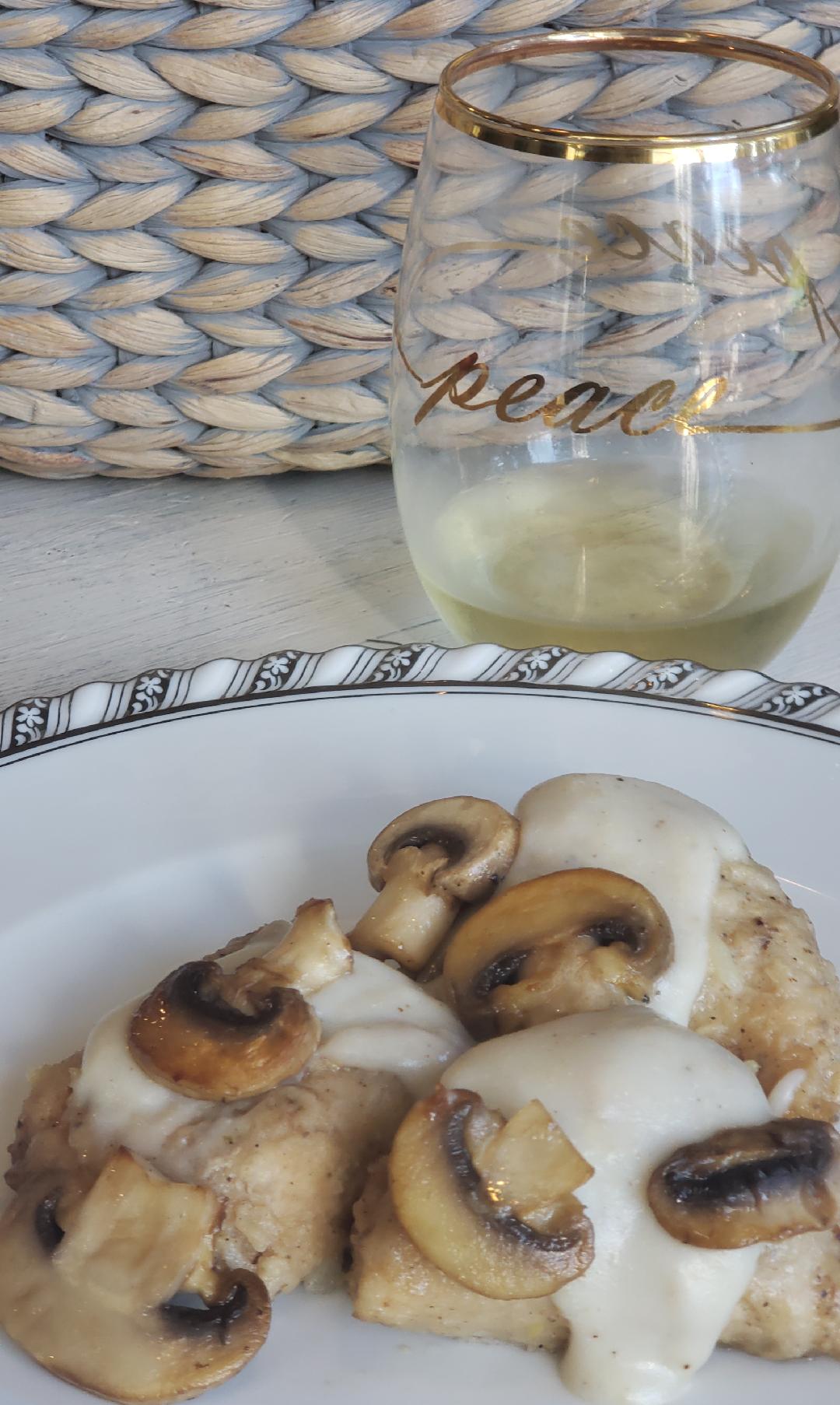 I really  love to use champagne with cooking especially when it's left over from New Year's Eve celebrations.  I have to say that sometimes, the bottle gets opened for the inaugural welcoming of the New Year toast but not a second glass is poured.  Unlike me, not everyone loves champagne as much as I do.
And my friends I really do.  I love the taste, the bubbles and the meaning behind it.  It's something special that celebrates new years, weddings, engagements, and anything else monumental that is really worth commemorating with a toast of the bubbly.
But why just drink it, why not cook with it too?  So that's what I like to do.
You might be thinking, wait, cook with it, isn't it way too expensive to make a sauce for chicken?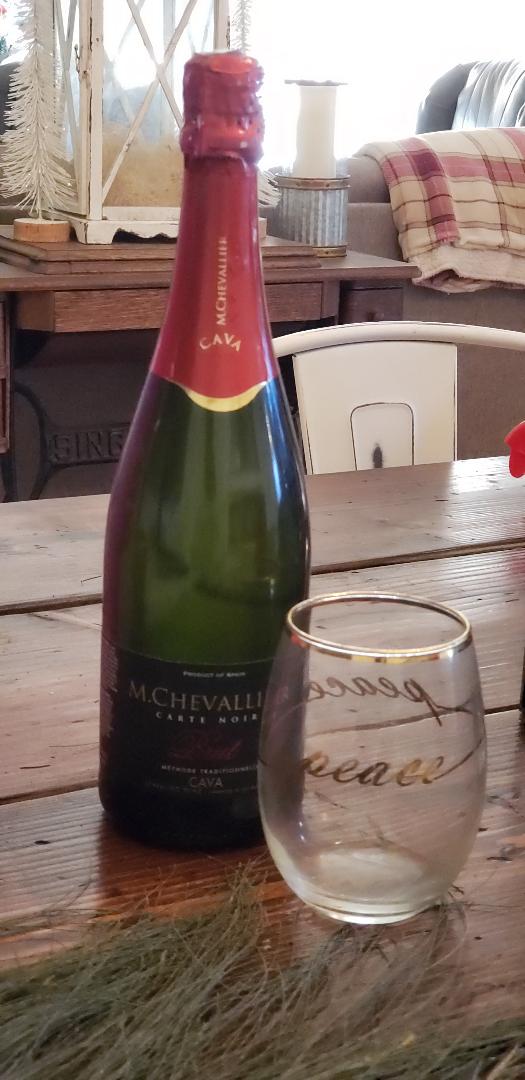 Well my friends, it's only just a cup and if you purchase this really amazing tasting Champagne that is sooooo reasonably priced, you won't feel too guilty for using it in many scrumptious dishes.
I love this super yummy champagne from Trader Joes.  It's from Spain and is a brut.  M. Chevallier Carte Noire.  Of course, it's not really champagne.  It's Sparkling Wine because you cannot call any sparkling wine Champagne unless it is from the Champagne region of France.  But boy, I'm telling you this stuff is delicious and under $10 a bottle.
CHAMPAGNE CHICKEN
You know, I  never throw out left over champagne even though it's lost it's fizz, I just cork it up, put it in the fridge like a bottle of white wine, then use it in recipes that might call for wine or for a champagne salad dressing
(1/4 cup champagne, 1/2 cup olive oil, 2 T Dijon mustard,  2 T honey, 4 T lemon juice, 1 clove garlic, 1/2 t each salt and pepper)
so yum, and my amazing and delicious Champagne Chicken, double yum yum!
It's just decadently creamy and warm with the light effervescence of this bubbly treat.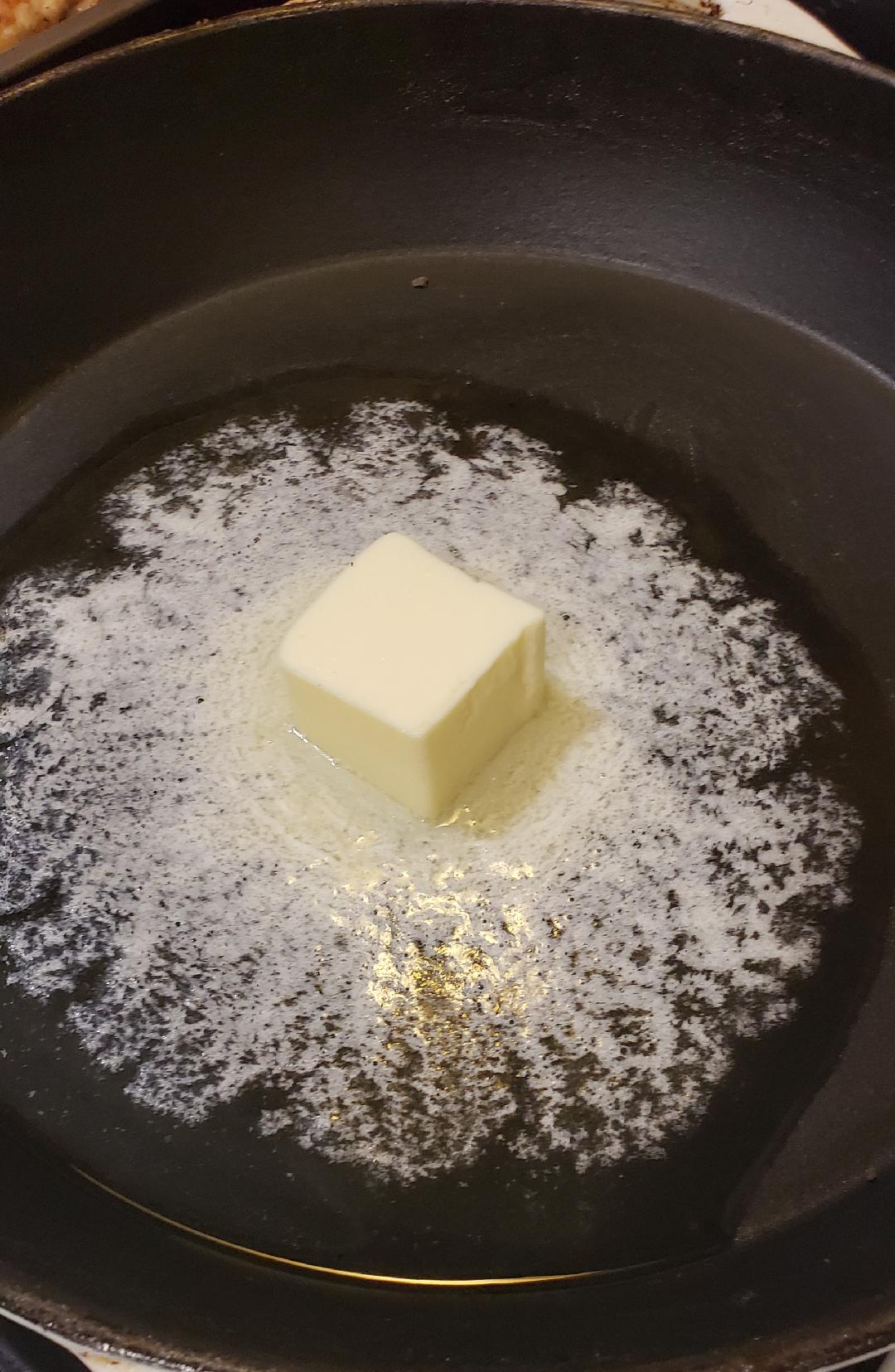 First of all I take boneless skinless chicken breasts and I love it when they are cut thinly like scaloppini style.  If you can't find them that way you can ask the butcher to cut them, or you can cut them yourself.  Just cut in half so you have nice long cutlets –  just thinner.
You could just pound your breasts thinner to really tenderize them, or I had the breasts cut in half so they were smaller medallion pieces.
Next you season all of the meat with kosher salt, fresh ground pepper and granulated garlic.  I like to sprinkle it all over on both sides.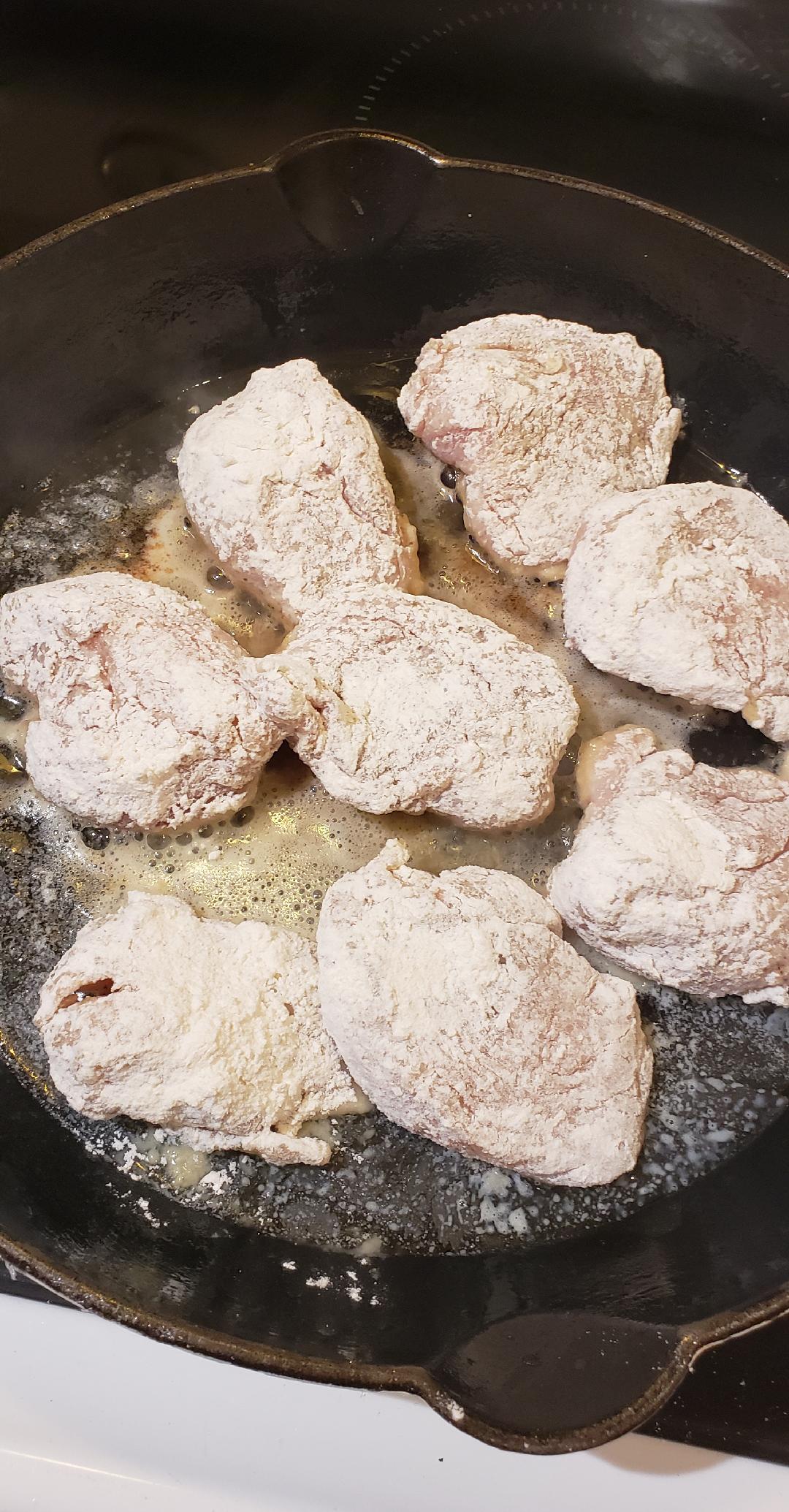 I then take all of the chicken pieces and dredge it in unseasoned flour and I set them right back on my baking sheet.
Melting butter in a cast iron sauce pan with just a little olive oil really helps to keep the butter from burning.  Butter usually turns brown very easily, so adding a little olive oil slows that process down a bit.
I sauté some minced garlic and mushrooms first until soft and then I remove them and set aside.  Then I add the chicken pieces next, a few at a time, and lightly brown them off then set them back onto the baking sheet when they are done so I can add more chicken pieces until the whole batch is finished.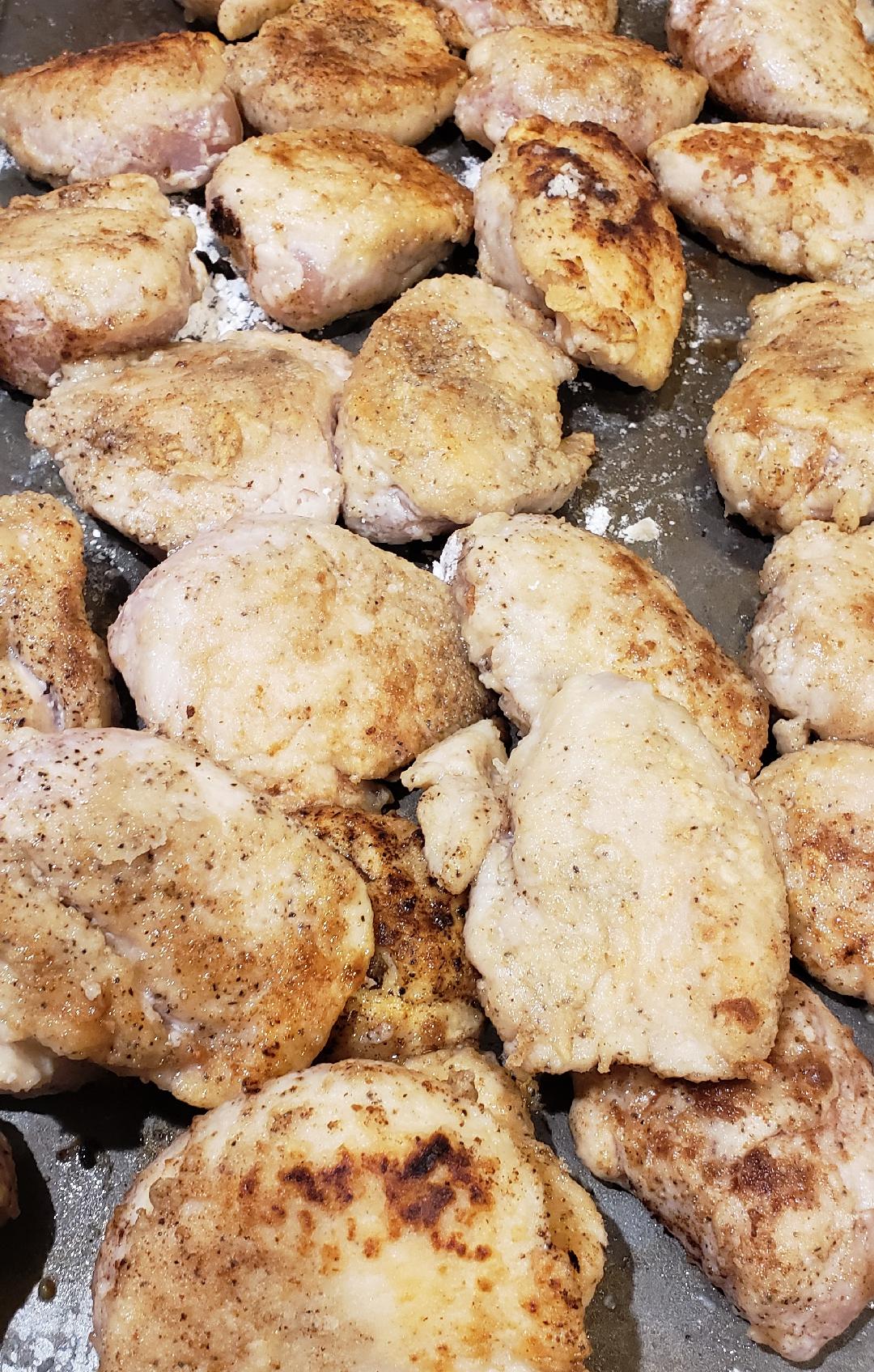 Then if the butter/oil mixture isn't too brown, I use that and add 1/4 cup flour (use the rest of your dredge) into the pan and whisk away.  If it's a little too brown, dump and add some more oil.
Next, add 1 1/2 cups champagne and whisk until combined, then add 1 1/2 cups half and half and whisk until creamy smooth and bubbly.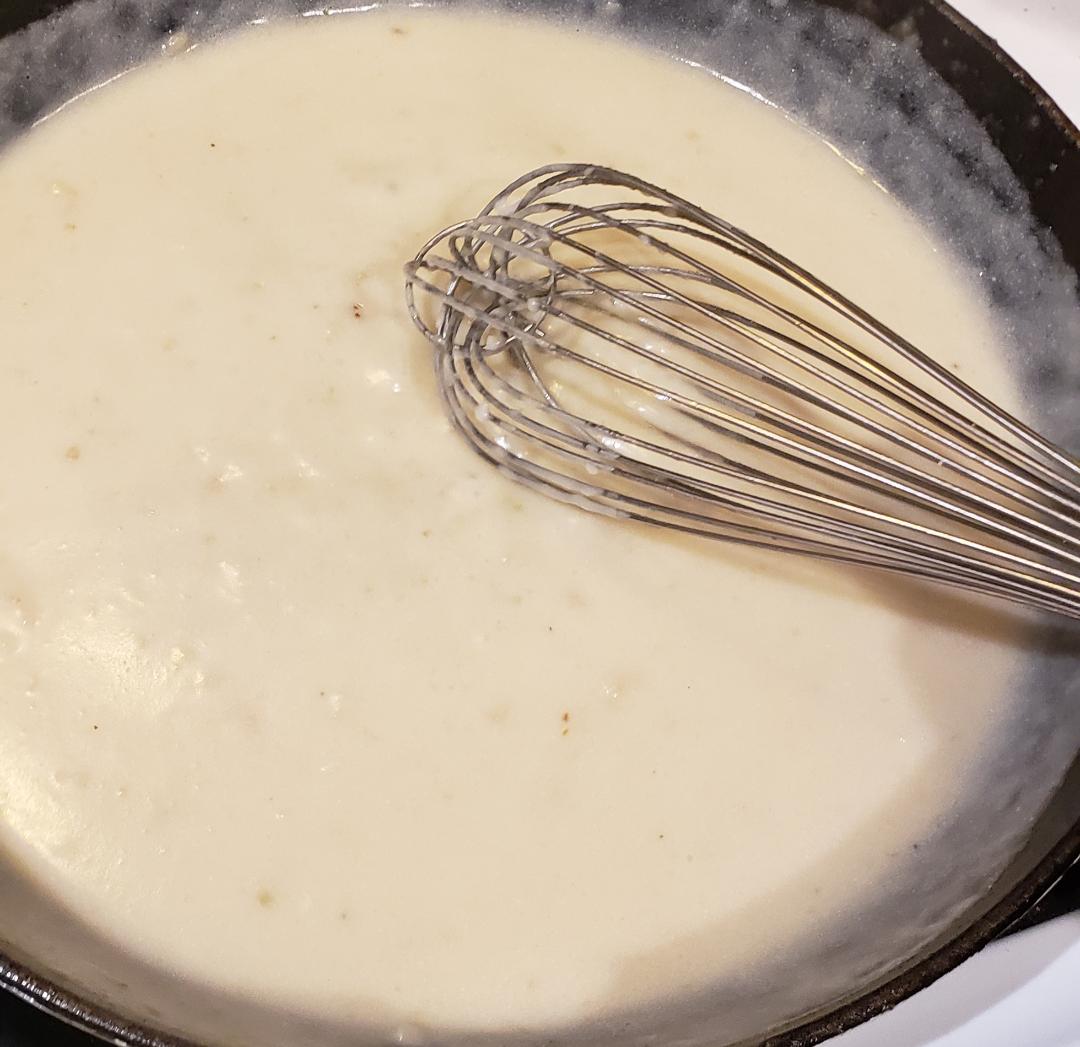 I season with 1/2 teaspoon of kosher salt,  1/2 teaspoon sugar and a little sprinkling of fresh ground pepper.
I just put those chicken pieces back in the pan long with the garlic and mushrooms and pop a lid on it then set it in the oven to bake at 40o degrees for 20 minutes.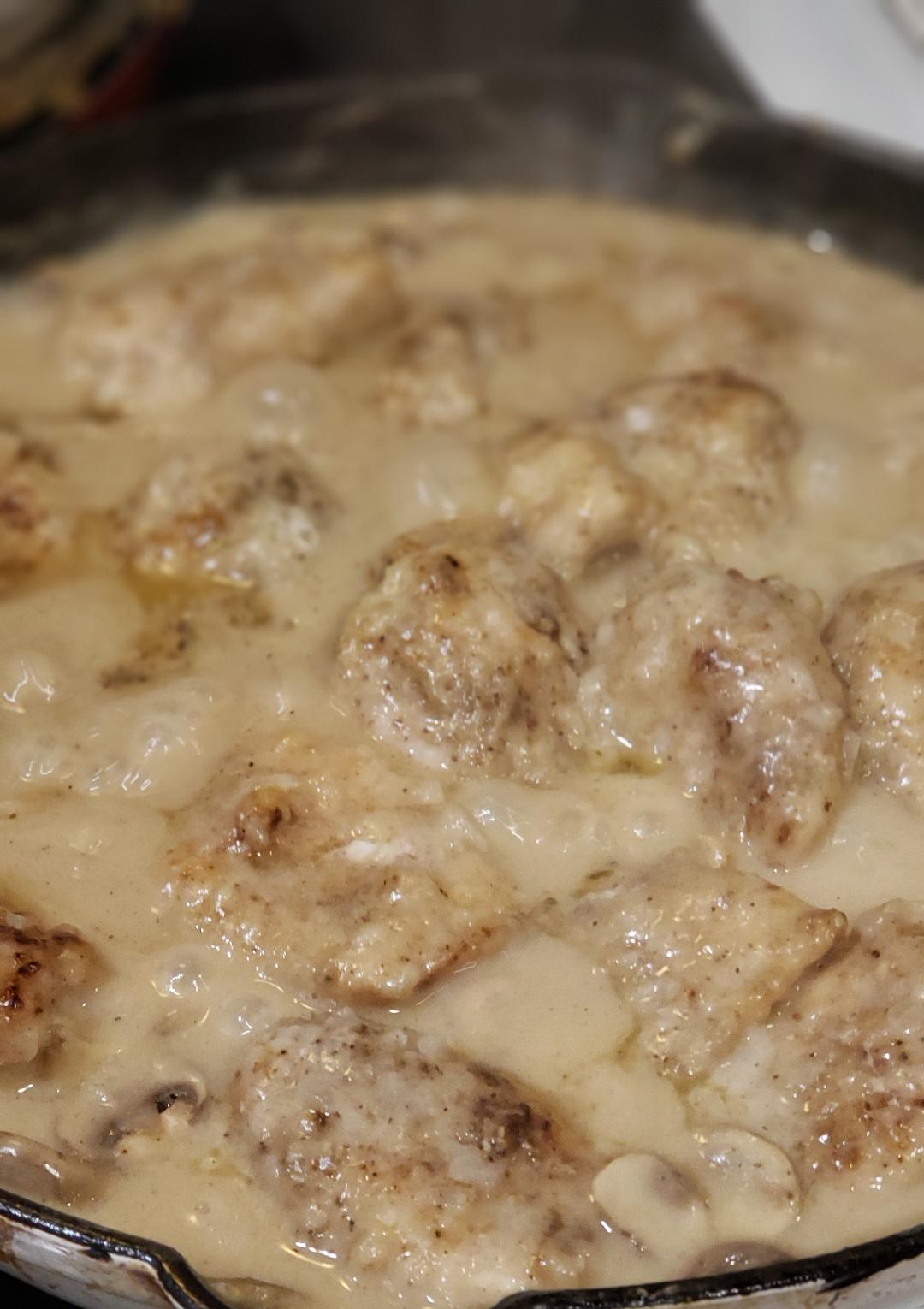 Yaaay!  Take it out and dish up on a pretty fancy plate, serve with green beans and maybe a rice pilaf it you like.
Then light some candles and pour some champagne to drink with it and you've got yourself an elegant celebration meal that is fitting for any special occasion including New Year's Eve!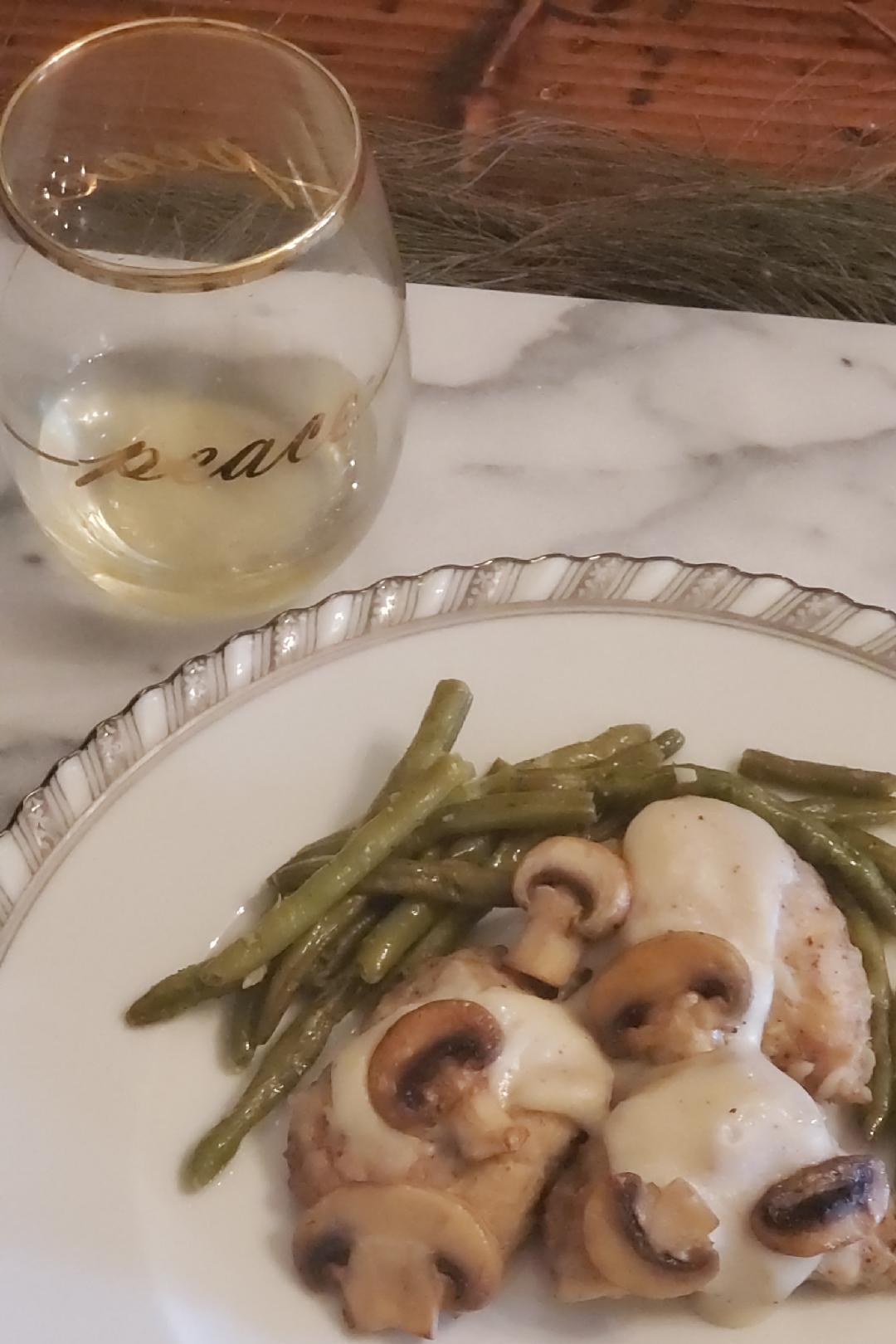 Cheers to you my friend and here's to Auld Lang Syne or days gone by or as my Great Grandma Lena would say, "Salute Cent'Anni!"  May you live 100 Years!  Whatever your wishes or customs, I wish you a very Happy New Year with much Peace and many blessings!
XO Jerri
CHAMPAGNE CHICKEN RECIPE
INGREDIENTS
4  boneless skinless chicken breasts sliced thin
1 cup flour
1/2 cube butter
1/4 cup olive oil
1 1/2 cup champagne
1 1/2 cup half and half
1 cup sliced mushrooms
3 cloves minced garlic
12 teaspoon granulated garlic
1/2 teaspoon kosher salt
1/2 teaspoon fresh ground pepper
DIRECTIONS
Lay all chicken pieces on baking pan and season both sides with salt, pepper, and garlic.
Place flour in a bowl and dredge chicken in it one at a time, while setting the finished pieces back in pan.
Melt butter and olive oil together in cast iron skillet or sauté pan and sauté garlic and mushrooms until tender then remove.
Saute chicken until golden brown in batches then put in baking dish.
Use oil in pan for sauce by adding 1/4 cup flour from dredge and whisk together.
Whisk in champagne until combined and then half and half.
Keep whisking until smooth and bubbly. Then season with salt, pepper, and sugar.
Add chicken pieces back in, covering with sauce, along with mushrooms and garlic.
Cover with lid and put into a 400 degree oven for 20 minutes.
Serve chicken with the sauce and mushrooms spooned over it and enjoy!