Don't bother me.  The fly, my sweet friend, not you.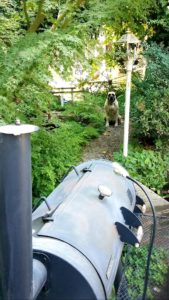 It's that time of year again.  Is it for you too?
It's so hot outside and the flies and other bugs are driving me crazy.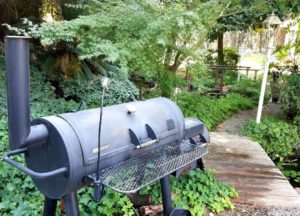 It's just ruining our BBQ's!
I have searched and searched for solutions and while I've found many,
I'm more concerned about getting bitten than anything else.
And I really wanted something natural instead of putting more chemicals in the air that I breathe, in the garden from where I eat, and frankly on me.
So that's where my research started and here's what I found out.
Did you know that there are some plants out there that you can grow in your garden that will help keep some of the insect population down.
This here is called… Mosquito Plant.  I know, right?
So cool.
It's actually a geranium with a citronella fragrance.
All you do is grab a leaf, crush and rub all over your skin.
It has this wonderful smell that keeps those pesky pests away.
It's not going to be as effective as the bottled stuff, but it does work pretty well,
and then you don't have to put that other yucky stuff all over you.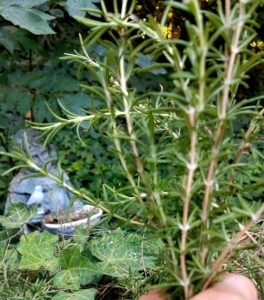 But there are some herbs that can help you keep bugs away like Rosemary,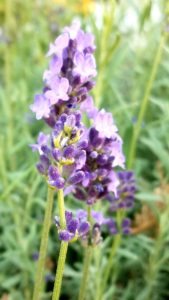 Lavender flowers,
or mint leaves.  They work very well too.
Another great thing to do is to make your own bug repellent spray.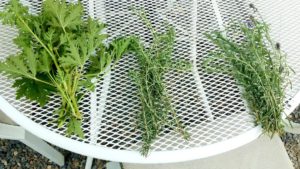 Take the leaves (4-5 tablespoons of the mosquito plant and/or rosemary and lavender) and boil them in 1 cup of water.
Give it a stir then cover and let cool.
Strain out the herbs and mix with 1 cup of rubbing alcohol or witch hazel.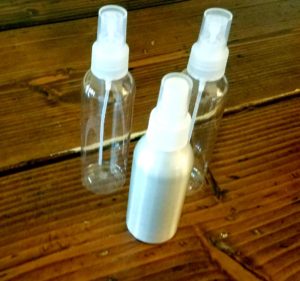 Pour into a 4 -5 ounce spray bottle (you can get at a craft or health food store) then keep in the fridge.
Use this for a cool, refreshing, and fragrant alternative bug spray that will give your skin an added treat.
I also like to use essential oils of these herbs and mix them with 2 ounces of distilled water, and 1 ounce of witch hazel.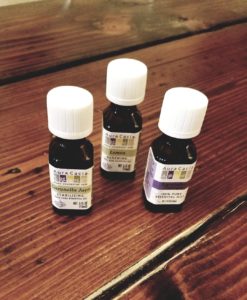 I use 20 drops of lemon grass, 20 drops of eucalyptus, and 30 drops of lavender.
I measure it out and pour it all into one of those spray bottles and then give it a shake.
It works really well too!
Now that will take care of me, but I still need those flyin' creatures to leave me alone while I gobble down my hubbies' BBQ.
For this, making a citronella and herb lantern using the mosquito plant and bug repellent herbs will do the trick.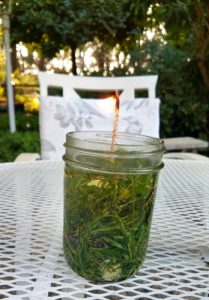 It's not only practical to have these little mason jar lanterns on your garden dinner table while enjoying your grilled out food to help keep the troops at bay, it's also a pretty accent for your tablescape.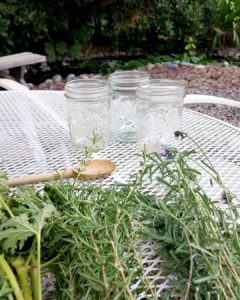 All you need to do is take a mason jar,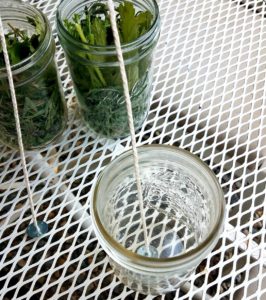 drop a candle wick into the center of the jar that you can get from a craft store like Hobby Lobby.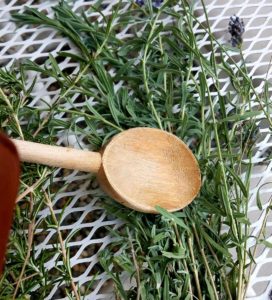 Next, collect the herbs or mosquito plant citronella leaves you want to use.
Then take a wooden spoon or dull knife and press down on the herb to crush it a bit so as to release the natural essential oils.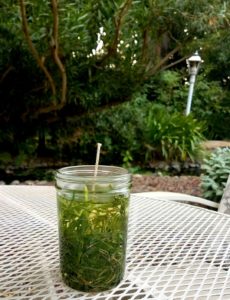 Place them in the jar around the wick and add olive oil to just below rim.
Let them soak all of that goodness up into the oil for about a week for the most enjoyable fragrance and effectiveness in repelling those unwanted insects.
Add a few drops of essential oils if you like to give it an added bonus of an even stronger smelling fragrance.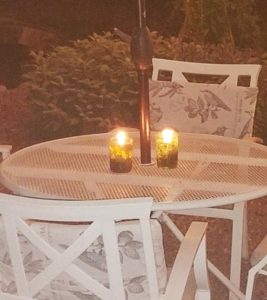 Then set out on your outdoor table, light, and watch them glow and do their job.
(Protecting you and your dinner!)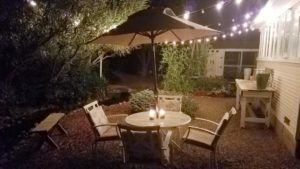 So the next time you're thinking, fooey, these bugs are buggin' me,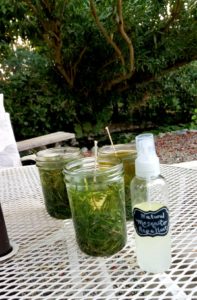 I hope you'll try out one of these natural alternatives to shooin' em' all away.
XO Jerri