FEBRUARY LOVE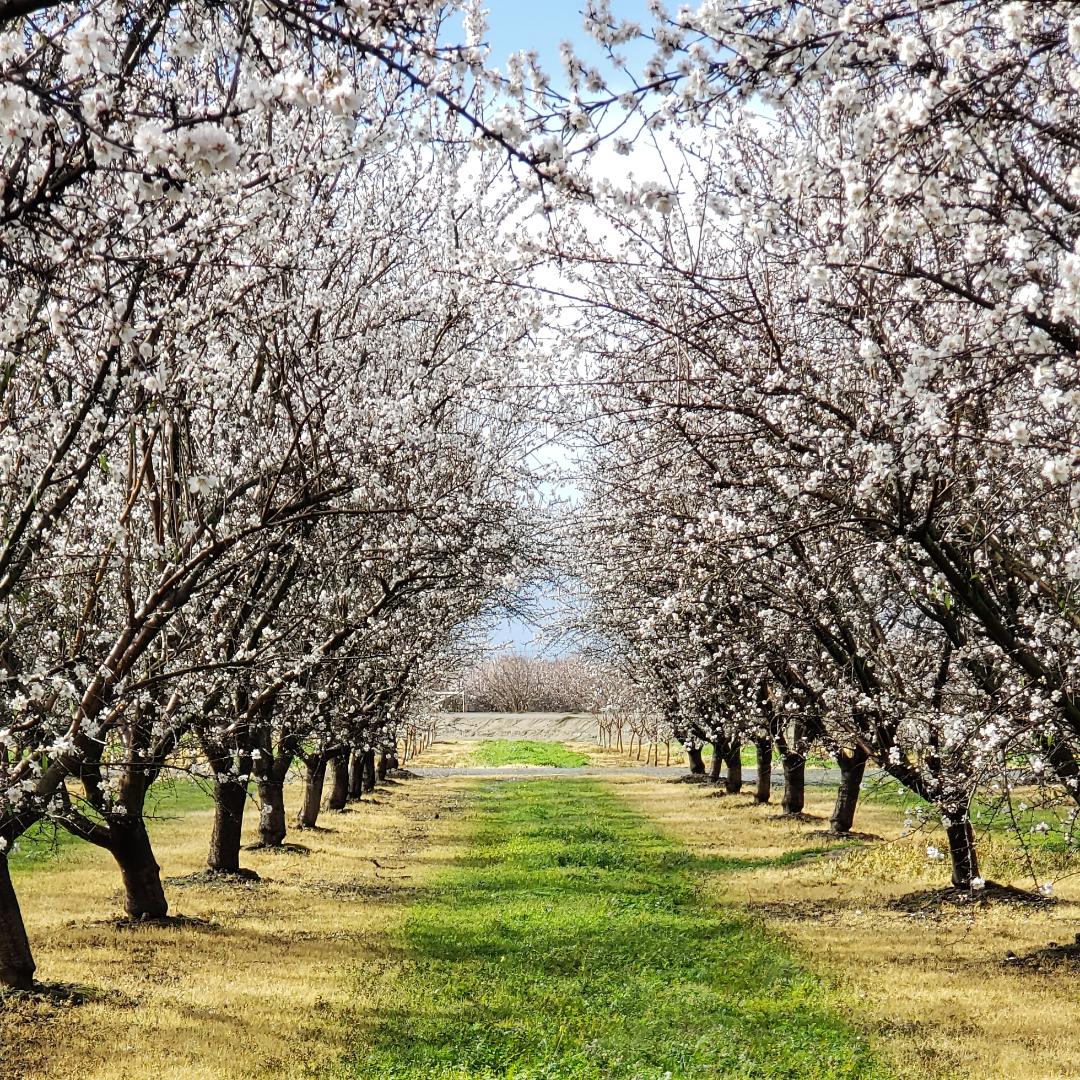 This month on the farm it's all about love and about those almond trees full of blossoms my friends!!!  I've kinda been obsessed with them actually – blossom branches are everywhere in my home, no matter that I'm sneezing and watery eyed constantly.  I JUST DON'T CARE!!!  It is so worth it.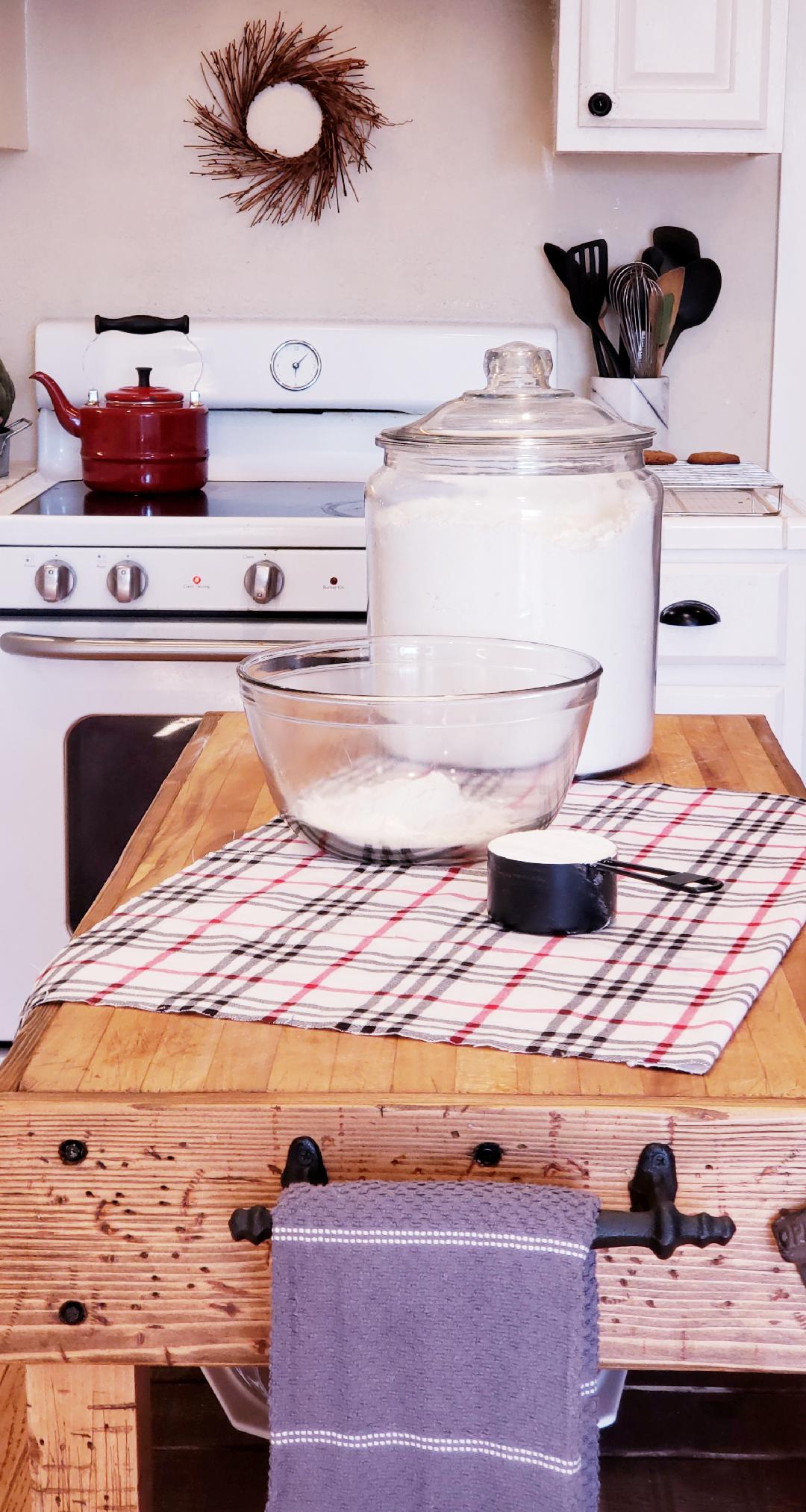 You see, the month of February is the precursor of spring to me and it warms my heart.  Get it, heart, Valentine's Day, I know, silly girl.  But that's my way of thinkin.  We got through the toughest part of winter with Christmas to distract us and January to breathe again from the business of the season, now we're ready for spring and dog gone it, it just hasn't arrived yet. (but almost)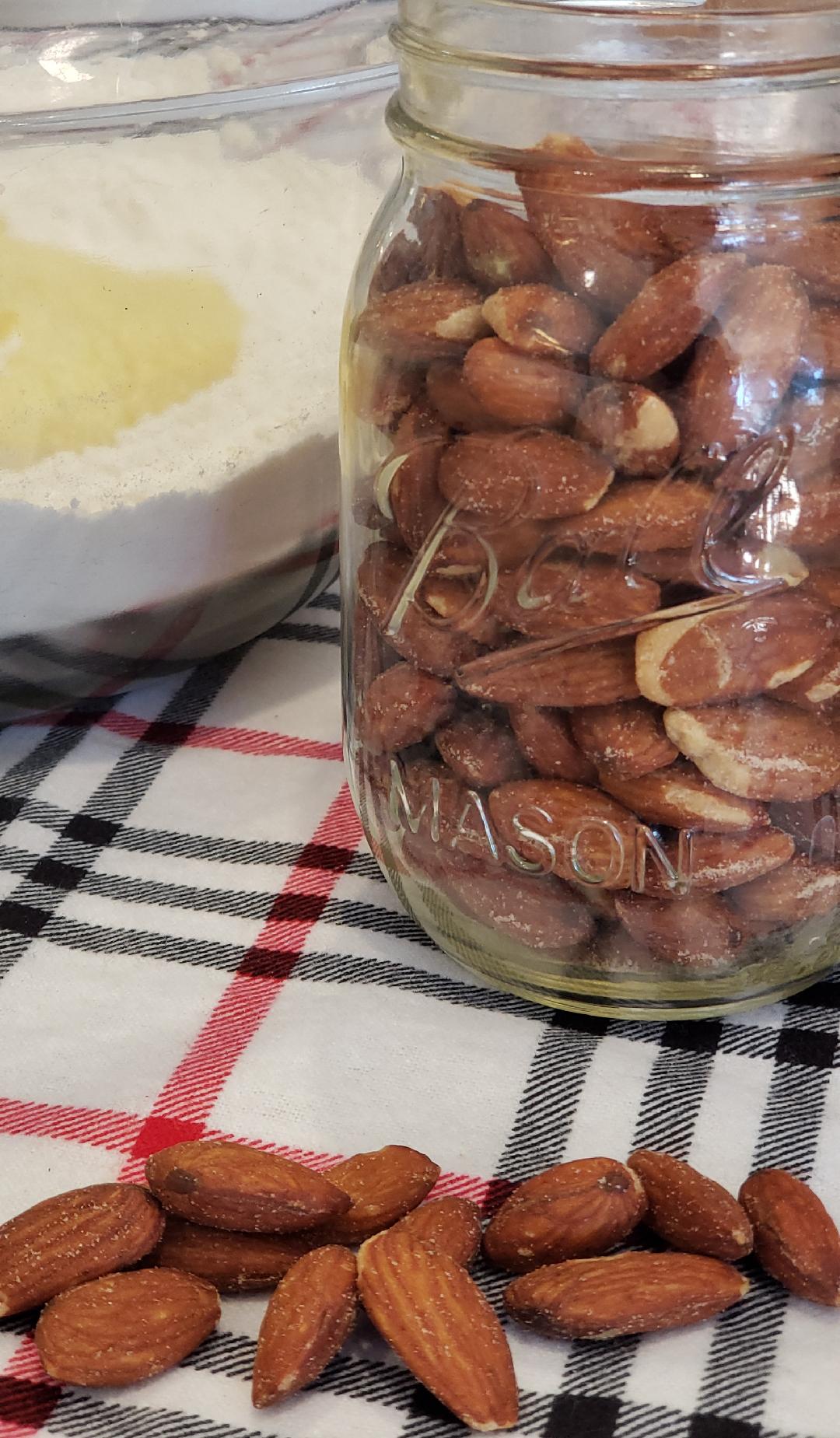 Here in California, the Almond Capital of the World, we have the blossoms popping everywhere in the orchards in the central valley and while Valentine's Day has passed it's still the month of love so I'm tying my two February loves together, almonds and chocolate!
AN ITALIAN AMERICAN TRADITION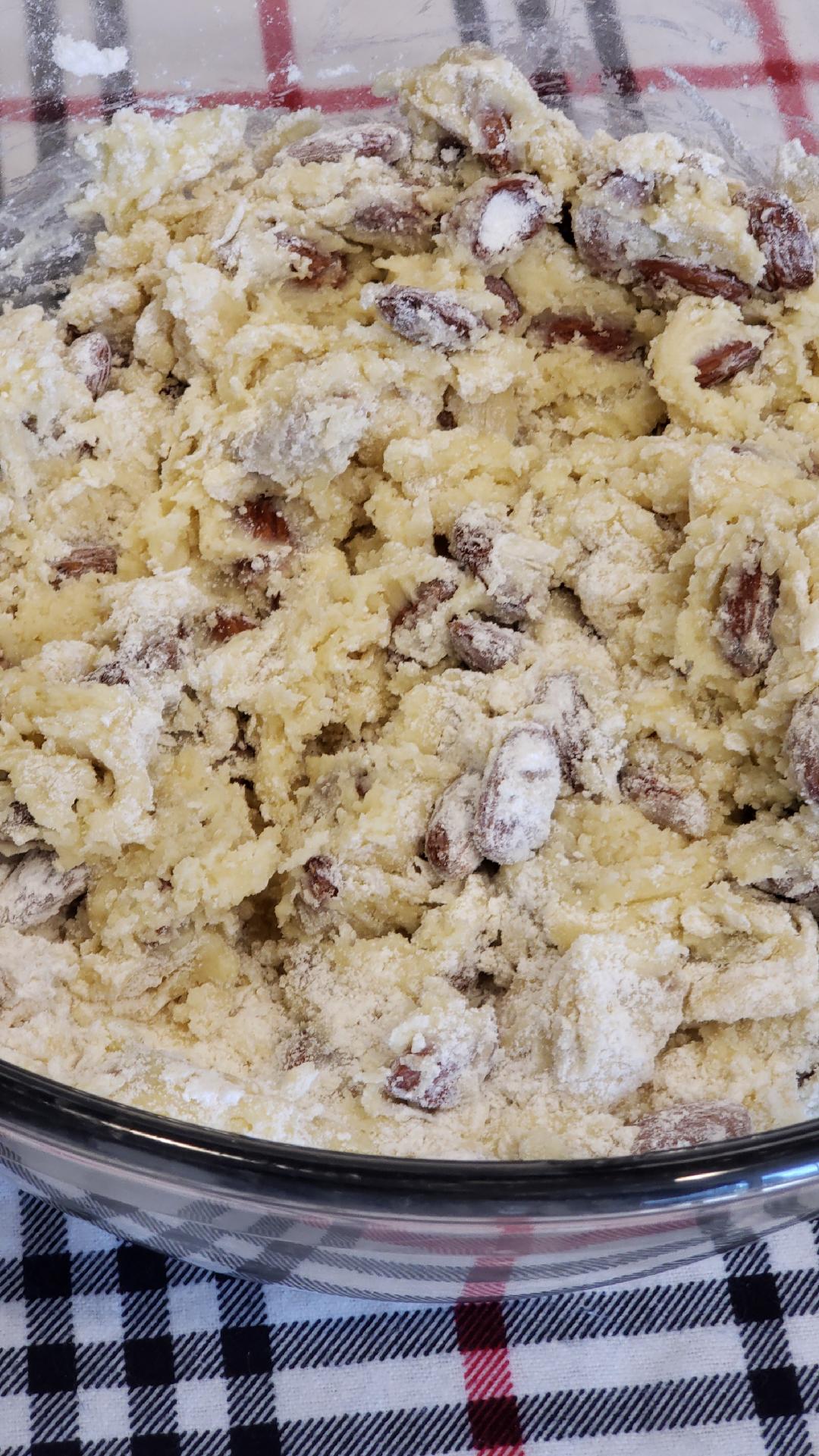 Or I wonder if I should call it a California Italian Tradition!  I know that nuts like pistachios, hazelnuts, and almonds are included in many Italian cuisines, but my Sicilian grandmother who married my Tuscan grandfather make a few beloved biscotti recipes that we enjoy, but neither contain many nuts.  It's so much more about the taste of anise (a spice that has a black licorice flavor) and a cocoa and prune biscotti that is simply divine, I must say.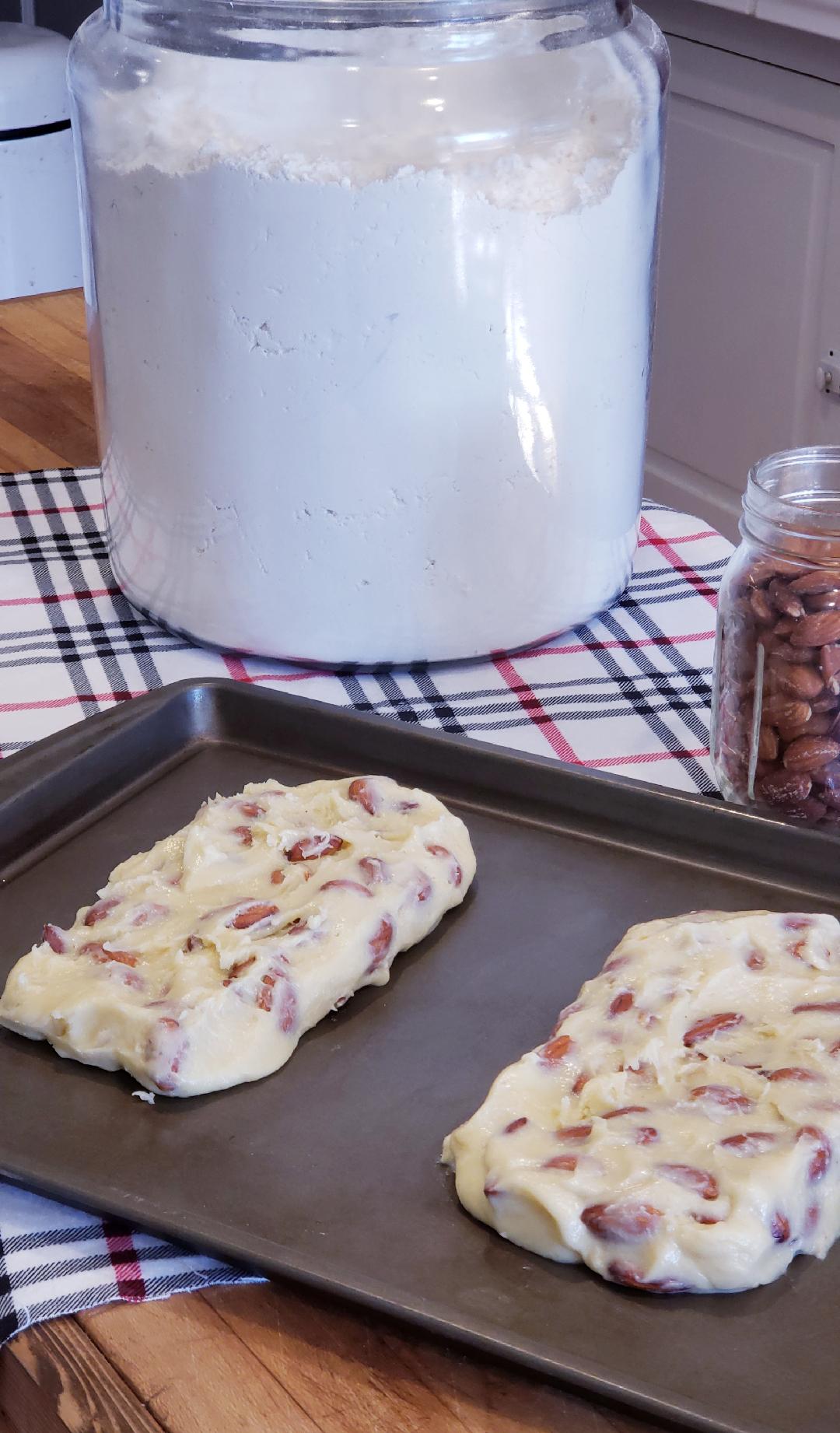 Yet these biscotti cookies I'm making here today are traditional as far as biscottis go:  cookie dough shaped in a loaf, baked only half way, cooled, then sliced and baked again.  But I like to use whole roasted and salted almonds that I add to the dough, then after they are completely done I dip em in chocolate and sprinkle on top of em more almonds.  I know, it sounds like a lot of almonds but I'm kinda nutty that way.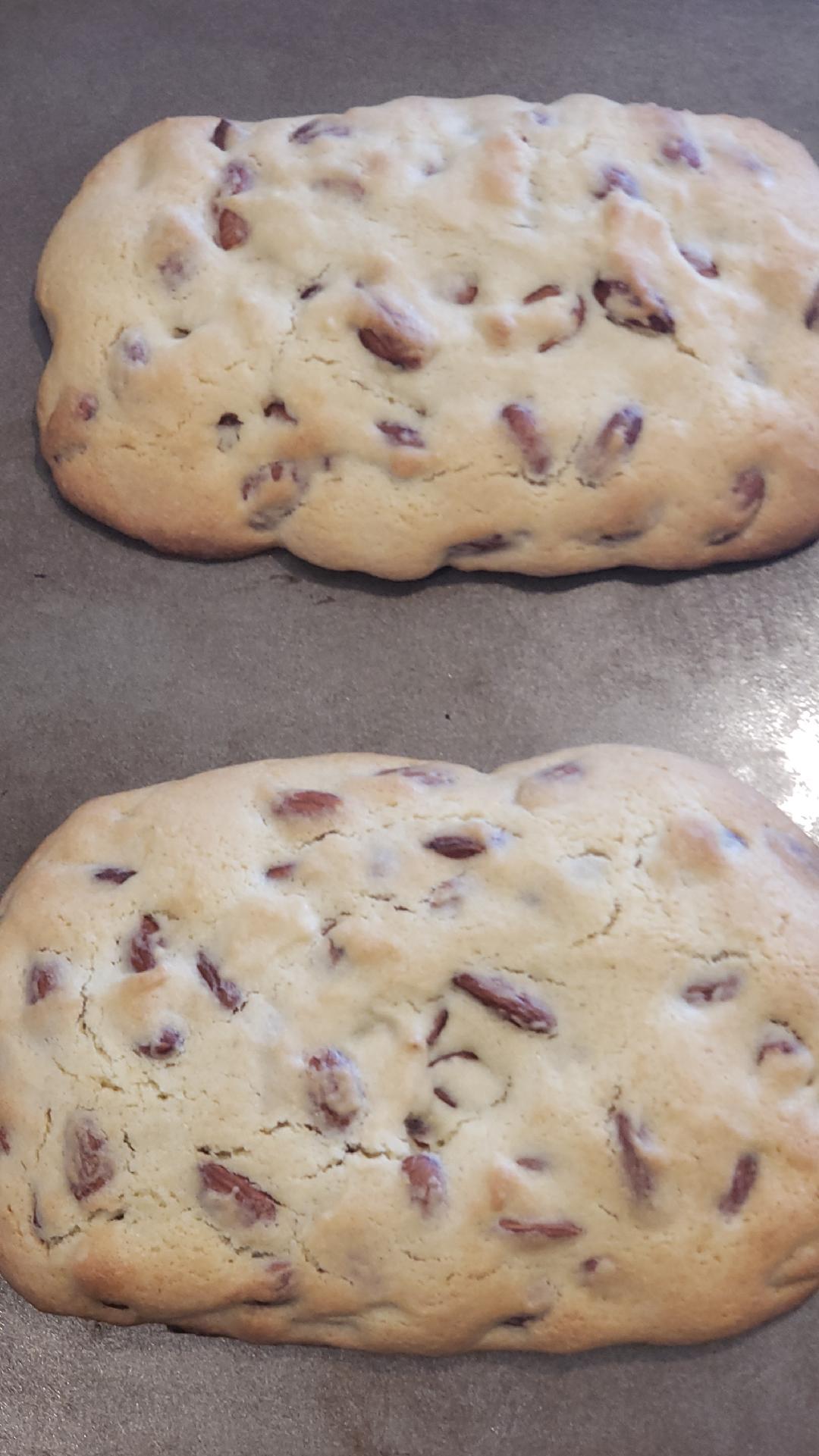 They also have almond extract to really let the cookie conniseur know that – hey there – this cookie has almonds in it my friend.  You'll taste it in the flavor and the crunch.  Then with the sweetness and depth of the rich flavor of chocolate added as the finale – yum – I am such a fan!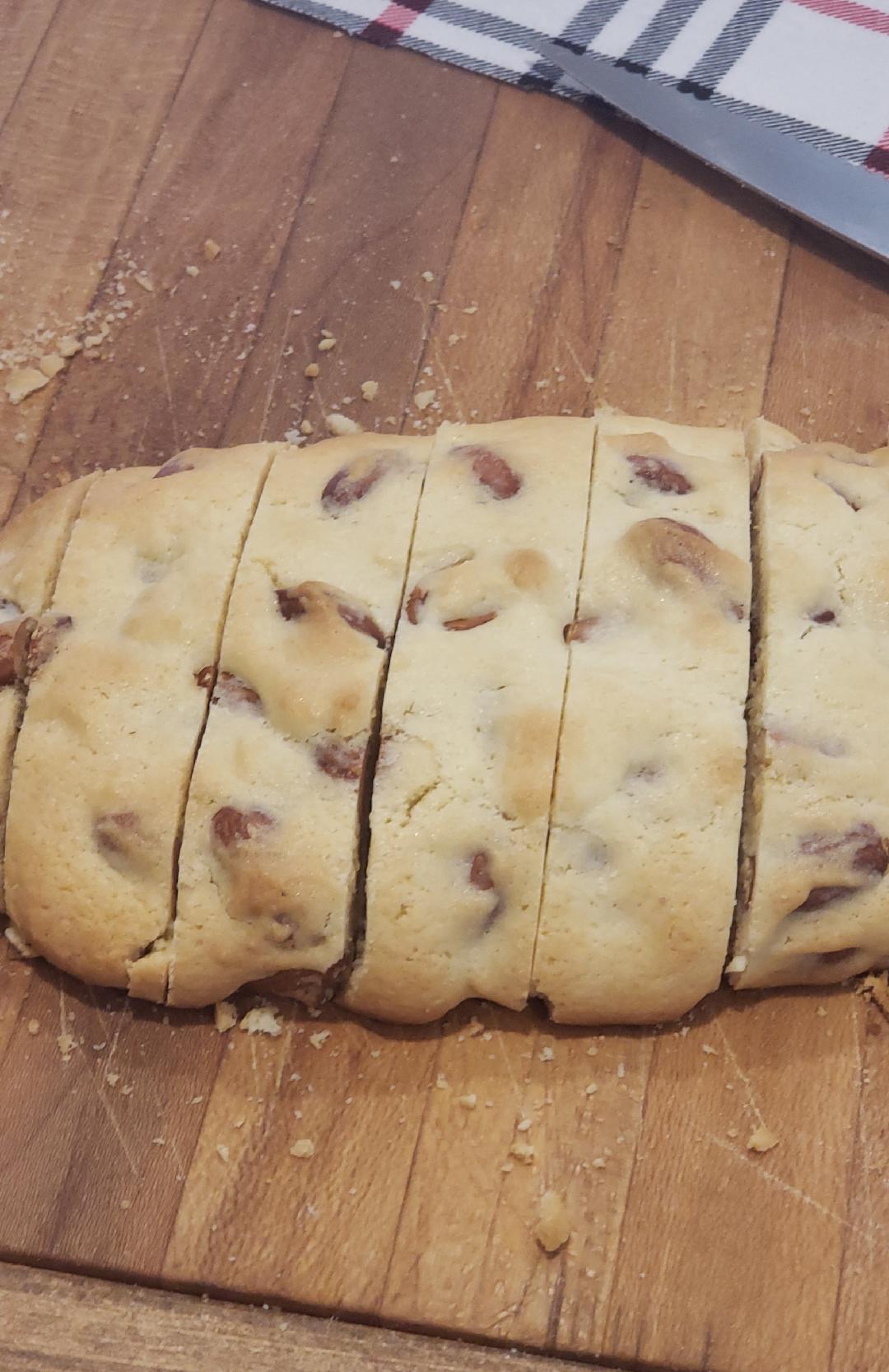 Another change from traditional Italian Biscottis is that this recipe has melted butter in it.  Many original style biscotti cookies only use eggs for the wetness and has no or little fat in it at all.  Mmmm, but with the addition of melted butter or you could use olive oil too, it's much tastier, in my opinion, and is even more delicious than the original.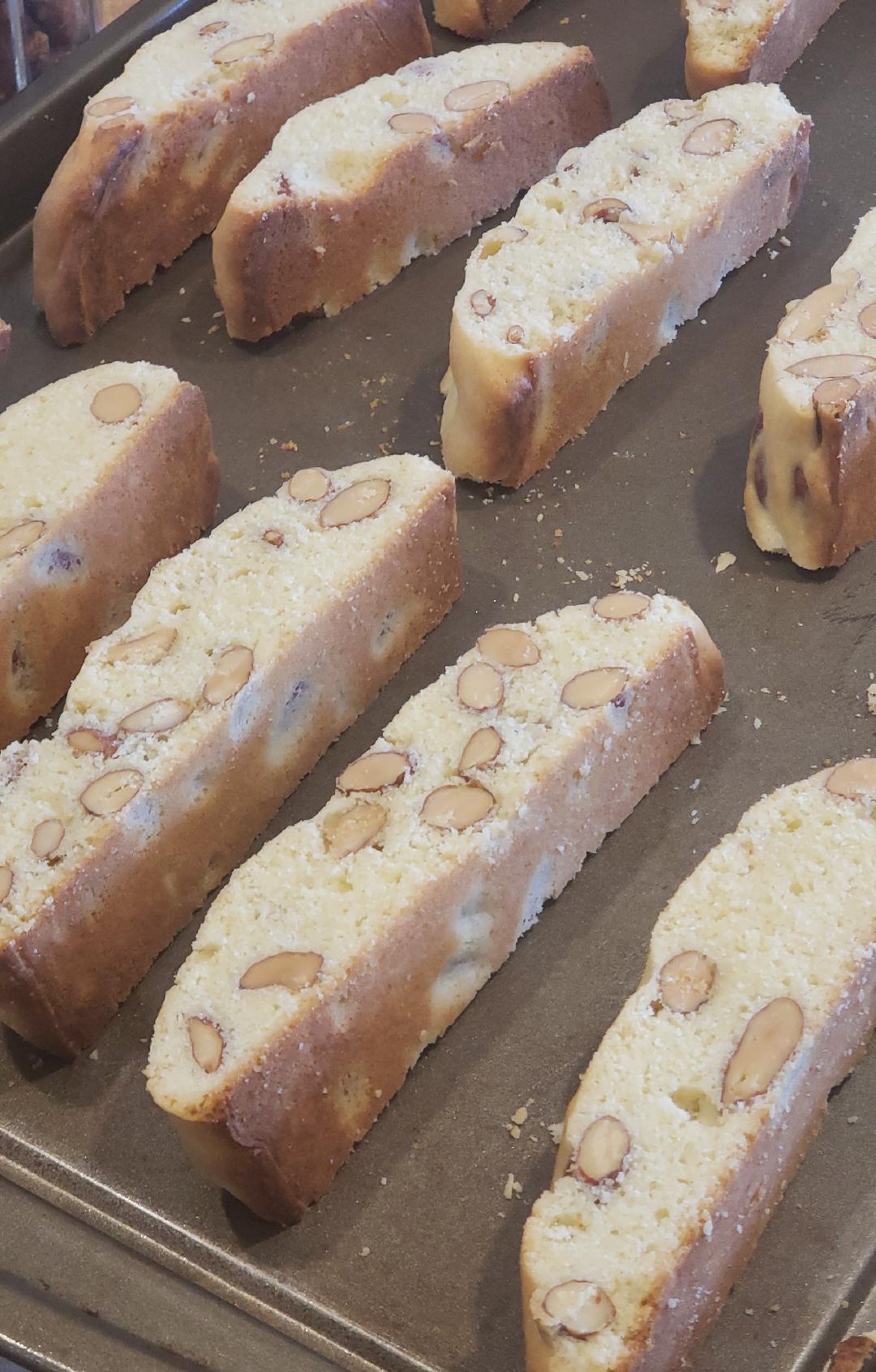 CHOCOLATELY ALMOND BISCOTTIS
So for my recipe you start with almonds of course.  If you have access to your own almond trees, well good for you!  But if you're like most people, head to the store and get, probably the most well known and based right here, Blue Diamond Almonds.  I like roasted and salted.  I leave them whole and add them to a batter of eggs and sugar that has been whipped together while slowly adding melted butter that is at room temperature.  Then of course throw in the extracts:  almond and vanilla.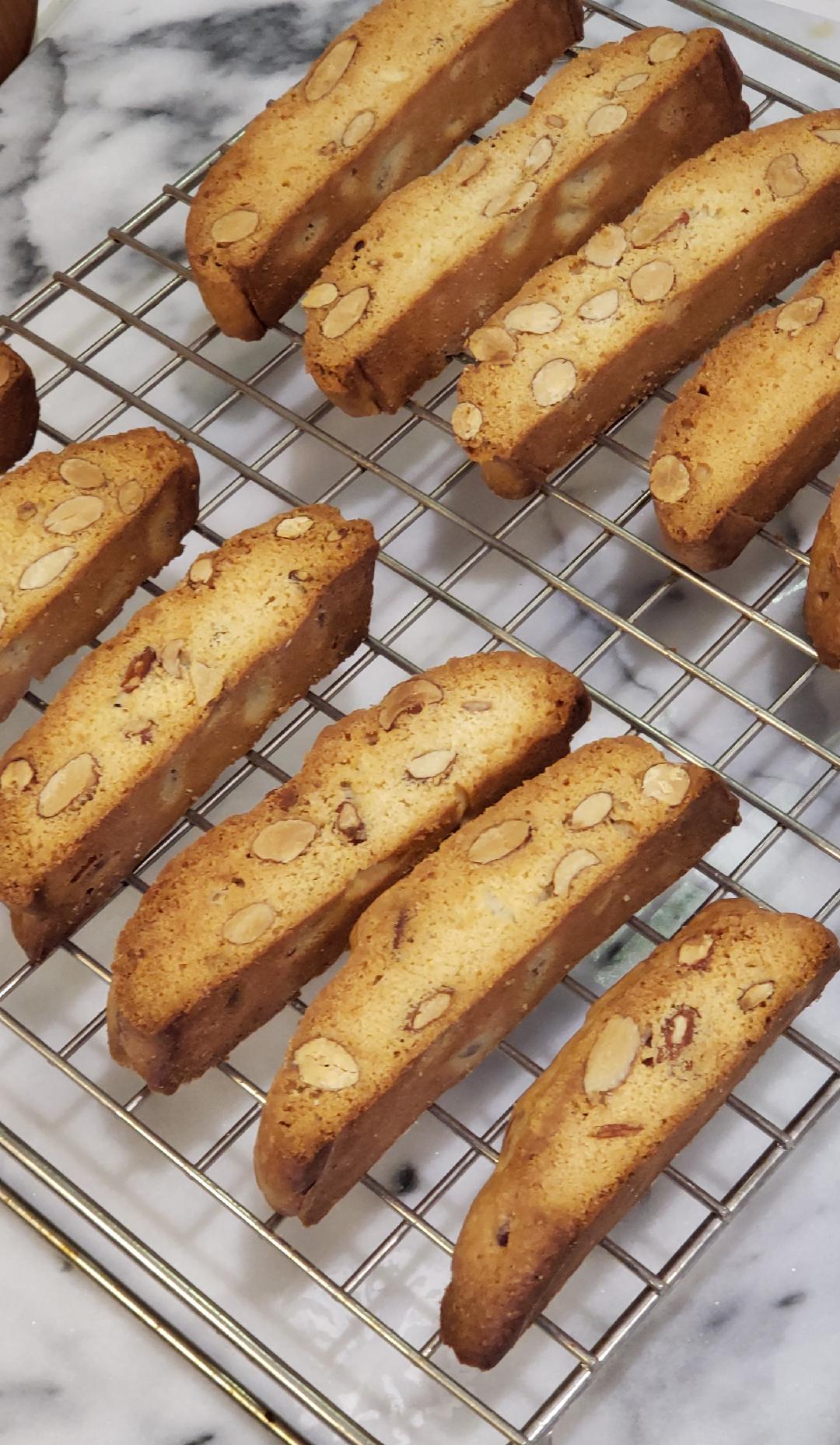 The rest of the dry ingredients are flour, salt and baking powder.  That's added in gradually along with the nuts.  The batter is sticky so you wet your hands and divide the dough in half then form into two loaves that you place on a lightly greased cookie sheet.  You bake for 16 minutes at 350 degrees.  Then it needs to be taken out and cooled before you cut each loaf into slices.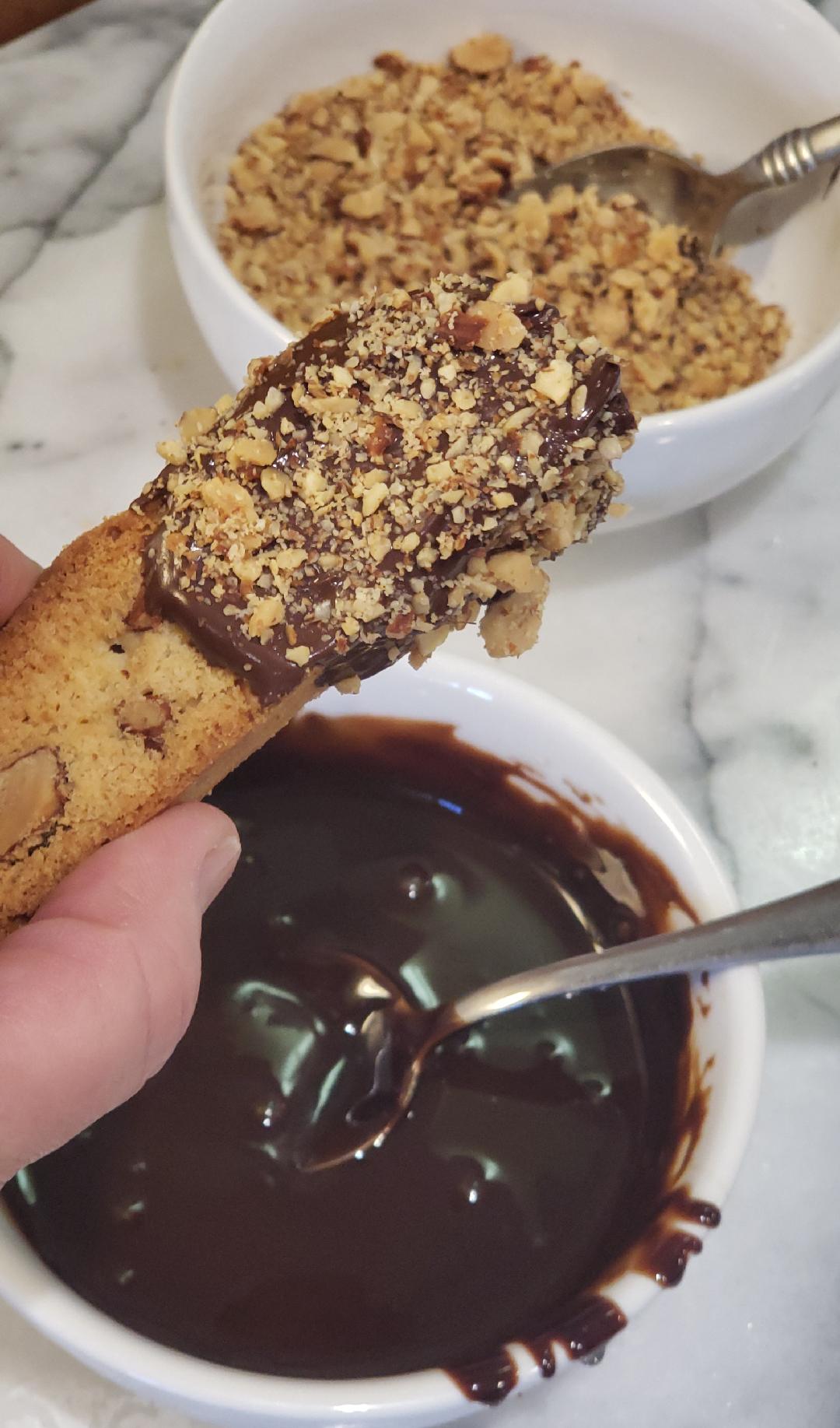 Next you brush with a little egg wash (which is only optional – it gives it a bit of a glossy look on top) then put all of the slices facing side up back onto the cookie sheet and bake again for 8 minutes on each side.
You take them out and let them cool good and long before you get busy with the chocolatey goodness!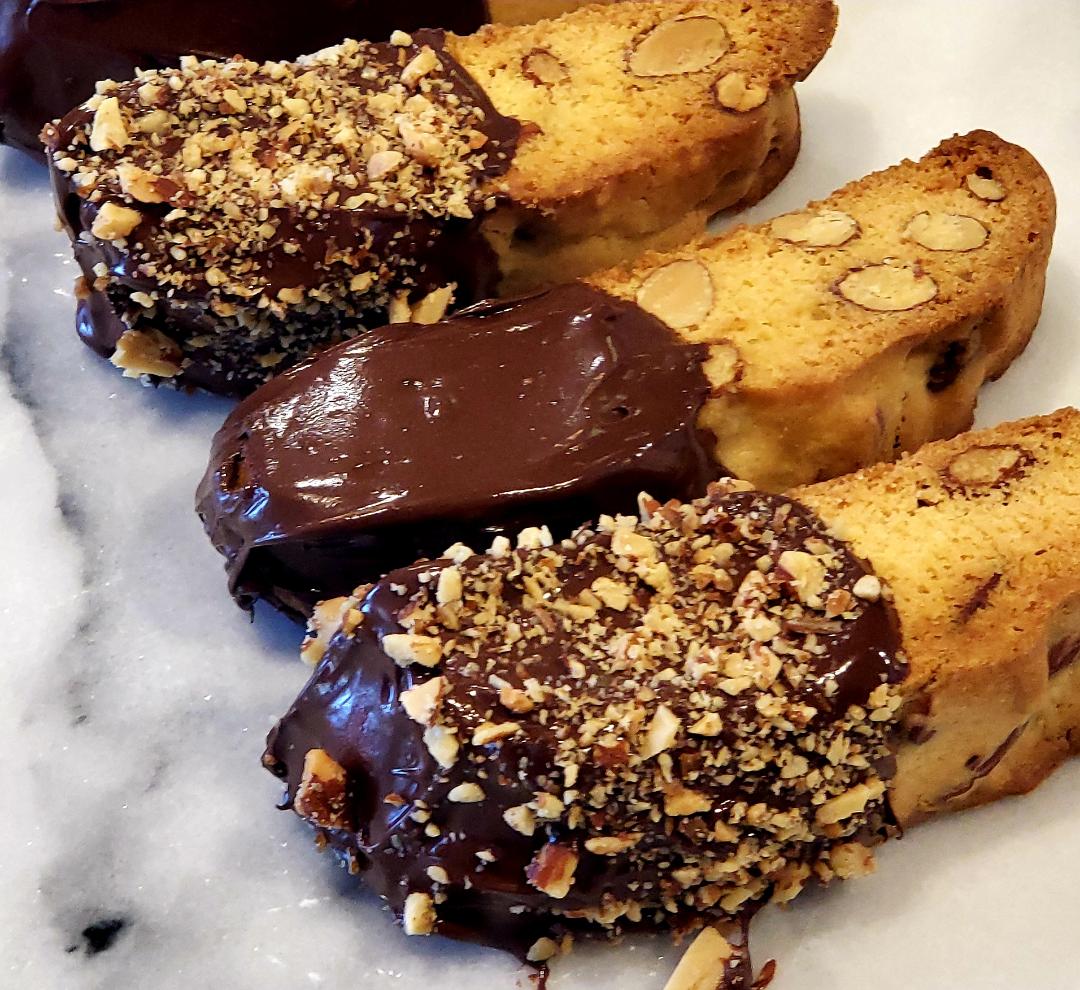 The chocolate dip is tempered chocolate.  Do you know what that is?  It's basically melted chocolate with nothing else added.  So that when it cools, it goes back to being solid again, but it'll be over whatever you dipped it in like strawberries, pretzels, or in this case, Almond Biscottis!
But to temper chocolate you need to melt it low and slow.   You can do this over a double boiler (pot of boiling water on stove with a bowl over it filled with chocolate while you stir constantly. Or…. you could just put semi sweet chocolate in the microwave and heat at 20 second intervals at a time, stirring at each turn.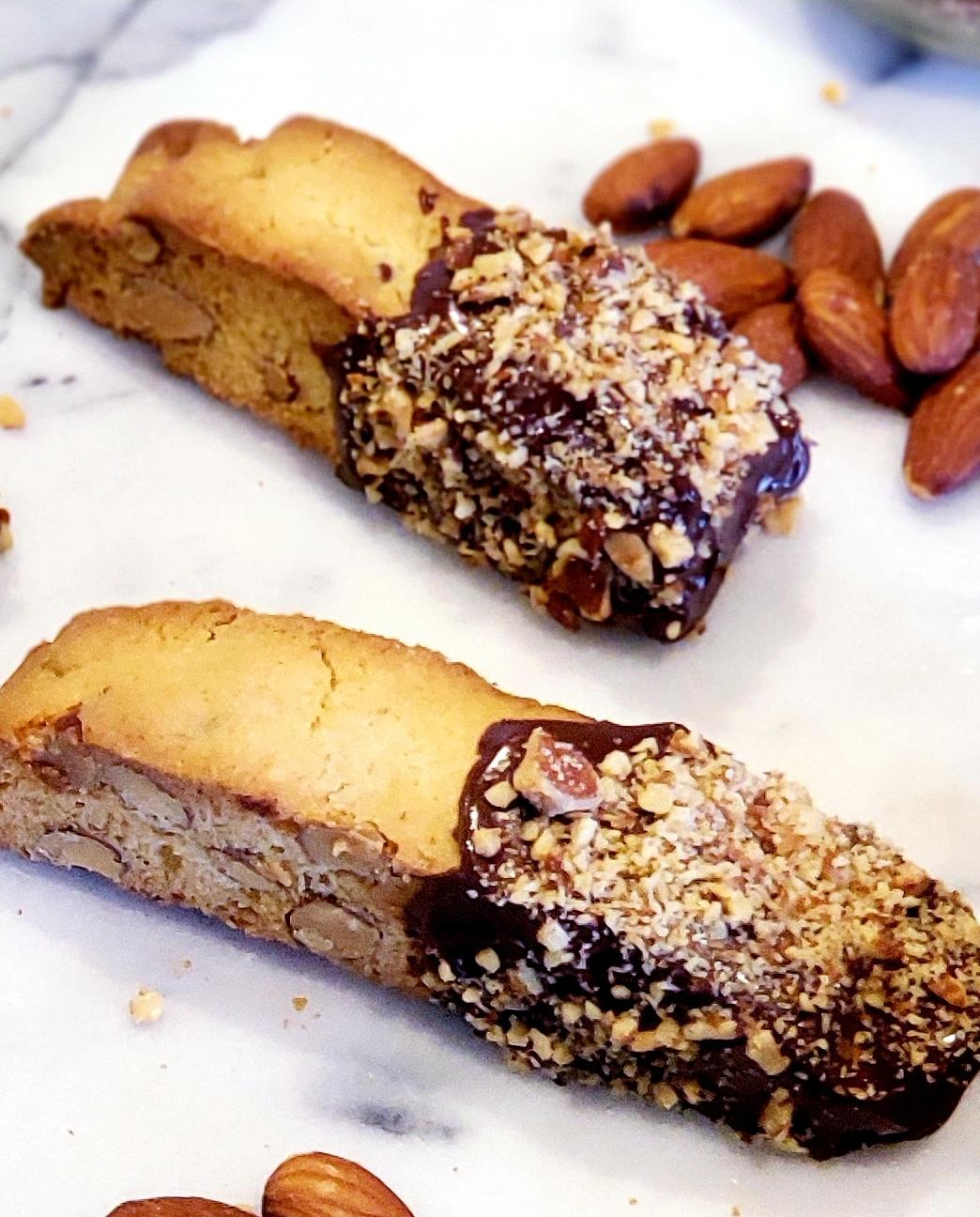 Hey, then take it out when it's all melted and dip or spoon the chocolate over these little cookie loaves.  Next I like to sprinkle chopped almonds on top of that before it hardens for a crunchy chocolatey treat!
Let those little treats cool on some waxed paper then serve with a cappuccino or a cup of tea and mangia (eat)!
I hope you try and love these chocolatey almond treats as much as I do!  Happy February and almost Spring!
XO Jerri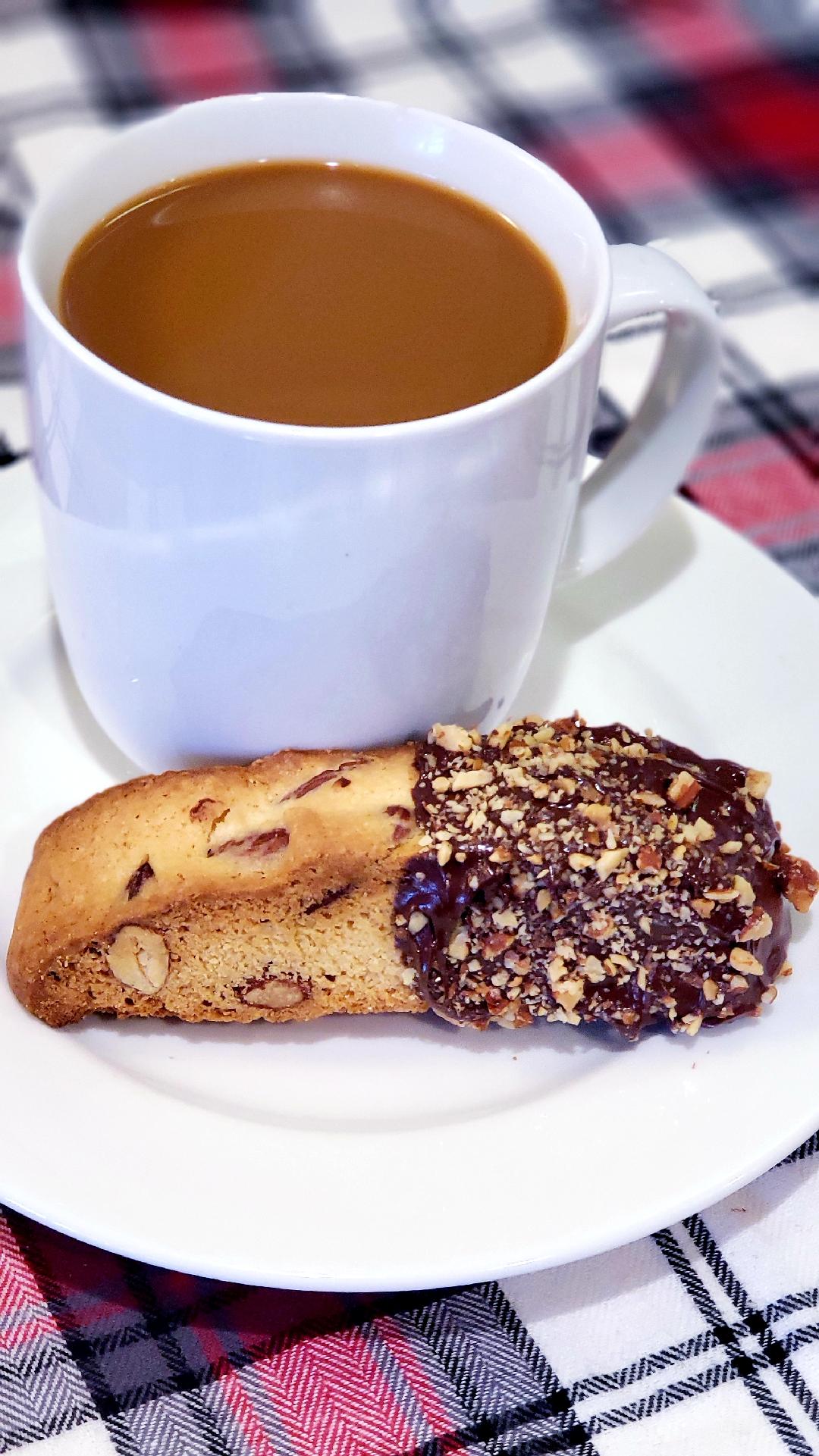 CHOCOLATE ALMOND BISCOTTI RECIPE
INGREDIENTS
2 cups all purpose flour
1 1/2 teaspoon baking powder
1 teaspoon kosher salt
1/2 cup melted unsalted butter at room temperature
2 eggs
3/4 cup granulated sugar
1 tablespoon pure almond extract
1 teaspoon pure vanilla extract
1 1/2 cups roasted and salted whole almonds
1 beaten egg for egg wash
8 ounces semi sweet chocolate chopped
1 cup chopped almonds
DIRECTIONS
Melt 1 cube of butter and let come to room temperature or set in fridge.
Preheat oven to 350 degrees.
Mix flour, salt, and baking powder together and set aside.
Blend in standing mixer or with hand mixer the 2 eggs with sugar until thick.
Add the room temperature melted butter along with almond and vanilla extracts and blend again until thick.
Gradually add in the dry ingredients while mixing, then add the whole almonds and mix until all incorporated.
Dough will be sticky so wet hands and divide it in half and shape into two loaves and place on lightly greased cookie sheet.
Bake at 350 degrees for 16 minutes then take out and change temperature to 300 degrees.  Let cool ten minutes then cut into slices.
Brush with egg wash while loaves are cut but still together.  Separate the slices and place back onto cookie sheet.
Bake again for 8 minutes, then turn over and bake another 8 minutes.  Take out and let cool on rack.
Temper chocolate by melting in a microwave at 20 second intervals stirring each time.
Dip cooled biscottis in chocolate half way up, then sprinkle with chopped almonds.
Let set on waxed paper then serve with coffee or tea.  Store in an airtight container.