ALL WRAPPED UP FOR CHRISTMAS TOUR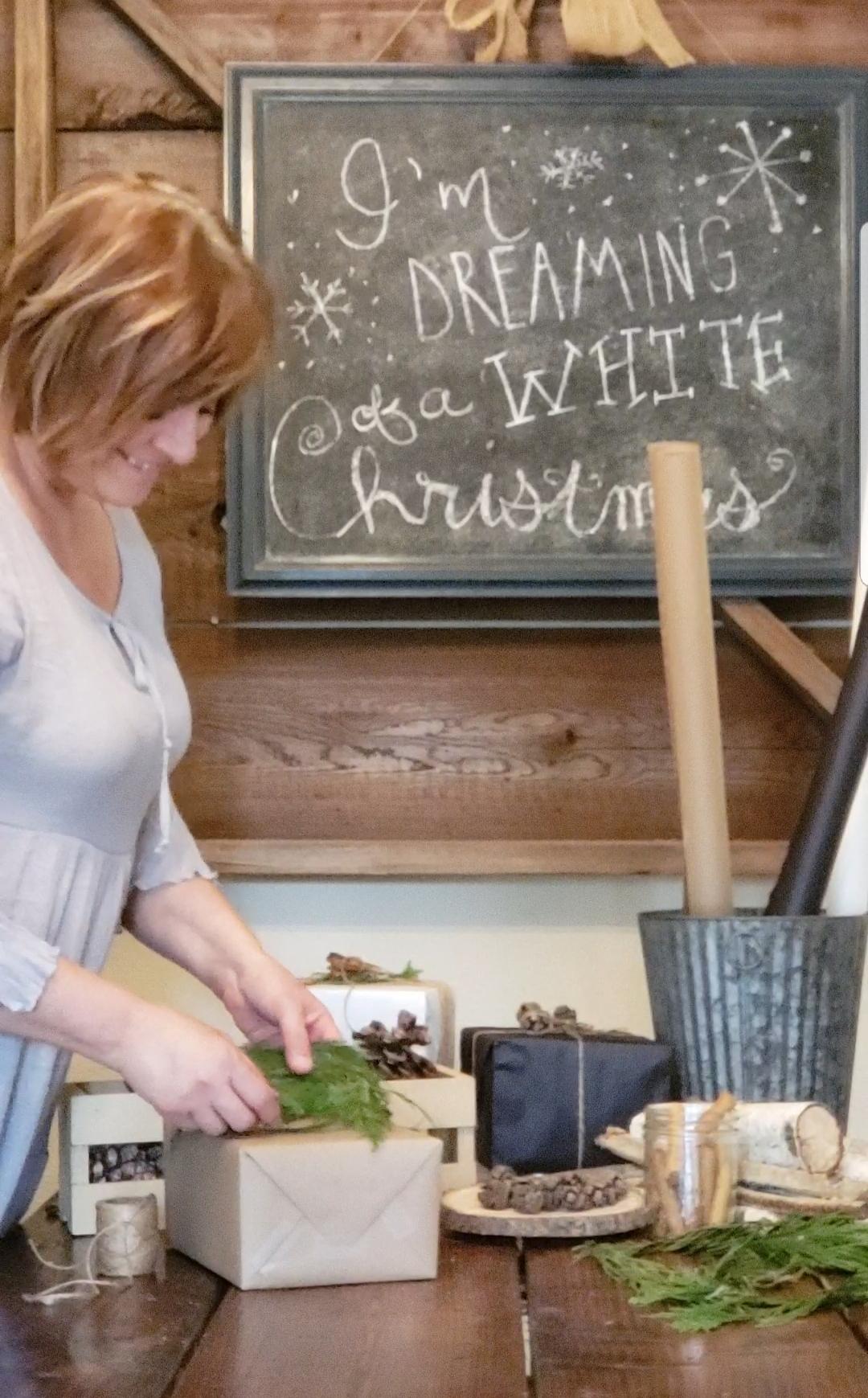 Welcome to Farmhouse Fun!  If you're new here let me just fill you in.  My husband and I live in a lil' ol' farmhouse built in 1912 out in the country, on the outskirts of our town, in the middle of the California Farmland.  We are newly empty-nesters and are having a ball with our chickens, our sweet Rosie dog, and renovating our home in all things Farmhouse Style!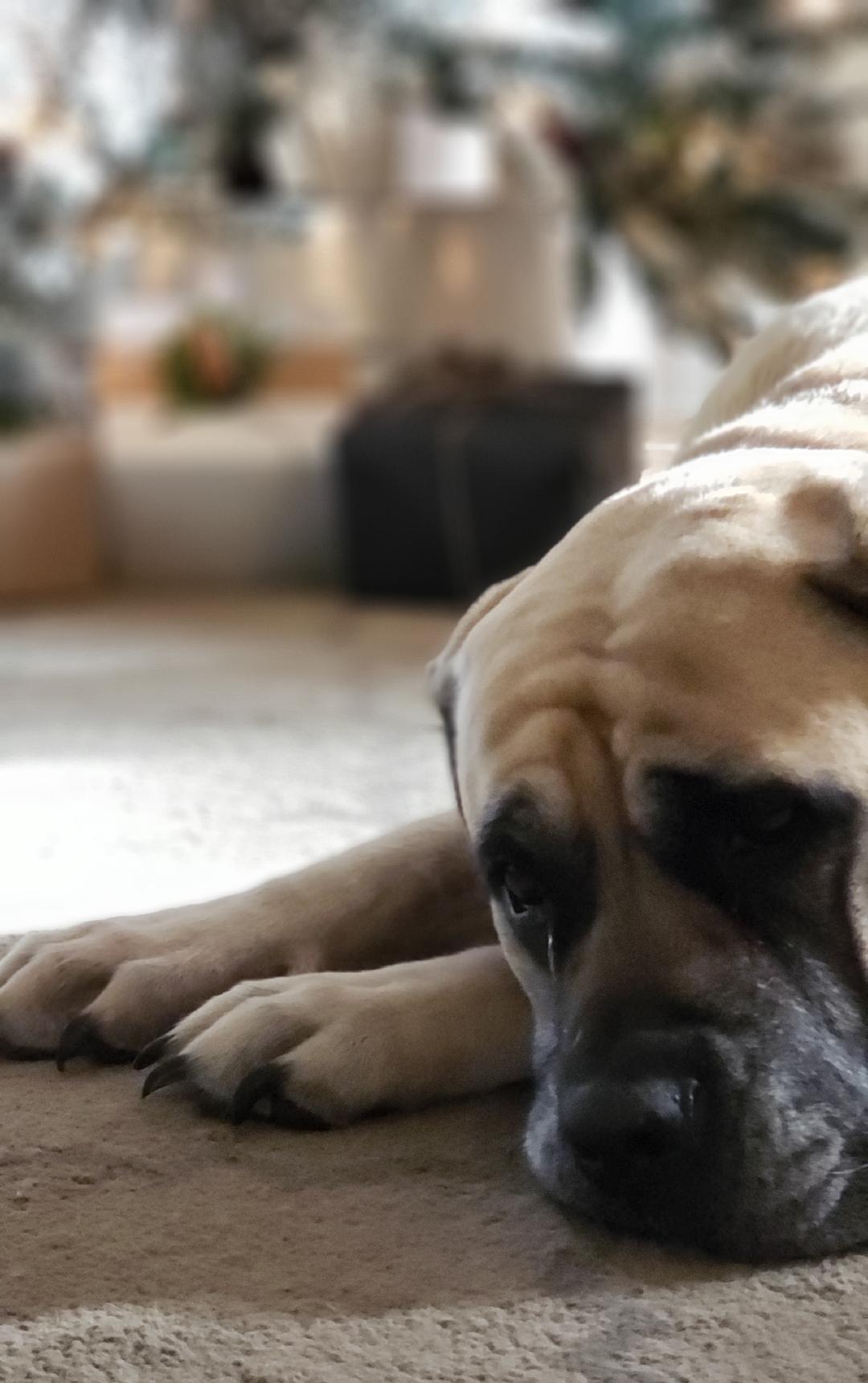 Well here on the farm the Christmas tree is up, the decor is done, all the presents are bought, (well almost all of em) and now to wrap them.
So as I'm rocking around the Farmhouse Christmas Tree I have to say I am so excited to be part of the All Wrapped Up for Christmas Tour this year!  Talk about inspiration, you will surely find it here!  Please be sure to visit each one of my friends for this super inspiring Christmas Wrap Tour!  You'll find all of them at the bottom of this post!
But now, back to my wrapping dilemma.  Yes, I question myself every year, "Hmmm, what will I use and how will I do it?"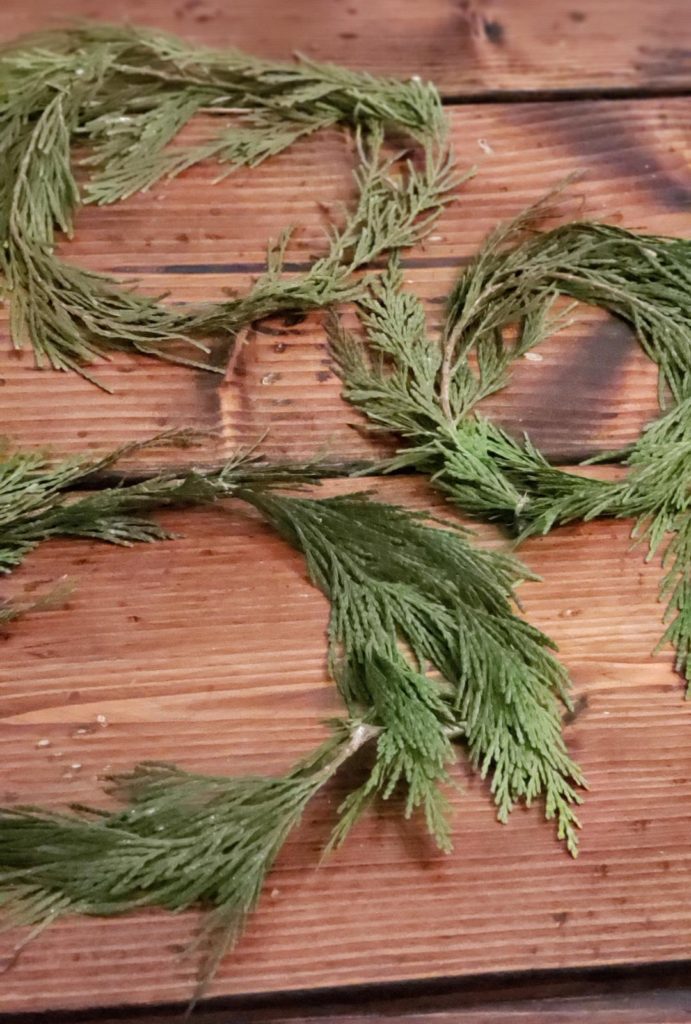 That's the question I run into year after year and this is what I do to figure it out.  I choose a theme.  I don't know, it just helps guide my creativity, and gives me a vision.  But more importantly, it makes it fun!  I don't want the holidays to be a hassle or feel like work.  So, I push that aside and make it a game.
So, this season is all about dreaming of snow white snow and bringing the nature indoors.
THE WRAPPING STATION
Well, I started off creating some fun by setting up a little wrapping station.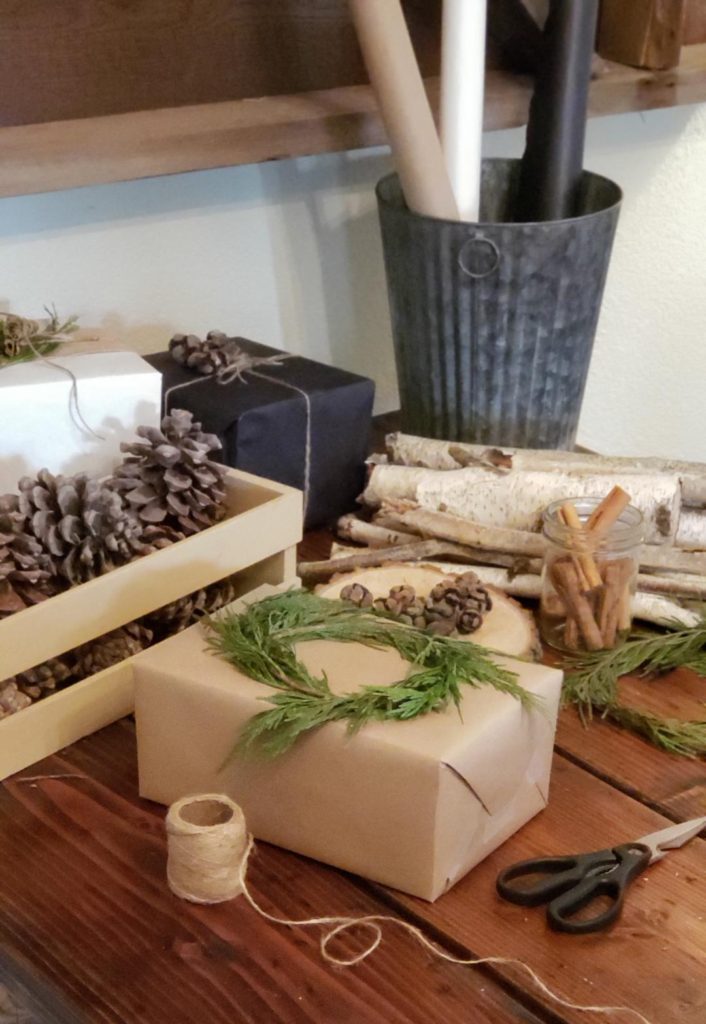 My set up this year is all about that natural garden look (cuz it's what I have available on the farm) so I grabbed a basket and headed outdoors to see what I could work with.
I found some cute little pine cones and some cedar greenery that I thought really looked so beautiful!
Then I got some cinnamon sticks at the grocery store.  You can get a good amount of them and they're reasonably priced too in the ethic food section.  Then with a lil' burlap, my trusty ol' jute twine and some tan, black, and white kraft butcher paper, I was set.
All I have to do now is turn the Christmas Music up and I am ready to rock and roll!  (You know I mean wrap presents, right?)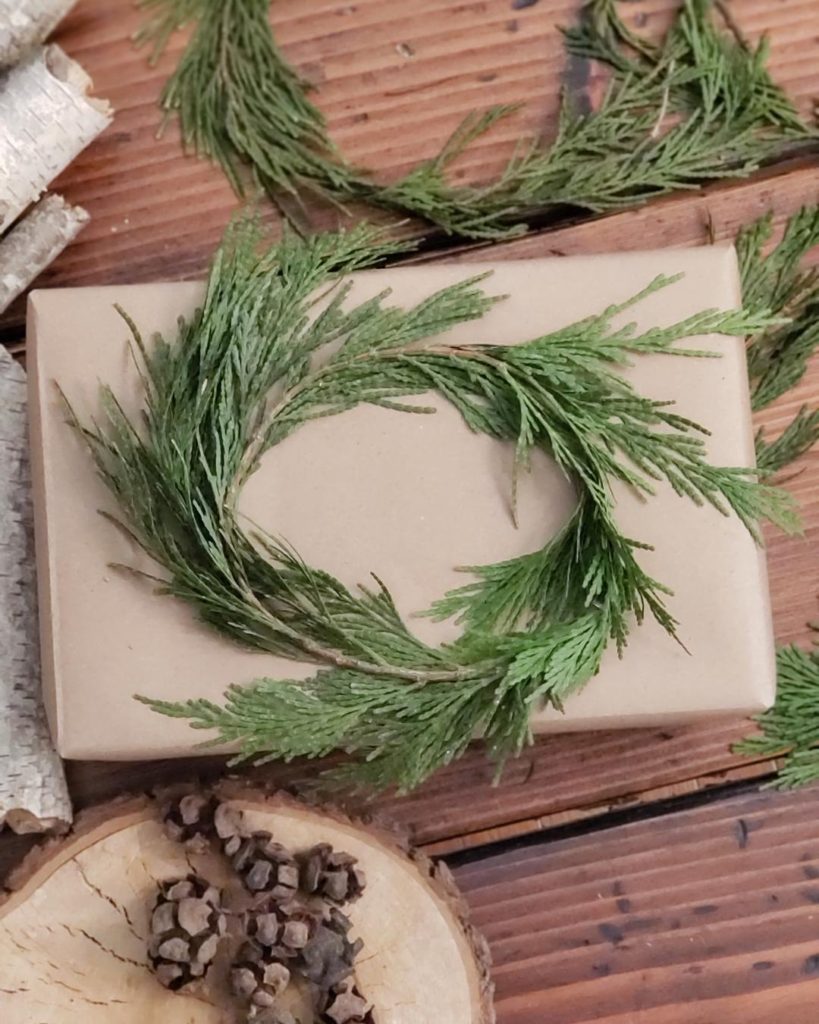 THREE FARMHOUSE GARDEN STYLE PACKAGES
I love to do things in threes so for my first of three wrapping styles I used the tan kraft paper that you usually use to wrap parcels for mailing.  I thought the greenery looked best against this tan color!  I cut off some thin cedar branches from a tree out back and tied the ends together with jute twine to form a feathery light wreath.  Setting it atop the gift just made it look simply beautiful and so very farmhouse style!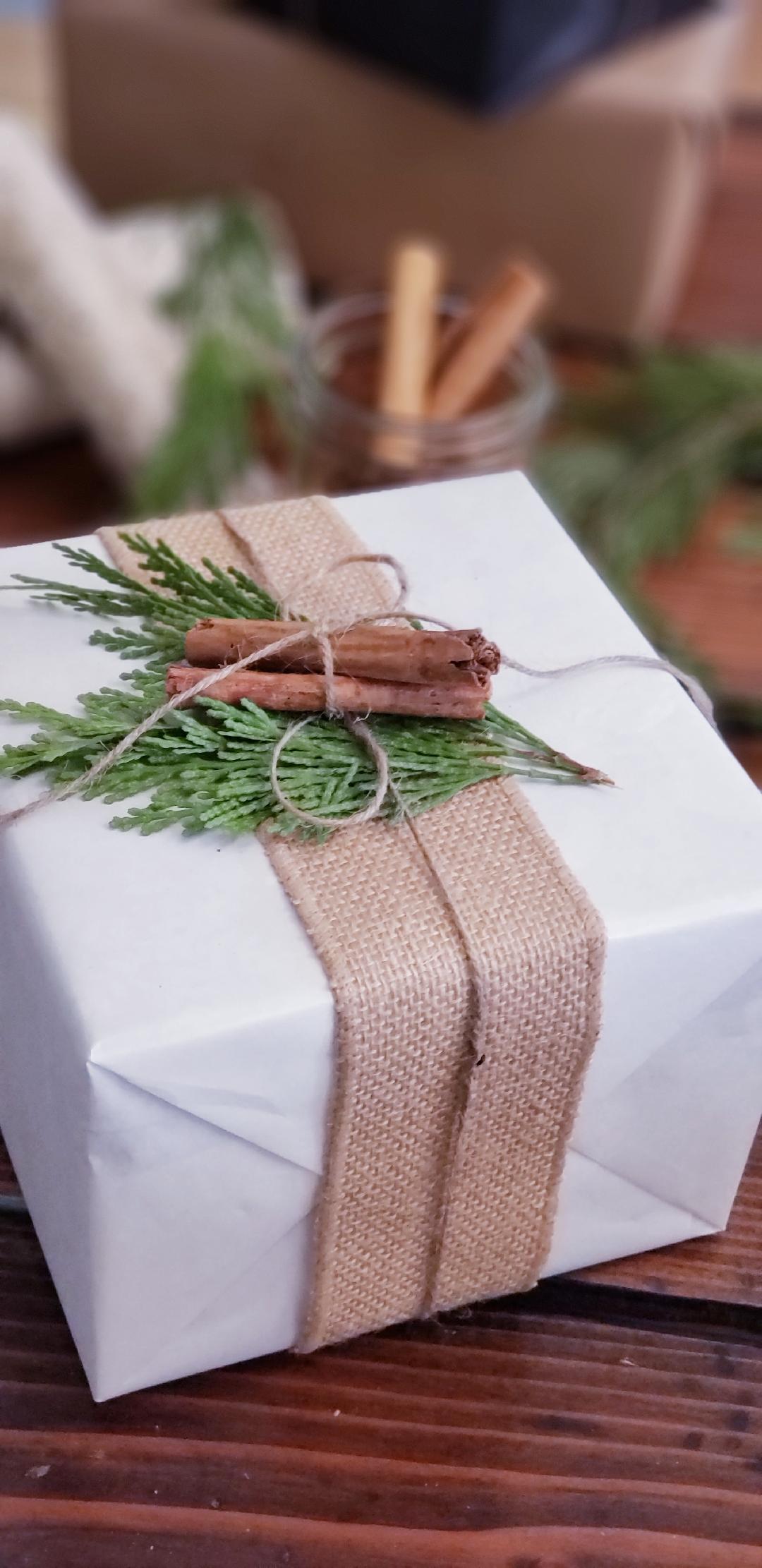 I used white butcher paper for my second package.  I love the simplicity and the matte finish of it.  I took some burlap ribbon and wrapped it around then secured it in place with the jute twine.  I placed a small cedar branch underneath the jute and fastened a few cinnamon sticks with a jute bow to finish it off!  Ok, I love this one so much and I'm telling you it's super fragrant with the cinnamon and cedar.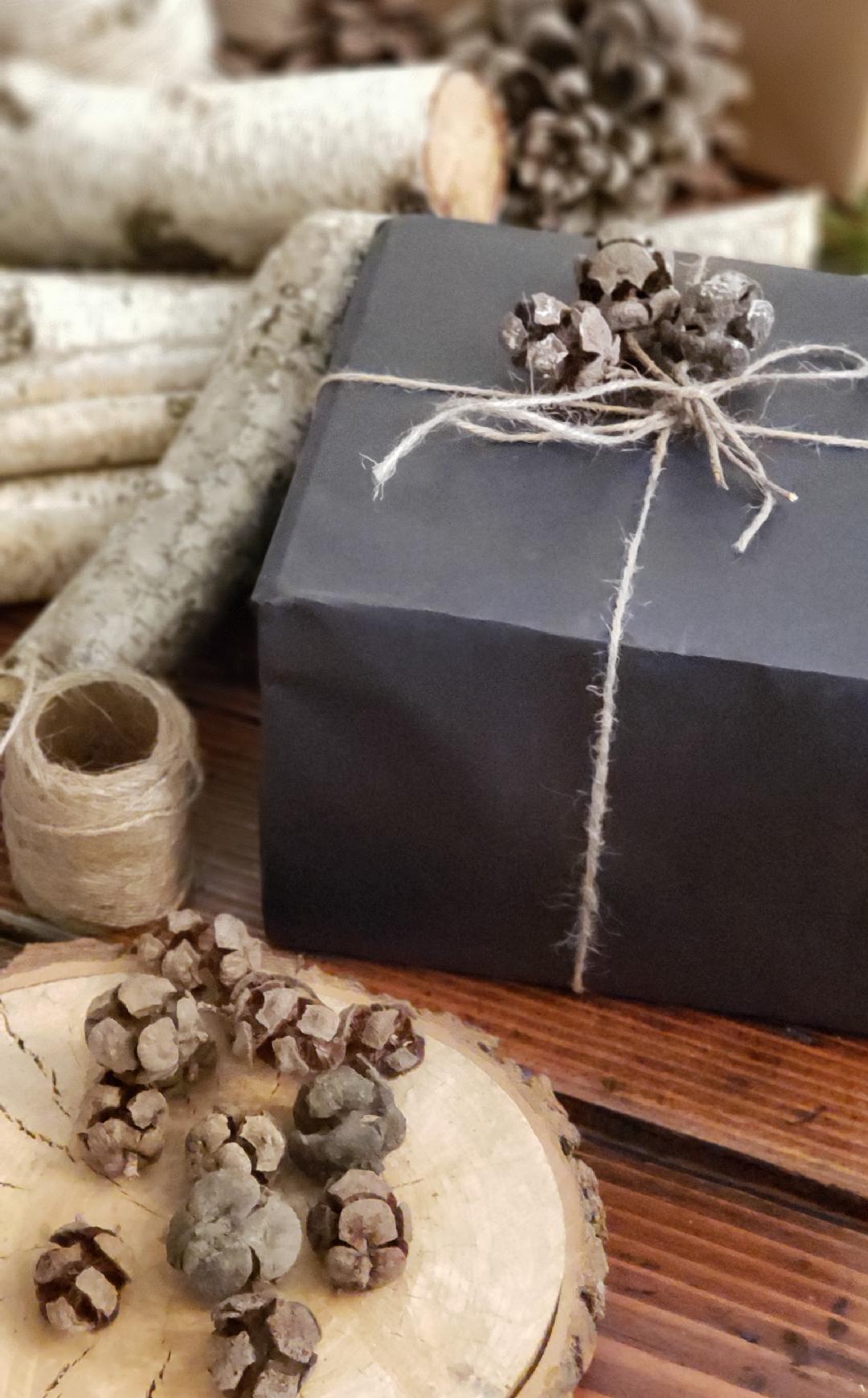 Isn't this last package so neat?!  I really like this one too!  I love the black butcher paper and how it contrasts with the tan jute and little mini pine cones.  It also coordinates and looks so nice against the other two packages.  But underneath my snow white Christmas Tree, is the best contrast of all!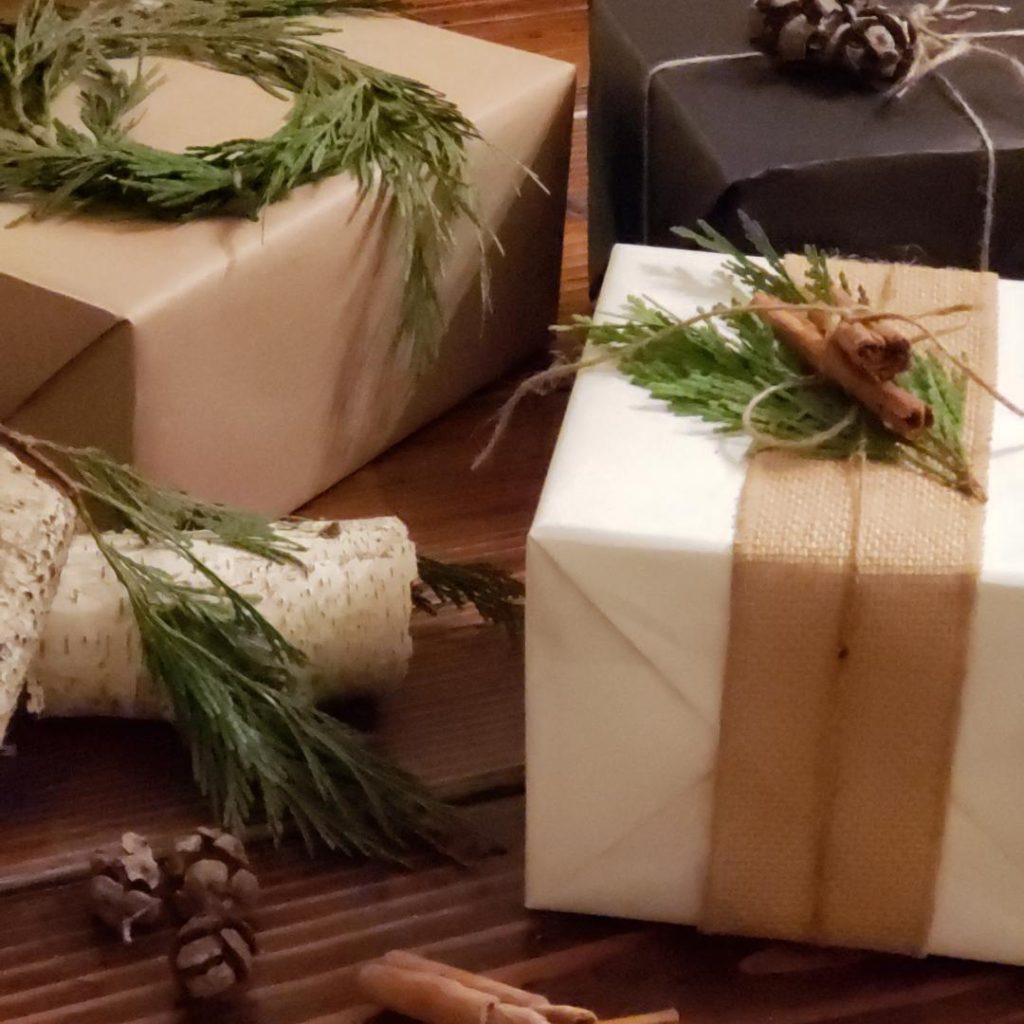 All together they look great which is kind of fun when they sit under the tree next to each other.  Yet individually, they are elegant and have that natural farmhouse charm that I know my family will love!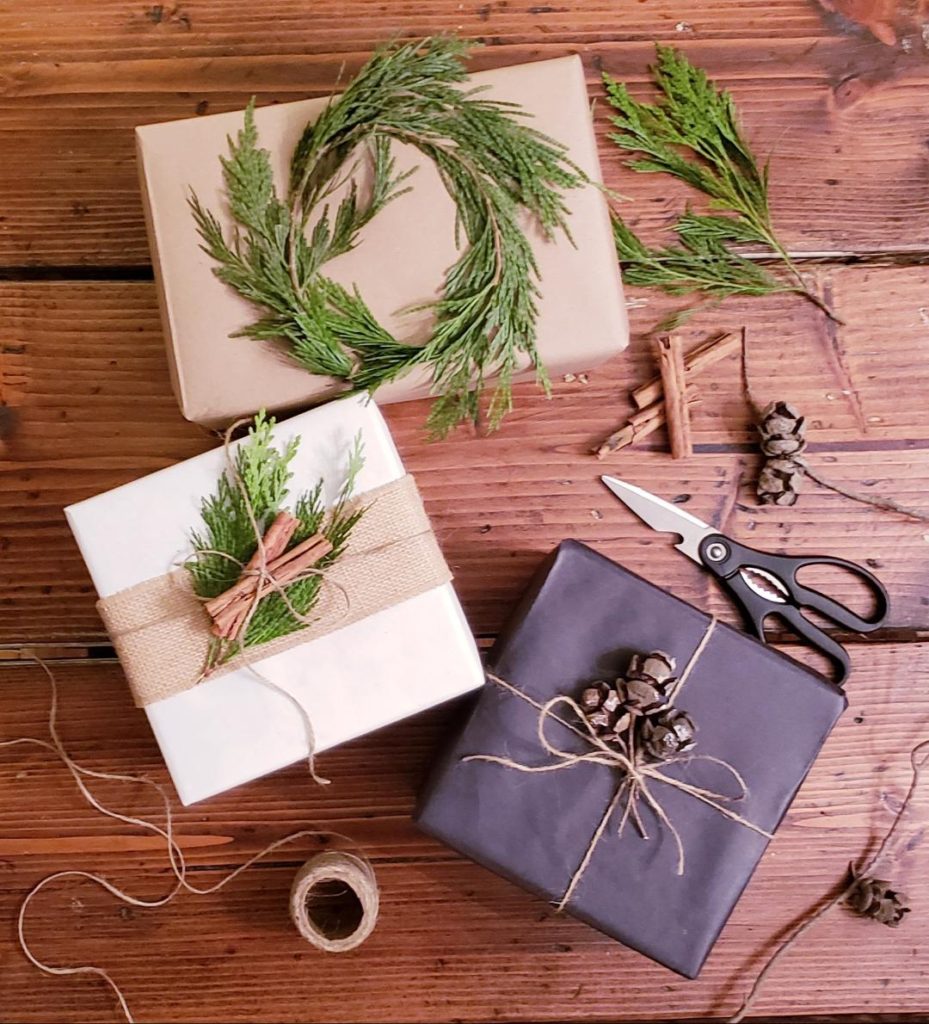 It was nice to use simple natural things to create a pretty and farmhouse inspired garden look that goes so well with our home and decor.
Thank you for coming by and I hope you enjoyed this stop on your Christmas Wrap Tour!  If you'd like to see some more Christmas Inspiration on our farm check out our Farmhouse Christmas Front Porch and Christmas Gift Ideas here!
XO Jerri
Now just click on the links below to hop on over and continue your tour of some wonderful Christmas Wrap Inspiration!   You won't be disappointed!