A FARMHOUSE ADVENT WREATH
is the perfect way to start off the season and today, December 1st is the perfect day to start making this because tomorrow my sweet friend is the first day of Advent this year.
What's Advent you might say.  Oh, well let me tell you all about it. (It's actually one of my favorite times of year!)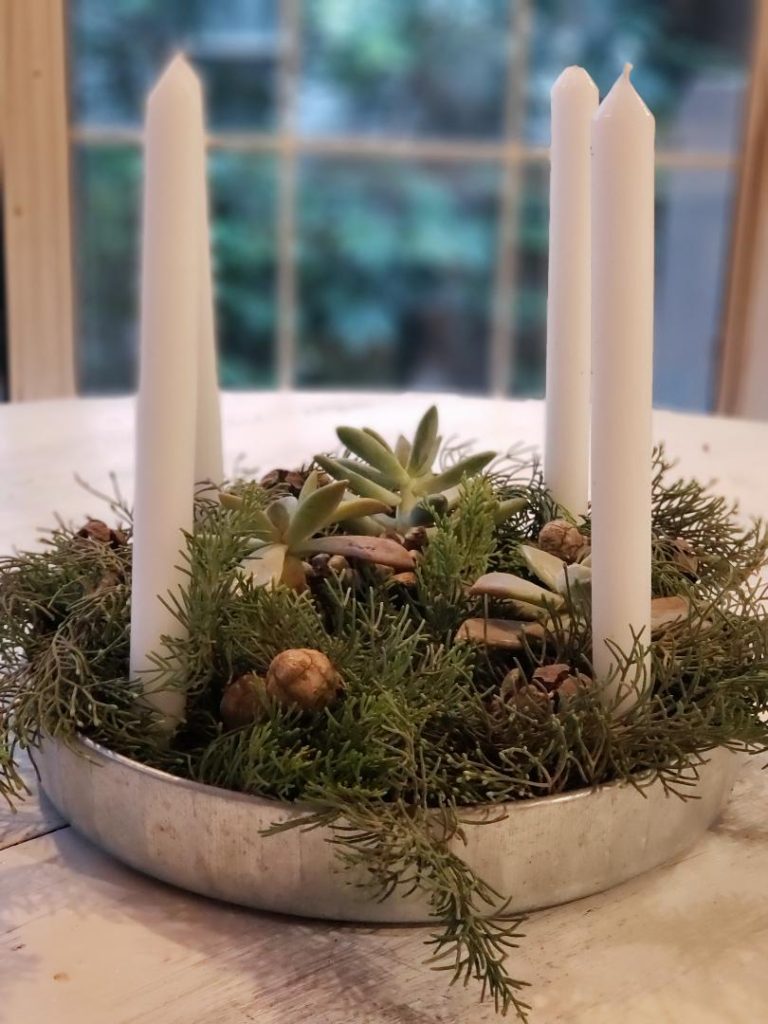 Advent, or "coming," is the four-week season of preparation for the birth of Jesus at Christmas but also really for the anticipation of His coming again.  Yaay, and it's such a fun way to help children understand the true meaning of Christmas and what it means to wait in anticipation and prepare ourselves and our hearts for this miracle.
It always begins nearest November 30 and continues until December 24th, Christmas Eve!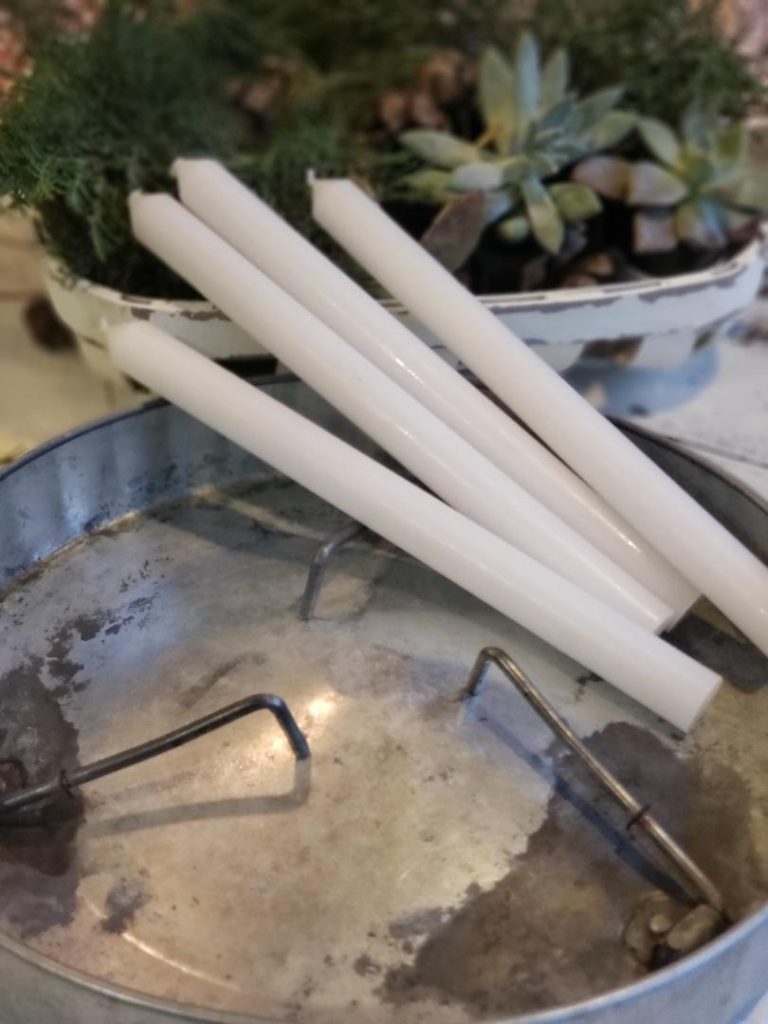 I so loved doing this with my kids when they were little and they enjoyed the special activity of lighting all of the candles.  Yes the candles.  They represent the strong contrast between dark and light and as you keep lighting another, and another candle (each of the four weeks before Christmas), the light grows, and the darkness fades leading us closer and closer to Christmas Day!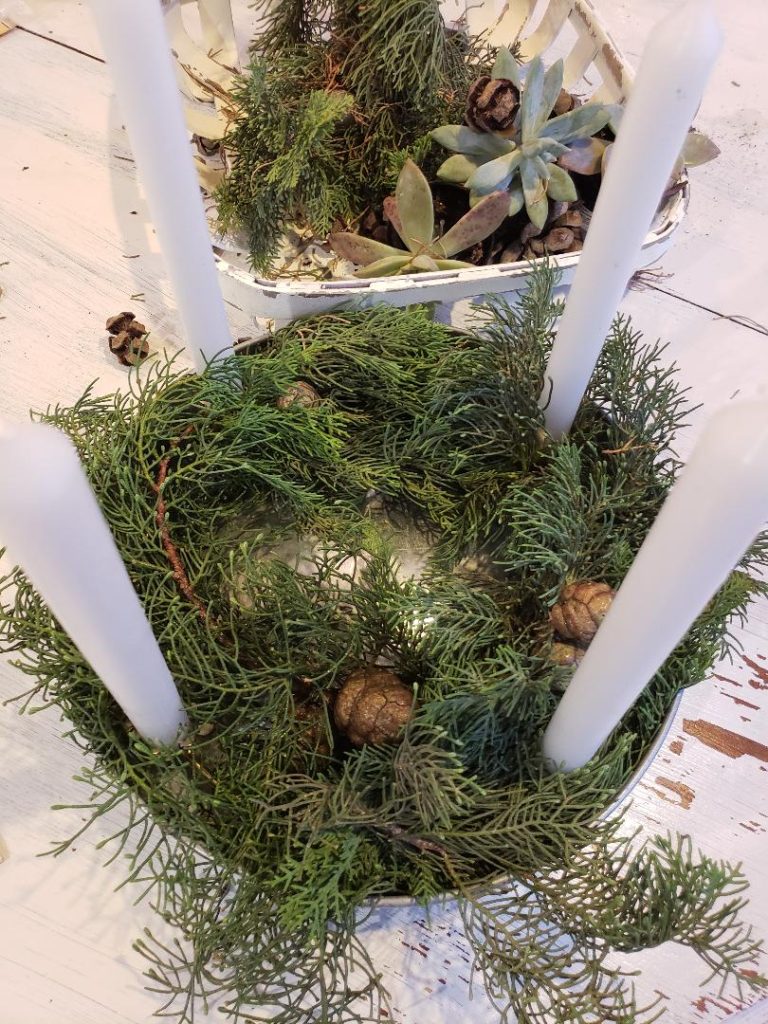 There are four of em, one for each of the four Sundays before Christmas.  Traditionally, three are purple, and one is pink.  These colors are the liturgical colors of the Church year with purple always representing preparation and pink always representing joy.
We light the first candle of Hope on the first Sunday of Advent and think and meditate on that all week.
Then on the second Sunday, you light the Hope candle again and also the second Faith one as well.  Then comes the third candle.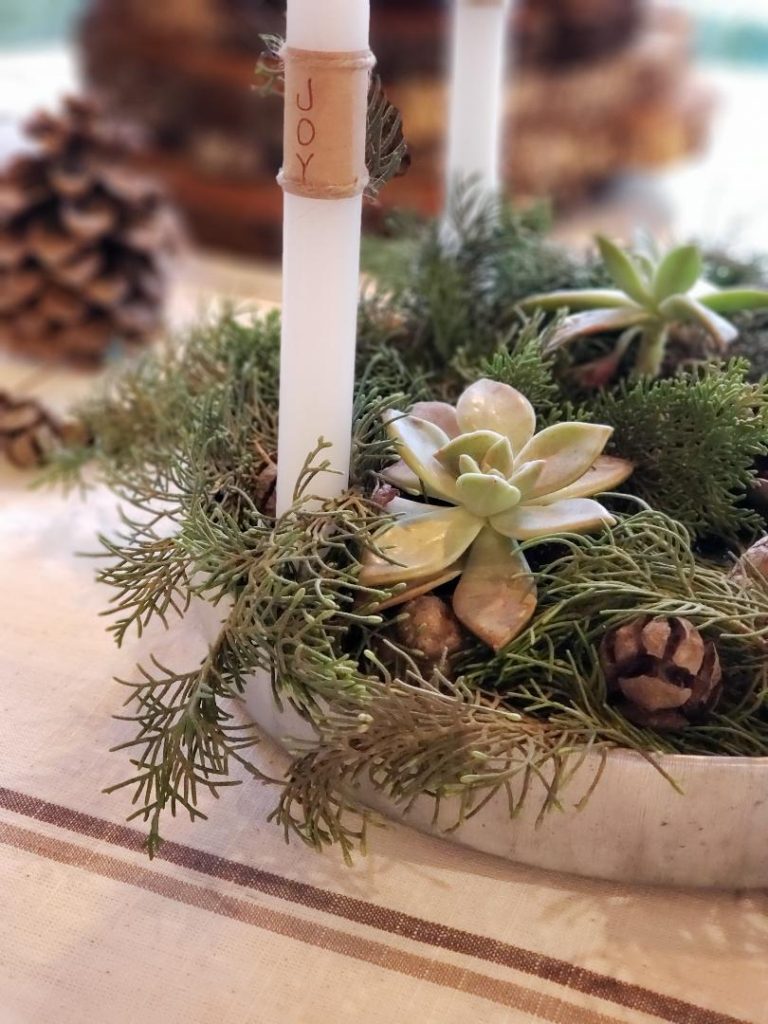 Yaay for Joy!  I love Joy!  In all the waiting and preparing, the Joy reminds us that it's almost here, so have Joy.
Then the fourth is of course, the best, Peace!
There are lots of little booklets and devotionals out that are so fun to do for you and your Christmas Season journey, but so wonderful to do for your whole family that involves the children so you get to include them in different activities as well.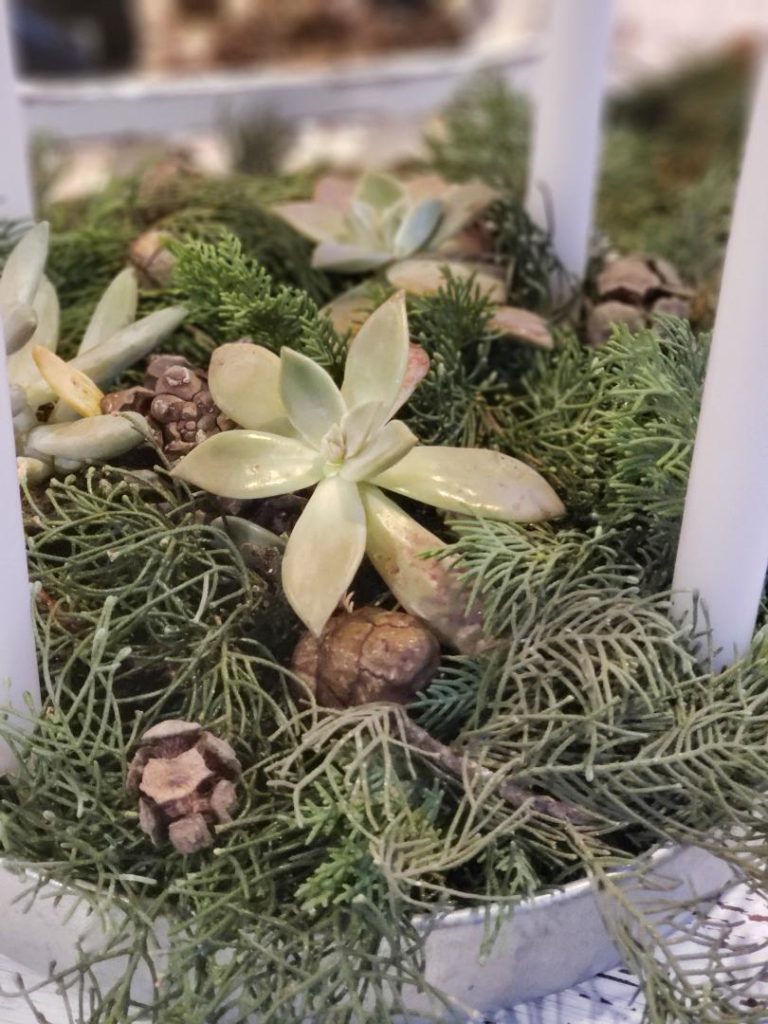 I did all white candles this year in trying to incorporate my farmhouse and nature garden look, but I decided to label each candle with the title of what that week represents.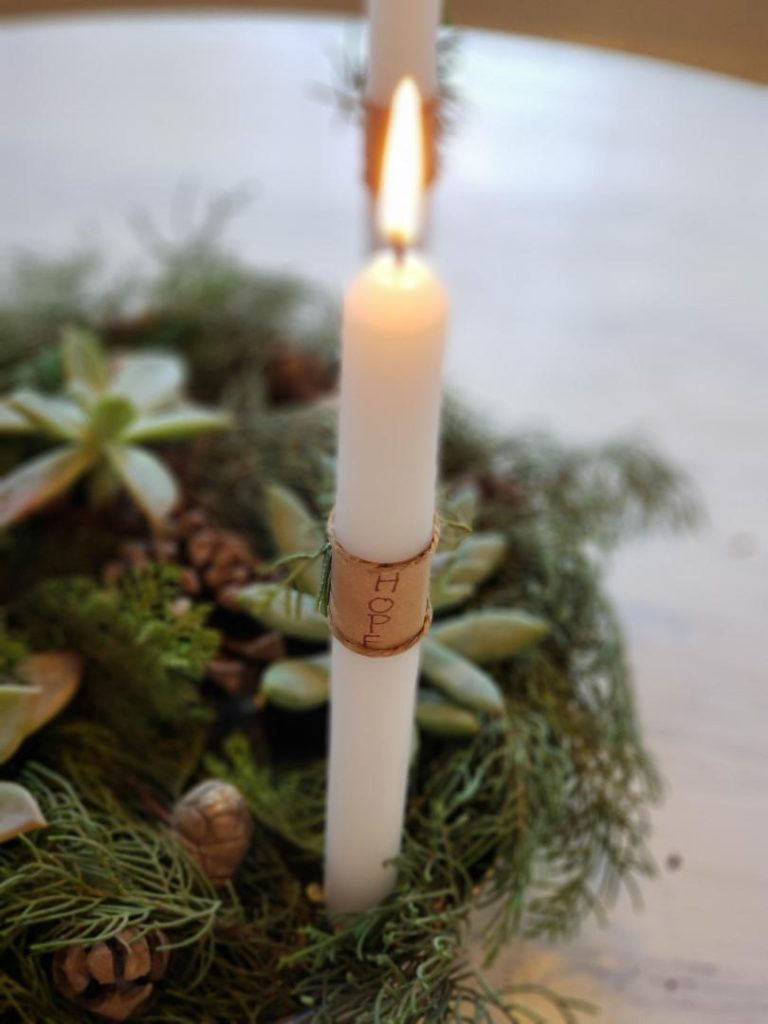 When our sons were young, we lighted the candles before the dinner meal and used a little devotional and read from it.  They looked forward to taking turns lighting the candles themselves.  (It might have been exciting too because even when they were young, "they" themselves -with a little help- were using "real fire" to light them)  Aw, sweet memories.
HOW TO MAKE A FARMHOUSE ADVENT WREATH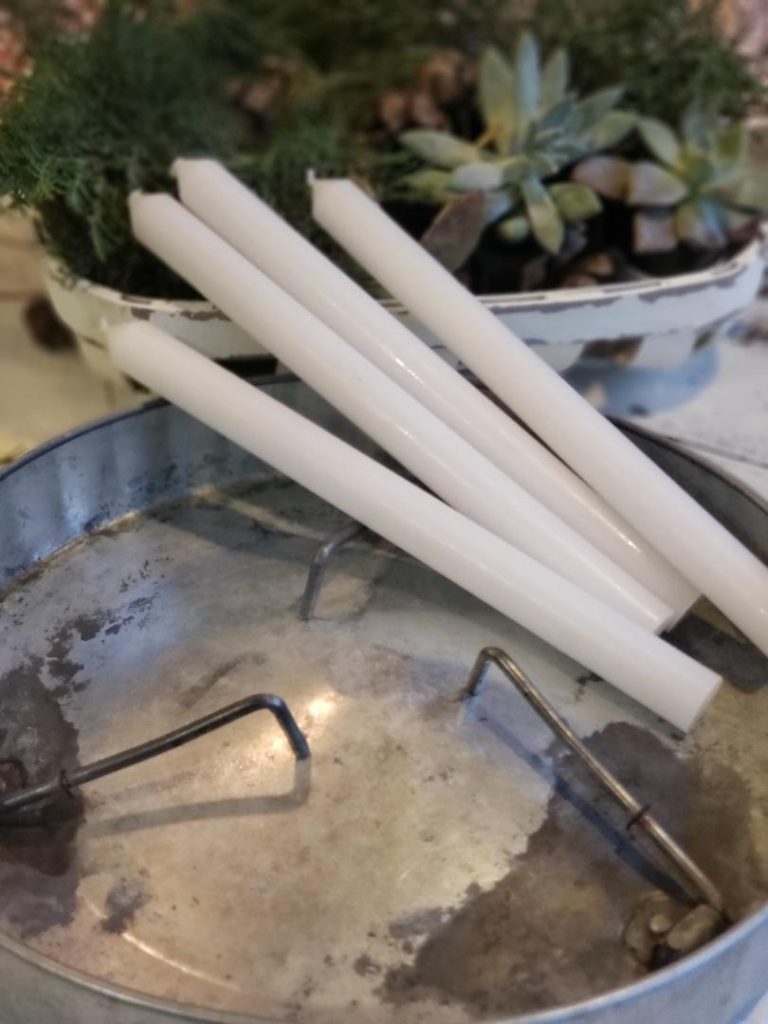 First I got some tall white wider candles and a gold candle holder.  I get mine every year at our parish book store but here's a link where you can get them here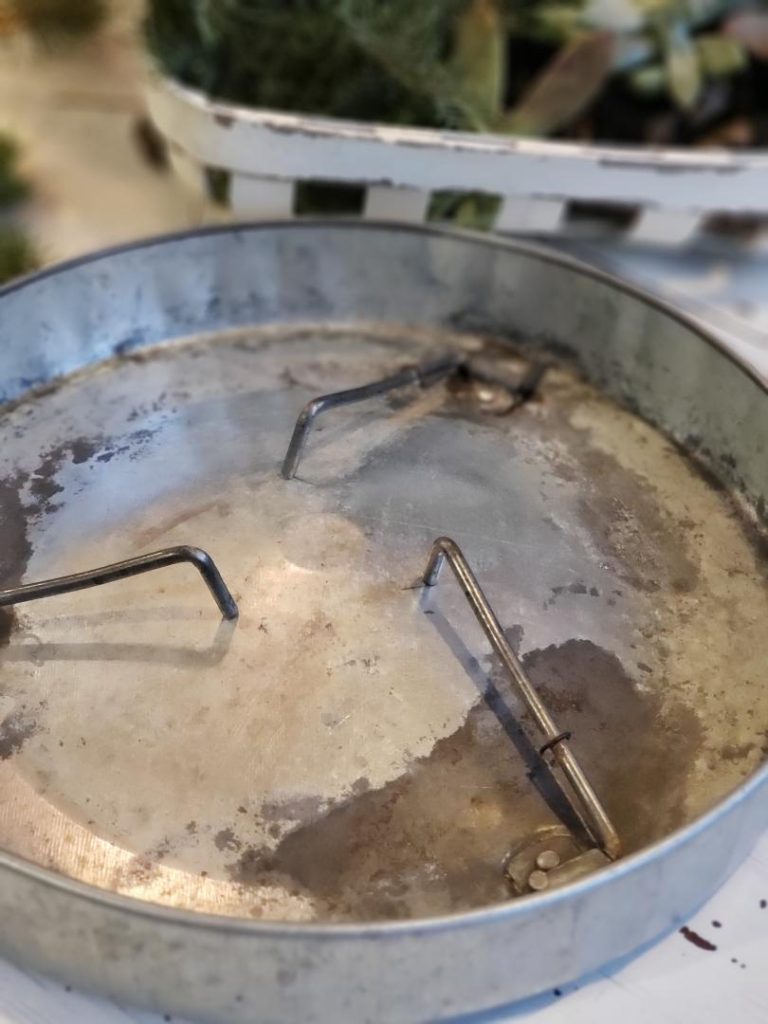 Next I decided that the container that would hold everything this year would have some rustic and humble charm.  So I chose this old bottom tray of a chicken feeder.  It's galvanized metal and had this old patina that I loved.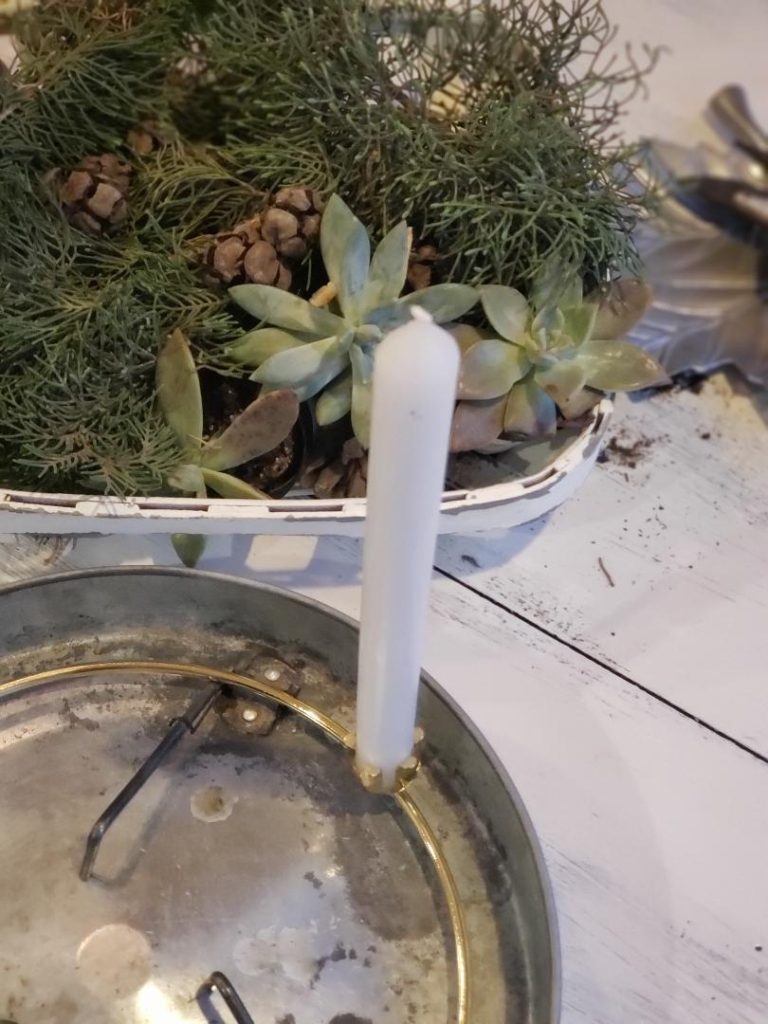 I slid in the candle holder and it fit nicely and held the candles nice and snug.
Then I had trimmed some greenery from the yard and added it to the tray.
I also put in some succulents for a little variety and dimension.
Then here come the pine cones.  These little tiny ones actually come from the cedar that I trimmed and put right in here!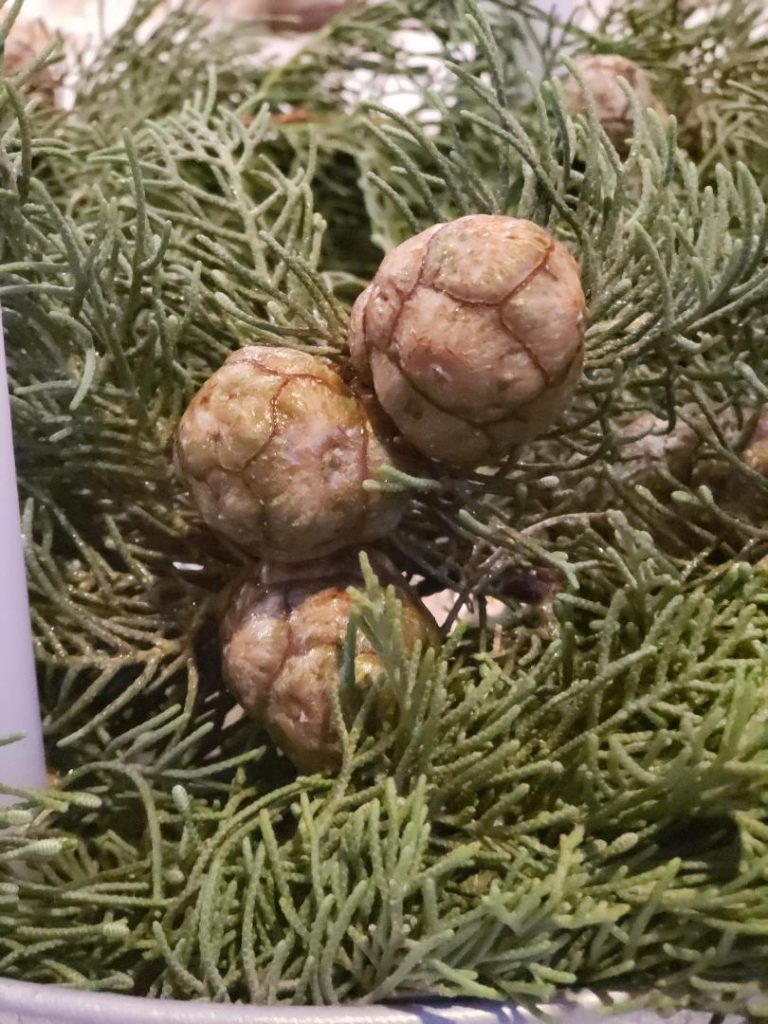 Now to identify each candle as the week's focus, I cut up  some tan kraft paper into four strips and wrote the titles down.
Next I wrapped them around the candle and secured them with some natural looking jute twine.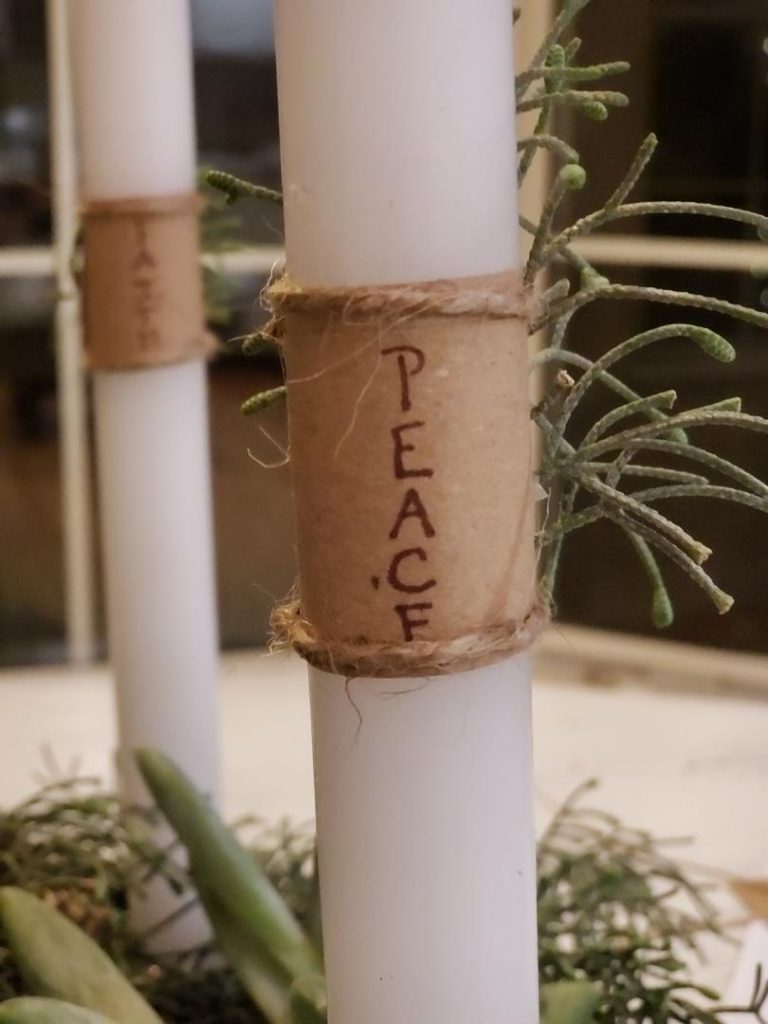 Then I couldn't help myself and added a little greenery to the back side of the candle secured in the twine.
Oh I love it!  It's so earthy and green and just beautiful!  I love the signs identifying Hope, Faith, Joy, and Peace wrapped around the candles too that motivate and encourage us all of God's truths.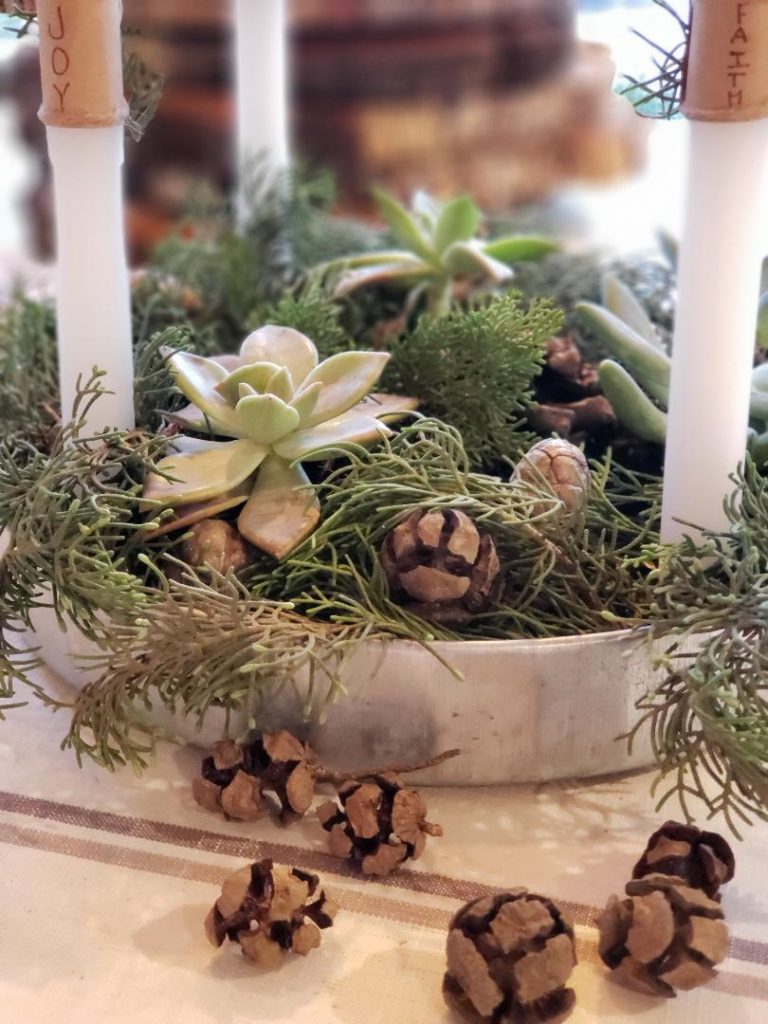 AN ADVENT WREATH
is such a wonderful way to give meaning to the waiting and the value in that.  Making it yourself can allow you to have a fun family time doing a handmade project yourselves thats unique and special.  Then spending time with your family going through little weekly Sunday prayers focusing on activities for that week that will keep preparing your hearts for the arrival of Christmas Day, well what a precious experience that will last a lifetime!
As we wait in HOPE and FAITH during this Advent Season, I wish you JOY and PEACE now and throughout the year.
XO Jerri