Mmmm,  Yum!
Yes, that's what this is.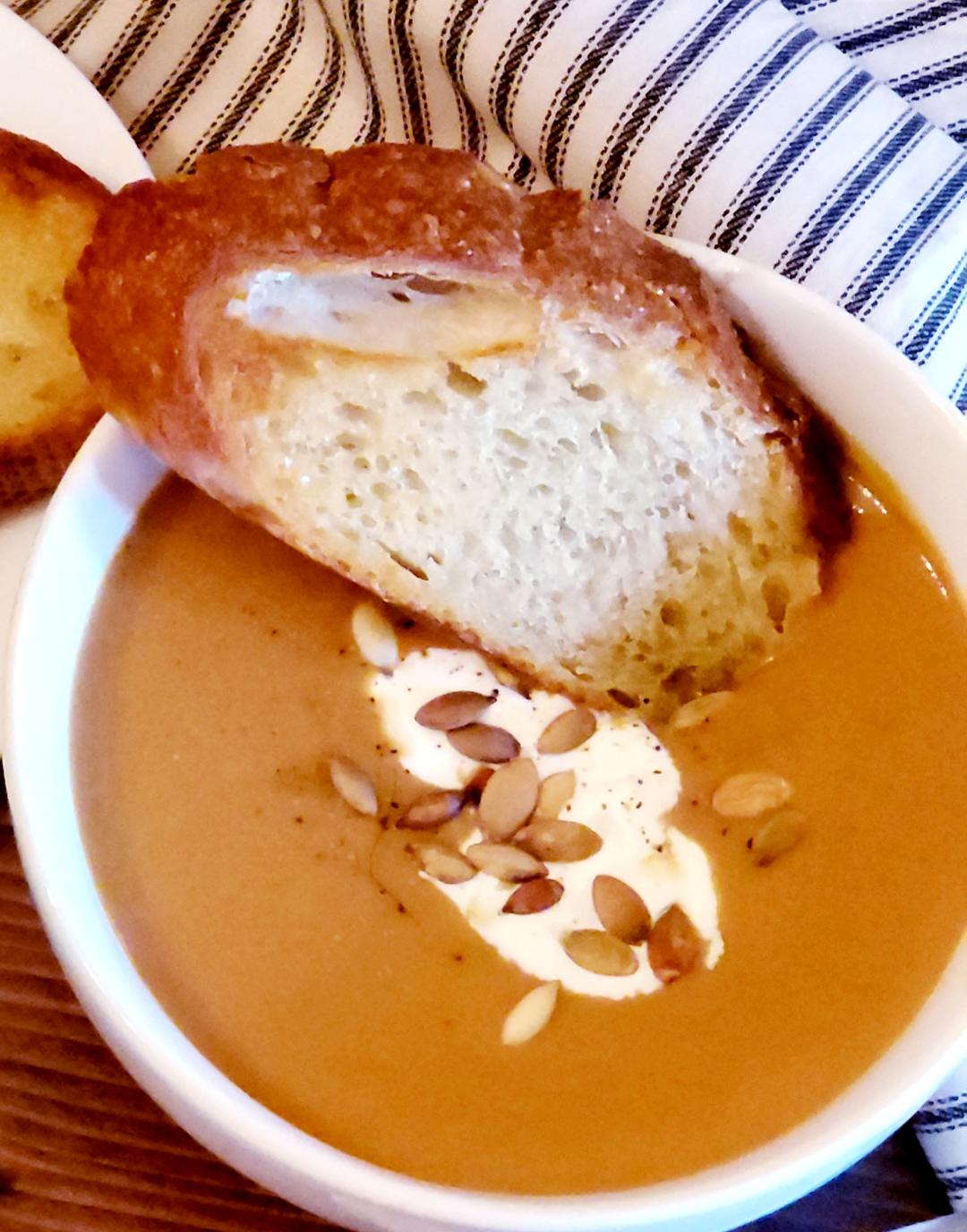 Pure yummy, yum, yum!
It's Pumpkin Soup time my friends and if that sounds strange or weird, I have to tell you that you just need to try this because truly, it is not.
It's Amazing!
It's just so good and creamy, light in flavor, but still has some depth to it, that you just sit there spooning it into your mouth going, "Mmmm, I want more!"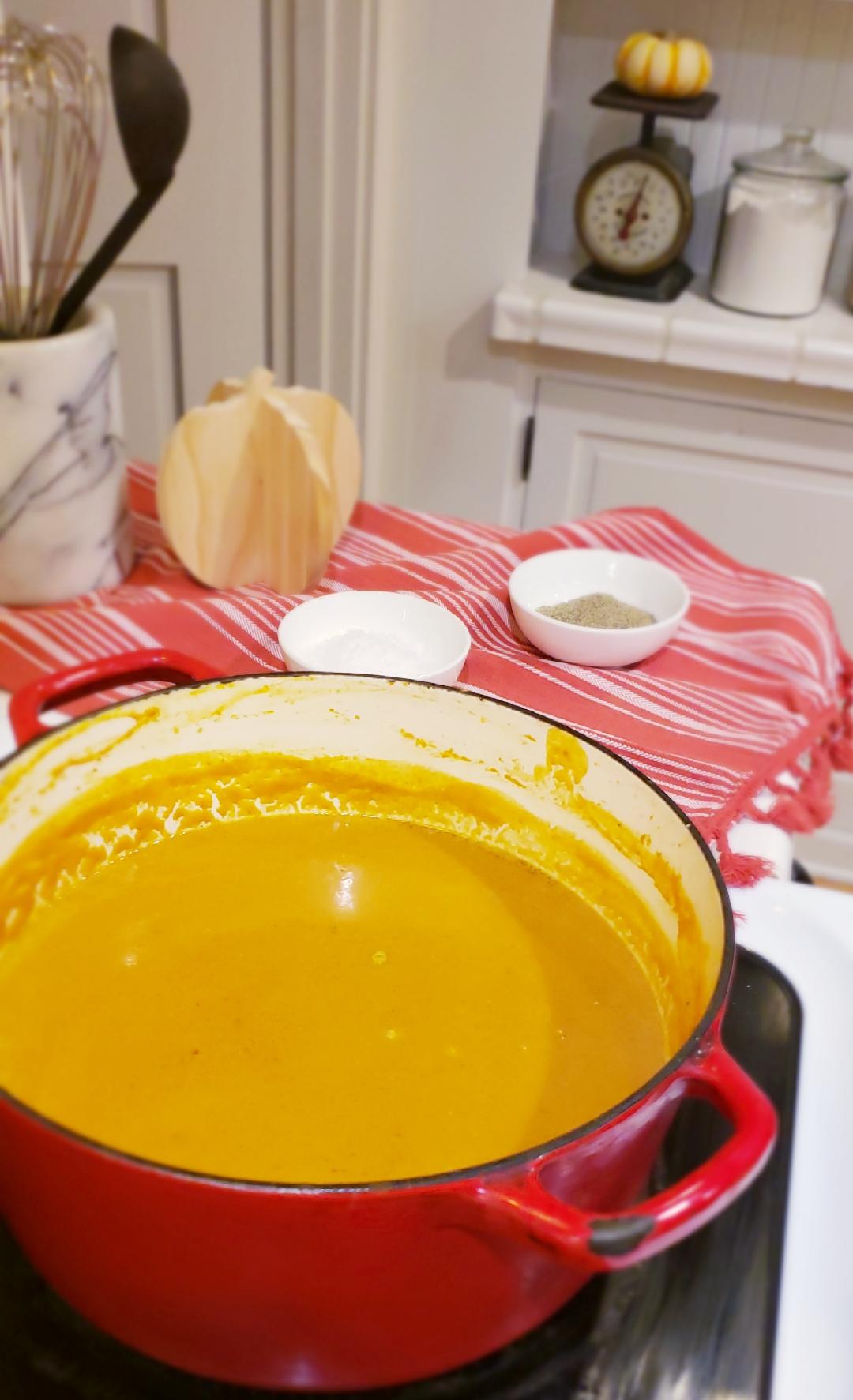 Ah, I'm just so ready for this soup, well really, soup in general.  It's like so my favorite and I'm so happy that soup season is here!  Yay!  It's here!
And I think that Pumpkin is the perfect soup to start this season off right!
Now you can make this with canned pumpkin, it's great!  But fresh pumpkin puree is even better.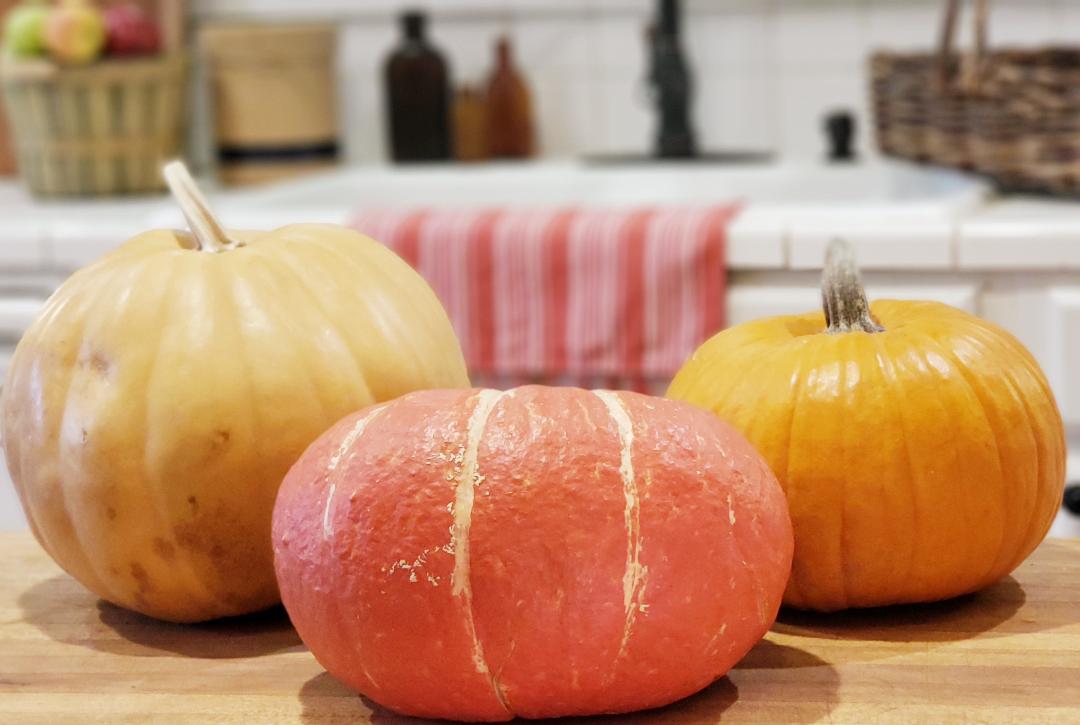 If you'd like to make your own fresh pumpkin puree, it really is so easy to do and then you can put it in the fridge for a day or two, or freeze it so you'll have it for any number of yummy recipes (click here for the easy-peasy recipe of how-to make pumpkin puree and for another pumpkin recipe).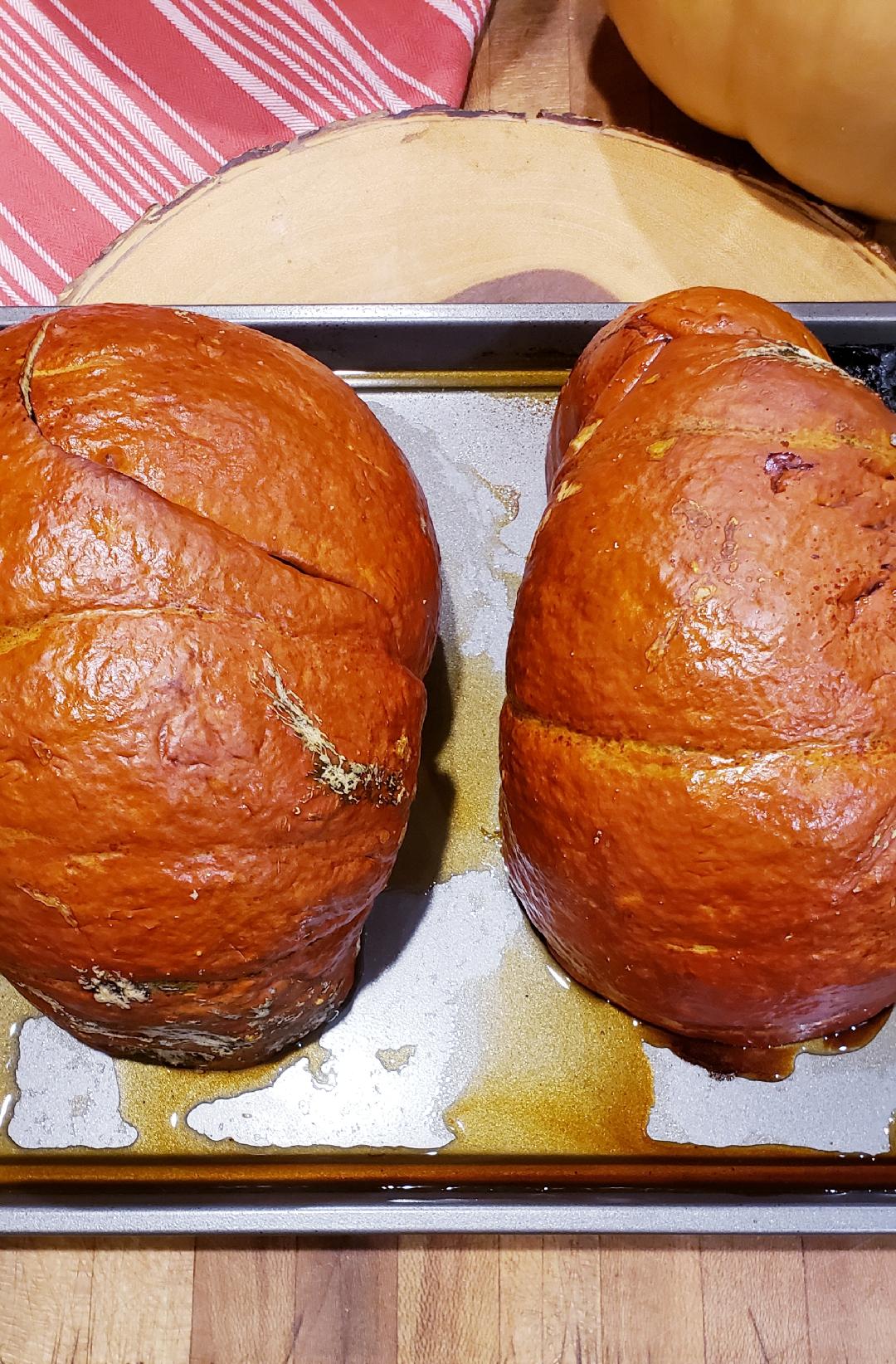 But if you use canned, just make sure that you get pureed pumpkin and not pumpkin pie mix.
So, I start off making this soup by mincing half of a yellow onion very fine.  Then I melt 4 tablespoons of butter in a large stock pot or dutch oven, until it starts to turn a nutty brown color (don't let it burn) then add that onion and saute it until it turns to a translucent color.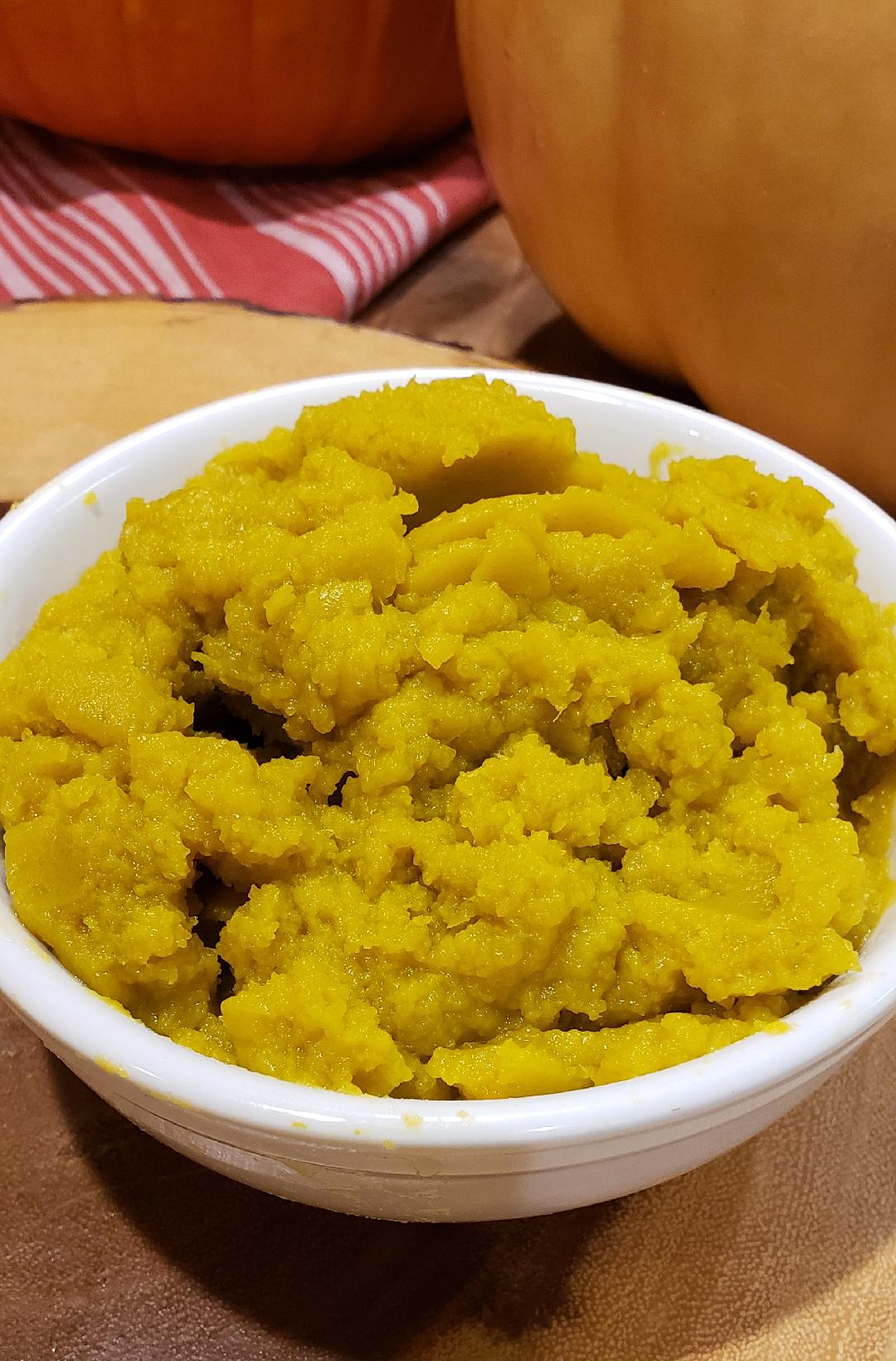 Ok, here we go, pour that pumpkin puree in and give it a whirl.
Next add beef stock.  I know, everyone adds chicken broth, but I need more flavor, and I feel the chicken broth is just a little too mild for the mildness of the pumpkin.
So I give that all a whisk and then I start to build some flavors up in this soup.
Add salt, pepper, garlic powder, nutmeg and…
are you ready?
Put some brown sugar in there!
Ooooh, it's so good.  It's like adding just a little sweetness to all of the savory richness that's here.
Then I sprinkle in a little fresh chopped up sage, not much, just a little.
Sage is like the herb of the fall season and I just love using it!
It's especially delicious as a little accent of flavor in this warm and cozy soup!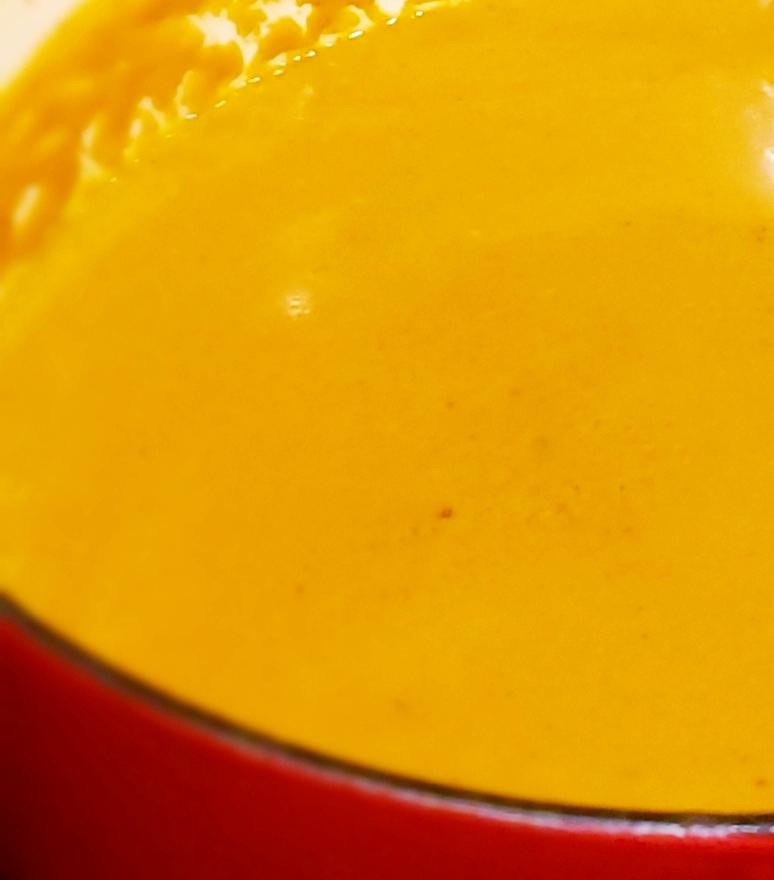 I let it simmer a bit so those flavors can mesh together and then I drizzle in some half and half to give it that luxuriousness, that in my opinion, every fall creamy soup should have.
Now just ladle it in to a waiting bowl and here's the fun part, the garnishes.  In fact they are almost as good as the soup!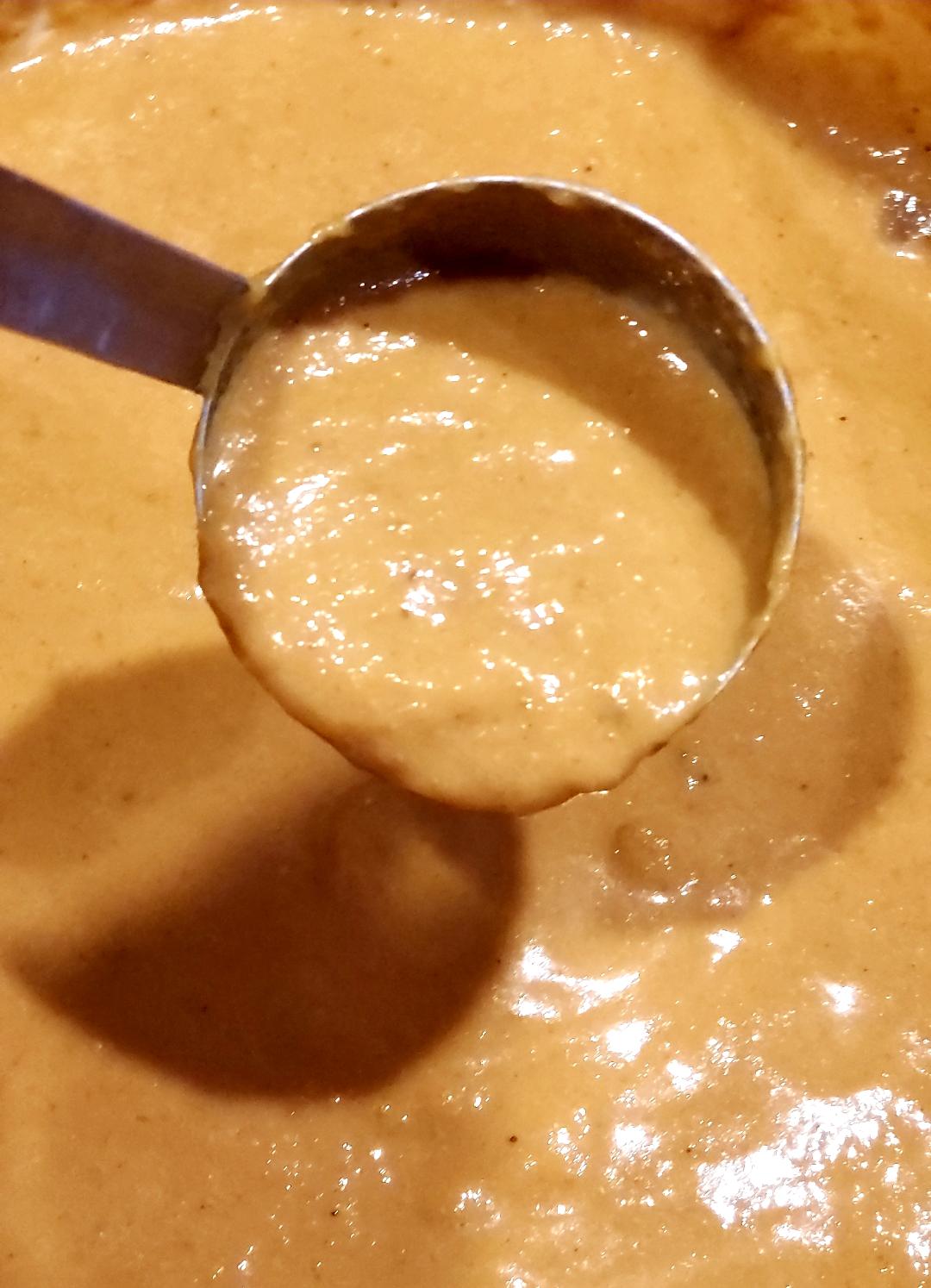 I like to put a dollop of sour cream in first and I think the Mexican sour cream, "Crema Mexicana" is just perfect for this soup.
It has a lighter flavor (not as sour) compared to regular sour cream and dolloped right on top, it's a perfect little pillow for my toasted pumpkin kernels to rest upon.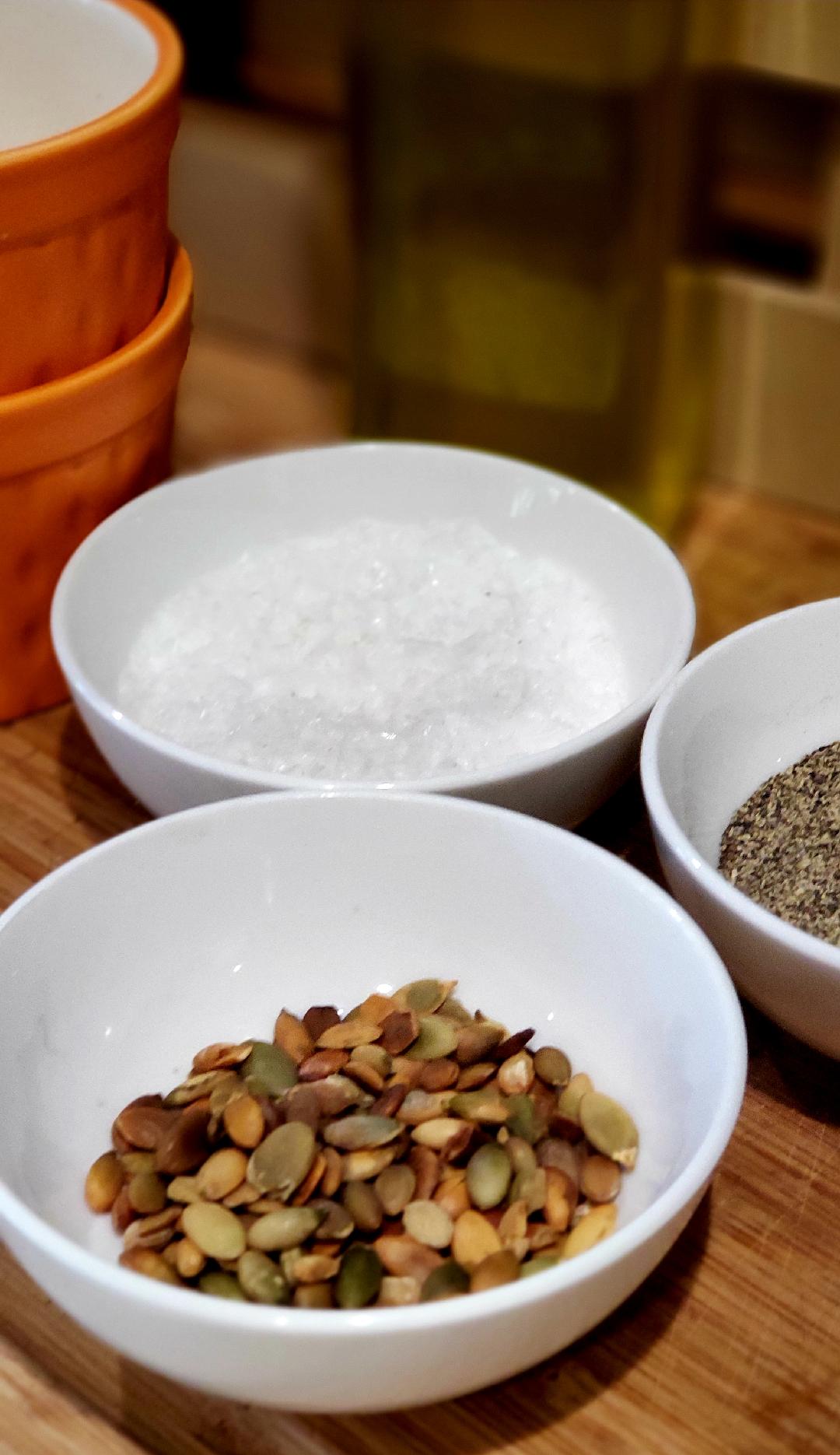 Yep, sprinkle a few  pumpkin kernels, which are actually pumpkin seeds taken out of the shell.
You can find them in the grocery store already out of their shells so you don't have to go to all of that trouble of cracking them open yourself.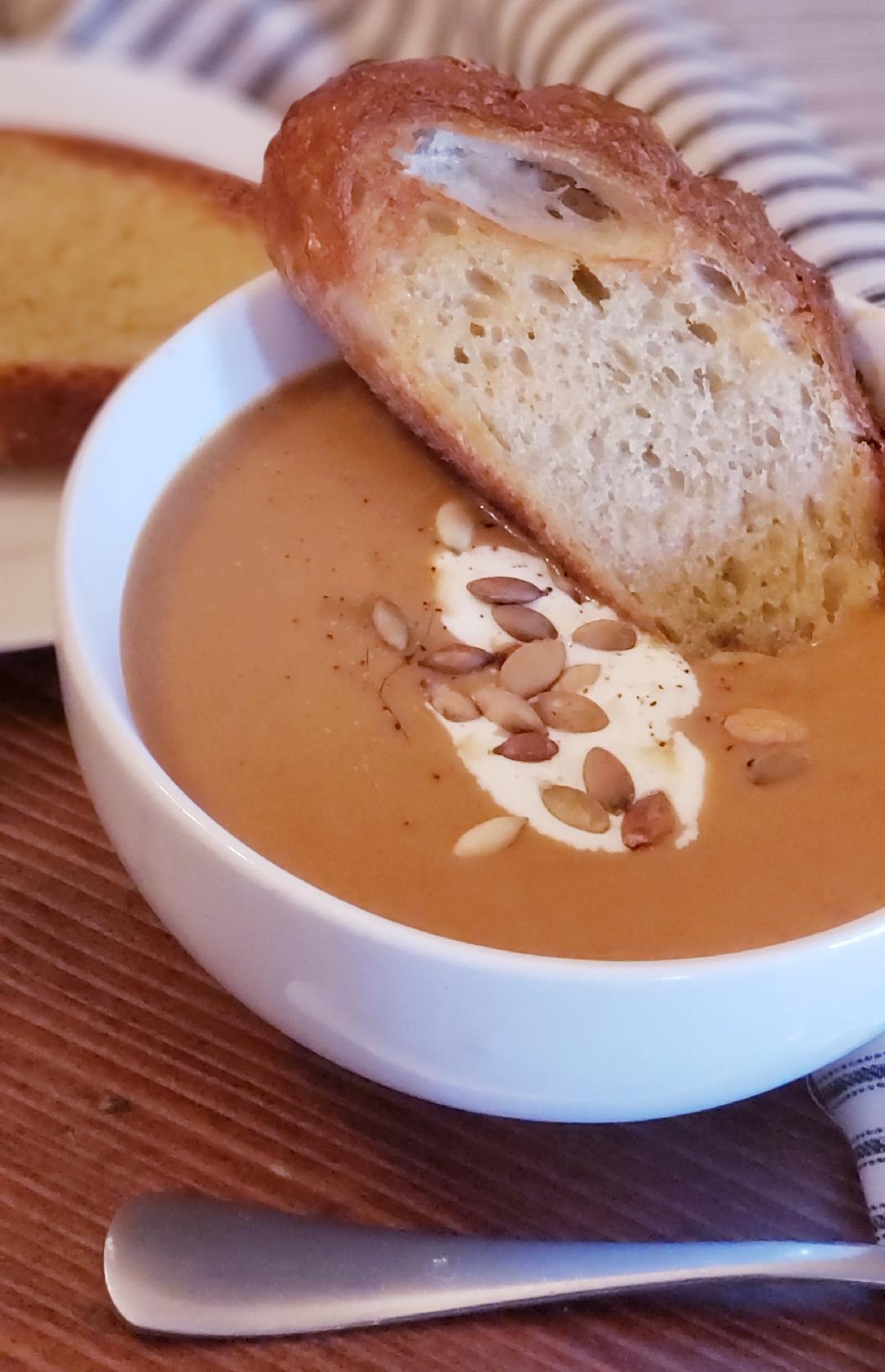 Just take those' kernels and put them on a cookie sheet and pop in the oven at 400 degrees for a few minutes (keep an eye on them) to give them a little roastin' – toastin'.
Then I like to sprinkle a little yummy Maldon Salt ( flaky fancy salt) and fresh ground black pepper.
For the final touch, I drizzle a tiny bit of Extra Virgin Olive oil lightly on top to finish it all off.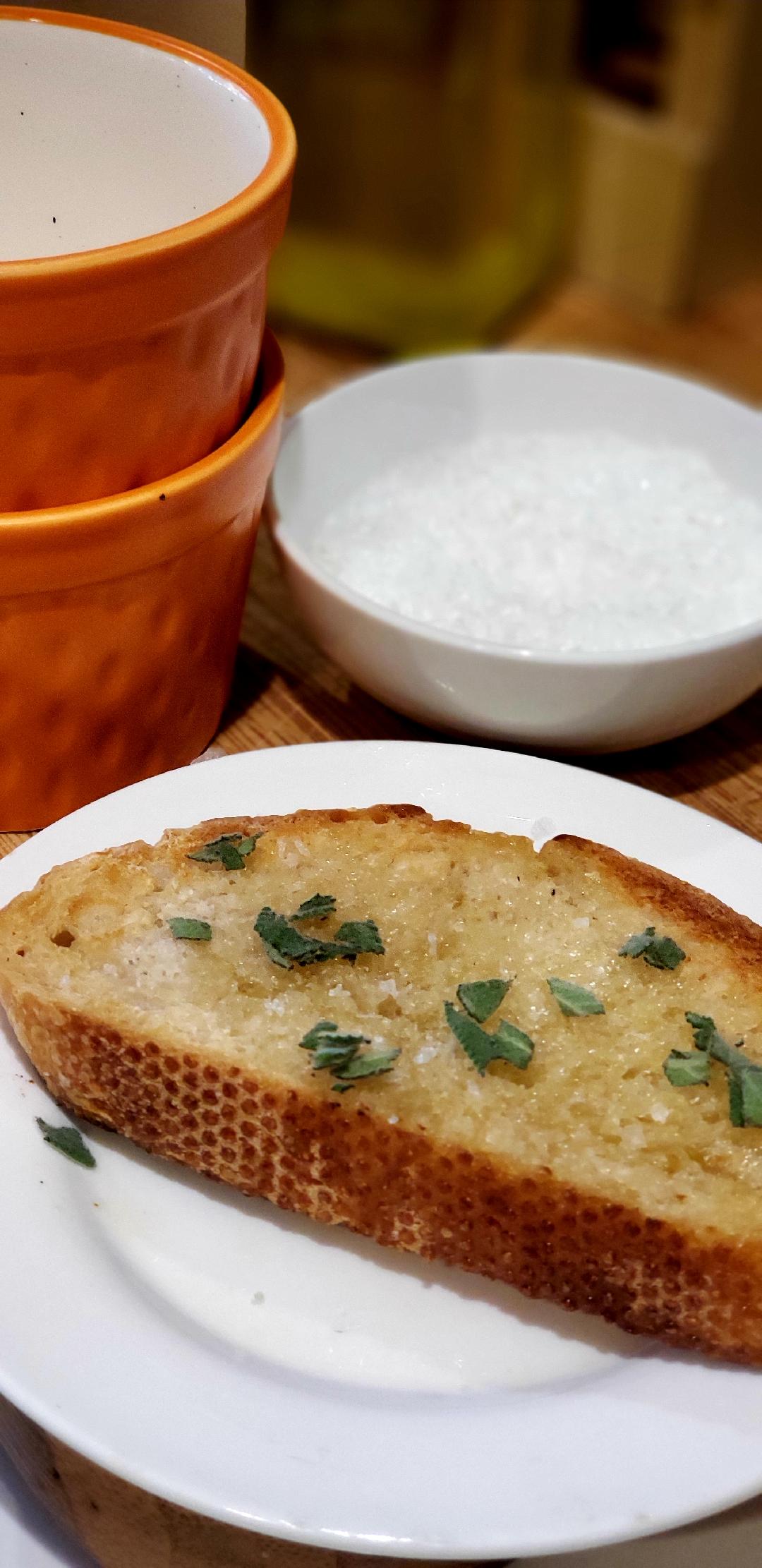 And with a crusty piece of french bread to dunk it in, wow!  This is so good!
I just made this the other night for my family and they literally went ga-ga for it.
I was so pleased.
Oh, I sure hope you try this quick and easy-to-make soup.  It really is still so yummy!
Yes, please do and then let me know if your family literally goes ga-ga for it too!
They just might.
XO Jerri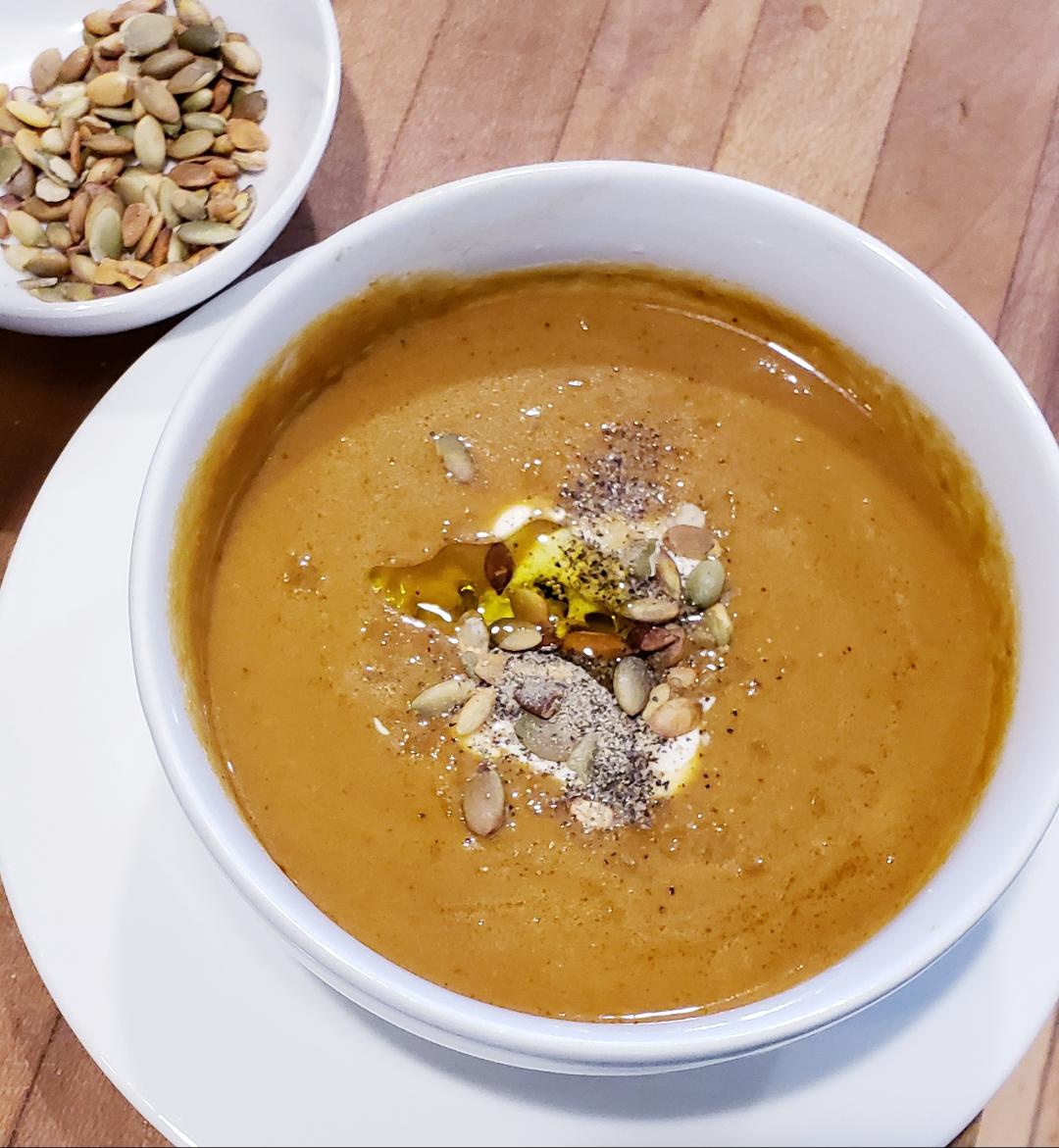 PUMPKIN SOUP
INGREDIENTS
1 15 oz can of pumpkin or 2 cups fresh pumpkin puree
1/2 cube butter
1/2 large yellow onion minced
1 quart beef stock
1/2 cup half and half
1/4 cup brown sugar
1/2 teaspoon nutmeg
1/2 teaspoon fresh minced sage
1 teaspoon granulated garlic powder
1 teaspoon kosher salt
1/2 -1 teaspoon fresh ground pepper
Garnish with Pumpkin Kernels, Crema (mexican sour cream), and Olive Oil
DIRECTIONS
 Melt butter in stock pot and add finely minced onion and sage, stir over medium heat until translucent.
 Stir in pumpkin puree, beef stock, half and half, brown sugar, nutmeg, garlic powder, salt and pepper.
 Stir over medium heat until all is warm and bubbly.
 Ladle into bowls then garnish with a dollop of sour cream, sprinkle toasted pumpkin kernels  on top of that, drizzle a little olive oil and sprinkle with a little salt and pepper.
 Serve with toasted sour dough french bread.