CHILI IN A PUMPKIN
Happy Halloween my friend!
I hope this day finds you excited and ready for all the fun that awaits!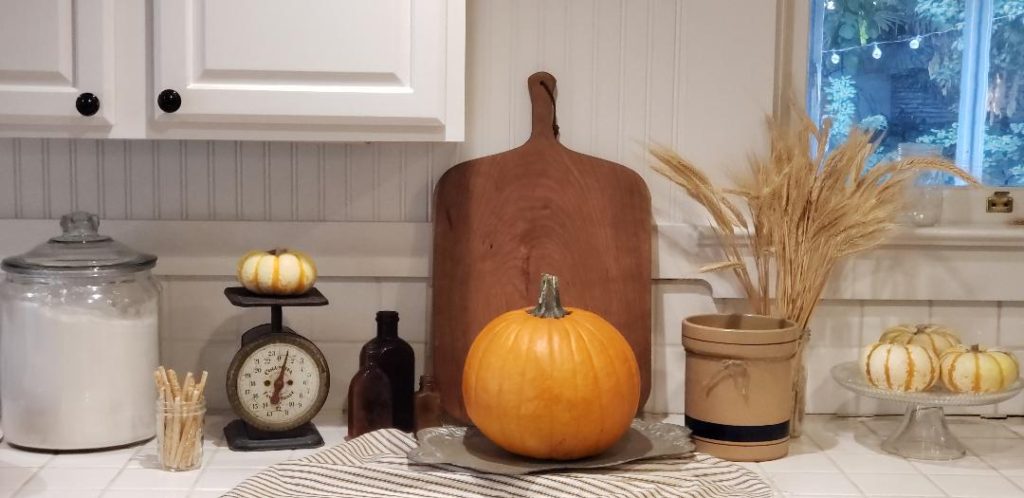 Well I have to say that for some reason I always like to have chili on Halloween.  To me it just goes so well with the cooler temps during fall and then it's so great that it can be made ahead of time or put into the crock pot all day.
Because hey, we've got other things to do like get the kids in their costumes, carve some pumpkins, and go trick-or-treating!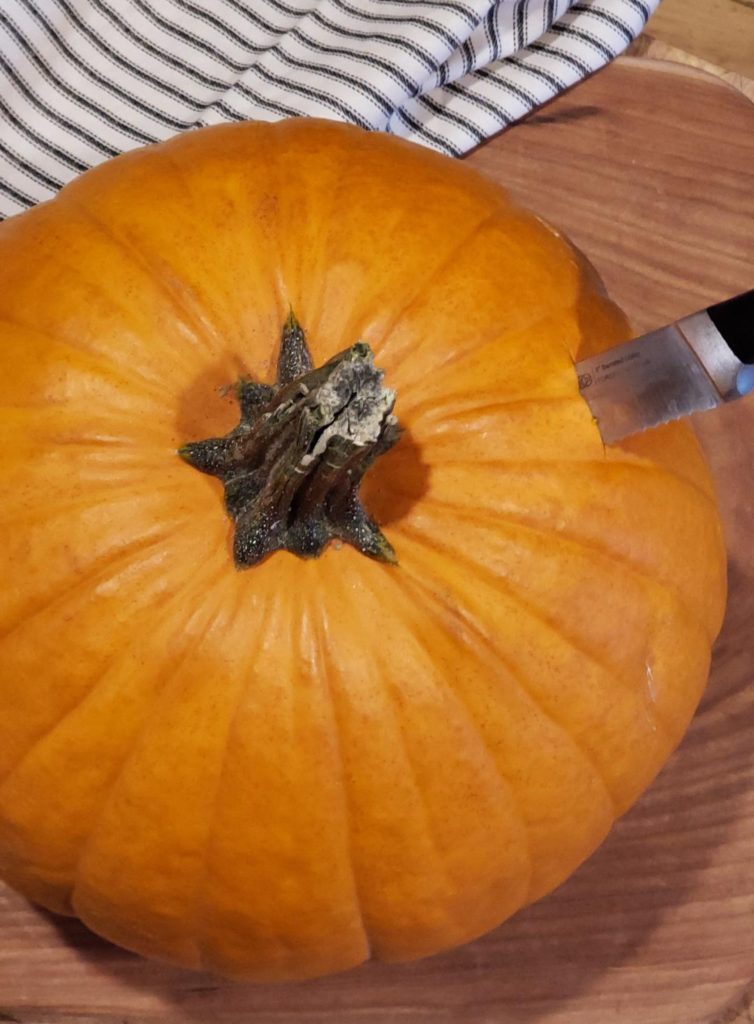 So simple as this meal sounds, the extra fun part is serving it from a big hollowed out pumpkin for the tureen.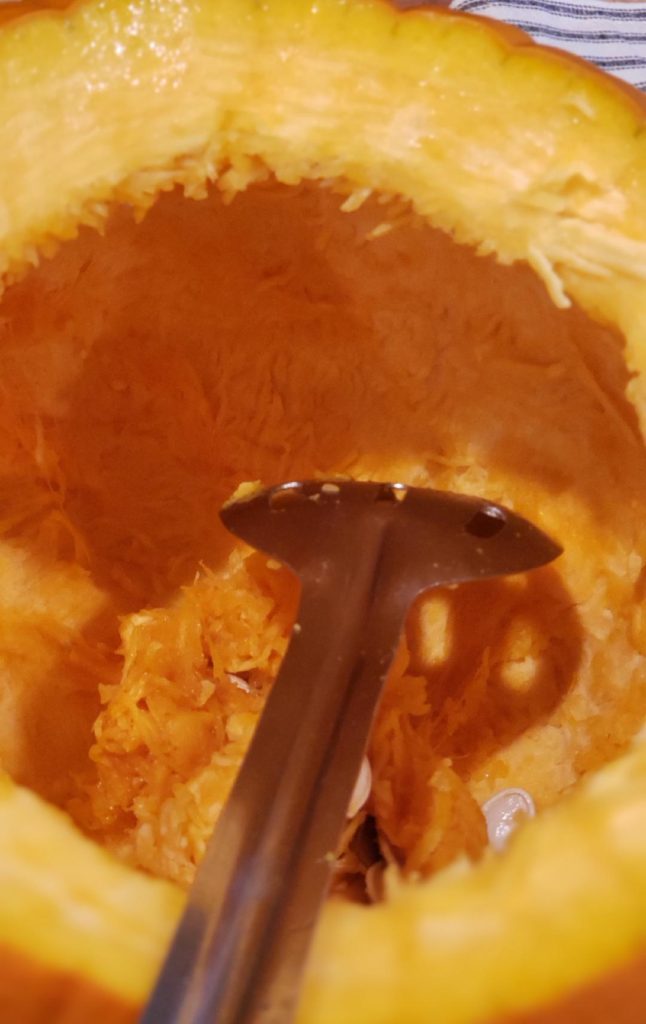 It's such a festive thing to see this "Chili in a Pumpkin" sitting upon your table and ready to be devoured by hungry kids, who just got back from trick-or-treating, and need to warm up a bit from running around in the night air.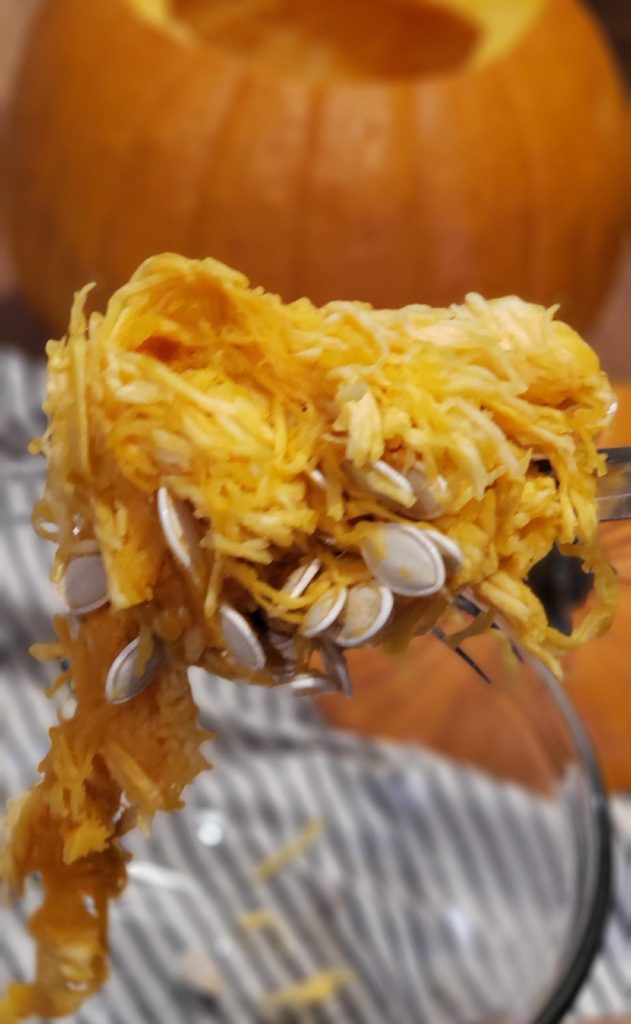 So the first thing you need is a large 10-12 pound pumpkin.  Just cut the lid off and hollow that baby out.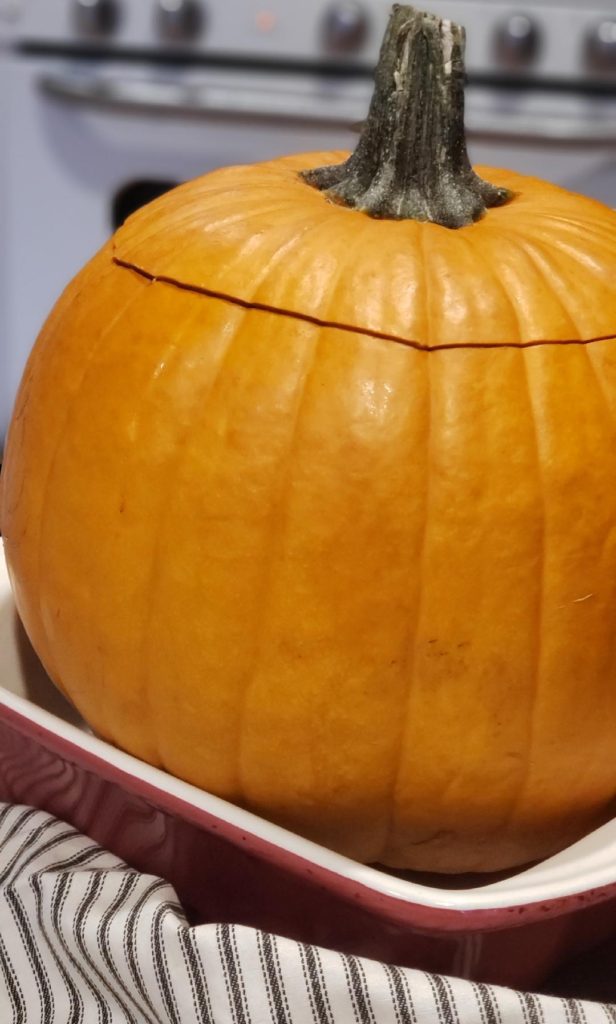 Next get that chili prepped which you can the day of, a day before or even a week before if you like.  All you have to do is put it in the fridge or freezer, depending how long before you made it, and thaw it out the day you will serve.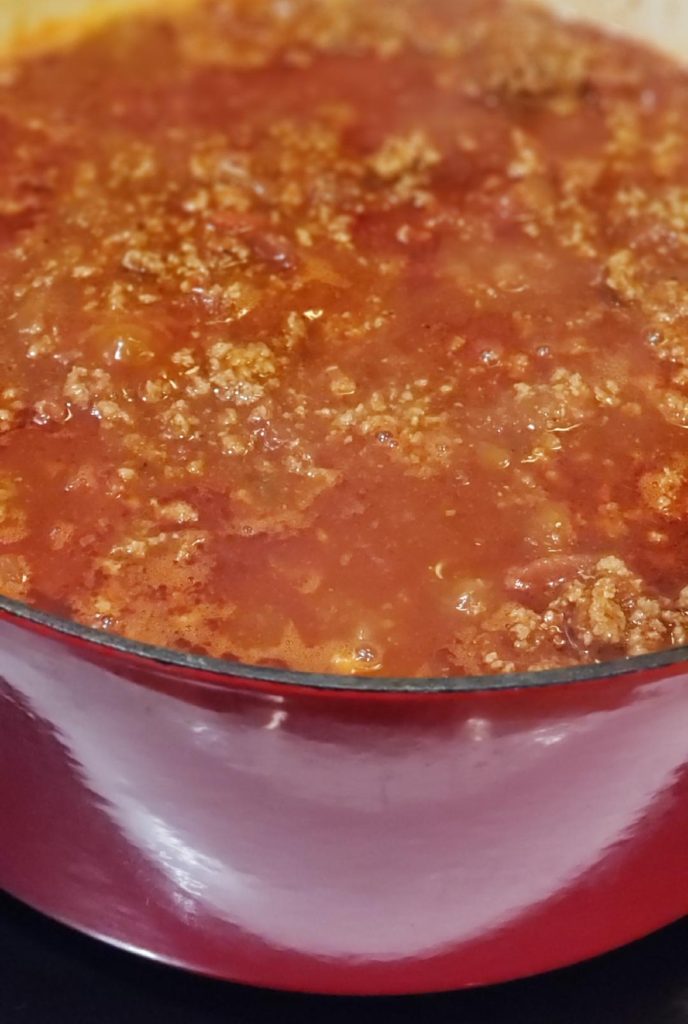 To make the chili, start browning the the ground beef in a skillet, then drain the fat.  Next add the onion and keep cooking until translucent. After that add a can of crushed tomatoes, a can of red enchilada sauce, and a can of pinto beans (or add your own homemade beans – I like to put on a pot of beans in the crock pot the day before and I use that for this chili recipe).  Stir it together with some seasonings:  garlic powder, salt, pepper, cumin, and chili powder.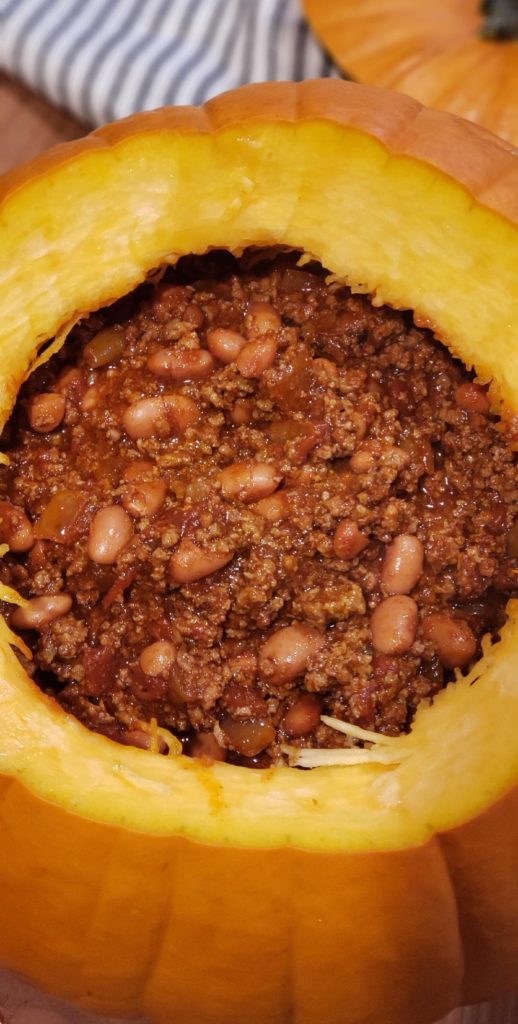 Now here comes the fun part!  Pour that chili into the hollowed out pumpkin, set it in a baking dish and bake in a 350 degrees oven for about an hour.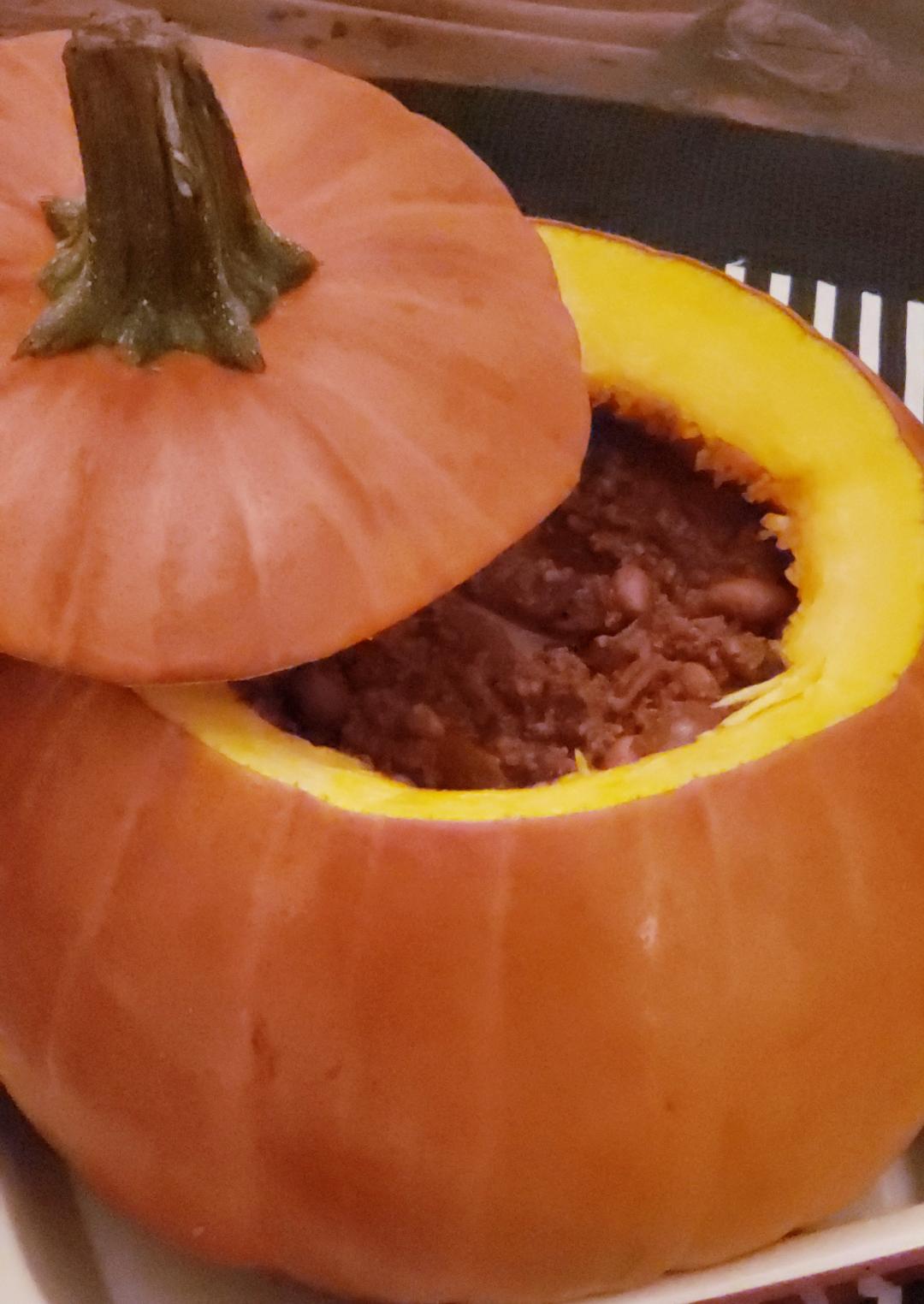 When you remove it from the oven, you'll keep it in the baking dish to serve cuz lifting a pumpkin full of chili out of a pan could be disastrous.  Let's just not even go there.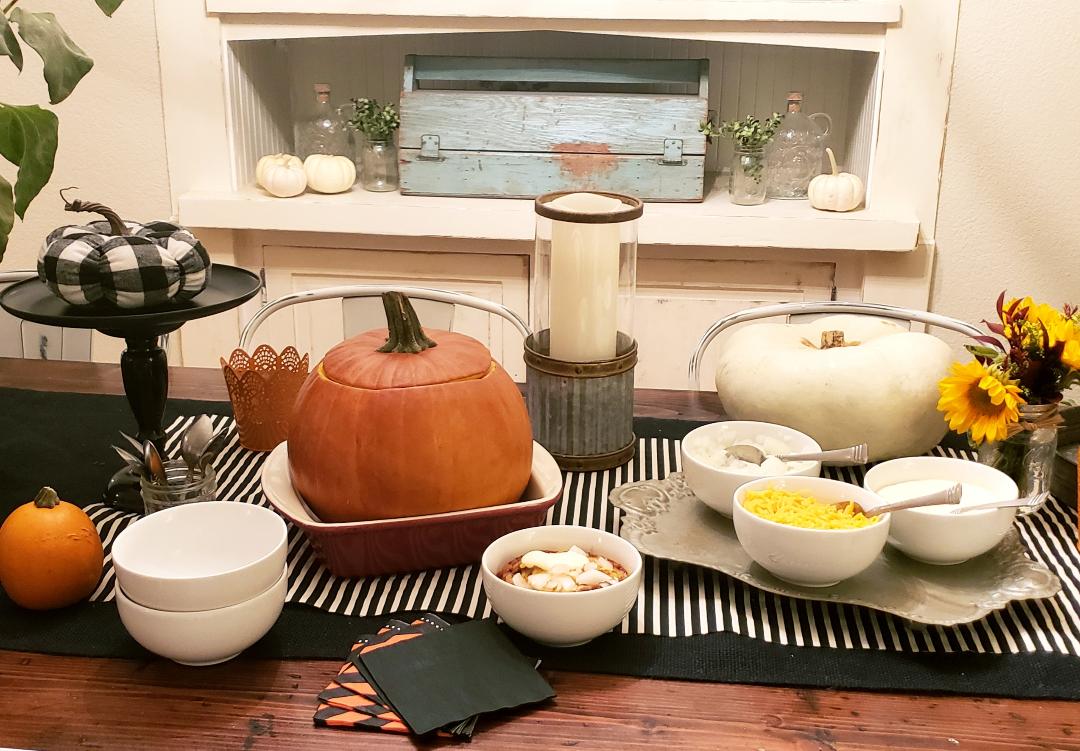 Now put that baby in the center of your table, stack some bowls, fill a mason jar with spoons, and put out some extra napkins out cuz this zesty amazingly tasty pumpkin pot of goodness could be devoured at full speed because of it's yumminess!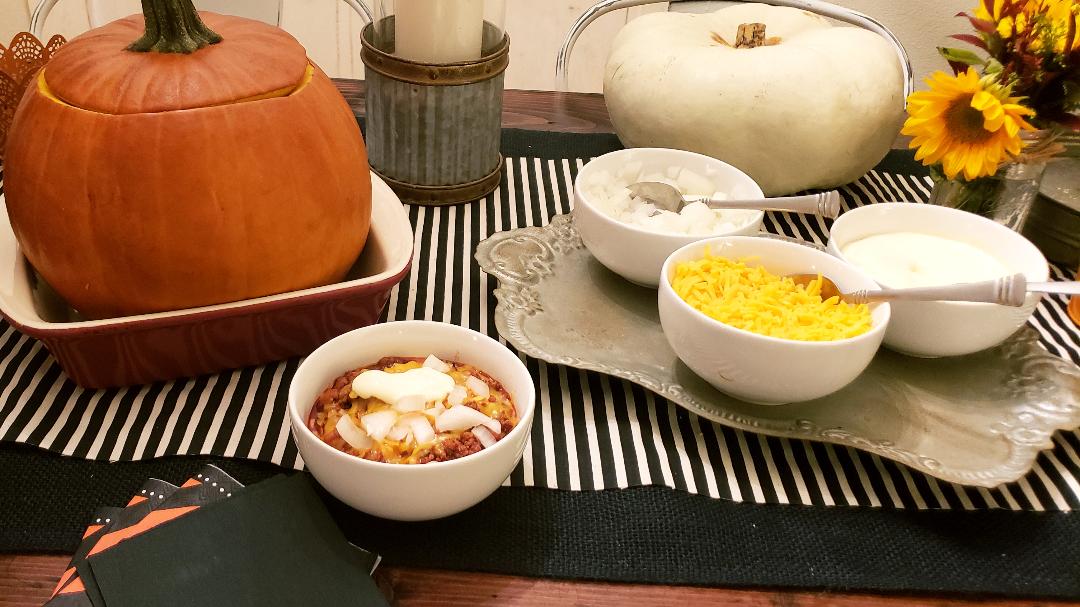 And adding a few sides won't be too much trouble like a bowl of grated cheese, some sour cream and some extra onions so people can top their bowls with these little extra treats.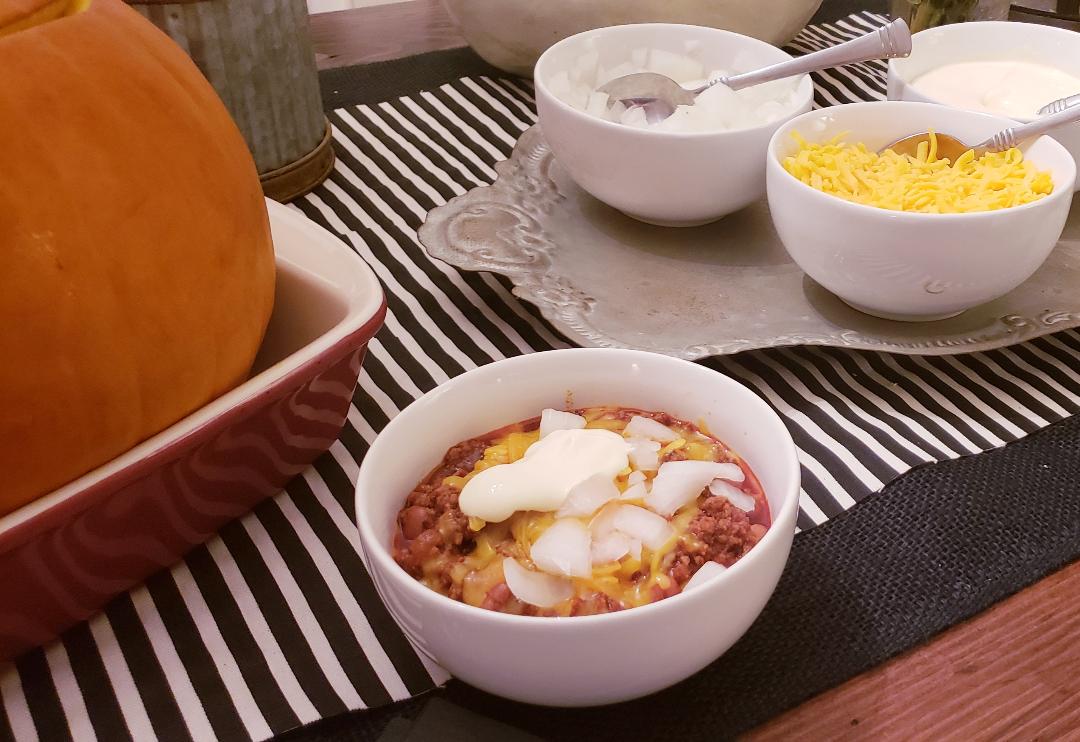 So here's to another year of fun Halloween times and I hope you and yours have a wonderful evening!
XO Jerri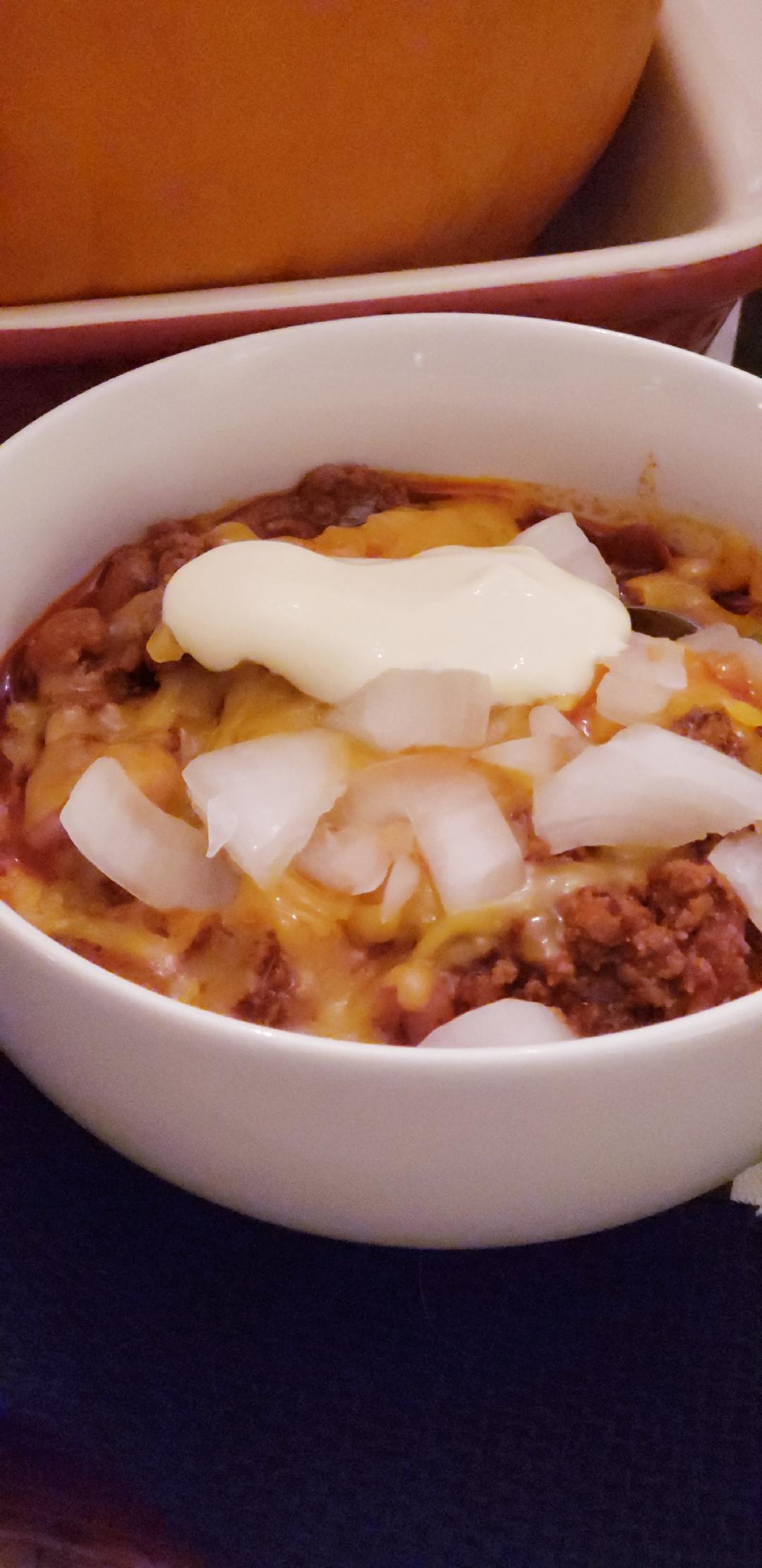 CHILI IN A PUMPKIN
INGREDIENTS
2 pounds ground beef
1 white onion chopped
1 28 ounce can of enchilada sauce
1 28 ounce can of crushed tomatoes
1 26 ounce can of whole pinto beans or 2 cups of homemade
2 tablespoons granulated garlic
2 tablespoons chili powder
1 tablespoon of sugar
1 teaspoon cumin
1 teaspoon kosher salt
1/2 teaspoon pepper
1 10-12 pound pumpkin
DIRECTIONS
Preheat oven to 350 degrees.
Cut the top off of the pumpkin and hollow the seeds and pulp out.
Brown ground beef in a skillet until cooked and no longer pink then drain the fat.
Add the chopped onions to the skillet and cook until tender and translucent.
Open a can of crushed tomatoes, red enchilada sauce, and pinto beans (unless using homemade) and add to the chili pot.
Stir in the garlic, chili powder, sugar, salt and pepper.
Set pumpkin in a baking dish and pour chili into it, top with lid.
Bake in the oven for about one hour.
Remove and set the baking dish, with pumpkin and chili in it, on your serving table.
Enjoy with grated cheddar cheese, chopped onions, and sour cream that you can put into bowls as toppings.