I love fried chicken!
I mean love it!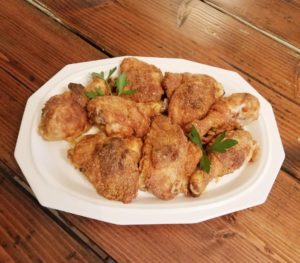 I guess you could call me a fried chicken freak!
And really, what's not to love?
It's crispy, golden, salty, but a little zesty too!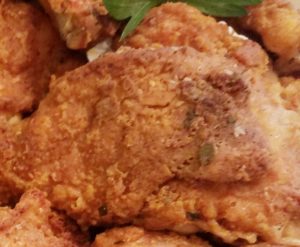 And that's just the outside golden fried chicken skin part.
Let's talk about the meat itself.
Gosh, it is oh so juicy because I brine it.
You know what that is right?
In case you don't, well it's like marinating the meat.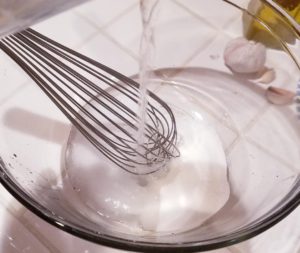 Except it's not a marinade, it's a brine which is a flavored salt water solution that you let the chicken soak in for just a few hours.
I usually use the same recipe for my brine and might tweak it once in a while by adding herbs or what not.
But basically, it's 1/3 cup salt, (always kosher) 1/3 cup sugar and water to fill bowl.
I give it a fast whisk to dissolve the sugar and salt, then I add the chicken pieces (thighs and drumsticks, bone and skin on).
I cover and let set in fridge for a few hours,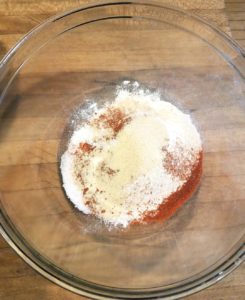 then take it out and dredge it in my seasoned flour,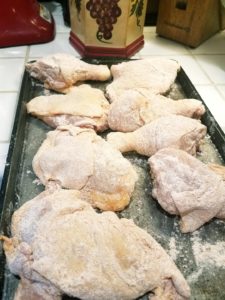 setting the floured pieces on a cookie sheet before I fry.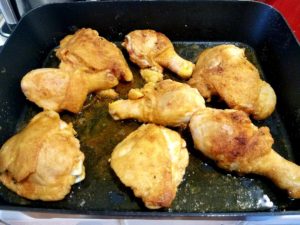 I get them all prepped and then I cook them all at the same time in my electric skillet, turning once so that both sides are golden brown.
Next, I put all the chicken back on that cookie sheet and bake in the oven at 400 degrees for 20 minutes.  It comes out PERFECT!
I love that they only fry for a bit and I finish off the cooking in the oven for a little healthier fried chicken.  Otherwise it'd be swimming in oil when you deep fry, soaking it all up.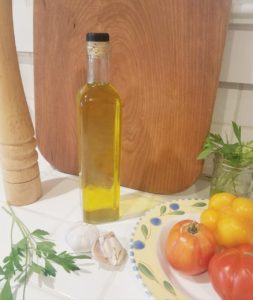 And I always use olive oil.  Why?
Well it's just healthier.
I mean really, olive oil is just so good for you.
I'm always looking for more ways to use it.
Now, it doesn't have as high of a smoke point as peanut oil, which is such a great oil to use for frying, but you're not frying the chicken long with my recipe anyways.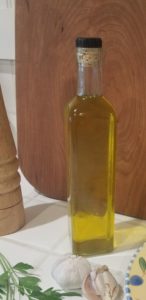 And call me crazy but I'm telling you, I feel like I could just spoon olive oil into my mouth everyday (but think that would be a little weird) so if I'm not dipping my bread into it, I'm going to use it for about everything else when I need to use oil.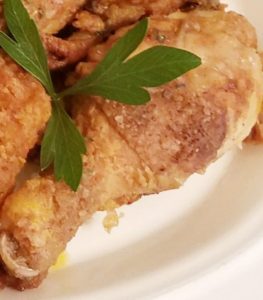 Looks good huh?
Now just imagine making this Farmhouse Country Fried Chicken recipe for Sunday Supper and inviting your family over for this glorious feast.
I have so many memories of special family meals with my grandparents coming over as a child.
It seems like back then it was on Saturday though.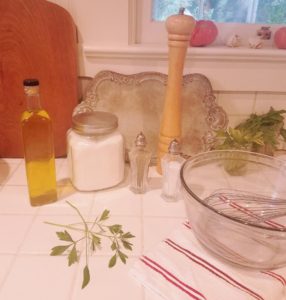 But, we still ate something delicious that my Mama cooked, and my grandmas were in the kitchen with her sharing all of their cooking skills together.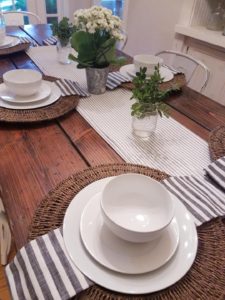 And after dinner we always watched the Lawrence Welk Show followed by Hee Haw.
Hilarious huh?  Aw the 70's.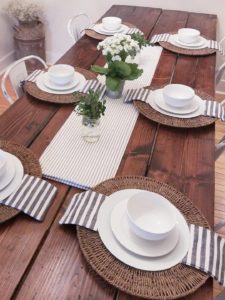 When our boys were young, we had my in-laws over for these special Sunday meals.
And you know what made them special?
It wasn't always what was being served, it was just that the family put busy life on pause, and gathered together for a meal.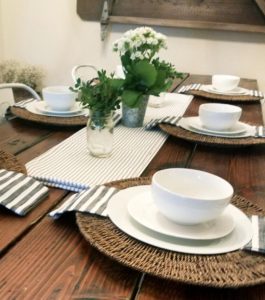 And if it took a Sunday Supper to get them to gather, well then, dog gone it, let's not forget to make a Sunday Supper.
Cuz, I'm thinkin, if we don't cook, they might not come.
But if we cook it, they will come!
And start now while you have little kids so you get the tradition set in place.
Invite Grandma and Grandpa over too.
They'll so look forward to it.
Then when your kids are off on their own, invite them back home for a Sunday Supper so you can catch up on everyone's happenings.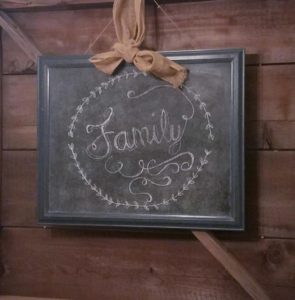 And maybe when they have your grandchildren, they might invite you over to their home keeping this wonderful tradition going.  Sigh
What kind of family traditions does your family have?
I'd love to hear about them.
XO  Jerri
P.S.  Here's my fried chicken recipe.  I hope you enjoy it!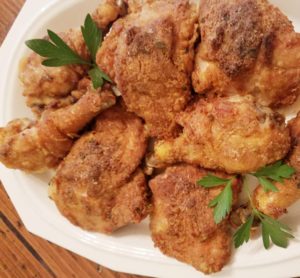 FARMHOUSE COUNTRY FRIED CHICKEN
INGREDIENTS
chicken drum sticks  & thighs bone and skin on
1/3 cup sugar
1/3 cup kosher salt
water to cover chicken in bowl for brine
1 cup all purpose flour
1 tablespoon kosher salt
1 tablespoon ground pepper
1 tablespoon granulated garlic
1 tablespoon paprika
1/4 cup olive oil
DIRECTIONS
  Mix the sugar and salt together in bowl while adding water and whisk away to make brine.
  Add chicken to bowl and make sure brine covers it completely.
  Brine chicken for at least 1 – 2 hours.
  Put flour, salt, pepper, garlic, and paprika in a separate bowl and mix together.
  Take chicken out of brine and dredge, while still wet, into seasoned flour.
  Set each floured chicken pieces onto baking sheet.
  Heat olive oil in electric skillet to 350 degrees.
  Put all chicken pieces into electric skillet and fry until golden brown about 2-3 minutes.
  Return to baking sheet and bake in 400 degrees oven for 20 minutes or until juices run clear.
  Remove chicken from baking pan and set on platter to serve.
Enjoy